Goodness in Green: N Scale Class X65 Boxcar by Eastern Seaboard Models
Published: 2018-05-08 - By: RoadRailer
Last updated on: 2021-01-01
visibility: Public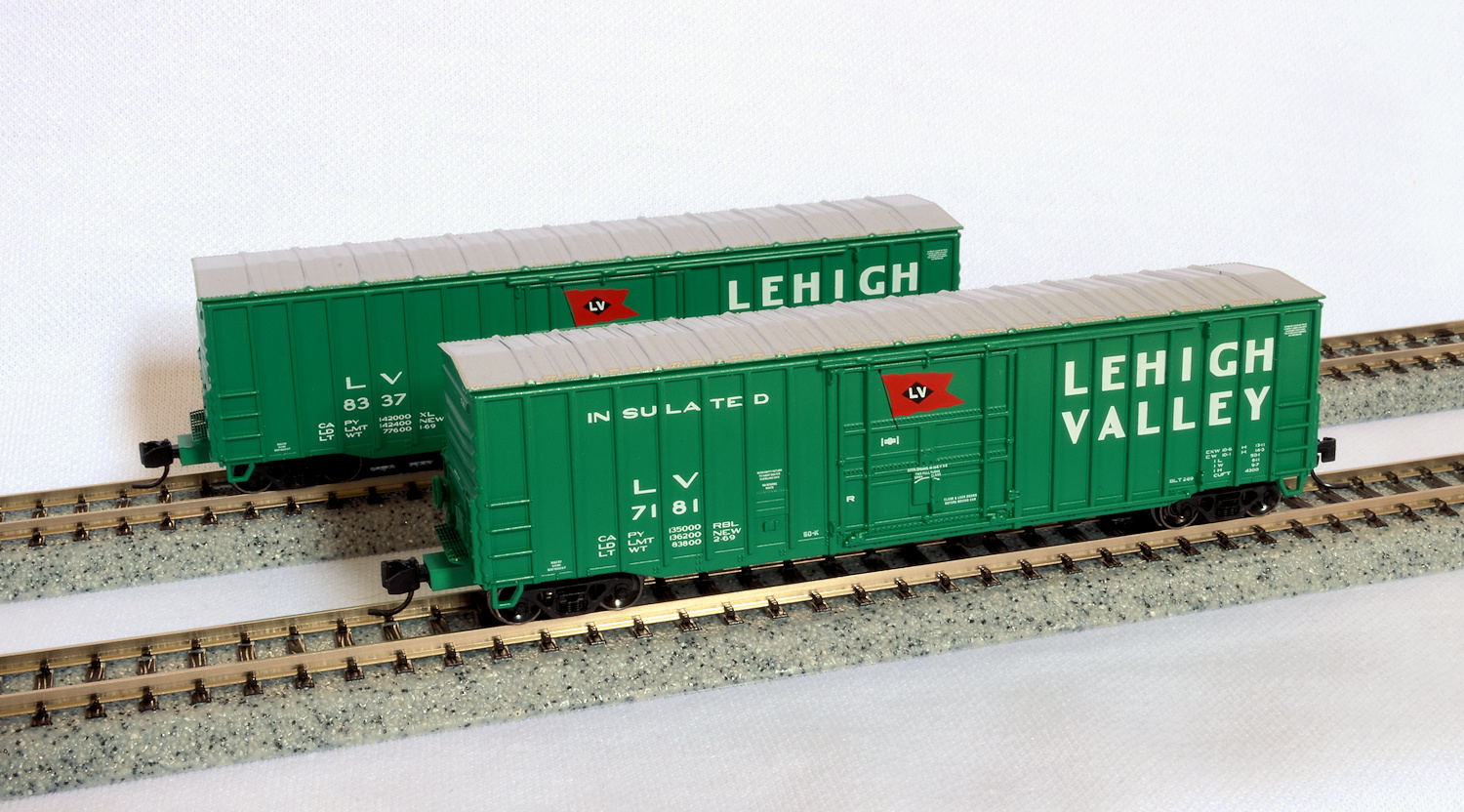 Prototype history
The 50 foot class X65 boxcar was built by the Penn Central's Despatch Shops, a carbuilder founded in 1898 by the New York Central in East Rochester, NY. The Despatch Shops built X65s from 1966 through 1969.
The Models
ESM 224101 NYC 78700 (Jade Green)
ESM 224102 NYC 78722 (Jade Green)
ESM 224201 P&LE 6923 (Jade Green)
ESM 224202 P&LE 6962 (Deepwater Green)
ESM 224401 LV 7181 (Deepwater Green)
ESM 224402 LV 8337 (Deepwater Green)
MSRP - $42.95 Ea USD
Retail - $33.99 Ea USD
This review is based on a close look at both Lehigh Valley models, which represent a new tooling for ESM.
I was drawn to the Lehigh Valley models because of their attractive dark green paint, bold graphics and memories of having seen similar cars in service on the LV years ago. I've waited years for an N Scale manufacturer to produce a boxcar in this familiar LV paint scheme and I believe ESM is the first.
The LV 7181 is modeled from an insulated prototype and the LV 8337 is modeled from a non-insulated prototype. Manufactured in China, the cars come well packaged in jewel boxes complete with protective top and bottom liners.
Impressive underframe and body shell
This model's underframe and body shell are made of well-detailed plastic, but ESM goes the extra yard with this product. A myriad of fascinating underframe details are found in the shadows below, including the prototype's structural members, air cylinders, brake rods, valves, cushion underframe spring and painted body mounted coupler pockets. Never before have I found so much to admire
under
a car.
The body shell exceeds expectations with etched brass end platforms, a separately-applied brake wheel and crisp carbody detail throughout. Stirrups and grab irons are molded with the body shell and look great. I appreciate the fact that ESM prioritized durability with these design elements. These cars needn't reside in a locked case and will stay intact throughout many years of use.
Paint on point
Both the Jade Green and Deepwater Green paint colors are accurate. In addition, color separations (where one color abuts another) in this case where the green body shell paint meets the white lettering or where the black diamond meets the red flag, are tack sharp. Even the tiniest lettering is highly legible.
I do not take this level of paint and lettering quality for granted. (As a short aside, n-scale manufacturers did not always offer crisp paint schemes and finely-detailed lettering on their models. Kadee's (later known as Micro-Trains) achievement with this paint/lettering technology set the N Scale world on its ear when Kadee's first N cars came out in the early 1970s. No other manufacturer could produce separations with the same precision as Kadee. To this day, Micro-Trains carefully guards its paint science, though the competition has closed the gap. If you compare an Atlas car from the late 1970s to a Kadee car from the same era, and you'll immediately see the difference in color separation (and fineness of lettering). Prior to Kadee, even car dimensional data was often just a smudged jumble.)
More prototypical accuracy
ESM has taken care to assure the accuracy of each car's different assignments by replicating distinct prototypical markings and stencils. My LV 7181 is to be returned to the B&O Agent at Cleveland, OH when empty and my other car to CG Labus with the LV at Oak Island, NJ. I learned this when I referenced my copy of the January 1972 Official Railway Guide and there I found Mr. Charles G Labus (CG Labus), Freight Traffic Manager. (These Guides were literal Bibles of the transportation industry at one time; they are packed with system maps, timetables, station listings, names of important personnel, office locations and all sorts of historic minutia. I've acquired my collection from my employment in the pulp and paper industry over many years and from flea markets.)
Couplers, trucks and ride height
Couplers are Micro-Trains compatible and perfectly match NMRA height recommendations. The car rolls on Atlas/BLMA ASF (American Steel Foundries) 70-ton roller bearing trucks with blackened low-profile wheels. These models roll well on all rail heights, but they lack a wee bit of the effortless glide that I normally expect. ESM nailed the ride height to perfection on these models.
Car weight and operation
My cars each weighed 1.1 oz., which exactly matches the NMRA's weight recommendation. I was concerned that these cars would not play well on my 11 inch radius curves or with other models equipped with truck-mounted couplers. However, the ESM cars operated flawlessly. They readily pushed and pulled through No. 4 turnouts even with variations of heavily-weighted cars coupled around them. This functionality is all very impressive. ESM does caution that these cars not be operated on curves with less than a 10 inch radius.
Summary
Eastern Seaboard Models has succeeded with a well-crafted and accurate model with its X65 Boxcar. The model achieves an excellent balance of fine detail and practical design that N Scale operators and collectors will prize.