Express Unboxing: Atlas Articulated Auto Carrier
Published: 2018-05-09 - By: Alain LM
Last updated on: 2021-08-09
visibility: Public

Atlas 50 002 316 Rio Grande
Image courtesy of Atlas Model Railroad
Express Unboxing: Atlas Articulated Auto Carrier
This is not a new model, as Atlas released it first in 2003; latest run was in 2015-2016. But this is the first of this type that I have acquired. Mine are the two Rio Grande (DRGW) of the latest run, that I got at discounted price. The Rio Grande paint scheme is either a fantasy or a heritage one, as the prototype was released nearly a decade after Rio Grande has disappeared (1988). Anyway, nobody but me will know about it at my club, so be it …
The prototype was built initially in 1997 by Thrall for TTX. These Articulated Auto Carriers were designed to haul new trucks, vans or sport utility vehicles from assembly plants and distribution facilities to dealer lots.

Packaging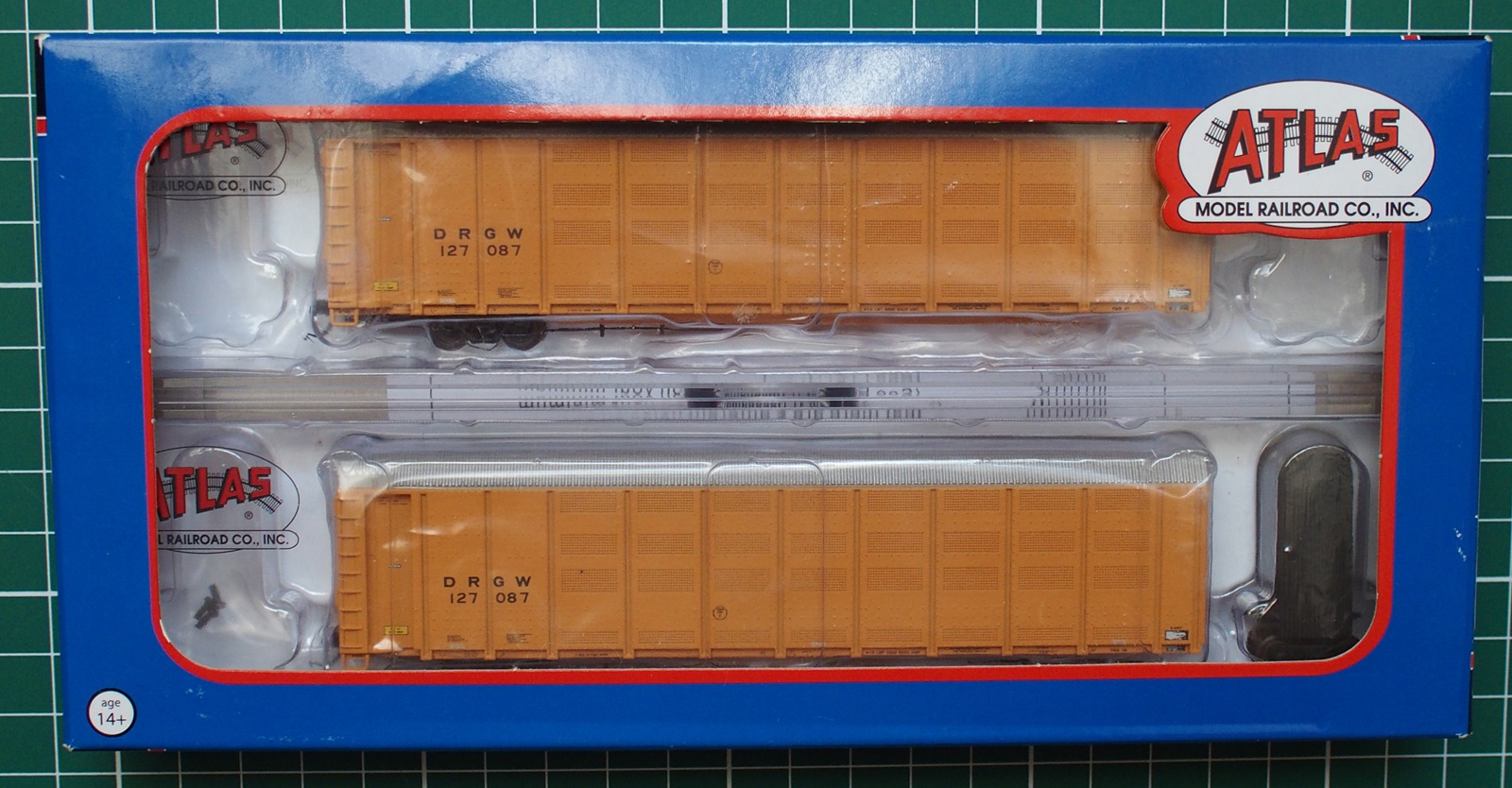 Each set is comprised of two cars each in its own jewel case box, the articulated truck in one of the boxes, with everything wrapped in a cardboard box. The cardboard is quite thick and lacks flexibility, so opening a side without tearing it is a challenge.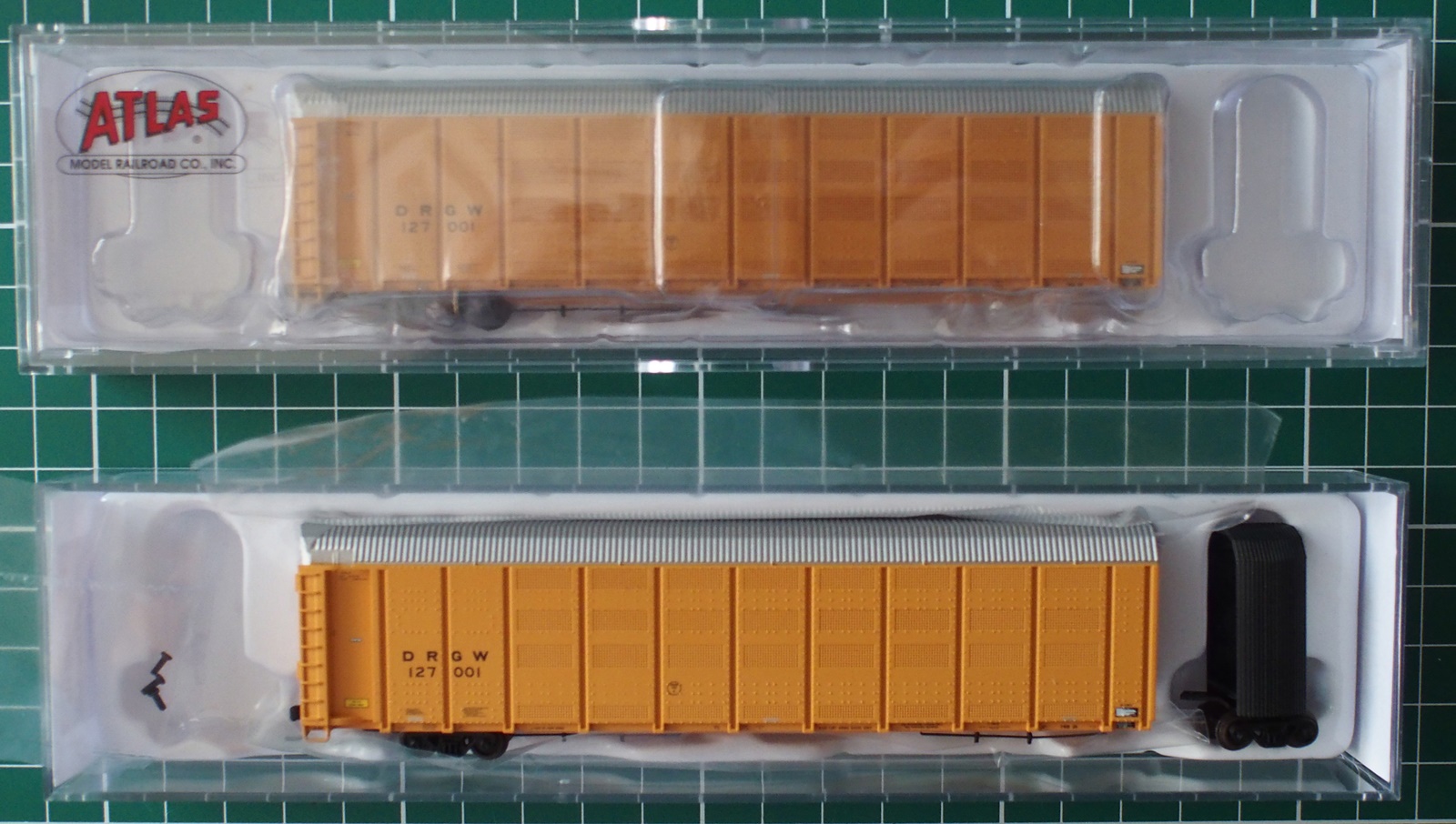 Assembly
The assembly method for the articulated truck is the bad news about this model. It requires to screw the articulated truck on both cars; 3 tiny screws are provided, so meaning that there is one spare, that is at least a good thing. There are two positions for each car, that provide a bit of tuning in case your layout has tight curves. This is quite easy to do, but you would like do it in quiet place.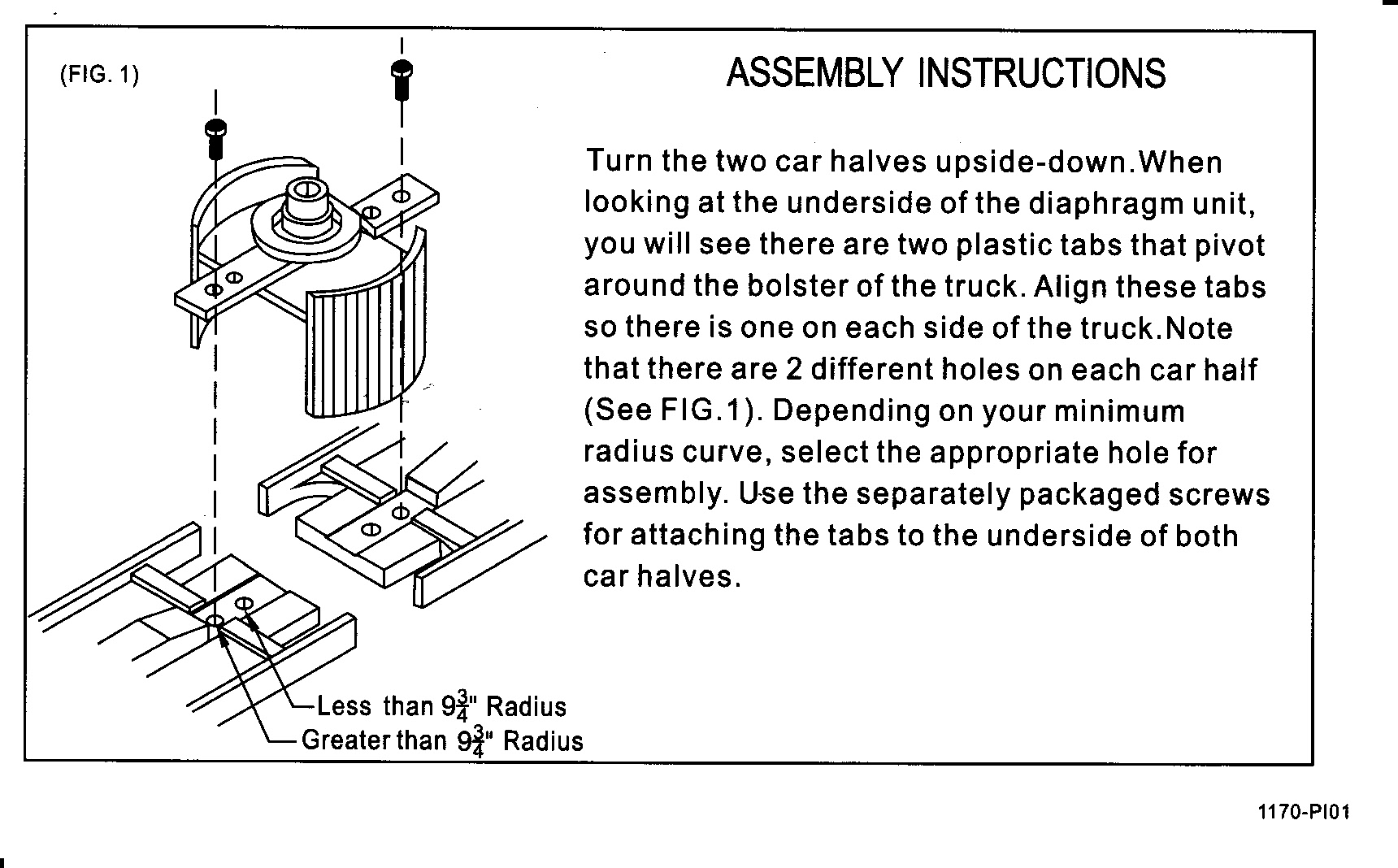 Assembly drawing courtesy of Atlas Model Railroad

Comparison with Kato Autoracks

Kato on top, Atlas on bottom
Kato released in 2014 another type of Autorack, not articulated. The Kato one is fitted with metal wheels, whereas Atlas is having plastic ones. I did not see much difference when operating, the friction on track being comparable.
The Atlas Autorack is quite well weighted at 80g for a length of 27 cm (10.6"). The Kato Autorack is quite light with 32g for a length of 17 cm (6.7"); scaled to the length of the Atlas auto carrier, that represents only 50g. The difference is visible as the Kato autoracks have a tendency to swing around given their height and relative light weight.
Conclusion
This is a good-looking model, but the design of the articulated truck is really a bad one. I don't see myself assembling the auto carrier at my club considering the agitation there; on the other hand, once assembled, there is obviously no way to put the model back in its box. Nearly all other articulated trains that I know about offer a way to assemble the consist without any tool, by snapping or clipping. This is true for the Kato TGV, the Kato Well-cars and the Arnold Spanish Talgo. This is not true for the Con-Cor Pioneer Zephyr, but Con-Cor is providing a box that can house the assembled 3-car consist. On the money department, I would not have paid $65 (list price) for this model.

Credits
The copyright of this article is held by Alain LM, who is granting TroveStar with right to display it.
Except otherwise mentioned, all images are copyrighted by the author.
Click here to see all Atlas Articulated Auto Carriers on TroveStar
Click here to see all Kato Aluminum Enclosed Autoracks on TroveStar