Nice Model for WW II Enthusiasts: HobbyTrain Lemke K5 Railgun 'Leopold'
Published: 2018-05-16 - By: gdm
Last updated on: 2021-01-02
visibility: Public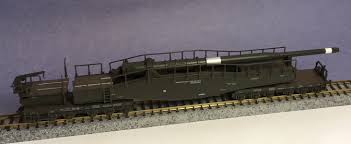 K5 Railgun 'Leopold'
I recently received my HobbyTrain by Lemke
K5 Railgun "Leopold"
! This model is very, very cool. It was brought to my attention by one of our curators who was researching it and the prototype. I wanted one for my own collection but had trouble finding one for sale anywhere (including eBay). I finally gave up. Hence, I was thrilled to see that not only had HobbyTrain Lemke decided to re-release the model (with a new road number) but that U.S. retailers were picking them up and selling them here!
First impressions
Overall, I am very impressed by the model and look forward to running it at our next
NTRAK Event
. The model has nice detail and seems to be functional as well as attractive. The price might seem a little steep, but the product seemed worth it. The model retails for 115 EUR, which translates to about $135. I received mine for $117 including shipping. Apparently, even at this price, the demand far outweighed the supply as both U.S. and European retailers all seemed to be out of stock within days of receiving the models from HobbyTrain Lemke.
Prototype history
Krupp's K5 series were consistent in mounting a 21.5 metres (71 ft) long gun barrel in a fixed mounting with only vertical elevation of the weapon. This gondola was then mounted on a pair of 12-wheel bogies designed to be operated on commercial and military rails built to German standards. This mounting permitted only two degrees of horizontal traverse. The carriage had to be aligned on the rails first, with only minimal fine leveling capable once halted. Hence the gun could only fire at targets tangential to an existing railway track.
To track targets needing greater traverse either a curved length of railway was used with the gun shunted backwards or forwards to aim; a cross-track was laid with the front bogie turned perpendicular to the rest of the gun and moved up and down the cross-track to train the weapon; or for 360 degree traverse, the "Vögele Turntable" could be constructed, consisting of a raised rail section (the "firing bed") carrying the gun, running on a circular track with a central jack to raise the gun during traverse and to take some of the enormous weight.
The main barrel of the K5 is 283 mm (11.1 in) in calibre (caliber), and is rifled with twelve 7 mm (0.28 in) grooves. These were originally 10 mm (0.39 in) deep, but were shallowed to rectify cracking problems. (from Wikipedia). These guns were similar to the main armament of the German Pocket Battleship
Graf Spee
also produced by Krupp. (You can read more about history of the
Krupp family on TroveStar.)
Model history
This model was first released by HobbyTrain Lemke in 2007 with two versions, one in standard DRG livery and the other in a stunning camouflage scheme. They later followed up with two more releases, again with one in gray-green and the other in camouflage. This latest release uses the same product code as one of the earlier releases, H23602, but carries a different road number, 919216 (the earlier release had 919221). The paint scheme is the same.
Model features
The model uses both diecast and injection molded components. The railcar consists of three components: two six-axle bogeys and a gun carriage that rests on the two bogeys. The two bogeys actually resemble smallish heavy-duty flatcars and are made of injection-molded plastic. The gun carriage is diecast as is the cannon itself. The wheelsets are chemically blackened metal and have fairly deep flanges. I would be hesitant to run these on Code 55 track. The couplers are NEM pocket couplers and come out of the box with no couplers in the pocket. A small plastic bag contains Rapido pocket couplers, which can be easily installed.
Details galore
The build quality on this model is pretty impressive with lots of nice details, including a gun that can elevate, railings, a swiveling crane, separately-applied ladders, a shell carriage, shells, smokestacks and I am sure a lot more that I didn't yet absorb. The paintwork is nicely done – no slop and seems to be accurate to the prototype. When assembled, the car runs reasonably smoothly, but it is heavy and will require some strength to pull. It likely takes the same amount of effort to pull as eight to ten N scale boxcars.
Some issues with the model
I have two major issues with the model. The first is that the assembly quality wasn't great. Mine came out of the box with a stirrup and the swiveling crane both detached from one of the bogeys. It was easy enough to fix with some CA glue, and my capability for detail gluing is easily as good as the Chinese factory where it was made. I can state this as the points where I glued these two detail parts back on show less glue slop than where the factory-applied details went on. But, I have reasonably good modeling skills. Many N scale folks like their stuff to work right out of the box and lack the dexterity or eyesight to re-attach dislocated detail elements. If you aren't handy with this kind of thing, make sure you have a friend who can help you out before buying one of these models (good luck finding one!).
Instructions in English, bitte
Secondly, given the popularity of this model, it should have some English instructions. Yes, most of these will sell in Germany, but there are tons of American N Scale Enthusiasts who are also World War II enthusiasts who likely bought these. You don't need instructions if your model doesn't have detail parts, but this one DOES have extra parts. I cannot figure out where these go or their purpose. There is one doodad that looks like a go-cart with wings. I think it is for transporting shells. There are also ladders, railings and what looks like a muffler on plastic sprues. The railings and ladders look similar to what is already attached to the model, so what they are for is anyone's guess. Maybe these break easily and what is in the bag are spare parts. There are also shells, a spare crane and some other bits I have no idea what they are for. Some instructions or even a diagram would be nice. It appears some of these are replacement parts, but in the case of the go cart and the shells, seem to be additional details.
So, overall I am very pleased with the model and cannot wait to run it behind my BR18 from Minitrix as soon as I have the chance. Nice work HobbyTrain Lemke!
To see more Railgun cars on TroveStar, please click
here.