Athearn to Re-release 33,900-gallon LPG Tank Car in New Road Names
Published: 2018-05-18 - By: Jenna
Last updated on: 2018-05-18
visibility: Public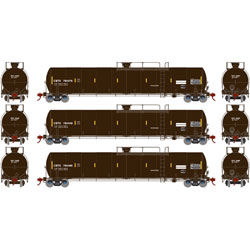 In late April 2018, Athearn announced that it will re-release its n-scale 33,900-gallon LPG tank car ($30.98)/($89.98) 3-pack in new road names. Each of these road names will feature three road numbers:
General American Tank Car
Transportation Equipment Inc
The CIT Group / Equipment Financing
North American Tank Line
Rocky Mountain Transportation
Union Tank Car
Capital Finance
Orders are due May 25, 2018 with an estimated delivery of April 2019.
Similar to other Athearn releases, this product will feature, among other things, body mount couplers and machined metal wheels. For more information about this re-release, here is a link to the
Athearn pdf for this product.
Here is a link to
other Athearn n-scale 33,900-gallon LPG tank cars on TroveStar.