A Solid Re-release -- Bluford Shops N Scale USRA 2-Bay Ribside Hopper
Published: 2018-08-17 - By: RoadRailer
Last updated on: 2021-01-01
visibility: Public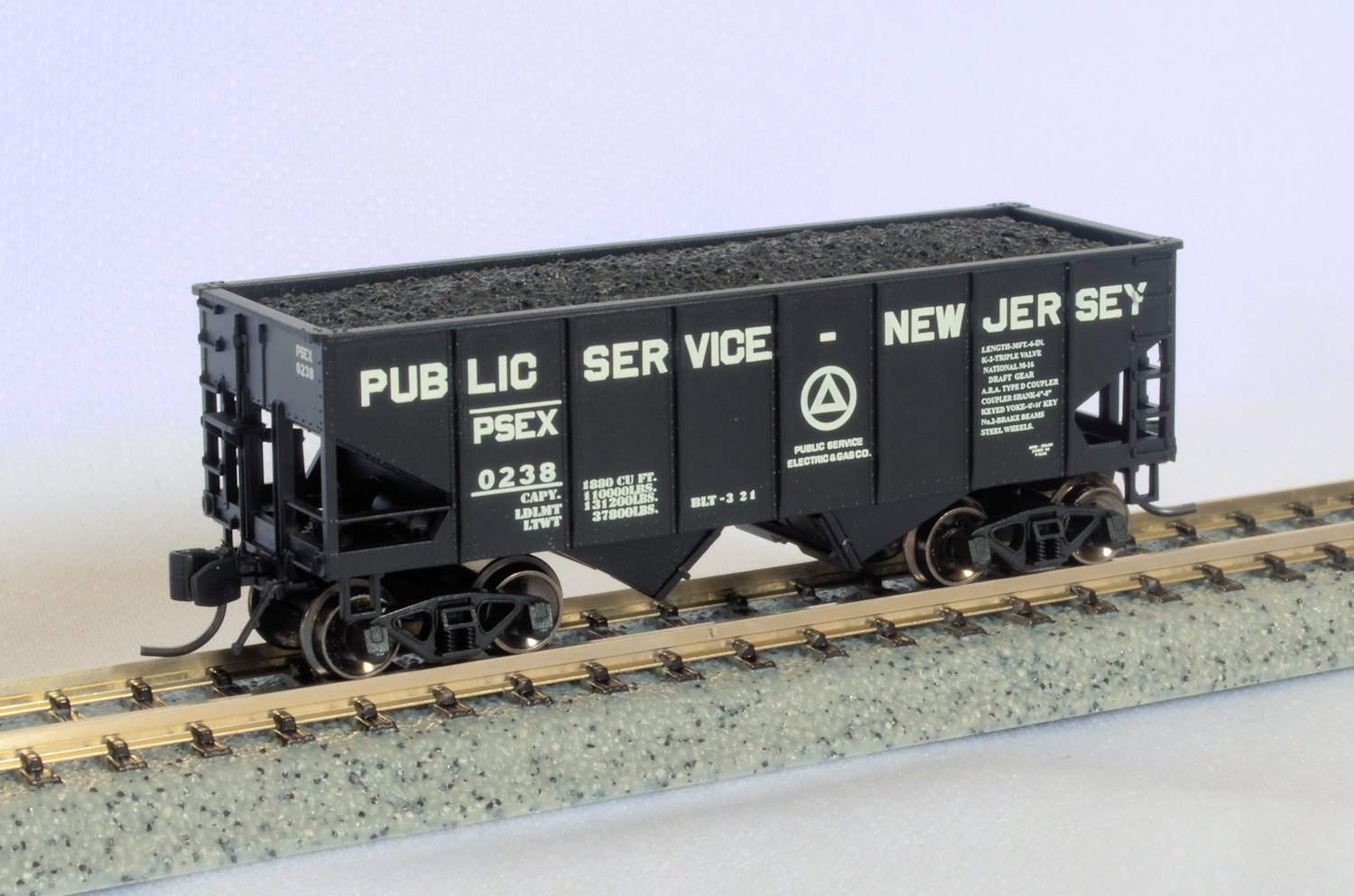 N-scalers will not be disappointed with this latest 2-bay hopper re-release from Bluford Shops.

A Proper Hopper
Bluford Shops has chosen a widely used and durable prototype for its model of the USRA 30' 6" 2-Bay Steel Hopper. Over 55,000 of these durable cars were built and survived in service for more than a half century. They have an interesting story.

History
In 1917, as the the United States joined its allies - -Britain, France, and Russia -- to fight in World War I, the nation's railroads found difficulty handling the rapid rise in passenger (transporting thousands of soldiers) and freight traffic (U.S. allies ordered $3 billion dollars of munitions for American factories). The federal government grew impatient and boldly nationalized the railroad industry in early 1918 under the newly formed United States Railroad Administration (USRA). Federal control brought many changes, perhaps the most notable of which were USRA standard designs for locomotives and rolling stock. Each design was created to maximize operating efficiency, uniformity and capacity, while minimizing manufacturing resources and maintenance costs. Many locomotive and car designs were well received, and production continued well after the war came to an end in 1918 and USRA involvement was dissolved. The 2-Bay USRA hopper was a successful product of the era and Bluford's model should find a similar success with N Scalers.

Road Names and Pricing
The latest run of Bluford's 2-bay hoppers are available in B&O, D&H, Interstate, MP, Public Service New Jersey, Westmoreland Coal and Westmoreland/NYO&W. In most road names, Bluford has wisely packaged their models so that collectors can attain six different road numbers by ordering a single car, 2-Pack and a 3-Pack. MSRP for a single car is $24.95, $49.90 for a 2-Pack and $74.85 for a 3-Pack. The cars are made in China.

Paint and High-level Detail
Cars are nested in familiar jewel cases and are further protected by soft plastic wrap to assure that the paint remains blemish free. Paint quality is excellent, with crisp opaque white lettering and stencil marks on the car sides and ends.

The level of detail is also first-rate, including poling pockets, hopper door clasps, numerous air brake components such as a reservoir tank, valve, lines and even brake hoses, which I think are a really neat touch. Bluford cautions that the hose detail is fragile and may break in shipping or use, but all three of my cars were perfectly intact. With some basic care in handling, I think the hose detail can remain whole. The hopper doors do not open. The model also includes body mounted magnetic knuckle couplers, detailed trucks and Fox Valley Models metal wheels with flanges that will happily ride on Code 55 rail. I like the railroady sound that metal wheels produce as they pass over rail joints, turnouts and crossings. Ride height is perfect.

Operation
Car weight is a minimal quarter of an ounce lighter than NMRA recommendation, but these cars track very well and derailments were never a problem.

Coal Load
The model is also equipped with a coal load, which can be easily lifted out with a fingernail to expose a sparsely detailed interior. I'm not a big fan of molded coal loads because half of an open top hopper's life is as an empty and I like the authentic look of loads and empties on my railroad. Nonetheless, Bluford's realistic molded load is more practical than a loose load and if a modeler wanted to run some as empties, the minimal interior detail is likely enough to pass a quick inspection as the car is hustled back to the mines.

Summary
Bluford Shop's USRA 2-Bay Hopper is a model that's worthy of its famed prototype and should find appeal on many coal-hauling N Scale railroads.