Athearn to Re-release N-scale NACC 50 foot single plug door box car
Published: 2018-09-04 - By: Jenna
Last updated on: 2018-09-04
visibility: Public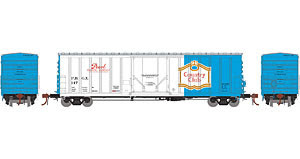 Athearn Pearl Brewing NACC 50 foot Single Plug Door box car
In late August 2018, Athearn announced that it will re-release its NACC 50 foot Single Plug Door box car ($23.98) in new/popular paint schemes: Quaker Oats, Chicago and North Western, Pearl Brewing, Johnson Wax, Canadian Pacific and Dakota, Minnesota & Eastern (each with three road numbers).
Orders are due September 28, 2018 with an estimated delivery of July 2019.
These Primed for Grime models (with faded base colors matched to prototypes) will feature some of the following: body-mounted McHenry knuckle couplers, newly tooled roller bearing trucks and machined metal wheels. For more information about this release, here is a link to the
Athearn website.
Here is a link to
other Athearn NACC 50 foot Single Plug Door box cars
on TroveStar.