Tangent Releases a Fine N-Scale Quad Hopper
Published: 2018-10-09 - By: gdm
Last updated on: 2021-08-12
visibility: Public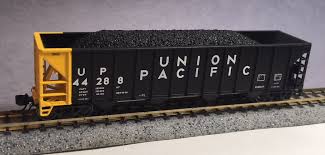 N Scale Bethlehem Steel 4-Bay Hopper by Tangent Scale Models
Tangent Scale Models has released its first N scale model, the Bethlehem Steel 3600 cubic foot hopper. N-scalers will appreciate the effort that went into Tangent's N Scale debut, which has not been produced in N scale before.
A Serious Quad Hopper
Tangent Scale Models has chosen a fairly predictable prototype for its model of the Bethlehem Steel 3600 cubic foot Hopper. Over 6,900 of these distinctive cars were built for the Union Pacific, making it the largest single prototype fleet that UP ever operated.
Background
Tangent's first production run used 12 different UP paint schemes. So if you like this model, but don't collect the UP, you are out of luck. If you are a UP N Scale fan, at least one of these paint schemes is bound to match whichever time-period you love best as the selections were picked specifically to span the entire lifespan of this car. Also, details vary to allow Tangent to accurately represent the H-100-16, H-100-18, H-100-19 versions of the hopper. There is also an undecorated version for those with painting skills. I do not know if this prototype found its way to other railroads and/or utilities, but I suspect it did. We will have to wait for a future release to see non-UP schemes.
The Box
Personally, I prefer all my rolling stock to come in the same size box, and only if the car simply cannot be made to fit, will I be happy with a larger box. Hence anything 50' and under should be packed in a 4.75" acrylic box. This way, the boxes don't take up more space than they need to, and they should stack neatly with my Micro-Trains, Atlas and other similar sized boxes. I accept that a model of an 85' heavyweight passenger car will not fit in this size box, but these quad hoppers will. Nevertheless, Tangent put them in 6.25" boxes. Larger than they need to be.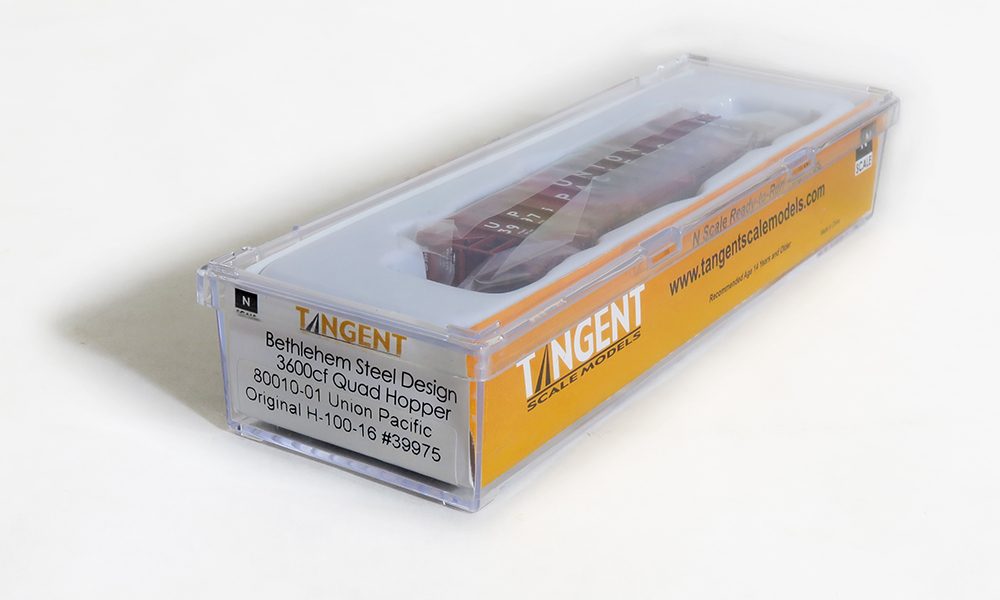 This 6.25" box is bigger than necesssary and takes up more room in my collection.
The cars are wrapped in a thin sheet of plastic, which I like seeing, and placed in a white plastic cradle which sits in the (oversized) acrylic box. I personally prefer clear cradles, as the white ones tend to discolor with age. But this is not that big a deal. The packing seemed to do an excellent job at protecting these cars.
Operation
These cars use body-mount Micro-Trains imitation couplers. The couplers are similar in quality to those used by InterMountain and Bluford and work very well when coupled with authentic Micro-Trains couplers. The trucks are nicely detailed and feature high-quality chemically blackened low-profile wheels. According to
Tangent,
these cars supposedly operate best on 18.75" curves. However, I tried them out and found they comfortably operate on much tighter curves. Do not be put off by this warning if you have tight curves on your layout. The cars will run fine on 15", 13.75", 12 3/8" and 11". Maybe not 9.75" but I suspect even this radius would work too, though they might look a little funny. There is nothing in the end detail of these cars that prevents the tight radius turns.
However, the trucks seem to put too much friction on the wheels. They don't roll as smoothly as similar cars made by Kato, MTL or Atlas cars with metal wheels. I usually expect a car to roll for a foot or two after a gentle push from my fingers on straight track. These cars only roll about 6". This means if you like to operate long trains, you will need some serious pulling power, especially around turns. Hopefully Tangent will reduce the wheel axles by just a tad in the next release to allow the cars to roll more smoothly.
Coal Load
The model is also equipped with a coal load, which can be lifted out with a little bit of work to expose a
most-excellently
detailed interior. The molded load is of so-so quality, but what a nice surprise to see such awesome interior bracework underneath. After having seem some excellent work done with resin cast molded coal loads made by various manufacturers over the last two decades, seeing a mediocre plastic load always makes me sigh, but that was more than made up for by the detail underneath. After all, in the real world, coal hoppers spend at least half their time empty and modelers who like to represent this by running empty hoppers are usually disappointed when the N Scale hoppers they purchase seem to forget this. Tangent didn't forget and modelers will appreciate it.
The Model
These cars are meant to be handled and run. Tangent really must understand what runners want when they built this car. There is excellent detail but
nothing
that can break off easily. Hoppers with this much detail have been made by Bluford and ScaleTrains.com and they certainly are beautiful, but it seems so often that folks who like to actually run their trains ("runners") are forgotten. These cars are meant to be operated and the design demonstrates this. First off, the bodies are nice thick plastic. Similar to Bachmann's modern designs, these cars can survive a 40" drop onto a hard surface. Yeah, the rivet counters out their might complain that the walls of the hopper appear too thick, but runners will see a car that can take a licking.
Their is excellent molded-in detail in the underside. Tangent seems to have pushed the envelope with how much detail they could get out of the injection molding process without relying on separately applied parts. This really shows in the bays. Micro-Trains usually uses detail parts to achieve this level of accuracy, and it works, but at the cost of ruggedness. Now to be fair, it is impossible to get molded detail to look as good as detail parts, but Tangent came darn close. This shows throughout the model in the rivets, underframe, ends and trucks.
There are detail parts as well. But mostly where they are safe from handling. The bracing on the interior uses details, as does the brake wheel, and the various hoses and drums at each end. There is also a very small perforated (cool) platform underneath the brake wheel. This appears to be plastic (as opposed to etched metal) but the detail quality of this small part is very fine.
Here is my favorite part! Rubber brake lines. Yes, rubber detail parts. Really cool. Brake lines have been modeled before but always in polystyrene, which looks cool, but breaks off way too easily. It is heartbreaking when pieces break (pardon the pun) off your rolling stock, which is why most manufacturers do not model brake lines. They know that customers will be disheartened. Tangent solved this conundrum by making this detail part out of some rubber-like material that allows the brake line to simply flex and bounce back when it is touched. This flexibility is key as this particular detail part will always be be subject to abuse when the owner attempts to run their cars. Again, thank you Tangent for catering to the Runners.
Summary
Tangent Scale Models' N scale Bethlehem Steel 4-Bay Hopper is a model that's worthy of its storied prototype and should find appeal on many coal-hauling N Scale railroads. Furthermore, Tangent is making a clear statement with this product that they are a company that caters to runners as well as rivet counters. There are some things about this car that the rivet counters may dislike, but I say tough beans. It's about time that some of the manufacturers realize that many of their customers like to actually OPERATE (play with) their products.