Review: ScaleTrains.com's N Scale 5188 Covered Hopper Is a Great Model
Published: 2018-10-15 - By: gdm
Last updated on: 2021-01-02
visibility: Public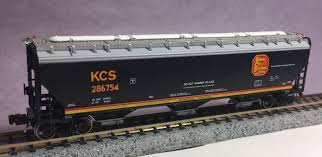 ScaleTrains.com N Scale 5188 Covered Hopper
ScaleTrains.com is really hitting its stride with this new n-scale covered hopper release.
Lots of nice detail
ScaleTrains.com (yes the .com is part of their company name) continues to venture into the rich world of covered hoppers with this latest release, which is part of the "Rivet Counter" product line. Lots of attention went into the details on this model. Also, since the prototypes had some variations in the physical details of their delivered railcars, so too, do these models. Hence there are three distinct variations produced by ScaleTrains.com in this release.
Background
This first production run of their third N Scale railcar comprises a total of five different paint schemes. They carry a MSRP of $39.99 but you can buy them directly from ScaleTrains.com's website for $31.99 each. The models were announced earlier this year, and just became available October of 2018.
Prototype
Gunderson-GIMSA/Concarril 5188 Cubic Foot Covered Hopper cars are common in unit grain trains as well as mixed manifest freights and can often be found alongside Trinity 5161cf Covered Hoppers. They are made by Gunderson, and still in production today (October 2018) as can be seen on the
Gunderson website
.
The Box
Personally, I prefer all my rolling stock to come in the same size box, and only if the car simply cannot be made to fit, will I be happy with a larger box. Hence anything 50' and under should be packed in a 4.75" acrylic box. This way, the boxes don't take up more space than they need to, and they should stack neatly with my Micro-Trains, Atlas and other similar sized boxes. I accept that a model of an 85' heavyweight passenger car will not fit in this size box, but these 3-bay hoppers will. Nevertheless, ScaleTrains.com put them in 7" boxes. Larger than they need to be and what is more, they added a cardboard sleeve. I guess this helps them put more marketing blather on the packaging and protects the inner acrylic box from being scratched, but it prevents you from seeing the car without removing the sleeve, the box-top, the upper cradle and the plastic film. I am guessing hobby stores won't like this.
The cars are wrapped in a thin sheet of plastic, which I like seeing, and placed in a clear plastic cradle, which sits in the (oversized) acrylic box. I personally prefer clear cradles, as the white ones tend to discolor with age and am pleased with these. They also are fairly easy to unpack and repack. The packing seemed to do an excellent job at protecting these cars.
Operation
These cars use body-mounted semi-scale Type E knuckle couplers. They look a lot like McHenry couplers but they are not. As far as we have seen, these run pretty well with MTL couplers. The wheels are nice quality blackened metal and low-profile. They roll beautifully! Give them a little push and they just glide along the track. This will help if you like to run long consists. With the amount of detail on these, you should take care in handling them. That being said, they appear a little more durable than the previously released
ScaleTrains.com
carbon black hoppers.
ScaleTrains.com claims that these models work on 9 3/4" radius turns but recommends 11". I tested them and concur. I have a tight layout and saw that they ran great on the tight turns. Unfortunately, I cannot test a long consist on the home layout and that is where we really learn how well the cars operate on curves.
The Model
ScaleTrains.com takes its "Rivet Counter" line seriously. The body style variations speak to the concerns most recently voiced by the internet trolls: "Well that car was run on the XXX-Railroad in 1952, but the ones run on MY railroad in 1956 have 5 extra rivets on the left-hand side". Don't get me wrong, the manufacturers and hobby store owners
detest
the rivet counters. They are loud-mouthed over-opinionated folks who never actually buy the products. However, their opinions get echoed around social media (especially certain troll-forums) and affect the average consumer. Hobby store owners hate them too. They come in, see a model, go on and on about how awful the model is, and then buy a 20 cent paint brush.
That being said, if a manufacturer doesn't want the trolls to inject their rotten souls into the marketing efforts for a model that they poured their life into, they need to count some rivets. Now, let me be clear, I am not a pototype expert, and I do not care whether the hatch on my hopper is prototypically accurate or not. But I can see that the hatches on these models are separately applied details (and not molded on) and the hinges on the hatches are actually painted metallic! The roofwalk is a gorgeous etched-metal affair that just screams quality at you.
The bay covers are also separately applied details and their is more etched metal in the brake wheel platform. It is hard to see, but the use of a detail part for the brake lines underneath is amazing. They also added brake hoses at the ends next to the couplers and after prodding them, I would guess they are reasonably durable, though not as much as the new
Tangent
models, which uses some kind of flexible rubber material for their brake hoses. Again, hard to see is the amazing detail that went into the ends. The tanks and lines are painstakingly detailed. The stirrups are extremely accurately thin, though one of the ones in my sample copy is not fully attached. Considering the raw number of detail parts, I am also very impressed that there are almost no noticeable glue marks. Well done. The trucks are well executed as well.
Summary
This is a great model. At $32 each, it is not cheap to put together a long unit train of these cars, but integrating them into my covered hopper mixed consists at NTRAK shows will be a pleasure. They may be "Rivet Counter" cars, but as a "Runner" I will be happy to run these cars on my trains and not worry too much about pieces breaking off. ScaleTrains.com seems to really have gotten it right in finding a balance point between cost, detail. and operability. I highly recommend buying some of these for your fleet.