Bachmann Northeast Caboose
Published: 2018-10-14 - By: gdm
Last updated on: 2021-01-02
visibility: Public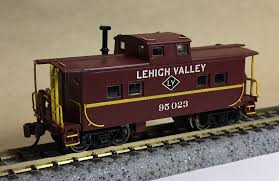 Bachmann's newer toolings are pretty good runner models.

Durable with lots of nice paintwork
Bachmann is know for their entry level trainsets. Bachmann frequently is the first brand name that a newcomer to the hobby will encounters due to the approachability of their entry-level starter sets. Unfortunately, to keep the prices low for these starter sets, the rolling stock included in these sets is of necessity not the highest quality. Bachmann then makes these same low-quality cars and engines available for purchase individually so that those folks who bought the entry level sets can add on to their trains. Given the nightmare scenario that is the world of N Scale couplers. bewildered newcomers will often buy these cars with the assumption that they will comfortably run well with the starter set they already own, and they are correct.

Unfortunately for Bachmann, once the newcomer expands their horizons and discovers rolling stock made by the likes of Micro-Trains or Intermountain, they become somewhat soured to the stuff made by Bachmann. This has been scenario for countless N Scalers for 50 years. Now, Bachmann is releasing new, excellent quality body styles for the modelers who wants something better. This caboose is one of the 'good' ones.

Background
The NE (Northeast) style caboose was first launched by Bachmann sometime in the last ten years. Unfortunately, unlike other brands, Bachmann doesn't have a great communications channel for people like TroveStar, so it can be a bit hard to figure out the exact release date. As far as we can tell, they released 6 paint schemes in 2011 and another six in 2014.

Prototype
The Northeast or NE style caboose was introduced by the Reading Railroad in 1924. The design was an all-steel version of a USRA design. The acquisition of these new cabooses was prompted by proposed Pennsylvania legislation requiring larger, more structurally sound caboose for use in through freight consists. The original set of cabooses was ordered from AC&F, but other manufacturers also adopted similar designs. The Reading selection was made after the consideration of several designs. The original purchase was for 10 cars in 1924, but the design was so effective that it became the de-facto Reading standard and they continued purchasing new cabooses of this type through 1948. The design soon became popular with other Northeastern railroads such as the WM, L&NE, LV, CNJ and others. .

The Box
Personally, I prefer all my rolling stock to come in the same size box, and only if the car simply cannot be made to fit, will I be happy with a larger box. Hence anything 50' and under should be packed in a 4.75" acrylic box. This way, the boxes don't take up more space than they need to, and they should stack neatly with my Micro-Trains, Atlas and other similar sized boxes. I accept that a model of an 85' heavyweight passenger car will not fit in this size box, but these 3-bay hoppers will. Nevertheless, Bachmann put them in 6.25" accordion boxes. Larger than they need to be.

The cars are wrapped in a clear plastic double-cradle which sits in the (oversized) acrylic box. I personally prefer clear cradles, as the white ones tend to discolor with age but the double-cradle is a nuisance for unpacking and repacking. The packing seemed to do an excellent job at protecting these cars, but they are so durable, I can't imaging why this is needed.

Operation
These cars use body-mounted EZ-Mate II knuckle couplers. They look a lot like McHenry couplers but they are not. As far as we have seen, these run pretty well with MTL couplers, but they are a little large for our taste. The wheels are nice quality blackened metal and low-profile. They roll beautifully! Give them a little push and they just glide along the track. This will help if you like to run long consists.

Swappable Rapido couplers are provided in the box which can be changed out for the knuckle couplers if you prefer Rapidos on your rolling stock. This is a nice touch that most modern rolling stock models do not have.

The Model
Most of the detail in this model is in the paintwork. There are not a lot of separately applied detail parts as we would come to expect on a $30 MSRP car. There is not much point to rivet counting as every prototype NE caboose is different from every other NE caboose. It is more a 'style' of caboose rather than an actual production model. What Bachmann did was to highlight the molded in details with precise paintwork. This accentuates the handrails, steps and ladders. The only writing is the road numbers which honestly, could be a little more precise. The detail parts are the smokestack, brake wheel and end ladders. The underframe. however is well detailed and surprisingly intricate when compared to the rest of the model - a nice surprise.

Summary
This is a fairly good model. At $3o each, they are a bit expensive for what you get, but I am sure on the discount web sites, you can find them in the $22 range. Still, this is a bit of a high price tag for the amount of detail provided. That being said, they run GREAT. The interesting paint work and excellent underframe make up for a lot of the lack of detail as long as you do not look too closely. Lastly, they are the only manufacturer of NE style cabooses that makes the Boston & Maine caboose in the blue-black-blue paint scheme and that made it a must-have for me.