New Paint Schemes for Atlas N-Scale Ford F-100 Pickup Trucks
Published: 2018-11-01 - By: Jenna
Last updated on: 2020-05-10
visibility: Public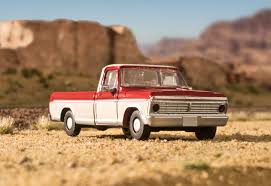 Atlas N-Scale Ford F-100 Pickup Truck
In its October 2018 All Scales Monthly Catalog, Atlas announced it will re-release its N-Scale Ford F-100 Pickup Trucks in 8 new paint schemes: Milwaukee Road, Chessie System, Penn Central, Canadian National, Richmon, Fredricksburg, and Potomac, Central Railroad of New Jersey, Delaware and Hudson and Southern Pacific.
The pre-order deadline for this item is Wednesday, November 14, 2018. Estimated arrival is Q4 2018.
The item will run $32.95 and come with two trucks per pack.
From the Atlas website: The 20,700 gallon tank car was introduced in the mid-Sixties by General American Transportation Corporation, more commonly known simply as GATX. The design is a general-purpose, non-insulated, non-pressure tank car. The Atlas model recreates two major saddle variations (Type 10 and Type 20) and two top platform variations (one- and two-piece). The more common products carried in this tank car were tallow, animal fat, fuel oil, diesel fuel, vegetable oil, soybean oil, fertilizers, lubricating oil, waste oil, and glycol.
Some product features include: Side view mirrors, headlight glazing, and a moveable tailgate hatch.
Here are
previous releases
of the Atlas N-Scale Ford F-100 Pickup Truck on TroveStar.
Here is a link to the
October 2018 All Scales Monthly Catalog.