North American Railcar Coal Gondola
Published: 2018-11-02 - By: gdm
Last updated on: 2021-08-12
visibility: Public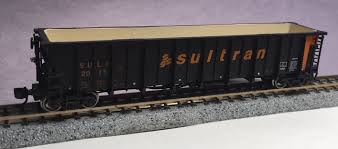 North American Railcar HS 4,000 cubic foot Coal Gondola
North American Railcar Corporation (NARC) introduced this model in June of 2013. It was their second original model and demonstrated NARC's continued passion for delivering high quality N Scale rolling stock that other manufacturers have overlooked.
Background Information
NARC (North American Railcar Corporation) is effectively a subsidiary of PWRS (Pacific Western Rail Systems), a Canadian model railroad shop located in Surrey, a town south of Vancouver, near the border of Washington State. In addition to operating a brick-and-mortar hobby shop, PWRS has grown itself as one of the largest online operations in the world. Despite being located in Canada, they have created a unique shipping system to allow them to (legally) ship products to American customers at shipping rates competitive with US-based online retailers.
Prior to getting into the manufacturing business, PWRS got its feet wet by producing 'Special Runs' of rolling stock with Brands such as Micro-Trains and Intermountain producing models to PWRS's demanding specifications with unique and distinctive paint schemes that were often overlooked by the major brands for various reasons. Some of the most interesting Micro-Trains special runs of the past decades have been commissioned by PWRS.
Dan Huberman, the PWRS boss-man, eventually realized that certain prototypes were never going to be modeled no matter how many special runs he promised to order. So he taught himself how to become a manufacturer - which is quite a leap from being a retailer. The easy way to go would have been for them to subcontract manufacturing to one of the big boys, such as Intermountain. Centralia Car Shops does exactly that. They are the manufacturing subsidiary of Des Plaines Hobbies, and Centralia rents manufacturing capacity from Intermountain to produce models. Dan doesn't do things halfway though. He decided to set up his own manufacturing facility in China rather than depend on anyone else, and NARC was born in 2009 with their first original model, the Hawker Siddeley cylindrical grain hopper.
Four years later, we have the second model: the 4,000 c.f. Coal Gondola.
More than just a Body Style
When NARC produces what TroveStar calls a 'Body Style', they do it a little differently than most. The coal gondola being review here actually is more like a 'family' of body styles. NARC designs their models such that each time they produce a paint scheme, they can also swap out small details to remain more prototypically accurate. For example, when the prototypes have various options available to the railroads that purchase them, NARC makes sure that where possible, his models also have these variations. Usually manufacturers just produce the most common variation with their models and just vary the paint colors. Varying actual detail parts to match the prototype variations is research-intensive, time-consuming and expensive. But, this will definitely please the rivet-conscious consumer.
We have seen this done with other manufacturers. For example, the Bowser GLa 2-Bay hopper is available with both horizontal AND vertical brake wheels (TroveStar reviewed this model last year). But NARC takes this to a whole new level by having a dozen or so
physical detail
variations that permit them to make their models look extremely close to whatever variant was actually purchased by the road name they are modeling. And if the end-user company used four different variations throughout their history, NARC will make four different variations of the coal gondola to match the actual road numbers in question. Very impressive.
Prototype
'Bathtub' gondolas. There is some disagreement as to what constitutes a bathtub gondola. Jenna (Mrs. TroveStar) wrote
an entire blog article
on this one question. But for now, I am going to 'lump' this gondola into that general category. Sometime in the latter half of the 20the century, the railroad industry figured out it was much cheaper to move coal in gondolas rather than hoppers, assuming you were willing to grab the railcar and turn it upside down to empty it. Gondolas are a LOT cheaper to produce and maintain than hopper cars. However, to save even more money, it was more efficient to produce specialized gondolas that had higher sides (to hold more coal) and constructed to withstand the stress and strain of being flipped upside down on a regular basis. The high sides of these new gondolas gave them similar proportions to a bathtub and hence the name.
The National Steel Car company was one of the many railcar manufacturers that jumped on the coal gondola bandwagon, and given their production facility in Hamilton Ontario, they were well placed to sell their particular product to the various Canadian railroads including CN, CP, Procor and BC. They also successfully adapted the car to Sulfur transportation and as result Sultran became a major customer. These cars were built to last and hence found their way to many other smaller road names in the second-hand marketplace as well.
The Box
These cars are large enough they won't actually fit in ye olde 4.75" box known and loved by N Scale modelers everywhere. They actually need a larger box. Maybe not the 7" box used here, but you cannot expect manufacturers to have a dozen different sized acrylic boxes, so this larger box is OK. The traditional jewel box design is simple and obvious to open. The cars are protected inside by a cradle made from two pieces of molded clear plastic which snap together using a 'button lock'. The two halves are pretty well friction locked together so be careful when you pull them apart so the car doesn't go flying across the room when you get them pulled apart. Having worked with this design before, I found it easy enough. There was no sheet of plastic film wrapping the car, but I believe that is only needed in cases where you don't have such a snug fit inside the cradle.
Operation
These cars use body-mounted real (HURRAY!) Micro-Trains couplers. The wheels are nice quality blackened metal and low-profile. They roll beautifully! Give them a little push and they just glide along the track. This will help if you like to run long consists. With the amount of detail on these, you should take care in handling them. I give each railcar I review a little push on a flat piece of Kato Unitrack and I expect them to sail along the track with a comforting sound of metal wheels on metal track. You know the sound I mean. Kind of like a snake's hiss. I call this the pinky test and this care passed with flying colors.
Sorry, but I am not going to spend time on how well the couplers work because they are real Micro-Trains couplers and simply the best available.
Turns are going to be tough. These models mount the coupler boxes exactly where they should go in order to correctly model the prototype. They are body-mounted. They look great. But (and I don't mean this as a ding to the model) they are not going to handle tight turns. Because the coupler is not attached to the truck, it doesn't turn with the car. This prevents the freedom of horizontal traversal needed for 9 3/4" turns. They are going to derail or brake away.
Personally I prefer this tradeoff
, but I also understand that many modelers don't have the space for larger turns on their layouts. If this is the case, you will have a real problem with running these cars. Most of the time I run my own collection on NTRAK layouts so this has no effect on me, but I think it is only fair to point this out to folks who plan on running these at home.
The Model
There is tons of detail here. The underframe may be the best I have every seen and I look at a LOT of underframes (am I a nerd or what?) I love what I see. I have NO CLUE what the purpose is of most of the lines, hoses, clamps, tanks and miscellaneous doodads are. Who cares? They are so cool. Some of these detail parts are wire. Some are plastic. But be careful. It is EASY to break these parts off. That means be especially conscious of where you place the cars when they are not on the rails. If all that detail smacks against something hard (let's say you were to set the car down on a desk cluttered with tools) you might be leaving some bits behind when you go to pick the car back up.
There are more great details on the sides and ends. Every ladder is a separately applied detail piece. Th break wheel platforms are etched metal. They are painted so it can be hard to recognize as such, but I love to stare at well made cars. Not much to say about the interiors since they were designed to be as smooth as possible to make the unloading as simple as possible. There is lots of micro-printing on the body sides. You can easily tell that the printing is so accurate that you can actually read it with a magnifying glass. Do keep in mind with this many detail parts, you will see some glue marks, but not to an excessive degree.
Summary
This model is more than a model. It is a proof-of-concept that you can have your cake and eat it too. You can have one gondola BC livery with 17 posts AND you can have another gondola in Procor livery with 19 posts. You can have detail upon detail to match the prototype and have a car that will run well in long consists. You get all this for a high price, but not an exorbitantly high price. The caveats will be that the detail parts are always going to be delicate and you will have to handle these cars with the care they deserve, and you won't be able to pack them onto super-tight radius curves. Also, you better have a goth streak in you because you can get this car in any color you like as long as it is black. Just kidding ... some of the CN cars are brown.