Athearn Adds New N-Scale Tooling: PS 4427 3-Bay Covered Hopper
Published: 2018-11-13 - By: Jenna
Last updated on: 2018-11-13
visibility: Public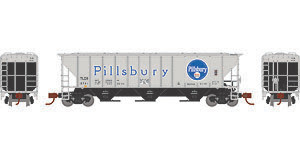 Athearn N Scale PS 4427 3-Bay Covered Hopper, Pillsbury
Athearn continues to add to its n-scale product line and has announced a new tooling: the Pullman Standard 4427 3-bay covered hopper, a staple freight car for North American prototype modelers. Introduced in 1964, this car, with 4427 cubic foot capacity, was designed to carry bulk commodities, such as grain.
Preorders are due November 30, 2018 with an estimated release date of October 2019.
This car will be sold individually ($28.98) and in 3-packs ($84.98). Road names will include Harmon Grain, Montana Rail Link, Pillsbury, Santa Fe, Burlington Northern, Chicago & NorthWestern, Union Pacific and Wisconsin Central.
Some product features will include: body-mounted McHenry operating scale knuckle couplers, photo etch walkway and accuarate outlet gate (per prototype).
For more information about this release, here is a link to the
Athearn announcement pdf.