New Road Numbers for Athearn N-Scale Thrall High Side Gondola
Published: 2018-11-13 - By: Jenna
Last updated on: 2018-11-13
visibility: Public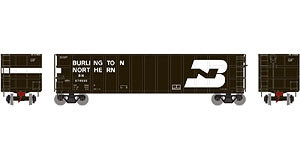 Athearn N Scale Thrall High Side Gondola
Athearn announced new road numbers for popular paint schemes for its n-scale Thrall high side gondola.
Preorders are due November 30, 2018 with an estimated release date of October 2019.
This car will be sold individually ($28.98) and in 3-packs ($69.98). New road numbers will be available for the following road names: Kansas City Power & Light Company, Public Service Company of Colorado, San Antonio Public Service Board, Rio Grande, Burlington Northern and Union Pacific.
Some product features will include: body-mounted McHenry operating scale knuckle couplers, separately applice brake wheel and machined metal wheels.
For more information about this release, here is a link to the
Athearn announcement pdf.
Here is a link to the
Athearn N Scale Thrall High Side Gondola
on TroveStar.