An Iconic Model: Rapido Trains N Scale TurboTrain
Published: 2018-12-09 - By: Alain LM
Last updated on: 2021-08-12
visibility: Public - Headline

An Iconic Model: Rapido Trains N Scale TurboTrain
Rapido Trains of Markham (in the greater Toronto area) has just released an N scale version of the UAC TurboTrain, just 10 years after the company released it in an HO version. This is only the second time that this train is offered in N scale, after a quite poor version by Bachmann in the 1970s. No need to say that both versions have nothing in common - guess which one wins...?

The Turbo is offered in all the prototypical configurations and liveries that have existed, i.e.
- US DOT 3-car - this train toured in the whole USA as a promotion to the newly created Amtrak in the early 1970s.
- Penn Central 3-car
- Amtrak early 5-car
- Amtrak late 5-car
- CN 5-car + a 4-car extension set
- VIA 5-car + a 4-car extension set

All sets are available either in DC (DCC ready) or in DCC with Sound versions.
List prices range from $299.95 (3-car DC) to $569.95 (5-car DCC/Sound), with the 4-car extension set at $159.95.
About the prototype
Here is how Rapido Trains describes the prototype on its website:
The United Aircraft TurboTrain is an important part of our railroad heritage. The Turbo was a high-speed passenger train that operated in Canada and the United States from the 1960s to the 1980s. To this day, it is the fastest production train in North American history. It achieved the American speed record of 170.8 MPH in 1967 and the Canadian speed record of 140.6 MPH in 1976, both of which still stand today.

The TurboTrain was designed and marketed by United Aircraft Corporate Systems Center (later Sikorsky Aircraft) as a gas turbine-powered, high-speed intercity train. Each train was powered by four or five Pratt & Whitney ST-6 gas turbine engines, with an additional gas turbine providing auxiliary power. The Turbo featured a unique pendular suspension over articulated single-axle trucks, which allowed the train to tilt in curves. That feature, combined with the short Intermediate Car length, meant that the Turbo could travel much faster than regular trains on conventional track. It was a high-speed train without the need to invest in high-speed train infrastructure.
And now for the review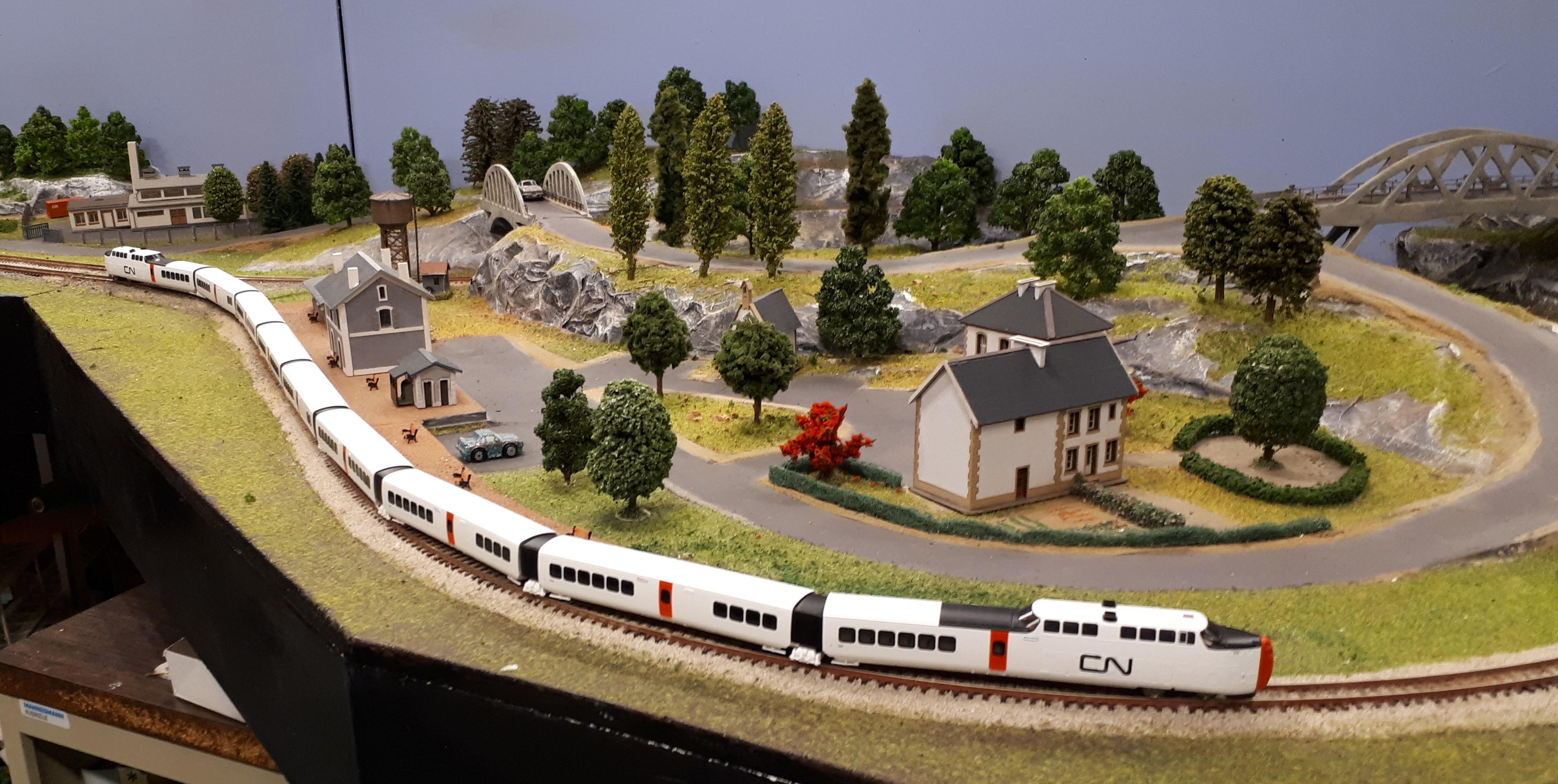 Unboxing
All sets are packaged in a nice blue cardboard box wrapped in a gray cover that features a drawing of a yellow VIA turbo. The actual reference of the set is printed on a label on the back side of the box. All markings are bilingual, in English and French.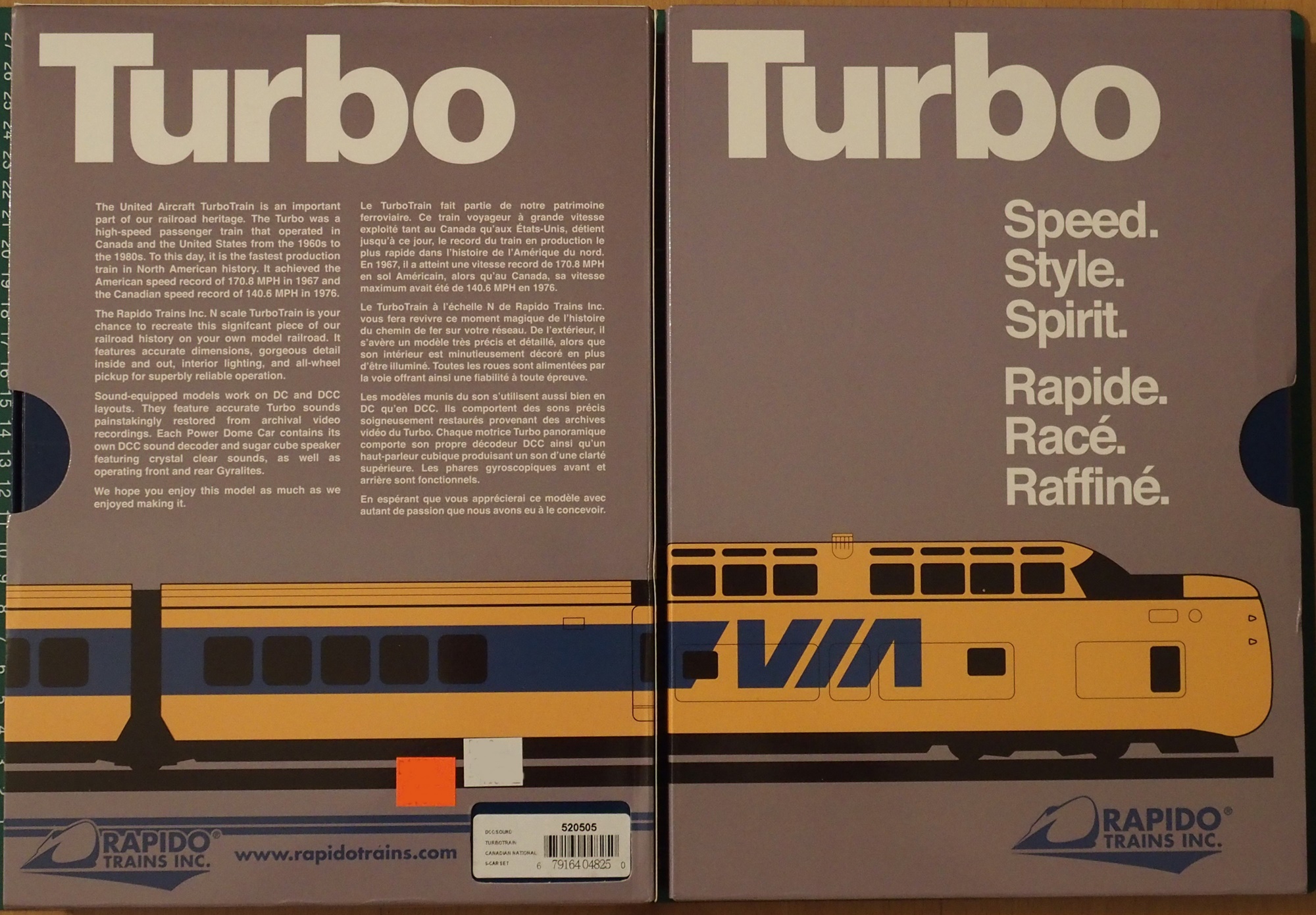 Back and Front. All sets have the same booklet cover featuring a VIA Turbo, the favorite of Jason Shron of Rapido Trains.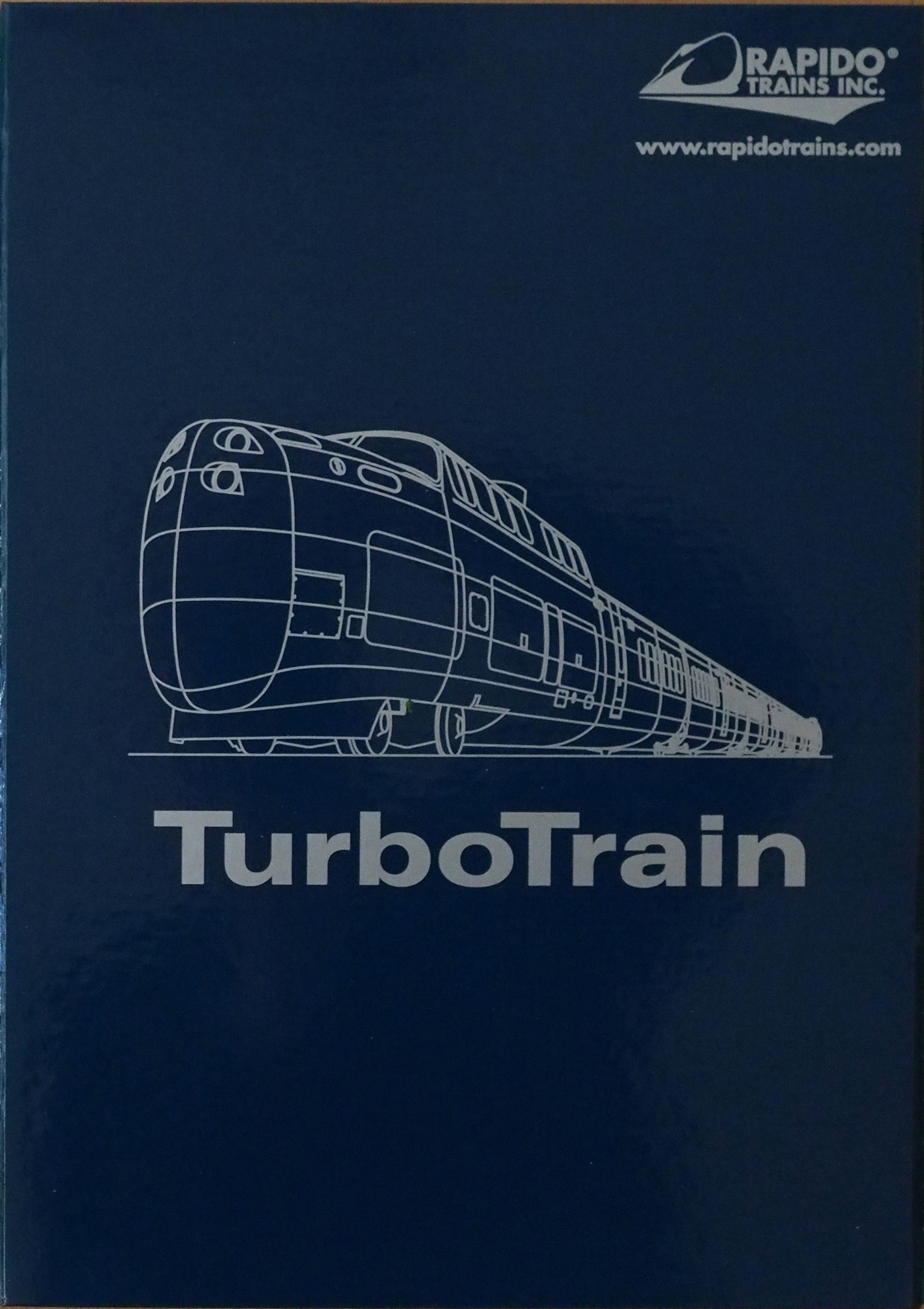 Front side of the box, after removal of the cover.
Inside the box, each car is well protected in a slot molded to the appropriate size in a hard foam receptacle. Even better than similar Kato sets, in addition, each car is wrapped in a plastic sheet, which makes it easier to remove it from its slot.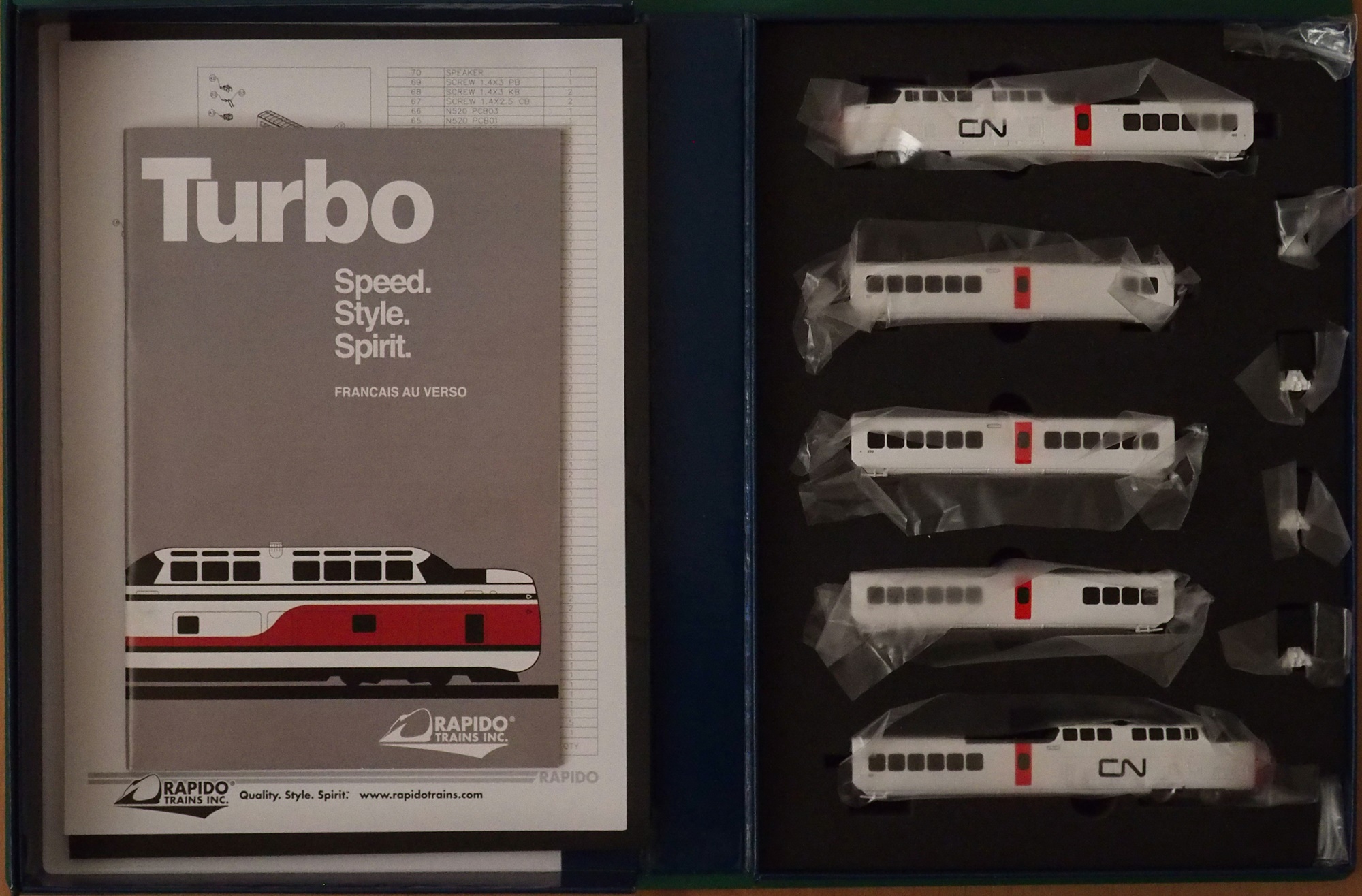 CN 5-car set. This was better presented when I first opened the box...I've been a bit lazy about properly wrapping the plastic sheets around the cars when putting them back in the box.
In the box, you find the manual, bilingual English and French, exploded diagrams with part list numbers for all types of cars, and two plastic bags - one contains spare axles and traction tires, one contains spare white rods (though already mounted under the cars at each end).
On the 5-car sets, one axle of each motor PDC car is equipped with traction tires on both wheels, unlike the 3-car sets. However each box contains a bag with replacement axles, so you can elect to replace non-traction tire axles with traction tire axles, and vice-versa. Rapido Trains strongly recommends that you keep traction tires beyond 3-car consist, as pulling power is only available from the 4-wheel trucks of each of the motor PDC cars.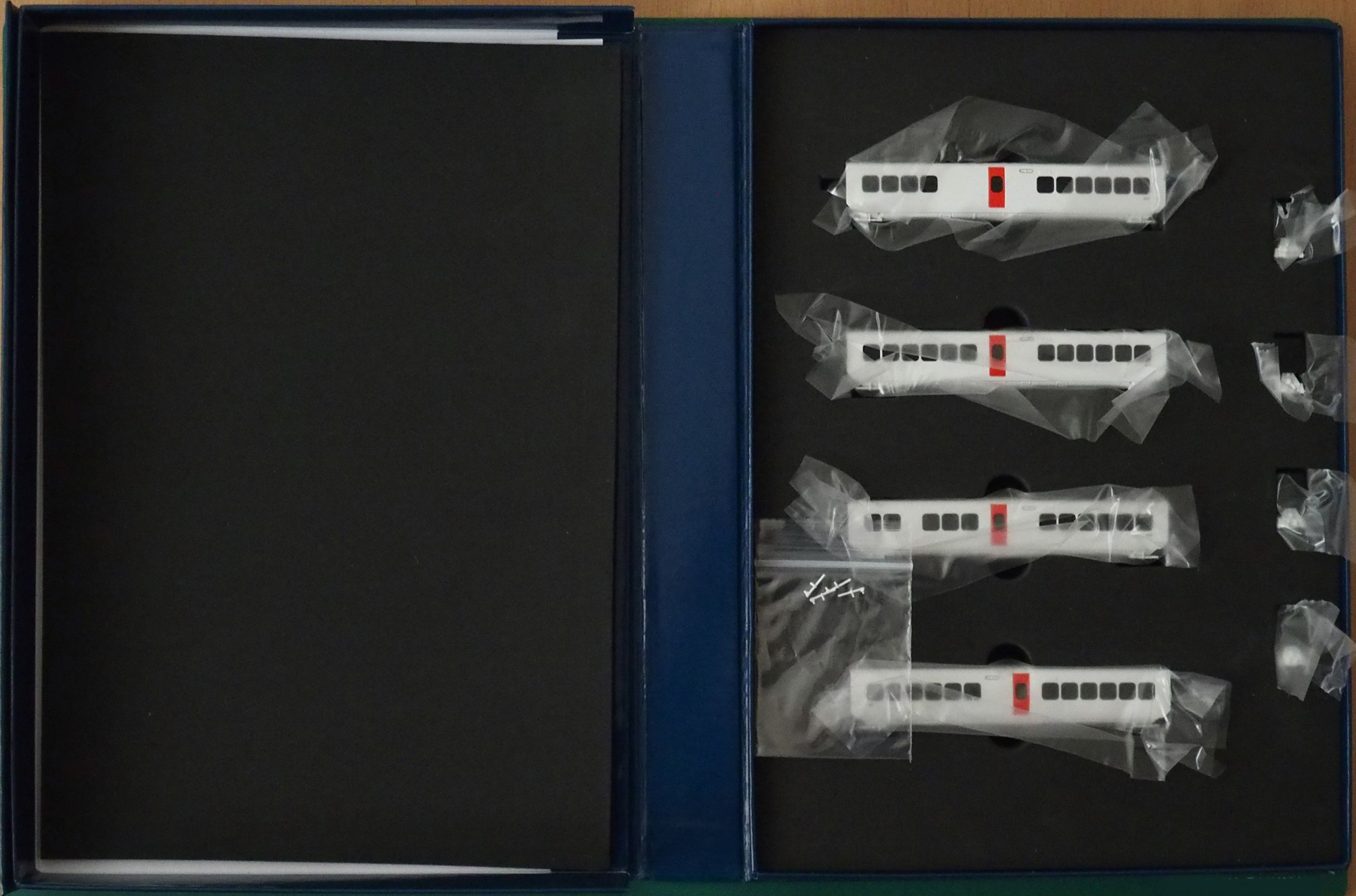 CN 4-car extension set.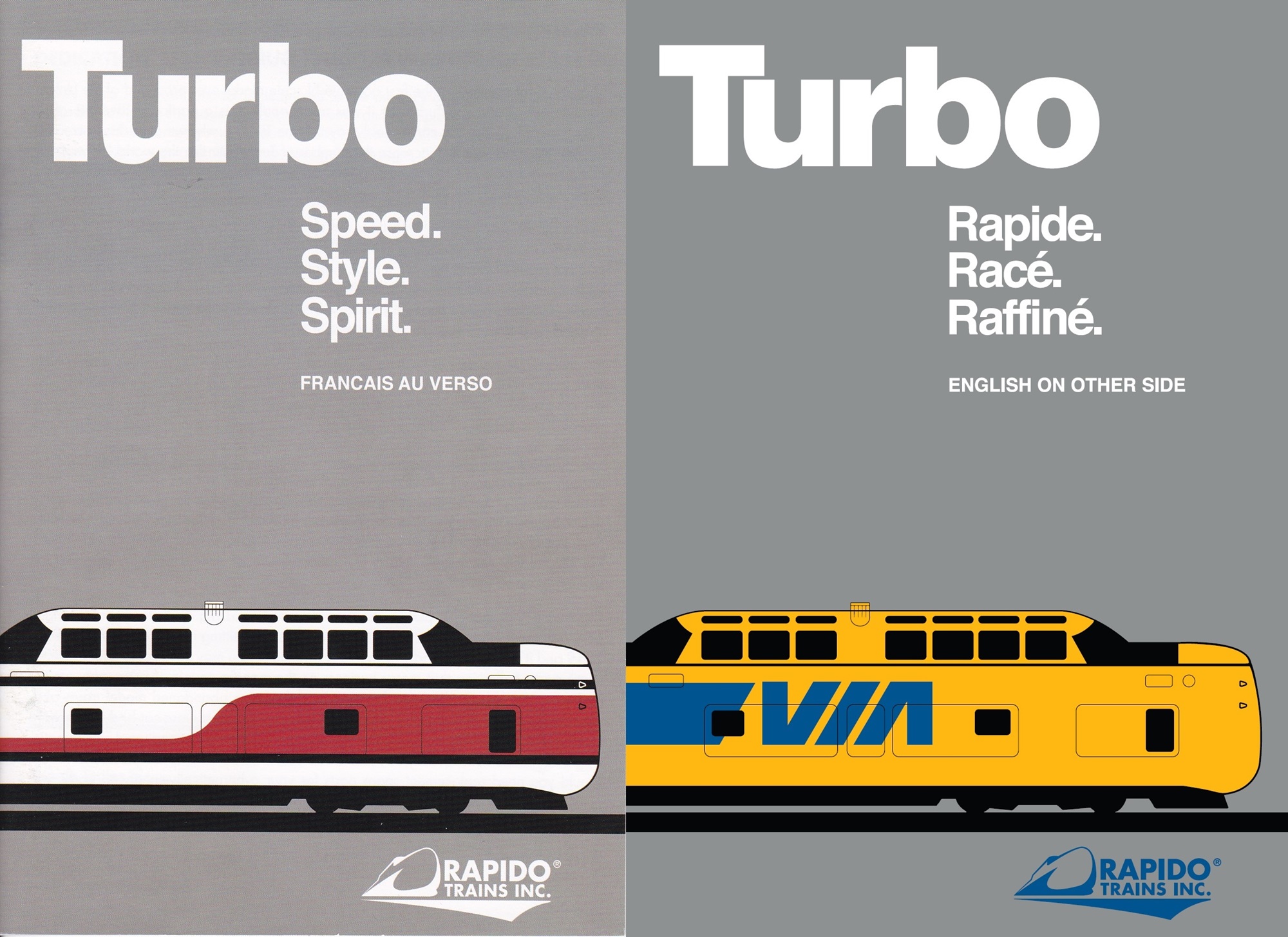 The manual cover, English and French on the flip-side.
I strongly recommend that you read the 18 page manual. First of all, it contains useful information, such as the list of sound functions - this is what a manual is for, isn't it? But more importantly, it is fun reading. In case you don't know Jason Shron's (the founder of Rapido Trains) style, take a deep breath. Yes this guy is nuts - he willingly confesses this - but so hilarious with a totally offbeat sense of humour. If you go for this kind of humor, then I advise you to subscribe to the Rapido Trains newsletter and visit its YouTube channel. Well, if you dislike this type of humour, there is probably nothing we can do for you except to exile you to planet B-7856-Z, where you'll be welcomed as a first class Zorglub.

Manuals and Parts Diagrams can be downloaded on Rapido Trains N Turbo Support Page.
The French version of the manual has a number of flaws, that range from minor spelling mistakes to a few more severe mistranslations. I have provided Rapido Trains with a fully commented version of the French manual, in case they want to make some fixes in an updated electronic version, but still waiting at the time I update this article...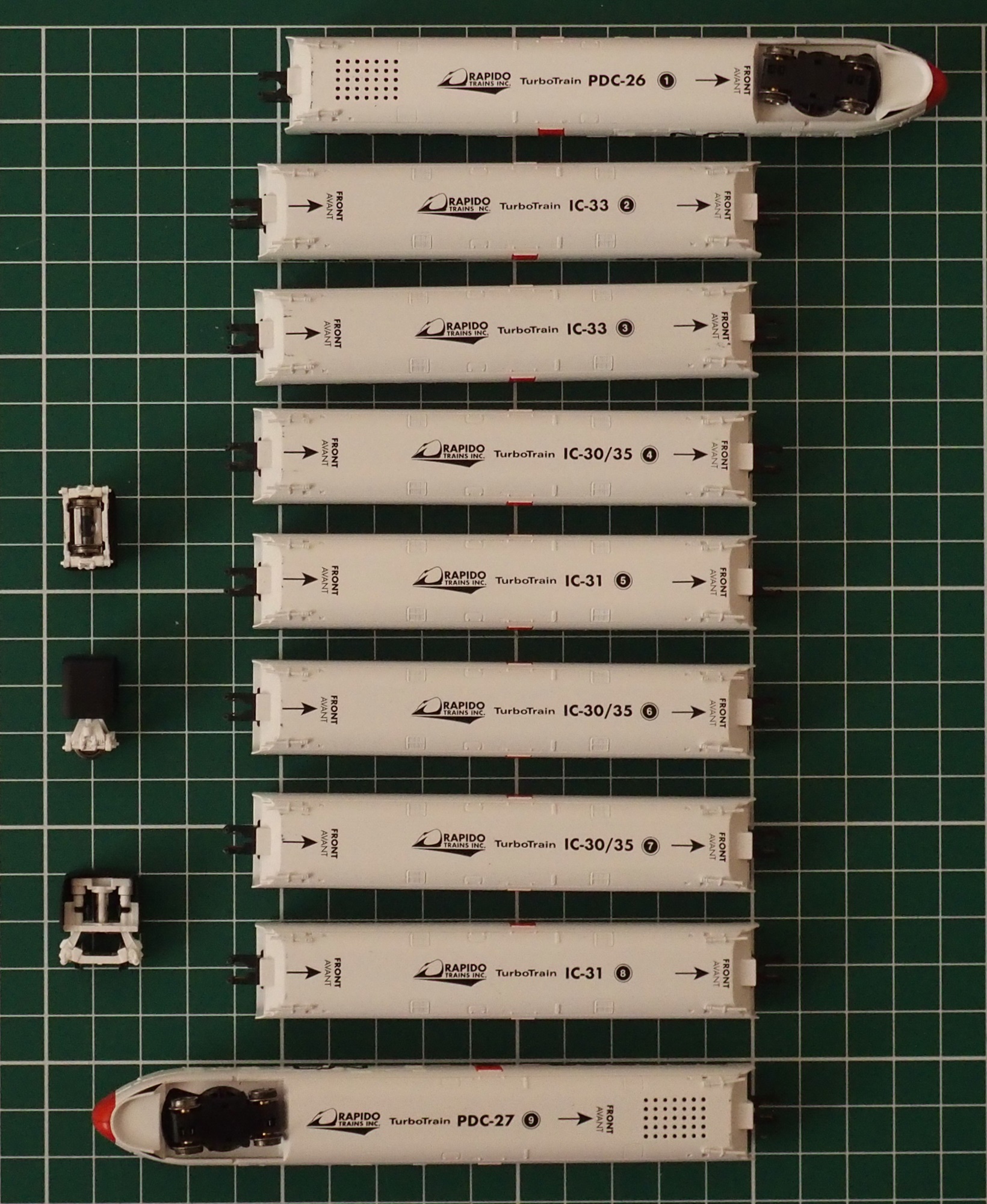 All 9-car of the CN consist, in ascending order from top to bottom. The grid is in centimeters.
On the left-hand side, the single axle assembly seen from bottom, side and front.
Note that the common axles between each intermediate car are separate items. This is an original design compared to other models of high speed trains that I know about, such as Kato French TGV or Hornby-Arnold Spanish Talgo where the common axle is mounted on one side of each car.
Assembling the consist is very easy. Each car has a number on the bottom as well as an arrow indicating the direction of the assembly; just follow the numbers in ascending order and the direction, and there you are. Not following the direction might lead to short circuits, so be careful. The single axle assembly has no direction, so just snap it into the cars.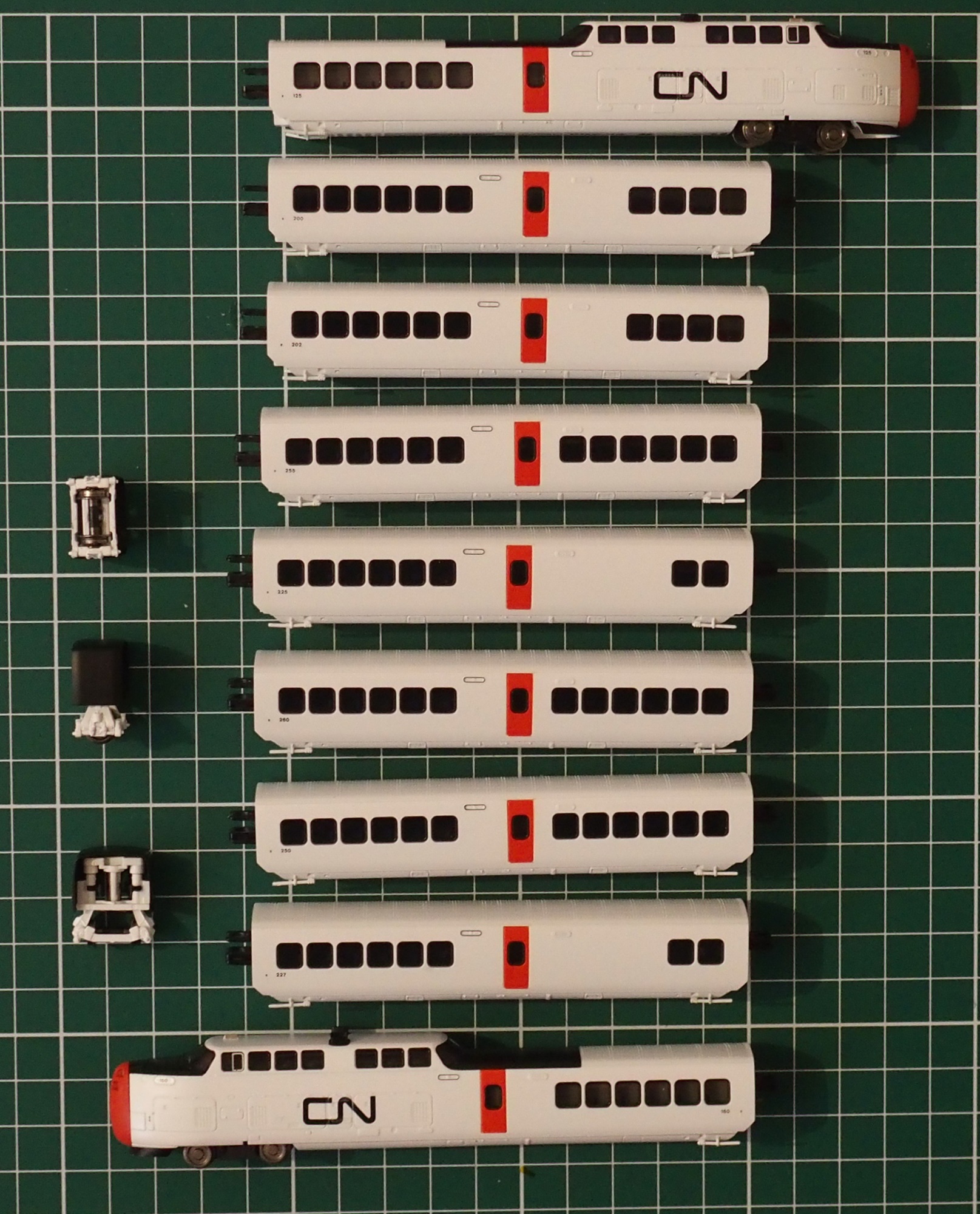 First run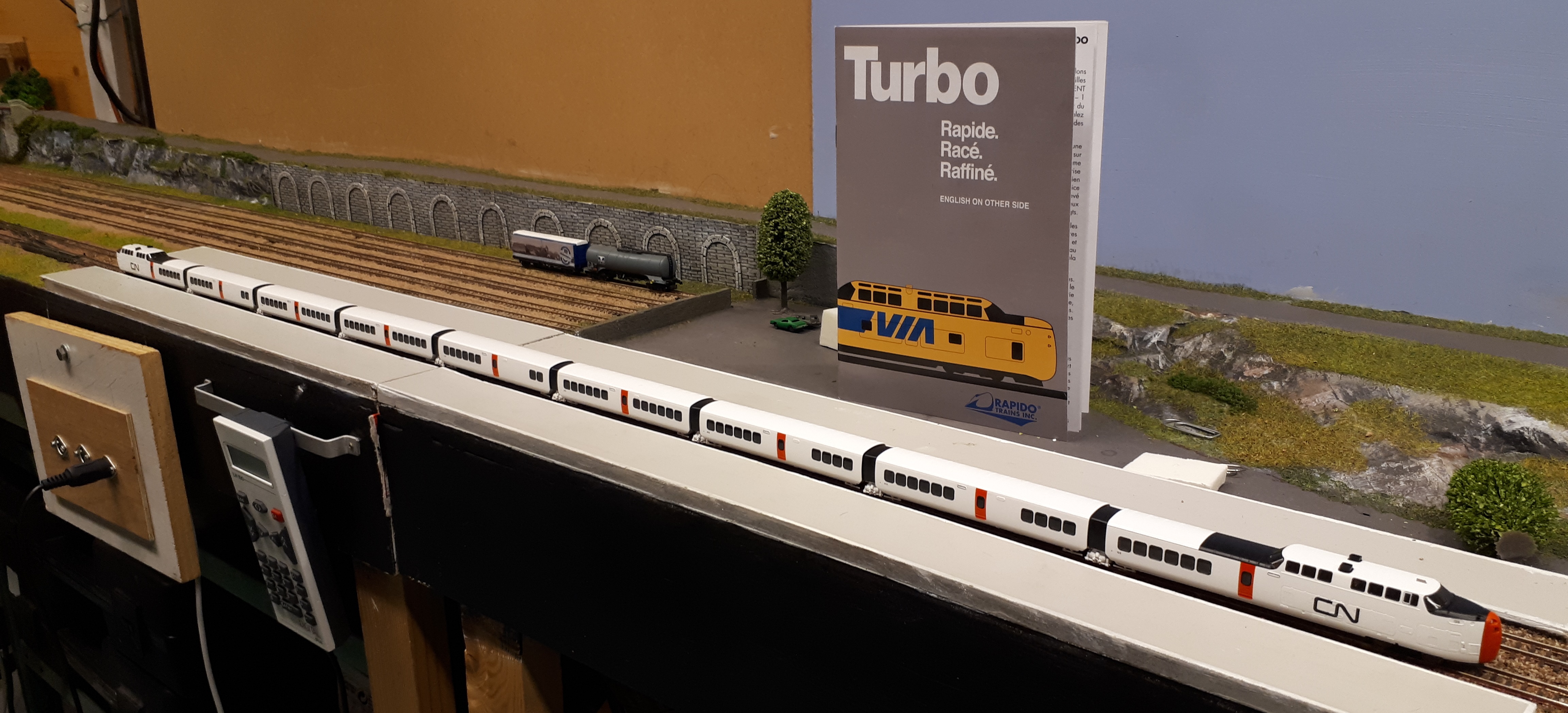 Ready to go. The venerable Lenz LH100 is still doing the job.
My set is a nine-car CN in DCC and Sound. After pressing F8 to 'start' the turbines, you have to wait until the end of the starting sequence to see the train moving. Everything is already set so that the train starts moving at DCC step 1. The low speed is impressive - no jerk - even without the specific tuning recommended with the ESU LokSound (with CV54). The top speed is not that high, though probably prototypical - I have not measured it yet.
Sound volume is properly tuned to my taste, i.e. not too loud. However, at top speeds, you will hardly hear the turbine sound but the electric motor of the model.
Believe it or not, the all cars are fitted with an interior lighting. I have to say that it is NOT visible unless you are in the dark. I did not even notice it during the first run on my club layout. This is due to the heavily tinted windows on the model. The pre-production model shown on Rapido Trains website did not have these tinted windows, and the interior lighting was very visible. What is the point having super detailed interior and lighting just to hide it? Given the cost added to the model for these two features, this is quite a waste!

Interior lights are always on. Top with the room's lights on, Bottom in the dark

The finely detailed interior is hardly visible
The two motors of the PDC (Power Dome) cars have been selected so as to perform equally - according to a video posted by Rapido Trains prior the model's release. It seems to be the case on my model and I did not observe any pulling or pushing that would result from non-speed matched engines. In a very few occasions, during the intensive break-in session of 2 hours on a brand new Kato Unitrack oval, I observed unexplained derailment of one of the motor cars, notably after a stop. According to Rapido Trains, some speed-matching could be needed to fine tune the dynamic behavior. I'm not exactly sure how to perform such speed matching; the PDC motor car cannot run on its own and requires one of the single axles to be mounted on its end; however, given that the single axle is not designed to be used with only one single car, it does not properly hold in that situation, with a tendency to bend away; this could certainly induce some friction and not provide the expected result when speed-matching. But, overall, an excellently running train, just out of the box.
DCC and Sound
The model is available in two variations: DC-only and DCC-Sound factory-equipped with an ESU LokSound Select. There is no DCC-only factory-equipped version, so for those interested, you'll have to install the decoder by yourself; please be aware that doing so will void your warranty as stated in the manual; this is the first time that I see such a notice on a DC engine equipped with DCC-Ready plug.
The PCB boards in each of the two motor cars are equipped with a Next18 plug. For more information on the Next18 decoder interface, please refer to this other blog article. I'm not showing you the interior of a motor car because, as I didn't need to open them, I refrained from doing it at the risk of breaking something; you'll find photos of the interior somewhere else on the internet on a well-known N scale website that we can however not mention given that the owner has prevented us from doing so....
The ESU LokSound Select is the OEM version of LokSound V4.0, i.e. a version reserved to Original Equipment Manufacturers (OEM) such as model train manufacturers, in which the sounds cannot be changed, unlike the V4.0. Other than that, the Select has all other features of the V4.0. So if you decide to throw your Turbo against the wall just to recover the decoder and to install the later in a steam locomotive, you'll have to accept the Sounds of Turbine instead of steam; but you're not that dumb, are you?
The LokSound Select is already at the latest firmware version (4.17.9249), so no need for an upgrade (requiring ESU LokProgrammer). Each of the two LokSound Select decoders of the two motor PDC cars have received a different programming, so they are not interchangeable - just in case you'd like to to that, what a strange idea. The difference is obviously related to the direction of travel, but not only; the station announcements are actually played from the rear motor car, don't know why.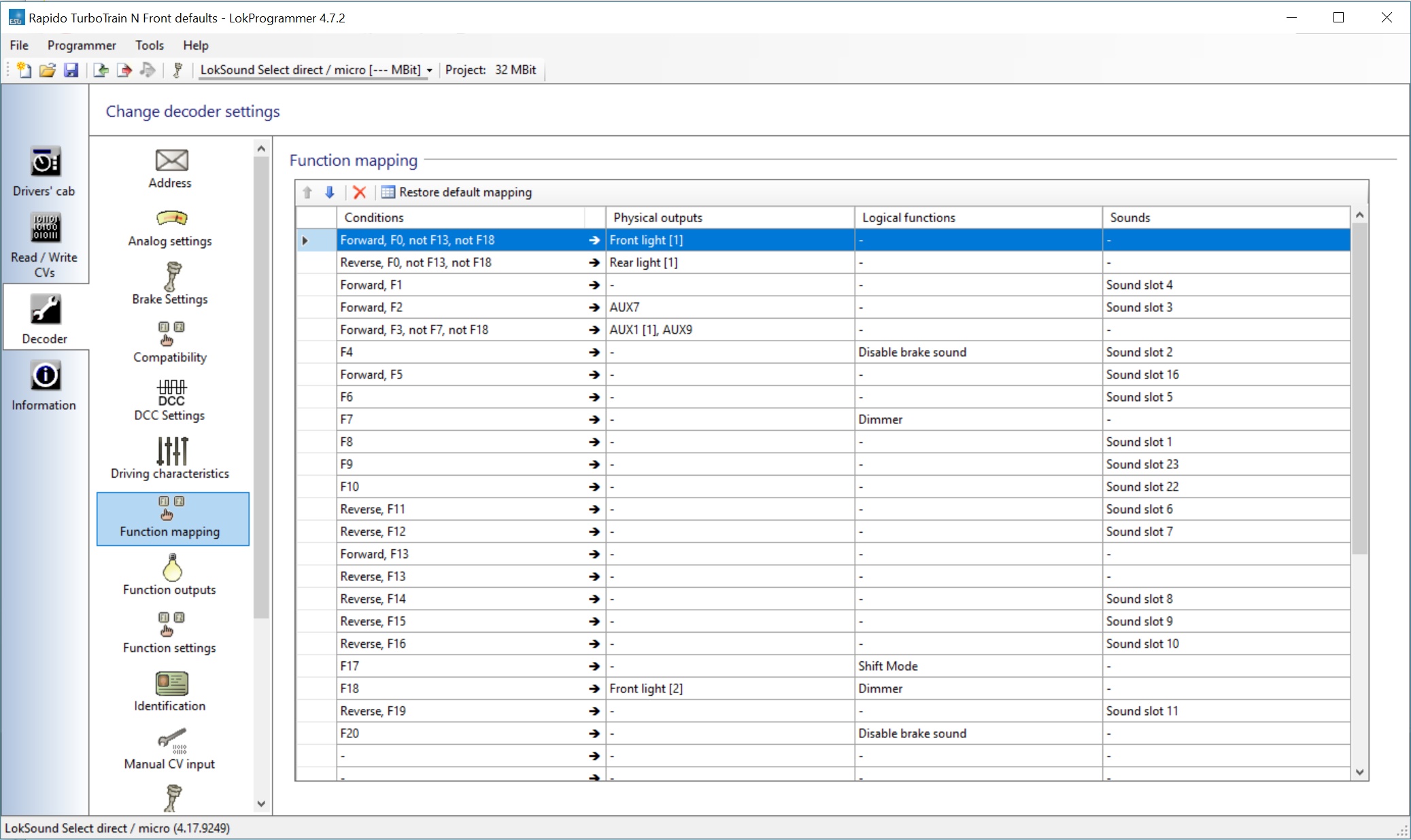 LokSound Select Function map - Front motor car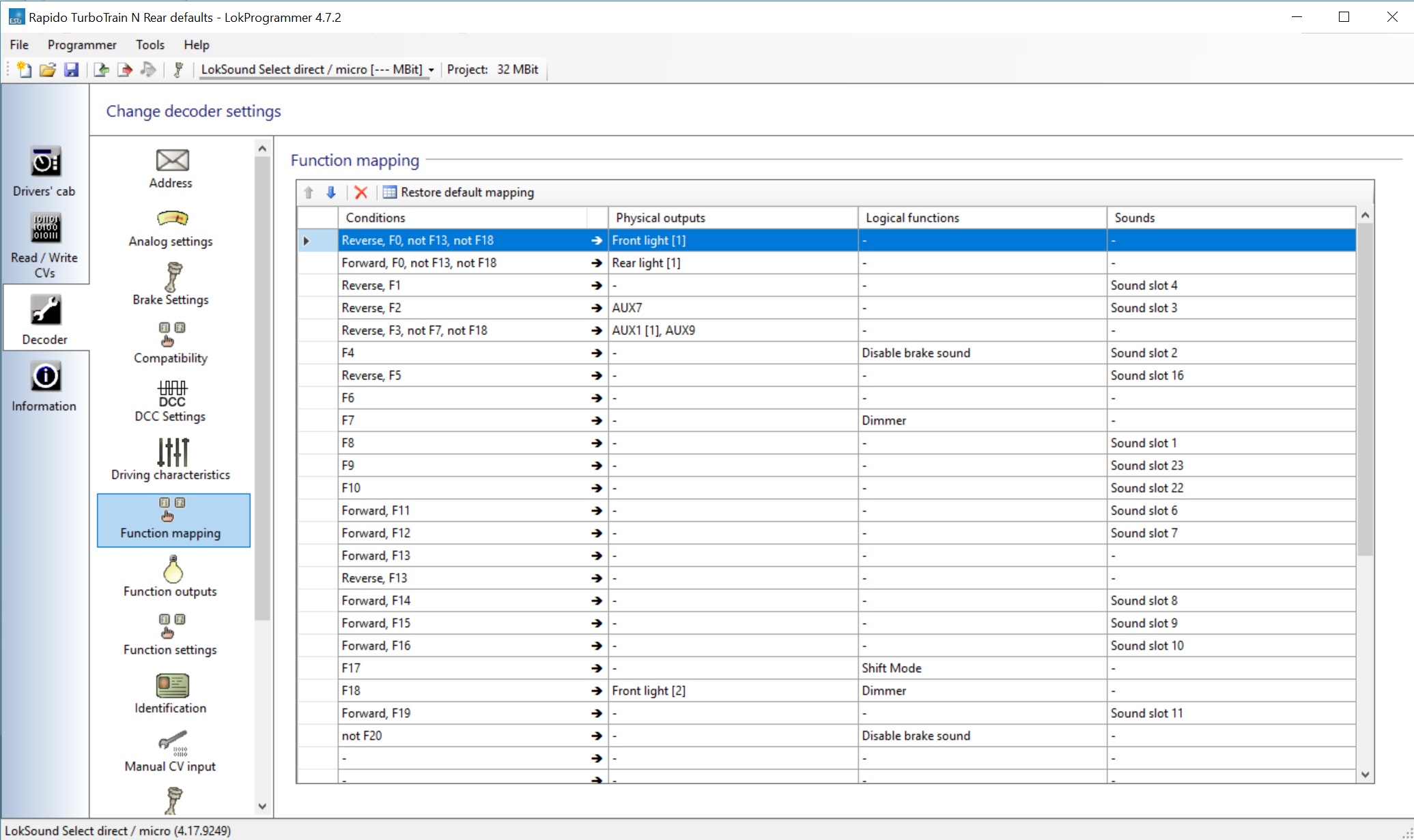 LokSound Select Function map - Rear motor car
F0 will trigger front lights and the rear red light, of course reversible with the direction of travel. F3 will trigger the front Gyralite. There are several effects with the lights depending whether you press F7 (dimmer) or F18 (Switching mode). The interior lights are always on, but as they are hardly visible, you won't even notice them. And of course, you'll get a bell on F1 and a horn on F2. An extra Doppler-effect horn sound is available with F5; this is an original recording at a grade crossing.

Then, you have plenty of station announcements, as well as doors open/close, both in French and English. Funny to hear French spoken with an horrible English accent on some occasions. In a noisy environment, like a model railroad club, forget about them, they are hardly audible. So to get the most of your Turbo, isolate yourself on Planet Z and enjoy the silence.
Conclusion
Well I'm not fully enthusiastic about this product probably because of the quality/price ratio. Not to say that quality isn't there - this is a high-end model train - but price is really the detrimental denominator of the equation here. At that price, I would have expected no flaw; there is one obvious one and that is the interior lighting; at an evaluated $10 per car (based on Kato interior lighting kits), this means $90 for nothing. Then, were the two motor cars really to be powered? With the selected design, certainly; but Kato designs TGV 10-car sets with only one powered engine that run like hell. Were two sound decoders really needed, at $100 each? I have my doubts. I have nothing to say about the detailing, as it is minimalist, just reflecting the sleek shape of the prototype; then why such a high price for the 4-car extension set?
I am very fond of my Rapido Trains GMD-1, with the detailing, operation and sound. However, I'm not sure I can rank this Turbo as high on my list of favorites. Speaking of gas turbines, I'm still hearing the sound of the GTEL 8500 by ScaleTrains.com.

Anyway, if you like the Turbo, don't wait too long to buy it (if you can still find it) as this is probably a unique occasion.
Updates
- 2019-02-10: add link to Rapido Trains N Turbo Product Support page
Credits
The copyright of this article is held by Alain LM, who grants TroveStar the right to display it.
Except where otherwise mentioned, all images are copyrighted by the author.
Click here to see all Rapido Trains TurboTrains on TroveStar