2019 Amherst Railway Show: An N-scale Perspective, Part 1
Published: 2019-02-01 - By: Jenna
Last updated on: 2021-07-23
visibility: Public - Headline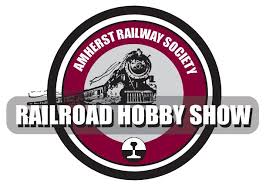 More than 21,000 folks attended / exhibited at the 2019
Amherst Railway Society Railroad Hobby Show
at the Big E (Eastern States Exposition) in West Springfield, MA this past weekend (January 26 & 27).
N-Scale and Winterfest
From Z scale to HO gauge, this show (which celebrated its 51st year) is a little piece of heaven for model railroaders of all ages. My focus was on n-scale and
Winterfest,
the annual n-scale / NTRAK convention held in conjunction with the Amherst Train Show.
The show features three large n-scale layouts, n-scale manufacturers showing their latest products or announcing new products / toolings and n-scale vendors selling new/used items.
The Winterfest convention includes a modeling/photo and module contest, vendor show case, banquet dinner and raffle.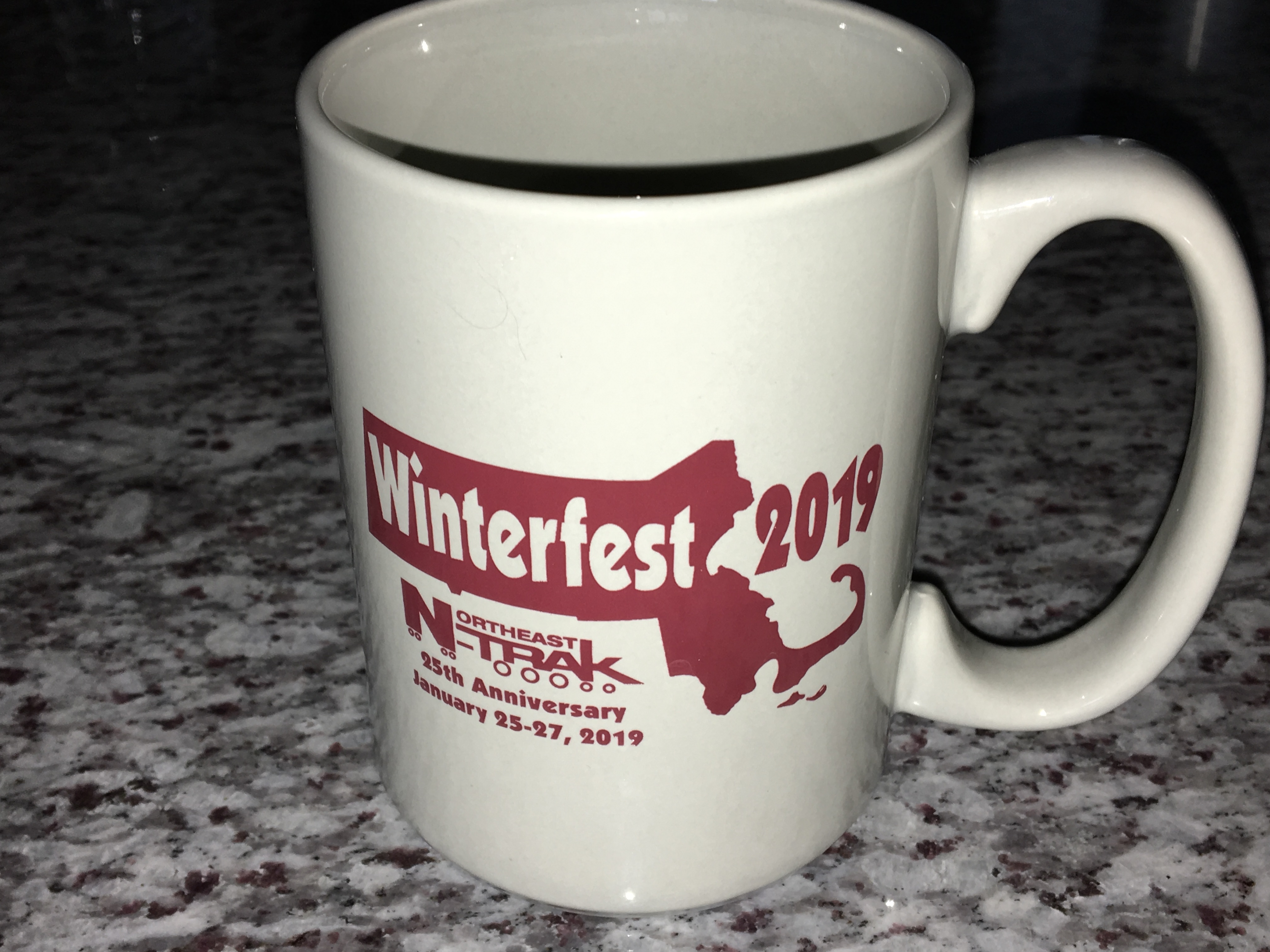 Northeast N-TRAK
hosts Winterfest and coordinates with a number of regional clubs (with members from all over the northeast and Canada) to provide modules to exhibit at the show. Some of these clubs include:
Northeast T-TRAK
,
MaiNE Track
, and
Valley N-Trak.
This year marked the 25th anniversary for Northeast N-Trak participating in the show.
This article is all about Friday, the day before the big event.
FRIDAY
Model and Photo Contest Entries, Registration & 2nd Manufacturer's N-Scale Mini-Show
Accepting Entries:
While club members set up their layouts (n-trak in the Better Living Center and in Mallory and T-trak in Young), I (as the wife of George Michaels, NE N-Trak Vice President) helped accept entries for the model/photo contest. (Thank you to Peter Wisniewski and Diane Fallier for their help photographing and displaying entries.)
It was fascinating to hear some of the backstory behind some of the 55 entries. For example, Bill Frankenfield shared how he created his minion, Bob, (Bob's Banana Stand won 3rd place Humorous) from items found in his barn in Frankford, NJ. Bob's eyes are old upholstery buttons and his body is made from parts of an old 35 mm film canister.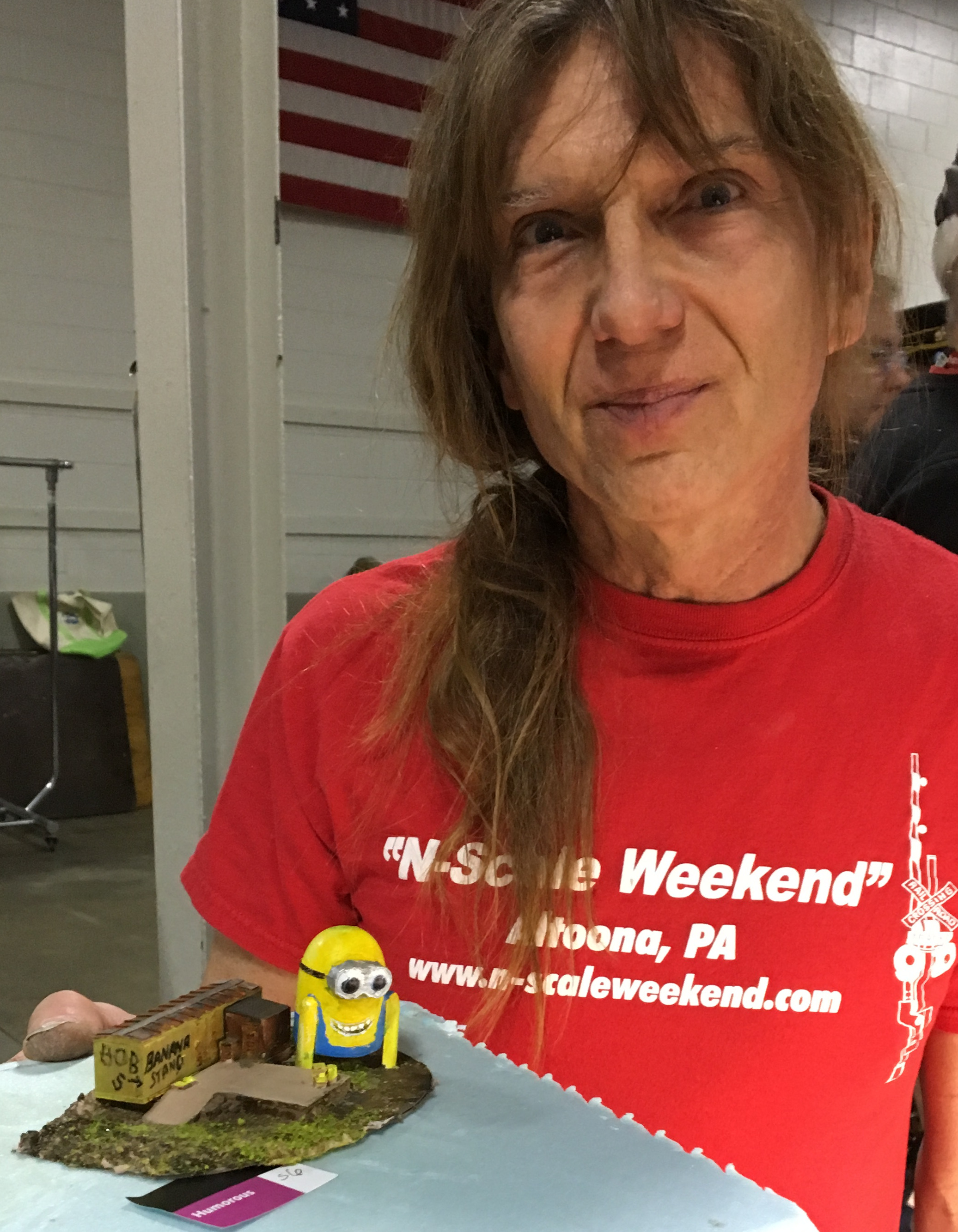 Bill Frankenfield and his Bob's Banana Stand "Humourous" entry.
Pick up your registration packets
Before the Mini-Show, the more than 90 attendees picked up their registration packets (which included products from MicroTrains and TroveStar).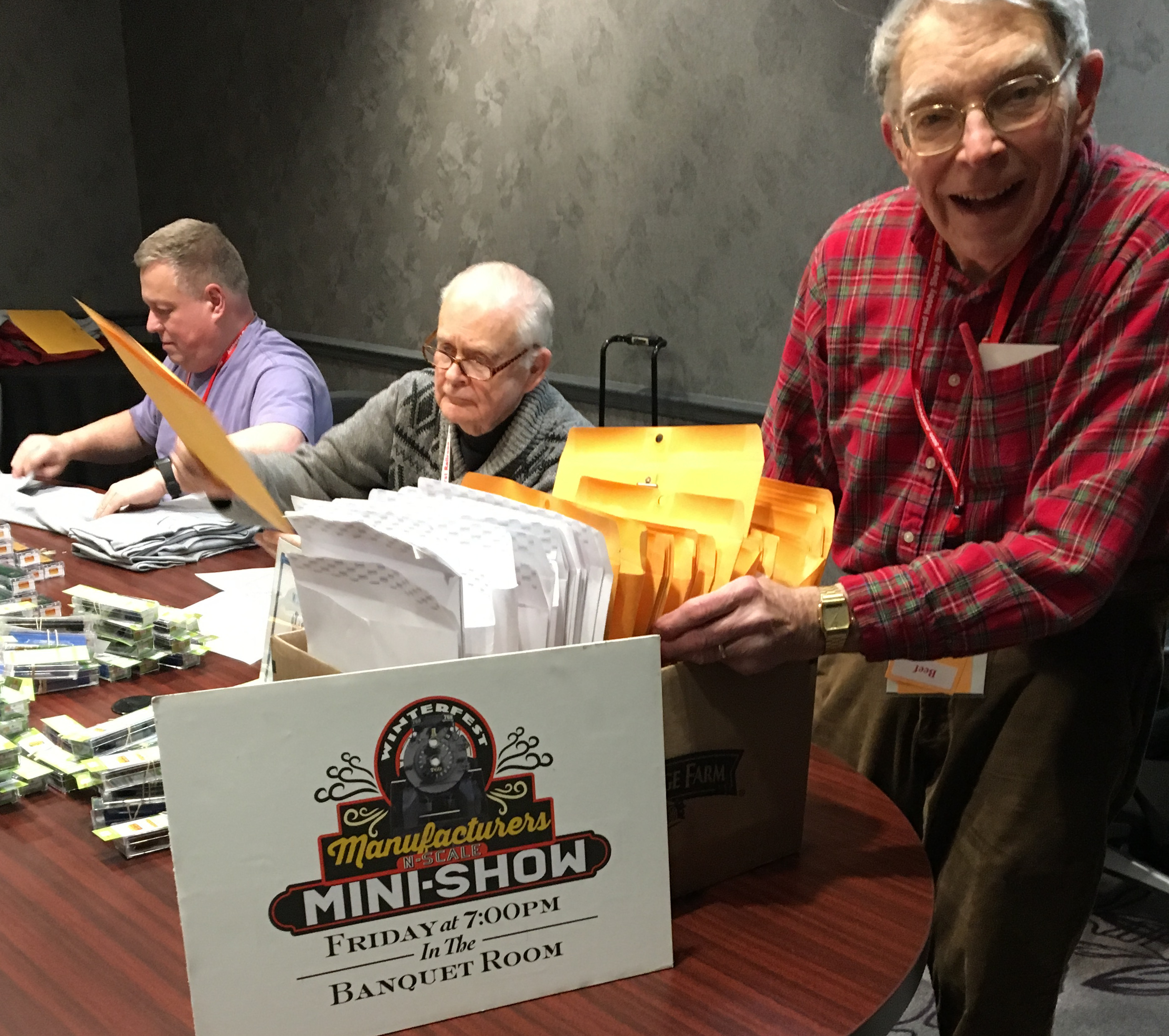 Bob Pawlak (right), Roland Kelley (center) and Peter Wisniewski have registration down to a science.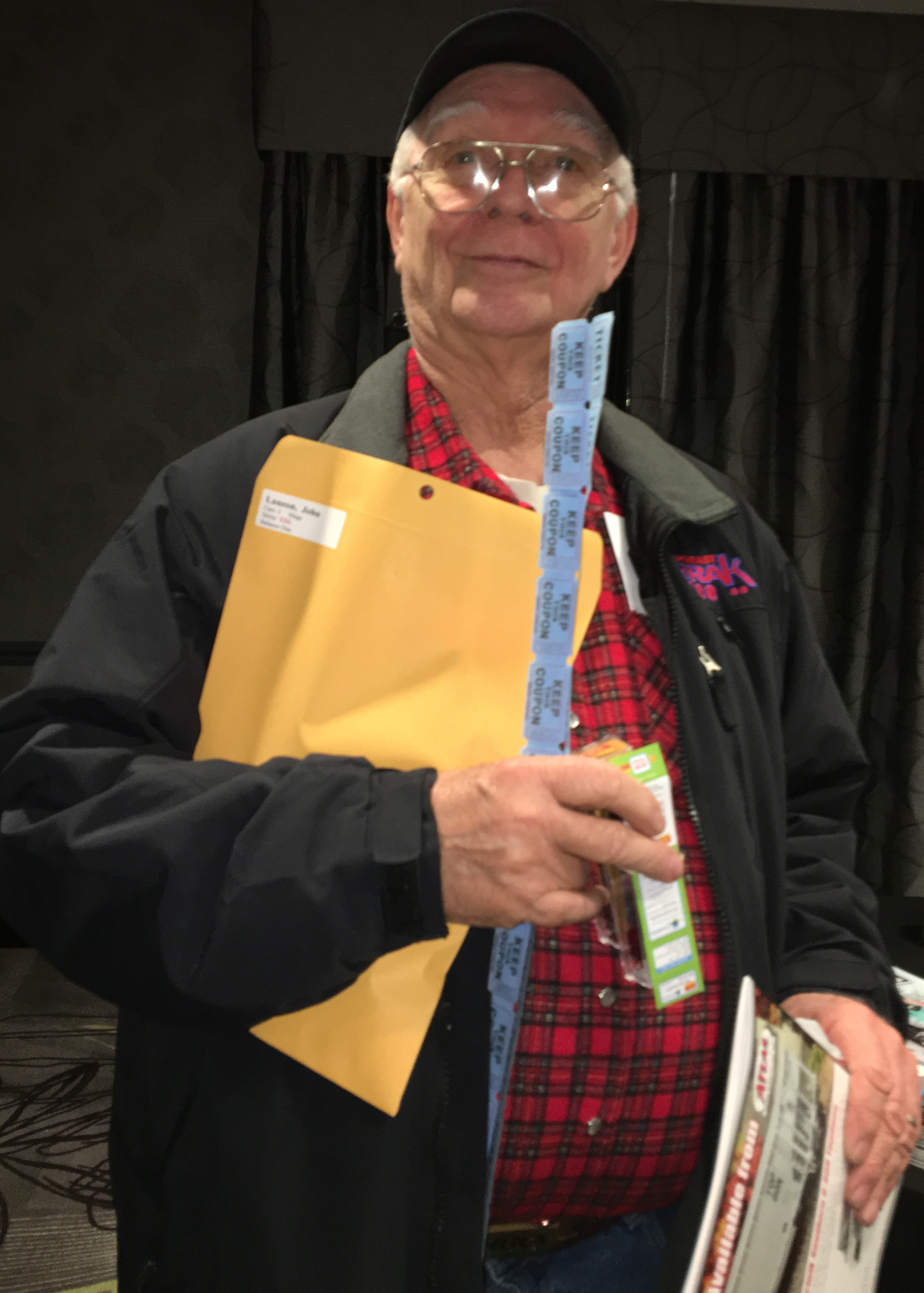 John Lauzon is all set for the show!
Manufacturer's Mini-Show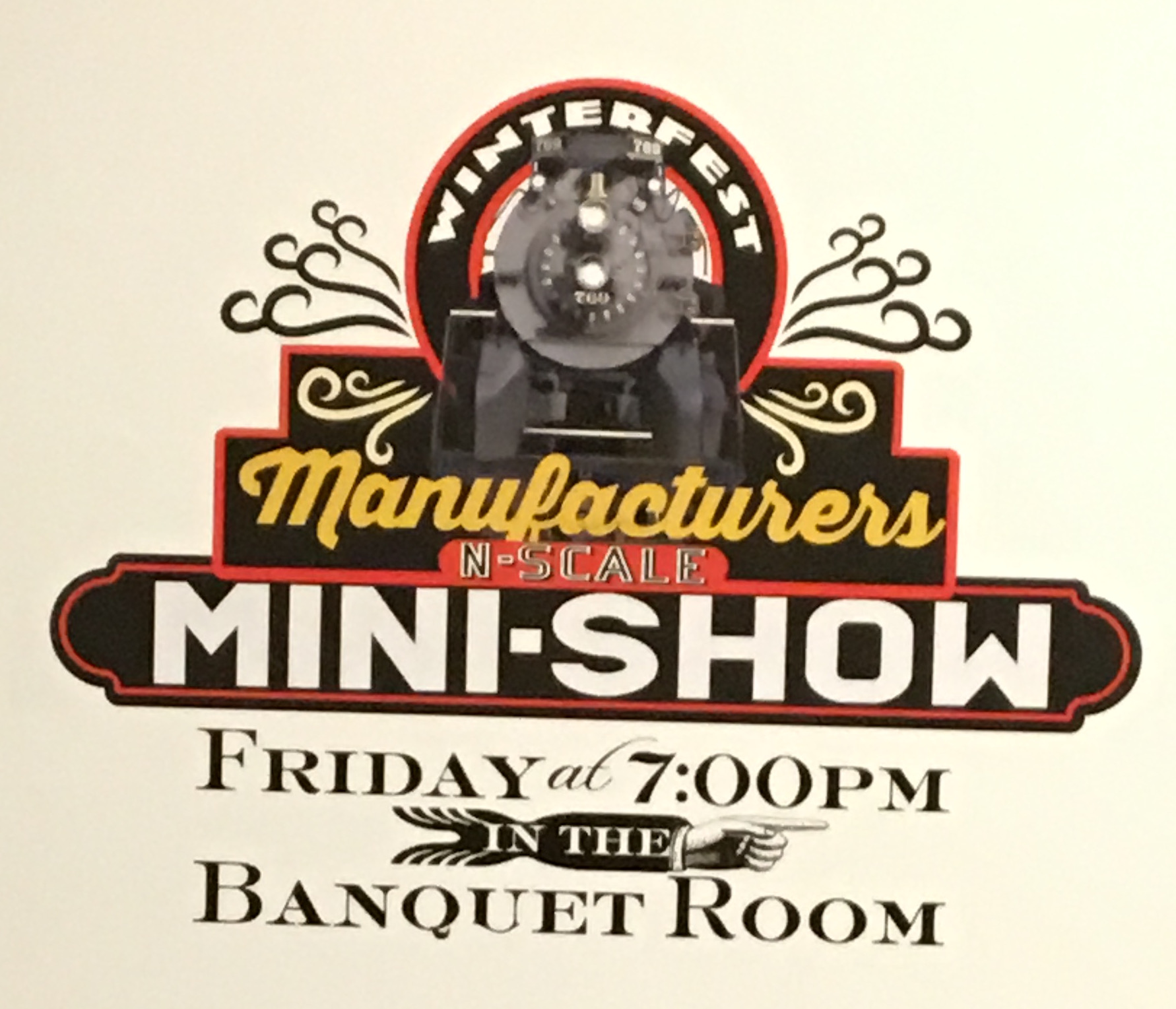 Representatives from MicroTrains, Fox Valley Models and North American Railcar Corporation, Kato (Fay Chin stood in for Kato (the company could not attend the event)) and Athearn each had displays at Winterfest's 2nd Manufacturer's N-Scale Mini-Show and chatted with attendees.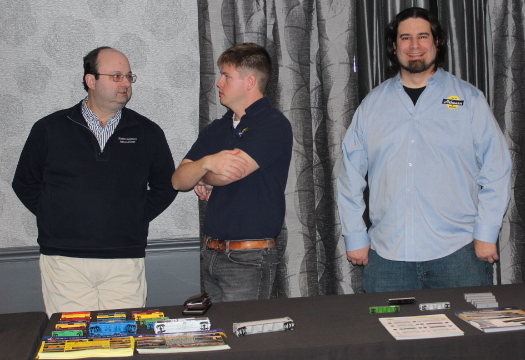 Representatives from North American Railcar Corporation and Athearn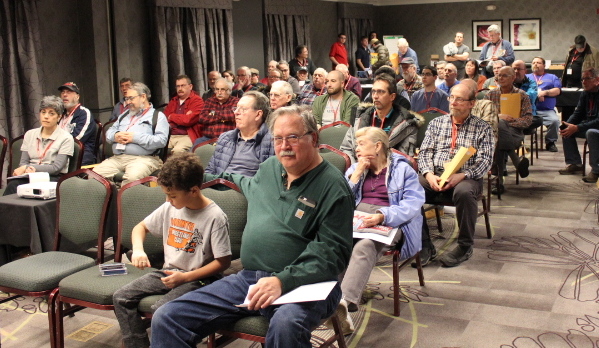 Mini-Show attendees
More new products, more realistic-looking products...more good news for n-scalers!
Some of the manufacturers made presentations and took questions from the audience. Here are some highlights.
Athearn
may have its origins in HO but it is firmly committed to n-scale. The Illinois-based company got its start in n-scale with the acquisition of MDC toolings in 2002. "It's not just sizing down from HO to n-scale," said Chris Palomarez, Brand Manager, Athearn Trains as part of his power point presentation. He added, "Detail is great, but robustness is important as well; we want to keep parts on the trains." He noted that Athearn has been introducing new n-scale models, such as the EMD SD70 loco (announced February 2017 and now in stock) and the PS 4427 covered hoppers (announced November 2018) that are more prototypically accurate. For instance, the PS 4427 will have different dispatch hatches for different loads. In addition, it has re-tooled all its freight car trucks with features n-scalers value: body-mounted couplers and metal wheels.
In addition to the 10 n-scale products that is has re-released/released over the last two years, Athearn announced that it will produce all new n-scale toolings for intermodal shipping containers. The company already produces HO containers and now will release 20 to 25 different versions for a wide variety of containers from 53' to 20'. These containers will work well with the company's Husky Stack well cars.
MicroTrains
continues to offer a robust n-scale product line and it reviewed some recent announcements, including the Department of Defense Humvee (which will be the next set in the military line of vehicle kits--after the success of the M1 Abrams battle tank introduced in 2018) and the new Farm to Table wood reefer 12-car series. To produce more prototypically accurate and more detailed models, MicroTrains will continue to upgrade their cars with body-mounted couplers, lower the ride height of the cars and add see-through roofwalks and etched-metal brake platforms.
Fox Valley
is expanding its intermodal container offerings and in mid-March plans to re-release some Deluxe toolings of 53 foot containers in 6 different styles. This will be the first Deluxe toolings to be made under Fox Valley.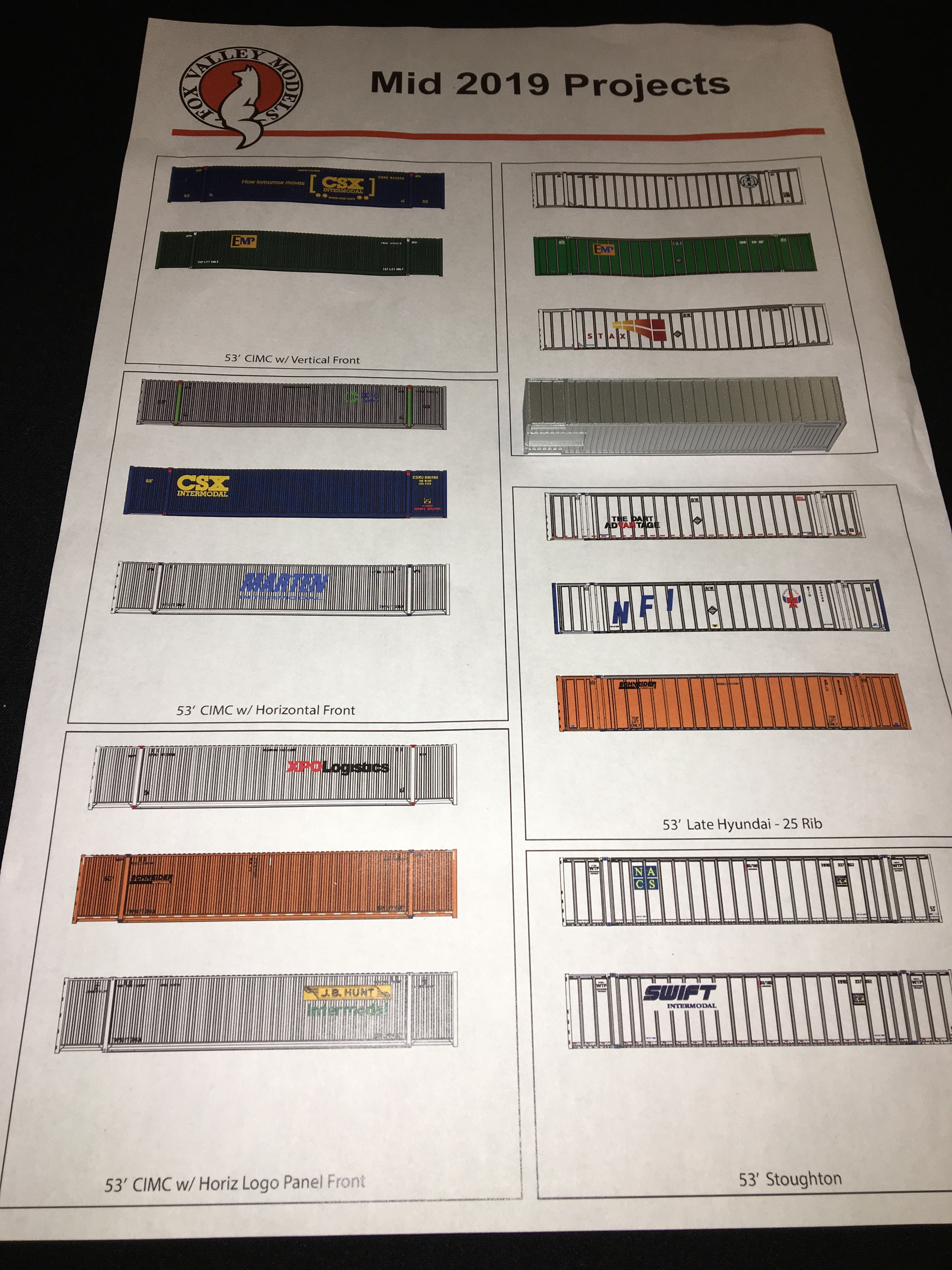 More n-scale containers from Fox Valley.
Matt Gaudynski, Fox Valley and Bob Fallier, NE NTrak Club
Room Sale
As is common at big model train shows, folks have Room Sales where they offer hard-to-find items and bargain-basement prices. After the mini-show, George found a rare and interesting item at the Sale in room 461.
Kudos to Bob Fallier, president of NE-Ntrak club, which runs Winterfest, for putting together another successful Manufacturer's N-Scale Mini-Show!
Click here to read
"2019 Amherst Railway Show: An N-scale Perspective -- Part 2"
for more about Saturday and Sunday at the show!
Click
here
to see a FaceBook album of the show.