N-Scale Manufacturer Highlights: 2019 Amherst Railway Society Railroad Hobby Show
Published: 2019-02-01 - By: Jenna
Last updated on: 2019-02-05
visibility: Public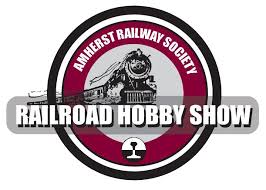 Lots of n-scale model train manufacturers exhibited at the 2019
Amherst Railway Society Railroad Hobby Show
at the Big E (Eastern States Exposition) in West Springfield, MA (January 26 & 27). Some of these companies make new tooling announcements at the show, others sell some products and all are available to chat with customers...a win-win situation all around!
Here's what I learned from some of these companies:
Athearn
announced that it will produce all new n-scale intermodal shipping container toolings. It will release 20 to 25 different versions of the containers in 53' to 20' versions. These containers will work well with the company's Husky Stack well cars.

New Athearn n-scale toolings for 53' to 20' shipping containers
On a side note, Chris Palomarez, Brand Manager, Athearn Trains, explained (to this model train nubie) that with body-mounted couplers, the ride height of cars can now be lowered/made closer to the track. This is more prototypically correct and with this lower center of gravity, helps prevent derailments. With truck-mounted couplers, this was not possible because room was needed for the swiveling coupler.
Atlas
is not wasting any time re-releasing the Walthers toolings it acquired. (In June 2018, Atlas purchased all Wm. K. Walthers n-scale locomotive and rolling stock tooling. This included former Life-Like toolings). Jarrett Schaffan Haedrich, Chief Operating Officer, Atlas showed me six sample test shots of Walthers toolings to be re-released in Q2 2019.
48' GSI Bulkhead Flat Car, 41' Ballast Hopper and PS-4427 Covered Hopper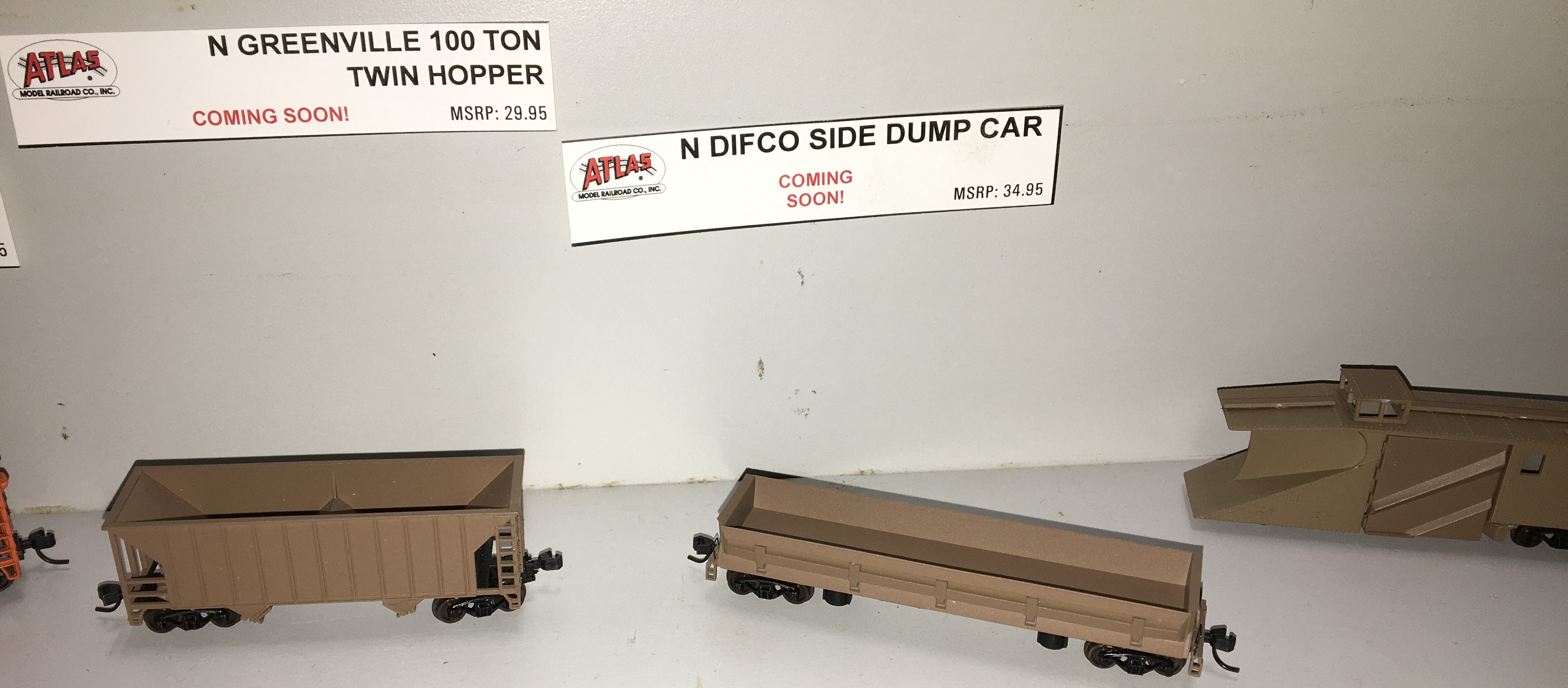 Greenville 100 ton Twin Hopper, Difco Side Dump Car and Russell Snow Plow
Chris Brimley, Marketing/Operations Manager of Utah-based
ExactRail
hopes to issue five n-scale releases in 2019. ExactRail, which offers n-scale freight cars, is a victim of the partial government shutdown and (as of the show dates) was waiting for a shipment of its Johnstown America AutoFlood II coal hoppers (these were announced in 2018); the shipping container is held up at port in Los Angeles. This hopper is a new tooling for ExactRail. Brimley expects to announce its next n-scale car at the N-Scale Enthusiast show in Chicago this June.
Fox Valley Models
will expand its intermodal container offerings and in mid-March plans to re-release some Deluxe toolings of 53 foot containers in six different styles. This will be the first Deluxe toolings to be made under the Fox Valley brand.
After suffering product losses from the shutdown of its China-based supplier
InterMountain
has re-established its overseas product supply chain and in October 2018 began working with four new suppliers. The company had no new announcements. It plans on getting caught up on the product backlog and then issuing some product announcements in late 2019.
Kato
had previously announced a re-release of the EMD SD70ACe Union Pacific #4141 "George Bush 41." This version will be available in DC/DCC/Sound. The release will be in conjunction with the N Scale SD70ACe 1943 Spirit unit (re-release). The company knows that its customers want to model what they see and it continues to add to its Amtrak fleet of cars. I saw a test model of the Amtrak Viewliner II Baggage Car, which is Amtrak's newest rail equipment that will replace a baggage car from the 50s.
Kato plans on re-issuing the Bush 4141 car as well with a July 2019 release date.
MicroTrains
continues to offer a robust n-scale product line, with upgrades, re-releases and new toolings. The Oregon-based company chose the Amherst Train Show to announce a new series: The Ringling Brothers Clown Billboard series, which is based on prototypes from the early 1900s and due out this summer.

New Ringling Brothers Clown Billboard series
Previously Announced:
MicroTrains will add to its heavyweight passenger line with the addition of a 78' Single Window Coach Car due out late summer. It also plans on producing a Farm-to-Table wood reefer 12-car series, which will feature 12 prototypical reefer cars. Building on the success of its Department of Defense M1 Abrams tank, MicroTrains will release a DoD Humvee as its next set in the military line of vehicle kits. Like the tanks, these Humvees will be made from injection-molded plastic, which makes for a more detailed product. These products should be available with the 70' flat car and as a 2-pack sometime this summer. The company expects its Thomas Kincade box cars (with battery-powered lighting inside the cars) to ship this March. In 2019 MicroTrains will also offer its well cars in 16-car sets, both in weathered and clean versions.
Last but not least, MicroTrains is celebrating the 50th anniversary of the n-scale patent issued for its Magne-Matic Couplers. This coupling system allows for hands-free coupling and uncoupling, something vital on layouts of any decent length.
Similar to other n-scale manufacturers offering more prototypically accurate models, we can expect to see more products using injection molded techniques and etched metal from MicroTrains. These production techniques allow for more detailed cars.
Rapido Trains
expects to announce several new n-scale toolings later this year. The Canadian-based company continues to produce toolings of interest to modelers in both the U.S. and Canada. The TurboTrain (a high-speed passenger train that operated in Canada and the U.S. 1960s to 1980s) is a perfect example. Oddly this new release of passenger cars (Osgood Bradley lightweight coaches for the New York, New Haven and Hartford RR) is a bit more America-centric for Rapido Trains.
ScaleTrains.com,
which started in n-scale by offering intermodal containers, then engines and then hoppers and tenders, continues to add to its n-scale offerings and announced a new engine tooling: the C44-9W loco in both operator (for folks who like to run trains/$99.00) and rivet counter (more detailed railroad and road number specific details/$139) brands. These locos will be available this summer. Similar to its other three locos, this product will come in DC/DCC Ready, DCC Non Sound and DCC & Sound (rivet counter version only).
ScaleTrains.com seems to announce cars very close to anticipated release dates, thus the finished look of these production models below.
C44-9W loco from ScaleTrains.com