Athearn/Roundhouse 20K Acid Tank Car -- Nice Runner
Published: 2019-02-07 - By: gdm
Last updated on: 2021-01-01
visibility: Public - Headline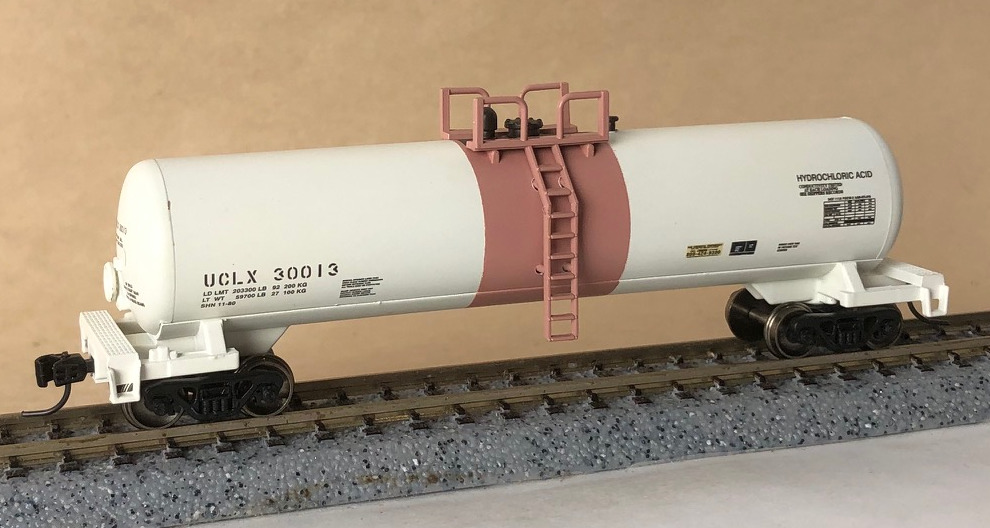 Athearn announced this run in January of 2018 and made its first delivery in January of 2019. It is a model of a tank car produced in the late 1990s or early 2000s specifically designed to carry corrosive liquids, such as sulphuric acid. The prototypical cars were made by GATX for their own fleet. The models carry a list price of $26.98 each but you can find them at discounters for a hair more than $20 each. The new release came in six paint schemes. These include three different GATX schemes, one GAMX (GATX's Mexico subsidiary), one PPG and one Occidental Chemical. Each scheme has three different road numbers.
This is a re-release of the popular Roundhouse 50 foot modern tank car. Athearn acquired all of Roundhouse's toolings in 2006 and have been regularly re-releasing models with these toolings ever since. There are two real differenced between these new cars and the original Roundhouse cars. The newer, Athearn models use McHenry operating knuckle couplers in place of Roundhouse's Rapido couplers. Also, the couplers are now body mounted instead of truck mounted. Both manufacturers use blackened metal wheels.

An example of an original MDC/Roundhouse model.
In the past, this model has been marketed both as a 'General Service 50' Modern Tank Car' as well as a '20K-Gal Acid Tank Car'. As far as we can tell, this is the same model.
The Prototype
GATX's North American tank car fleet consists of more than 59,000 cars with nearly 70 different types serving the chemical, petroleum, transportation, agriculture, food, mineral, and plastics markets. Major car groupings include general service and high pressure, and cars used to carry various types of acids and other specialty products. Customer logos can occasionally be found on GATX leased cars. These cars can be found interchanged all over North America on all major and short line railroads.
The Box
These cars are small enough that they nicely fit into ye olde 4.75" acrylic box known and loved by N Scale modelers everywhere. Athearn thankfully refrained from covering the acrylic box with a piece of cardboard. Athearn used to do this a lot. I suppose it protects the jewel boxes from scuffing, but it makes it annoying to get the cars in and out of their boxes and the cardboard slip-cover gets all kinds of banged up every time you remove it from the acrylic box. The car is inside a double-plastic nest and wrapped in a thin sheet of protective soft plastic as well. All nice and standard and will protect these cars nicely.
The Couplers
These cars use body-mounted real McHenry couplers, which do so-so when mating with MTL couplers. When using a mix and match of coupler types, it's not uncommon to have problems when running long consists. So I wanted to see how easy it would be to replace these McHenry couplers with MTL couplers. First I removed the trucks. This gave me access to the body-mount coupler box. Just as I suspected, once you unscrew the lid of the coupler box, the box still remains. This makes it more complicated to install a MTL body-mount coupler. The 1015 MTL coupler kit should work in this instance.
Operation
The wheels are nice quality blackened metal and low-profile. They roll really well. This smooth operation means that a long train of these cars will be easy to pull. Give them a little push and they just glide along the track. I give each railcar that I review a little push on a flat piece of Kato Unitrack and I expect them to sail along the track with a comforting sound of metal wheels on metal track. This car passed my pinkie-push test very nicely.
The Model
This is NOT a highly detailed model. Keep in mind this is a $20 model and there is a world of difference between a $20 model and a $30 model in the N Scale universe. What you do get is some really nice paint work on a simple body with a few nice detail parts. The details include the side ladders, roof valves and a brake wheel. Overall not that much more than a 1970s vintage car would typically have. What you do get is a really nice set of trucks and wheels with proper body-mounted couplers. These cars will operate very well and look great. Furthermore without a lot of detail, they will be hard to damage.
What could have been better is that the moldings of smaller parts such as ladders and stirrups could have been a little less clunky. Today's injection molding process can handle very thin details. There is no reason for the stirrups to be THIS thick. Also, the seam where the top half of the body is glued to the bottom half is very visible. It seems once again that with modern assembly techniques this didn't need to be quite so obvious.
Summary
I applaud Athearn for re-releasing this nice 'runner' car at the $20 price point. It would be nice if they were about $5 cheaper per unit as this is a fairly basic car, but production costs in China are rapidly rising and the day of the $10 car is long gone. They are not very colorful (with the exception of the Occidental cars) but the paint schemes seem to be accurate, and I guess the railroads don't want to draw too much attention to tank cars filled with noxious chemicals. These cars are well packaged, durable and run great. If you want to run long consists mixed with other manufacturers' cars, I would buy just one and try to upgrade the couplers to MTL or at the very least, test run the cars with your other cars to make sure they stay coupled while being pulled. If the consists hold together in curves and on grades, then you can safely buy more.
Click here to see a full list of all the cars in this series