ExactRail's Johnstown America AutoFlood II Hopper is a Fine Model
Published: 2019-05-03 - By: dennis.kamper
Last updated on: 2021-08-12
visibility: Public - Headline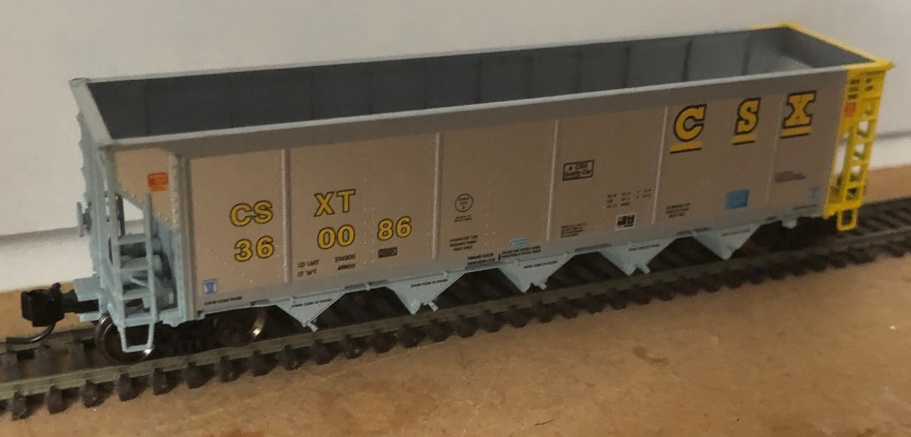 For those of us who are fond of modern era coal trains, the release of the Johnstown America AutoFlood II Hopper by ExactRail is a welcome addition at a good price point. Utah-based ExactRail, which produces freight rolling stock models, announced this new tooling in 2018 and started shipping cars in March 2019. The release date was several months later than expected partially due to the federal government shutdown (which resulted in a shipping container held up at port in Los Angeles).
The list price is $29.99, down from $35.99 as originally advertised. The more you buy, the better the unit price from
ExactRail.
This car comes with a coal load and internal bracing pieces that modellers (who want to run these cars empty but have them look authentic) can install. Please note, these bracing pieces are easy to overlook as they are stored under the plastic packaging shell.
Eight different paint schemes are available for the following road names: Burlington Northern Santa Fe (BNSF), CSX Transportation (CSXT), Union Electric (UCEX), Commonwealth Edison (KGLX) and NorRail (NRLX). With the exception of UCEX (now owned by the Ameren Corporation) Military Veteran and On Track for the Cure. Twelve to 24 road numbers are available for these cars.
About the Prototype
A fundamental part of railroading since the earliest days, the hopper car has evolved like every other part of the industry. While the basic shape still shows through, these aren't the same cars they used to be -- even as recently as the 1950s! Improved materials, and the ever-present need to move more product more efficiently, has seen the steel "coal car" or hopper car of our childhood transform from 50-55 ton capacity (with two bays and four unloading doors) to 90 and 100-ton capacity cars (with five bays and five unloading doors) in the mid-1960s.
Since railroad cars in interchange service can only last so long (1), railroads were shopping for replacements to these cars as they approached their forty-year point. As the weight of a steel car body added to the cost of moving the products, lighter, higher-capacity cars were in demand. Enter the introduction of aluminum cars. And a perfect example of this transformation is the AutoFlood II Hopper. According to ExactRail's website, "As 100-ton steel hoppers approached retirement in the 1980 and 1990s, railroads requested that car builders lighten cars to improve tare weight and fuel economy. Johnstown America answered this call by producing the aluminum AutoFlood II coal hopper. Johnstown America provided an aerodynamic design with a lower center of gravity and the ability to be bottom or rotary unloaded. The AutoFlood II also included the all-new MegaFlo™ automatic discharge system. The result is a sleek, smooth-sided hopper with extreme, contemporary presence."
Johnstown America, now known as FreightCar America, still lists this summary on their product line weblink: "AutoFlood II ™ is FreightCar America's automatic discharge, five pocket hopper car. The AutoFlood II ™ is aerodynamically designed with smooth sides to reduce wind resistance and improve locomotive fuel conservation." (2)
Prototype nicely rendered
If we are trying to capture a particular age or point in time, having the right model goes a long way towards making the model railroad "look right." Certain milestones are obvious indicators of your modelled era; road names, roof walks, car lengths, and designs of the cars themselves. As the older styles of cars disappeared, newer versions replaced them, so we have to follow suit if we want to portray an appropriate era and this is what ExactRail accomplishes with this new tooling.
While researching useful details (to compare the model to the prototype), I found the following listing for some of these hoppers on a Machinery Exchange website
(machineryhotline.com):
"1998 Autoflood II Coal Hopper Railcar, (246 Avail). Rapid Discharge, 4300 CF [Cubic Foot] Aluminum 286K GRL [Gross Rail Load], Rotary Dump, 16 Door R D [Rapid Discharge] Gates.(3)"
The Model: A nice balance between detail and sturdiness
The body style with a steel weight built into the centreline frame of the car is reminiscent of hopper cars in my fleet that date back to the late 1960s. The ExactRail team has done a great job in capturing the look of the prototype car in all of the details without making it too flimsy. There is a fine line between producing a model that is true to life and still sturdy enough to be handled and run.
The end structures, ladders and door actuators don't look grossly oversized (this can be a problem with models trying to adhere to prototype true to life features), but at the same time are reasonably sturdy (I have not TRIED to break anything yet!).
High-quality lettering and markings
Machinery Hotline included some great photos (some of which are below) of different aspects of the prototype car that I could compare to the model; externally, the general details match the example found online (not a CSX car reviewed here), and the quality of lettering and marking is very good, even when zoomed in to try and read the tiniest printing.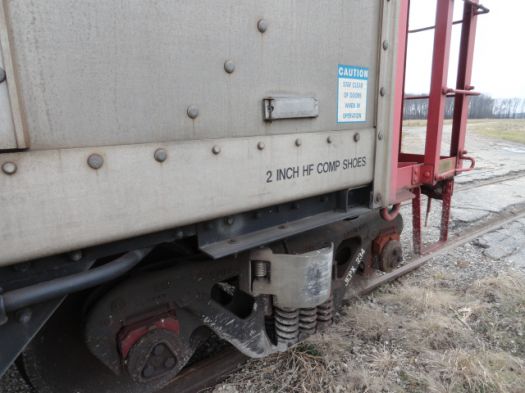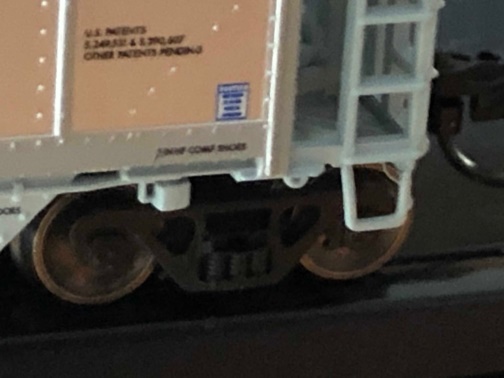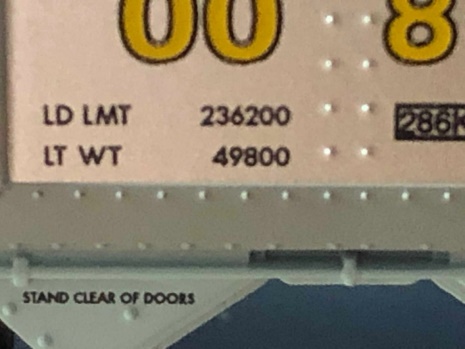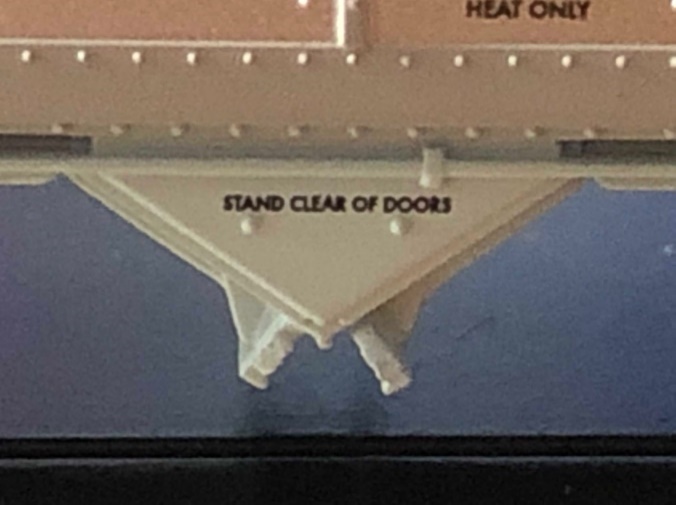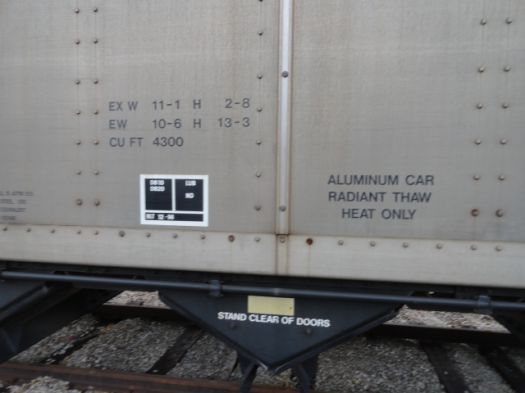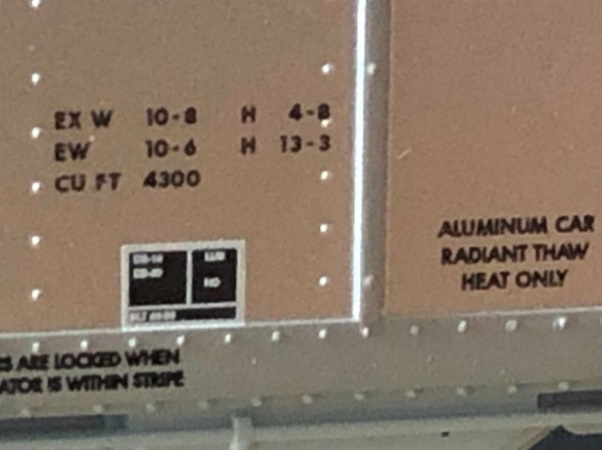 Prototype photos courtesy of
Machinery Hotline
And a special Thank you to Bud Riley!
Internal bracings
Internally, the shape and lines of the inside of the car look pretty good. The internal bracings are kind of hidden in the packaging (under the plastic cradle). Once I found them, it took me about 4 minutes to install the bracings, which are realistic-looking and are held in using friction (no glue).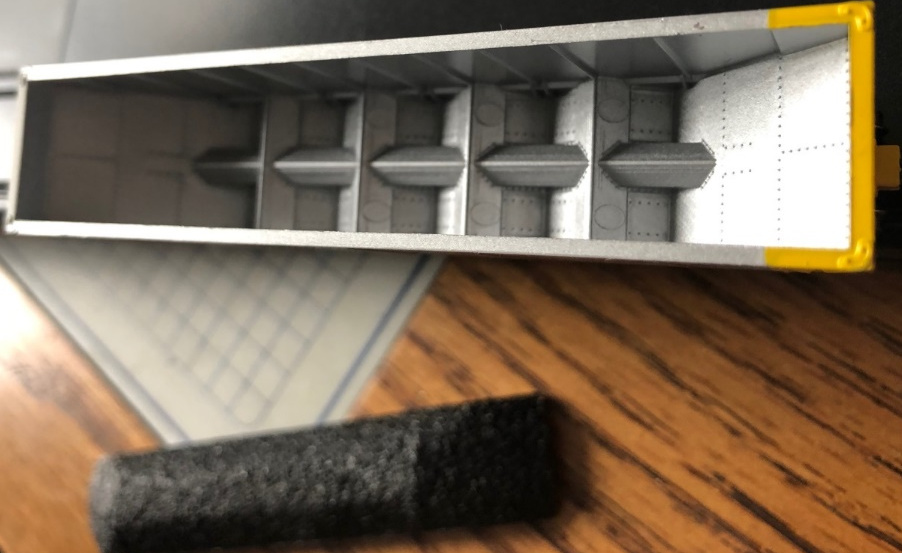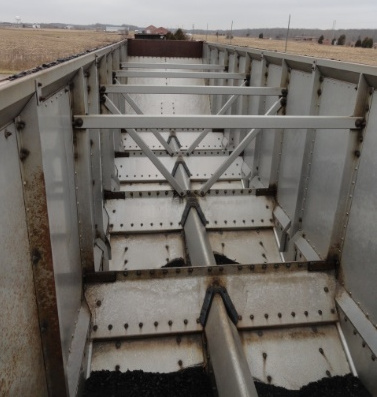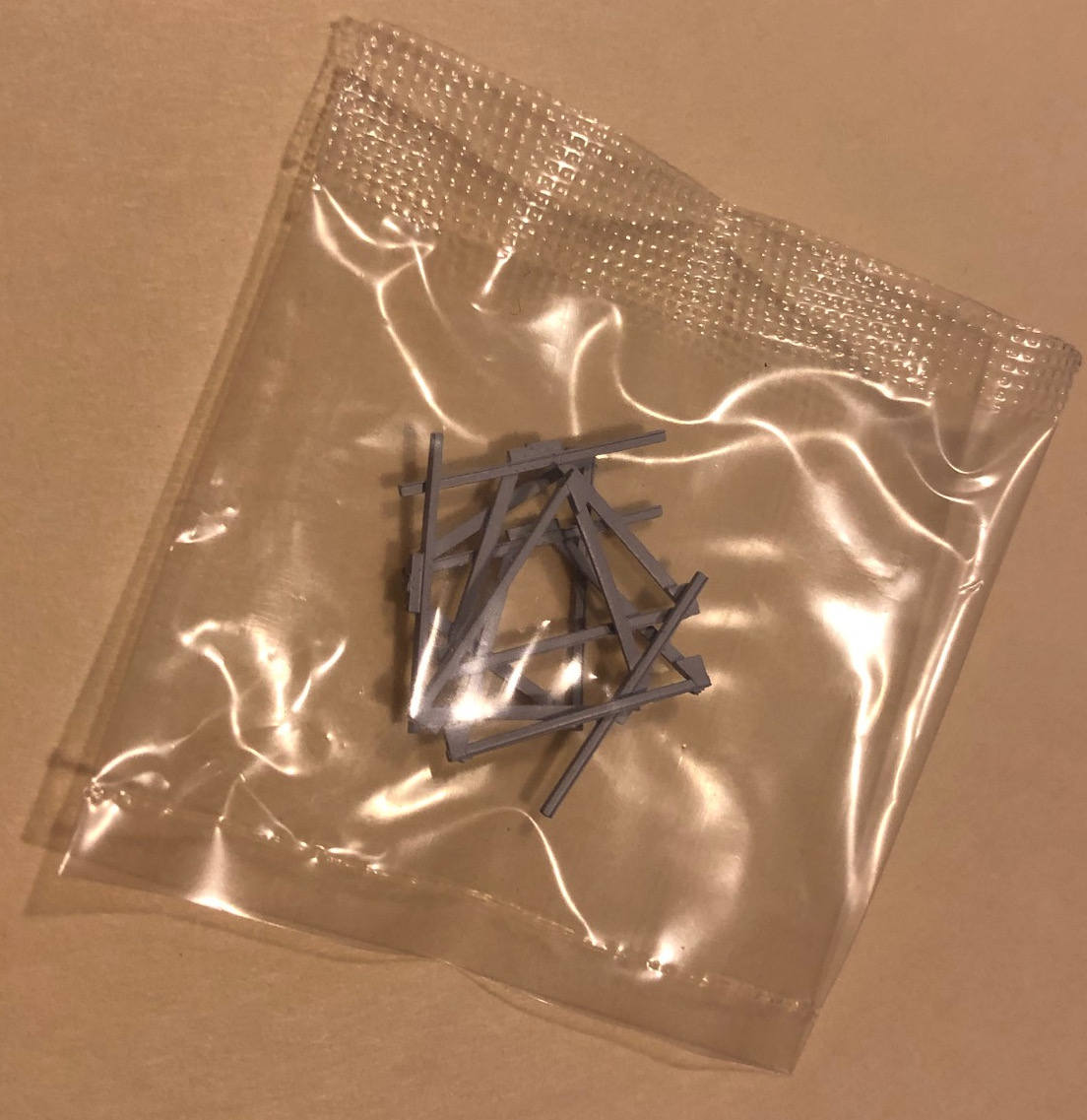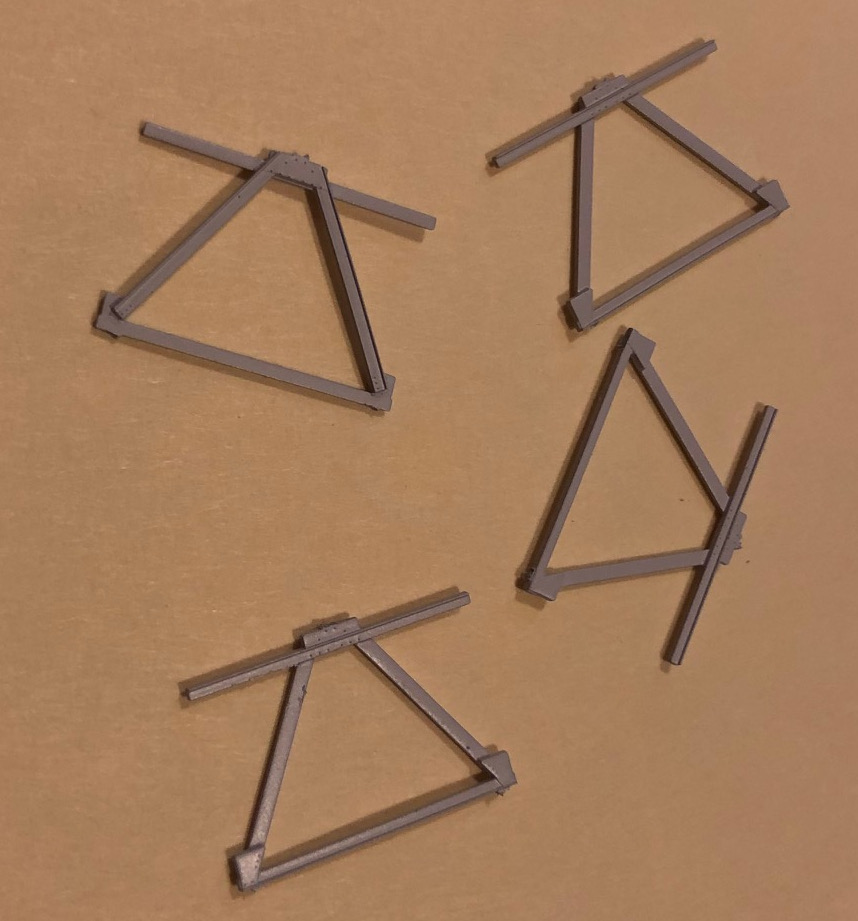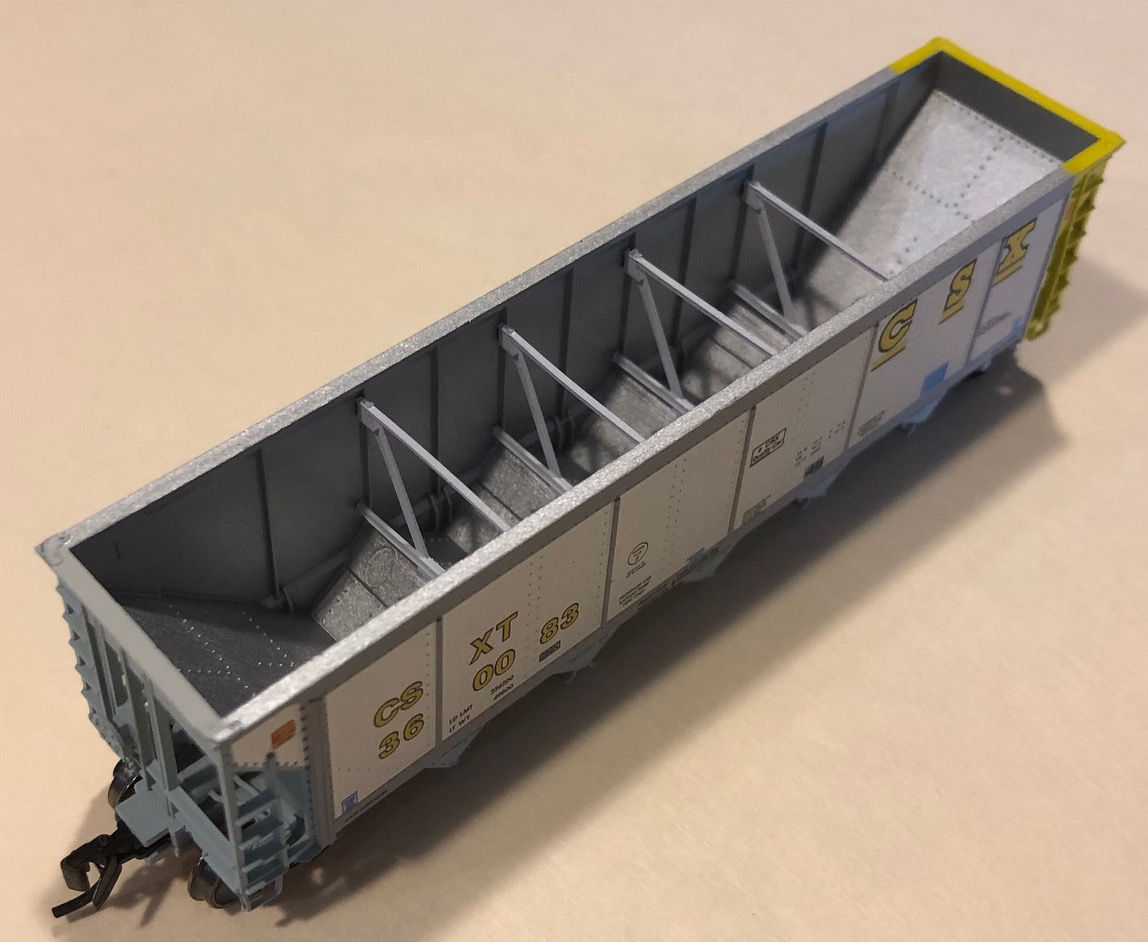 It's always nice to not have to use glue, which can be messy to work with and require lots of work. If you foul up using glue, you run the risk of ruining your car. Technically, you can run the car with the coal load and the bracings, but I would not recommend this. When I tried to insert the coal load, which features slots in it just for this reason, I found myself forcing down the coal load and wound up displacing one of the bracings.
Structurally the car is sound. It features CNC-machined 36" metal wheel sets.
Operation
Mechanically the car is as good as any other ExactRail car I have acquired.
Body-mounted Couplers
The single best feature in my opinion is the body-mounted Micro-Trains 1015 couplers! Having recently converted a number of covered hopper cars to body-mounted couplers, this is no small advantage.
One drawback
One downside -- the car is light. NMRA (National Model Railroad Association) recommended weight for a car this length is 1.1 ounces. My example weighed in at 0.7 ounces, which is "about average" for a number of cars I have re-weighted over the past few weeks. I mention the weight because car weight determines how well a car rides and whether or not it derails.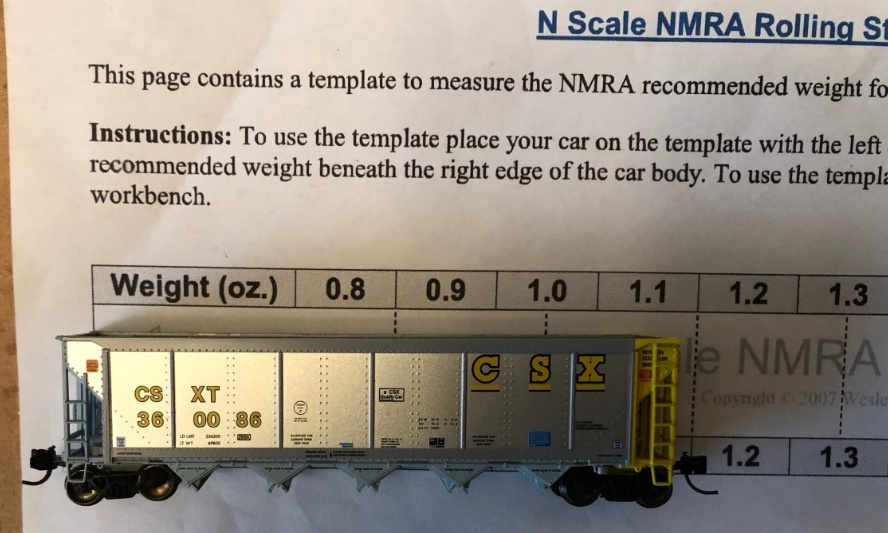 If a car is too light, it can derail. So it is common to weight cars. This is typically done by adding sinkers. In this case, I would have to add a 0.5 ounce (to make up the difference between actual car weight and recommended weight) sinker. However, there is no place to conceal these weights in an empty car. In real life, these cars are NOT always carrying coal; they do ride the rails empty. Here is a great article about adding weights to a model train:
How Much Does a Train Wheel Weigh?
Summary
Compared to other cars of this calibre, I think ExactRail has done very well. Given the nature of the model they produced, it appears that weight has been compromised in favour of the clean lines inside the car.
As an aside: Do you know the main difference between these cars and Bathtub Gondolas also commonly used in unit coal train service? Though drop-bottom gondolas were popular once upon a time, a hopper car has facilities for unloading; the hopper doors on the bottom. And while the hopper can generally be tipped for unloading, it is the only option available for a coal gondola car.
Footnotes
(1) The Association of American Railroads' (AAR) Rule 88 originally allowed for a maximum 40-year car life, but grants an additional 10 years through Extended Service Status (EXS). Today, all cars operating in interchange service are 50-year cars, either because they were built on or after July 1, 1974, or received rebuilt status of EXS under Rule 88.
(2)
https://www.progressiverailroading.com/mechanical/article/Rule-change-could-help-ease-box-car-supply-problem-commentary-by-Richard-Kloster--48746
(3)
http://freightcaramerica.com/portfolio-item/autoflood-ii-aluminum-hopper-car
http://machineryhotline.com/details.html?id=1286.