Layouts: 2019 N Scale Enthusiast National N Scale Convention
Published: 2019-07-02 - By: Jenna
Last updated on: 2019-07-02
visibility: Public
Last week, George and I attended the 27th annual N Scale Enthusiast National N Scale Convention in Chicago, June 26-30th 2019.
Here are some
layouts
highlights.
Please see separate blog articles on
the Swap-a-Rama,
Layouts,
Banquet,
and
Manufacturers' Announcements.
There were four different layouts (Free-MoN, n-trak, Modutrak and t-trak) at this year's show.
FreeMoN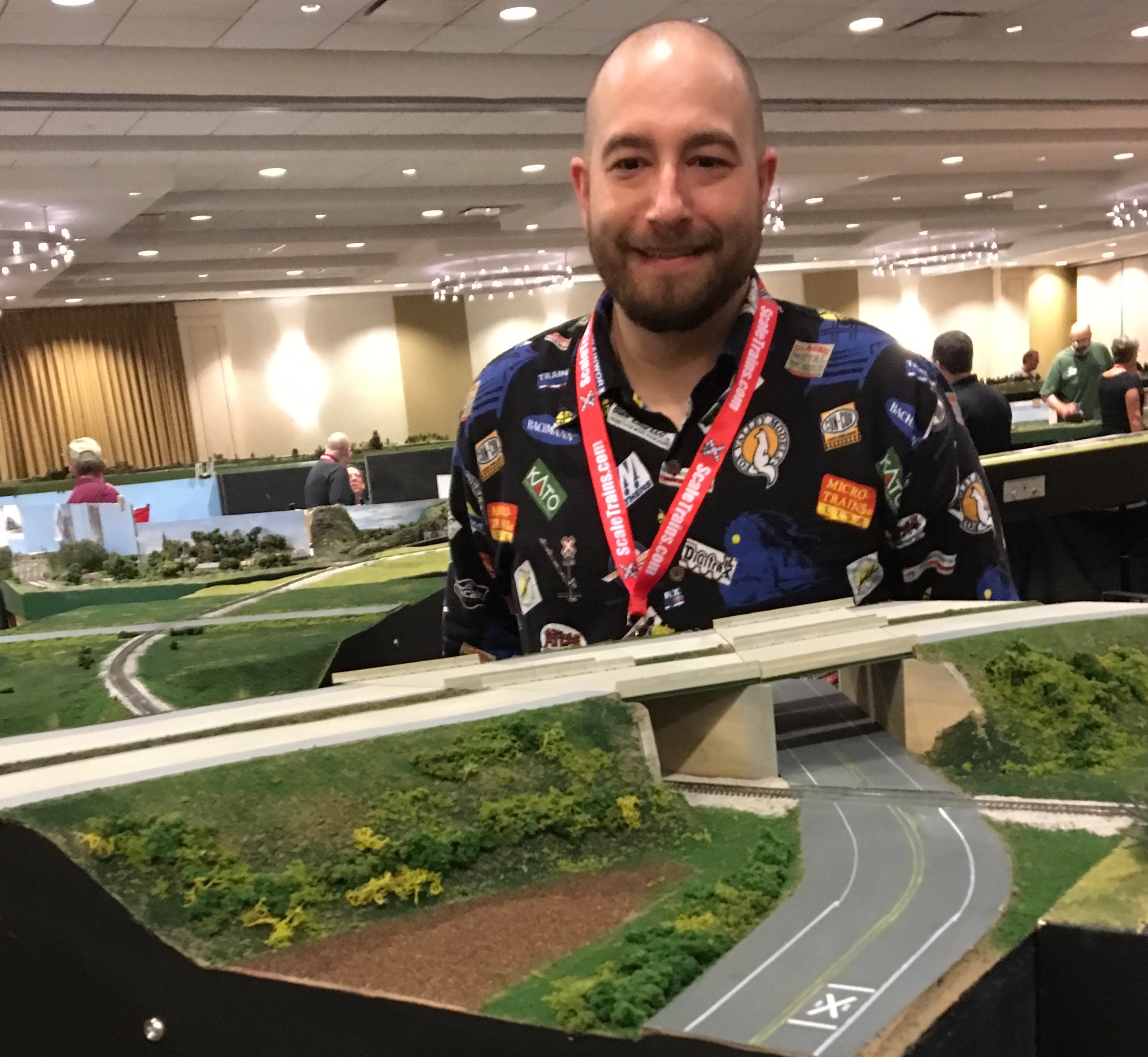 Eric of DE and his FreeMoN layout
Eric of DE (with one of his recently finished first layouts) is one of three folks who brought Free-MoN modules (1.8 scale miles of mainline track point to point configuration) to the show. Popular in the central and western parts of the U.S., Free-MoN is a type of n-scale modular layout considered more prototypically correct than t-trak and n-trak. It has a standard interface, uses a single track located in the middle of the module (most RRs use a single track) and modules are easily interchangeable.
"Free-MoN attempts to be more true to life with a single mainline," said Eric, who has "been enamored with the prototypical nature (more interested in switching and operations) of this kind of model railroading for quite some time."
Since there are no back drops on these modules, long consists of trains on the move can be viewed from both sides. These modules are situated 50 inches high, which is more adult-friendly and great for taking photographs.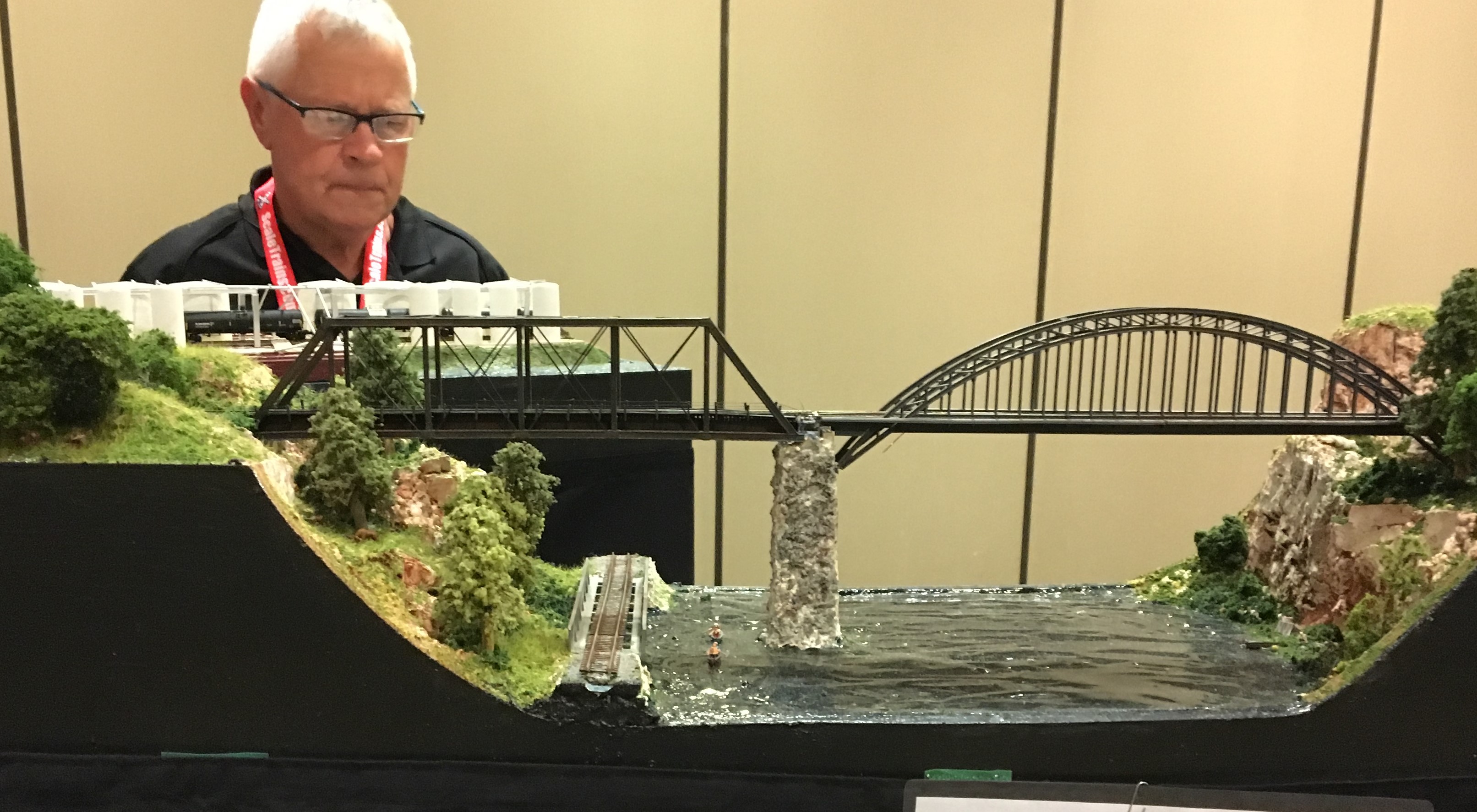 FreeMon layout
FreeMon layout
N-trak
The n-trak layouts consisted of roughly 5 scale miles and 41 modules from 5 different n-trak clubs: NorthWest N-trak, Heritage Group, Chippewa Valley, Mantrak and Lake Erie N-trak.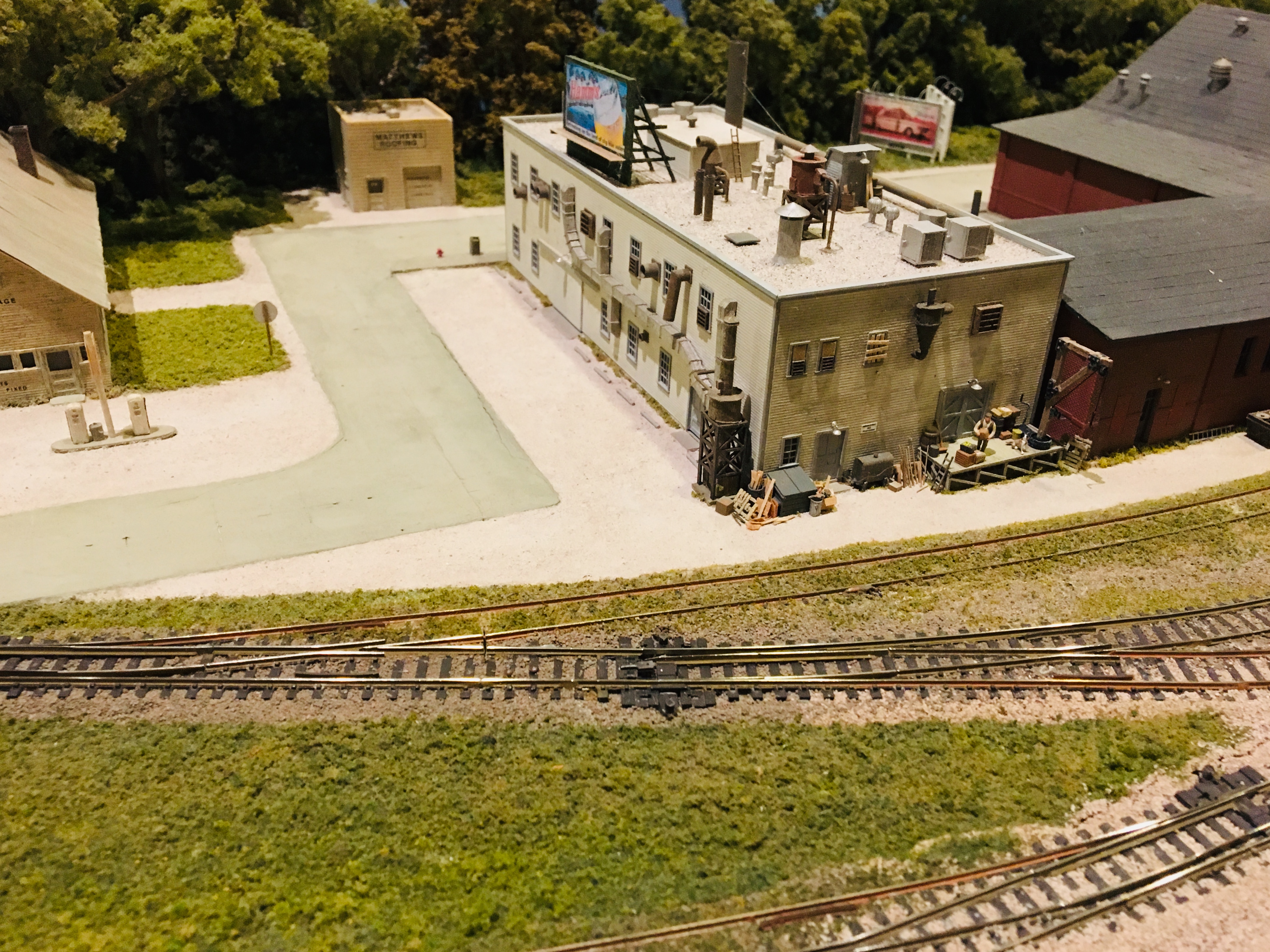 N-trak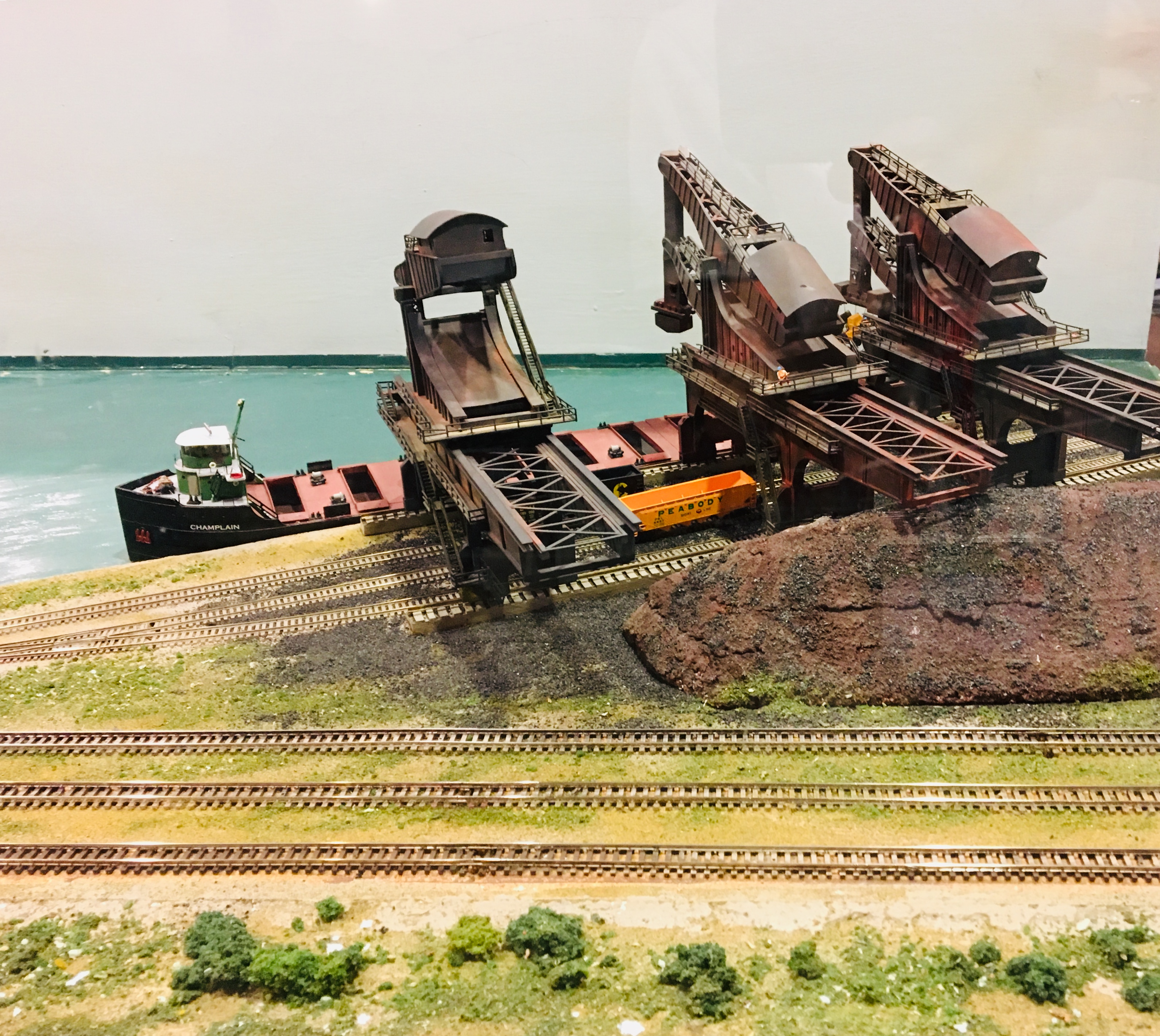 N-trak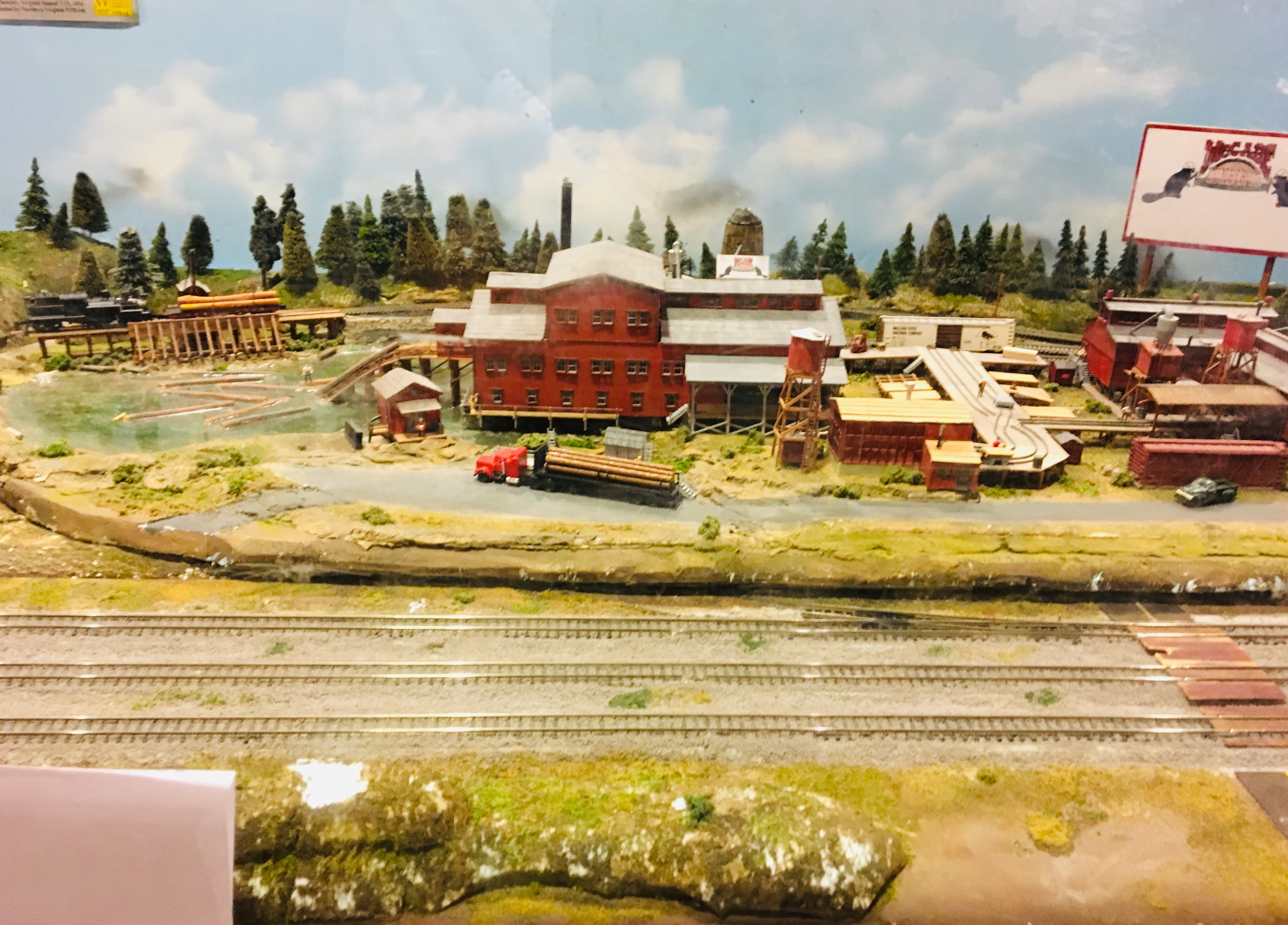 N-trak
Standalone n-trak/Chicago-centric layout
I had the pleasure of meeting Horace from the north side of Chicago, who has a
Chicago-centric layout
-- Tribune Model Railroad -- to the side of the three main exhibits. "Trying to capture this snapshot of time," Horace has (over 5 years -- high school and in college) replicated the Chicago Tribune Freedom Center Printing Plant site.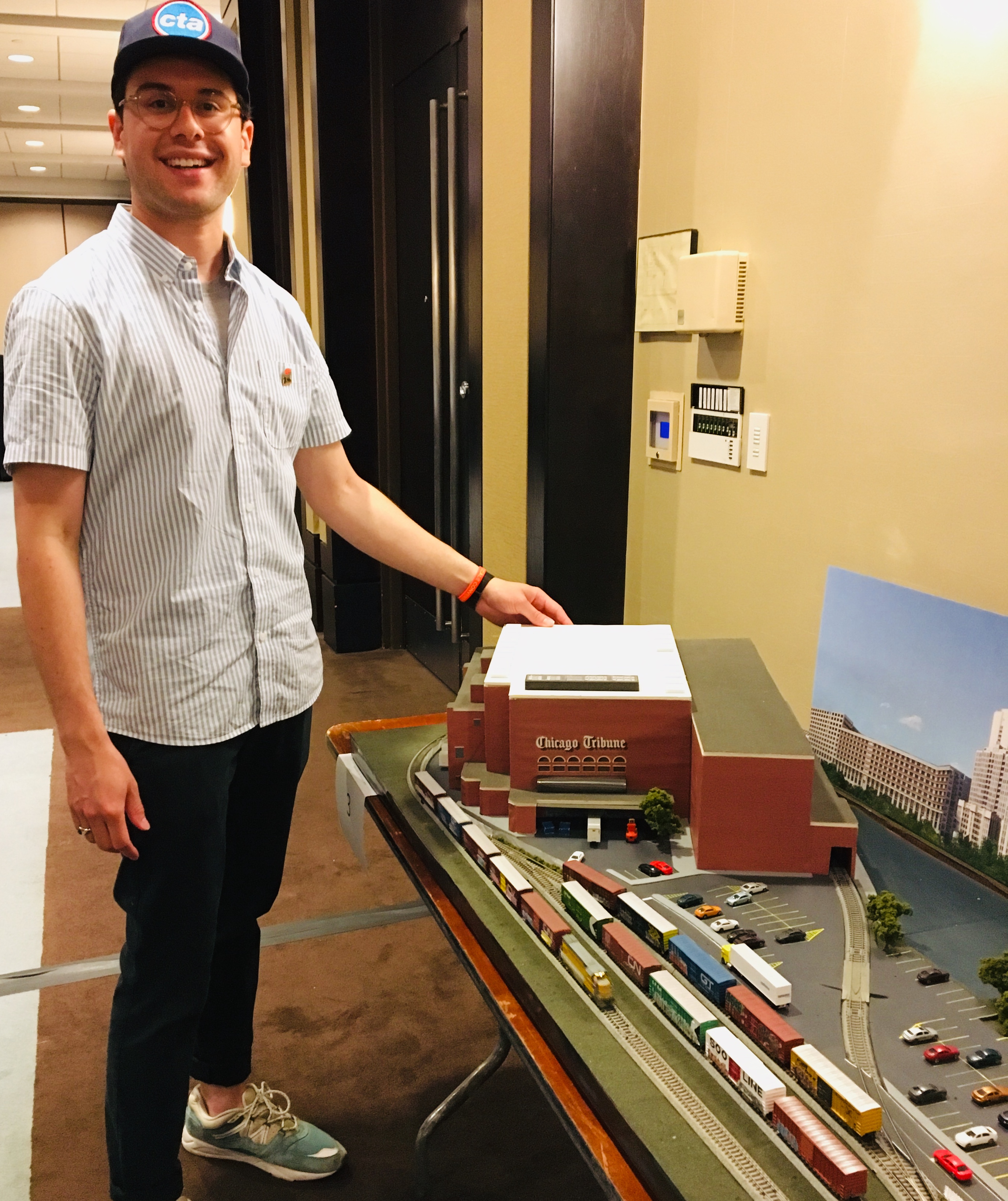 Horace and his Chicago-centric layout.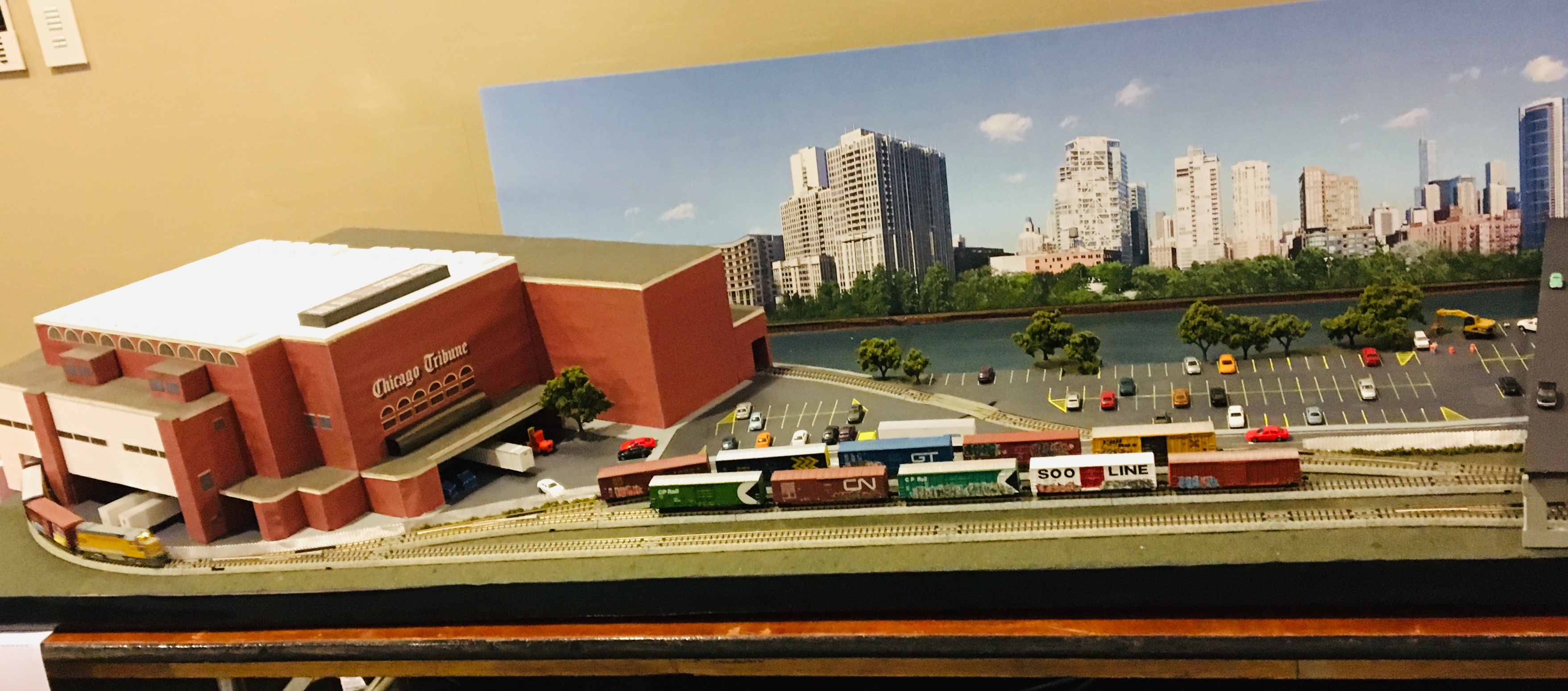 Tribune Model Railroad
At first, he was fascinated by the graffiti on the cars and then he got to know the people who operated the trains and eventually after lots of research, photographing (the area) and trips to Home Depot and an earlier NSE national convention, he created his layout, which is on display at the Chicago Tribune Freedom Center Printing Plant.
T-trak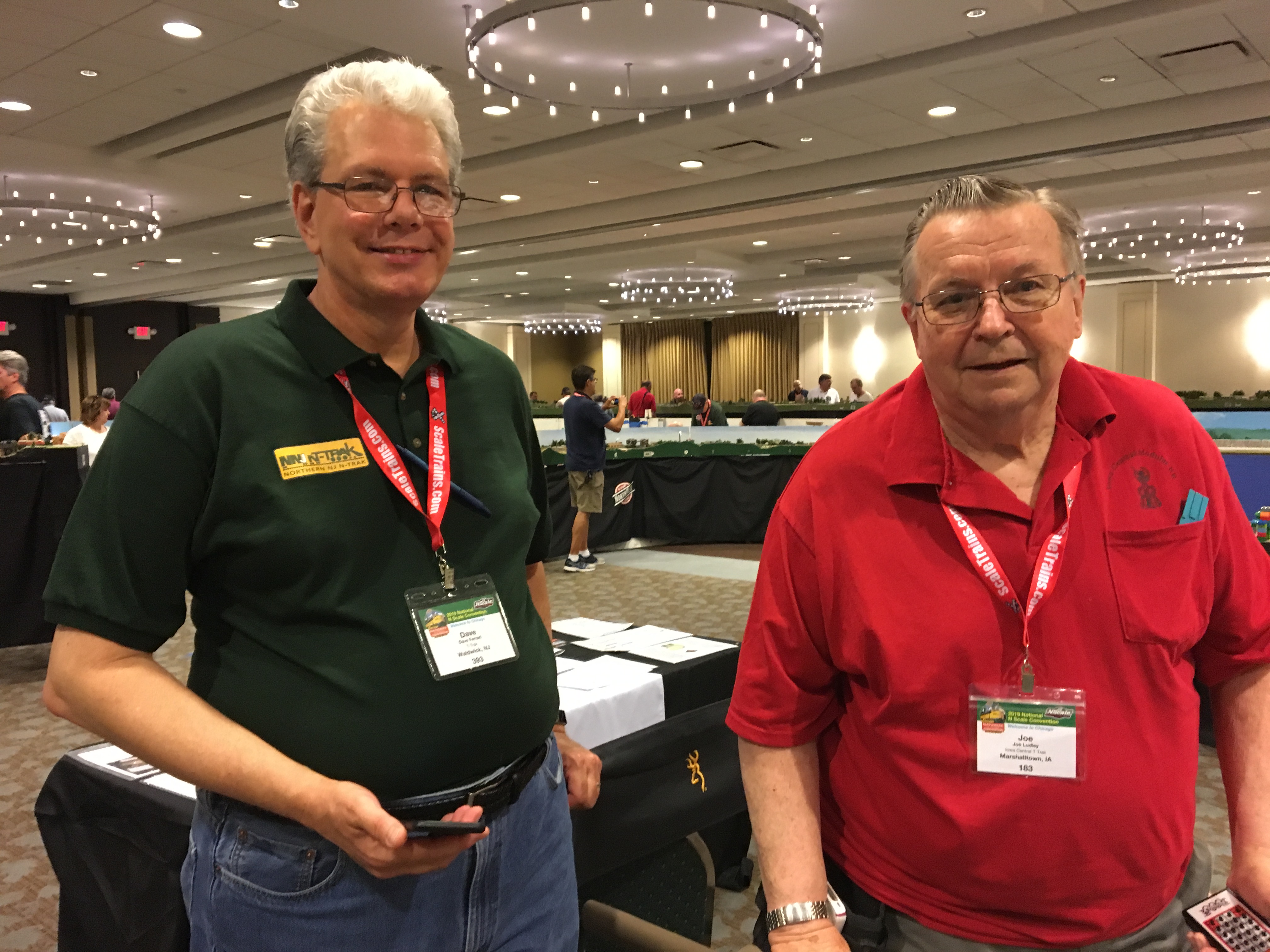 Dave, NJ (left) and Joe, IA gave me the stats for this year's
T-trak layout -- 67 modules (122 actual single units) and
about 3.75 scale miles of double track mainline.
Thirteen groups were represented and 16 people brought modules. This kind of layout is very popular with kids because it is at their eye level and modules often times have different toggles and switches for little hands to maneuver to make things happen on the module (dump a load for instance).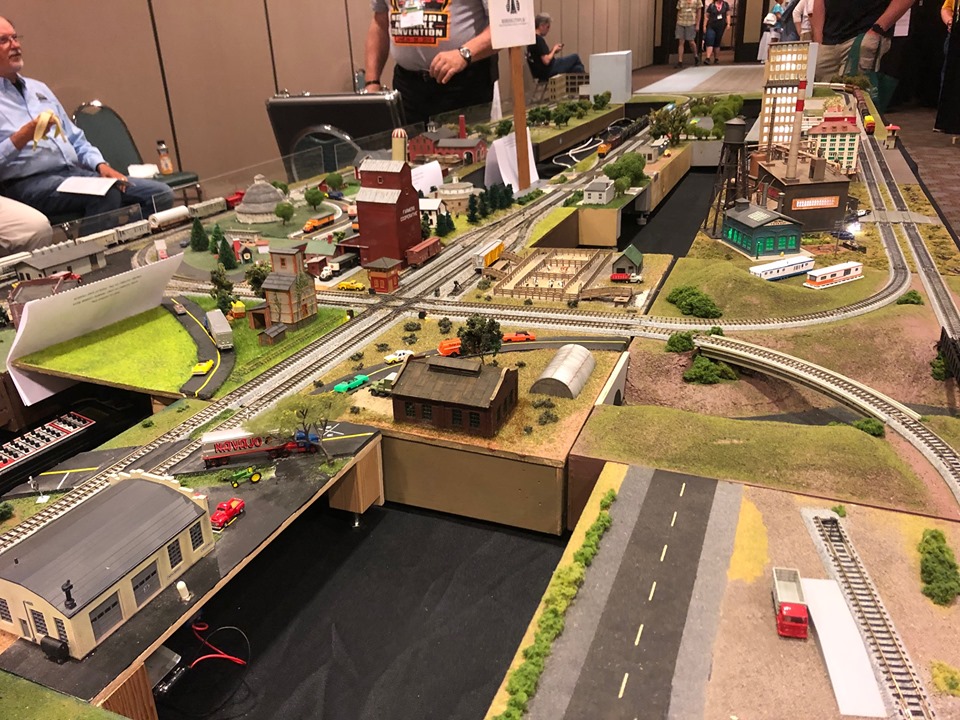 T-trak
Modutrak
Modutrak is "not a national standard but very popular among a group of like-minded friends (about 15 people)," said Bill from IL (pictured). Considered more prototypically correct than n-trak or t-trak, it was inspired by an H-O Midwest module. It is set up at eye-level (so you see models versus roof tops just like in real life) and runs a double track mainline. It eliminates connectors between modules and instead track runs to the very end of each module and a C-clamp (from underneath) is used to hold modules together.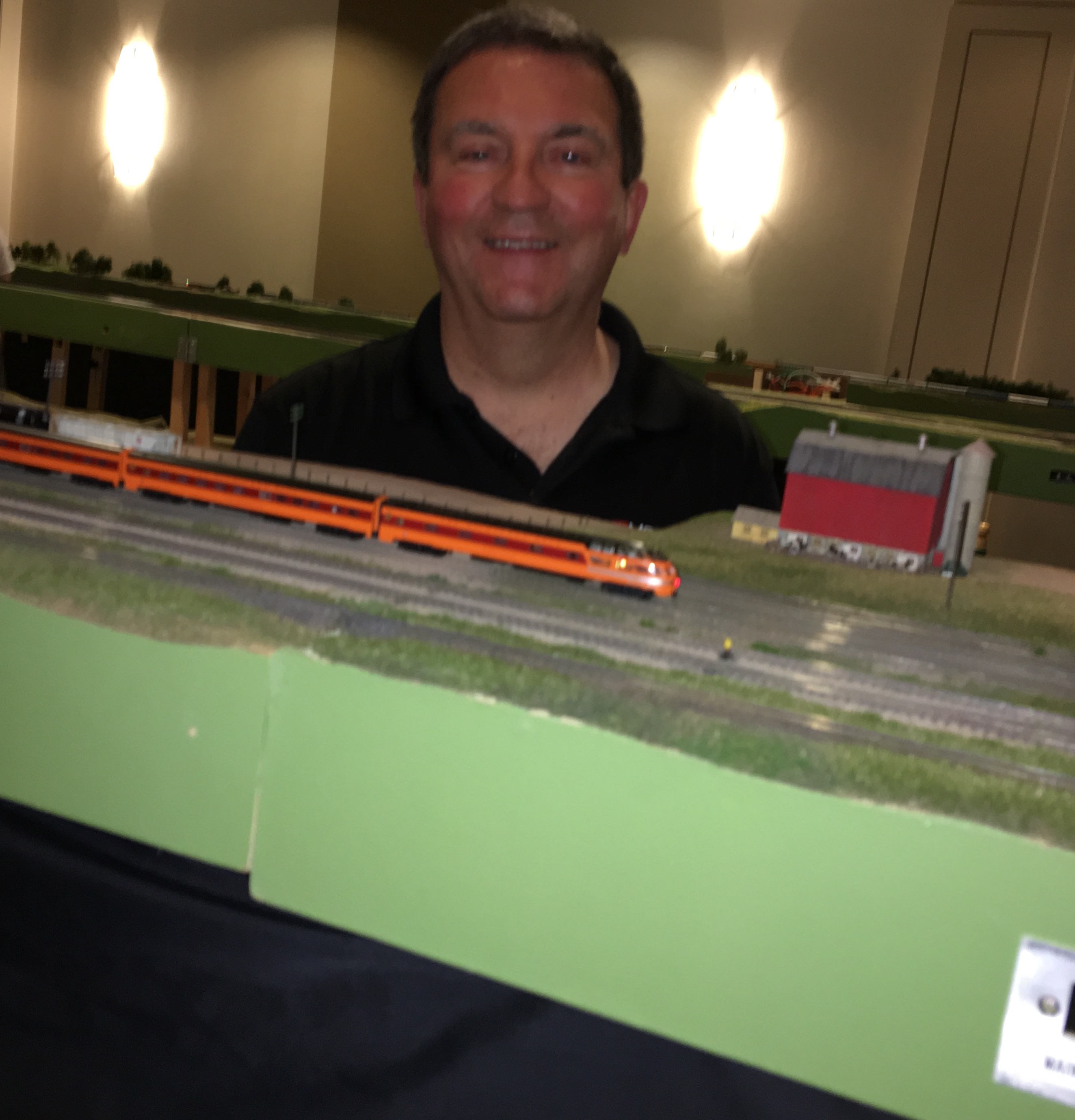 Bill from IL at the Modutrak Layout
"This makes it easier and faster to set up and tear down exhibits," said Bill. With about 32 modules running approximately 6 scale miles, this layout consisted of scenes from actual towns. "New Lisbon is where I rode the train when I was a kid," said Bill. Modutrak runs full DCC and Code 55 track.

New Lisbon Modutrak Module
Modutrak guest runner
One of the great things about model train shows and conventions is the opportunity it gives folks to come and run trains and meet fellow n-scale brethren. Alan from Louisiana (pictured) was a guest runner on the Modutrak layout. He ran "PrivateVarnish" (American Association of Private Railcar Owners) cars...passenger cars that really rich people buy (usually for a bout $1M a pop) and customize inside with deluxe accommodations and ride for about $15k to $20K per run (maybe from Chicago to Denver) to go to a rodeo, said Alan.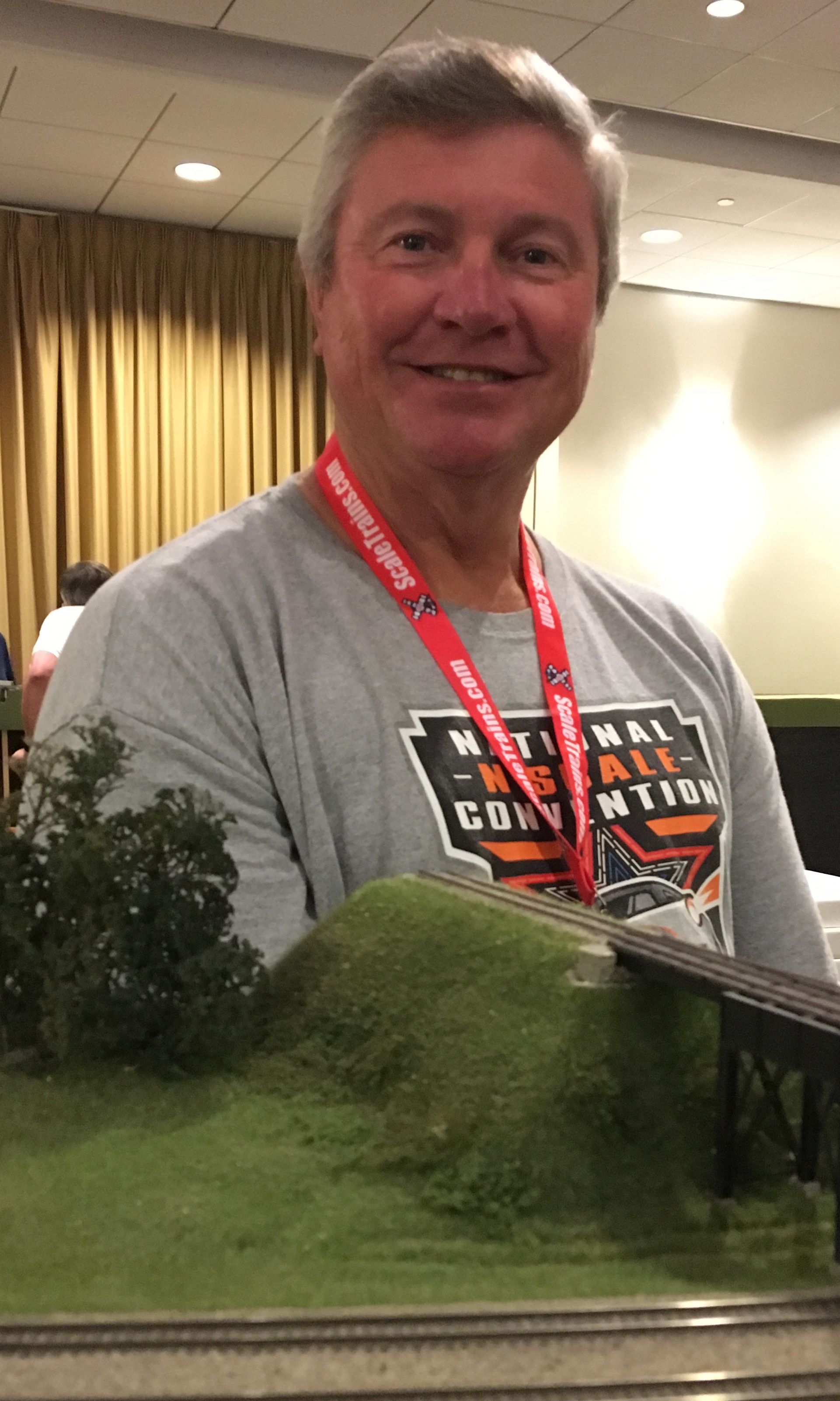 Alan from Louisiana, a Modutrak guest runner
Please see separate blog articles on
the Swap-a-Rama,
Layouts,
Banquet,
and
Manufacturers' Announcements.