Atlas N-Scale 60 Foot Heavyweight Passenger Cars Offer Nice Detail at Good Price
Published: 2019-08-21 - By: gdm
Last updated on: 2021-08-12
visibility: Public - Headline

Atlas first announced this series of models in May of 2018 and made its first delivery in March of 2018. A second run with new road names was made available in April of 2019. These are models of pre-war heavyweight passenger cars in shorty (60 foot) configurations. The prototypical cars were made by ACF for the fleets of Chicago and Northwestern and Central of New Jersey. The models carry a list price of $36.95 (single car) for the 2018 release and $37.95 for the 2019 release. The cars are sold in 5-pack consists as well as individual cars.
These cars are part of Atlas Trainman line, which means they are considered more of a budget item than other 'Master' releases. Most Trainman cars are older toolings from the 1970s and 1980s that don't have the detail of newer models, but sometimes, as in this case, new models are released directly into the Trainman line. I assume this is to defuse criticism that these cars are not nearly as detailed as other modern Atlas releases.
We were able to obtain single cars at Tophobbytrains for $25 each, but they quickly sold out and are now selling on eBay for $35. This still represents a discount from MSRP but demonstrates that these cars have been popular with the N Scale community.
There are five different toolings in this series: a coach, a combine, a baggage car, an observation car and an RPO (rail post office). We used a Lackawanna coach car as our reference for this article.
The Prototype
Heavyweight refers to early 20th century cars built before the late 1930s. They were usually of riveted steel construction with 6 wheel trucks (not always) and often (not always) had large clerestory (learn more about clerestory roofs in our blog:
What is a Monitor Roof Passenger Car?
) or arch roofs that tapered or curved at the ends. Heavyweights were built with a heavy under frame to hold the car body. The floor was often of poured concrete, which helped give these cars a smoother ride than older wooden-body cars. The rest of the car was built on top of the frame and was structurally irrelevant. Heavyweight passenger cars weigh around 1 ton per foot of length. So a 85' car weighs in the area of 85 tons. Some railroads 'rebuilt' older heavyweight cars with new low profile roofs, thermopane windows, and flashy paint schemes to match the newer lightweights.
These Atlas models are based upon C&NW and CNJ prototypes. The prototypes were made by American Car & Foundry. The CNJ prototype behind the observation car was slightly longer than the model, with the shortest measuring around 63 feet. The Northwestern cars (on which the coach and combine are based) are actually sixty feet. One or two of them still exist.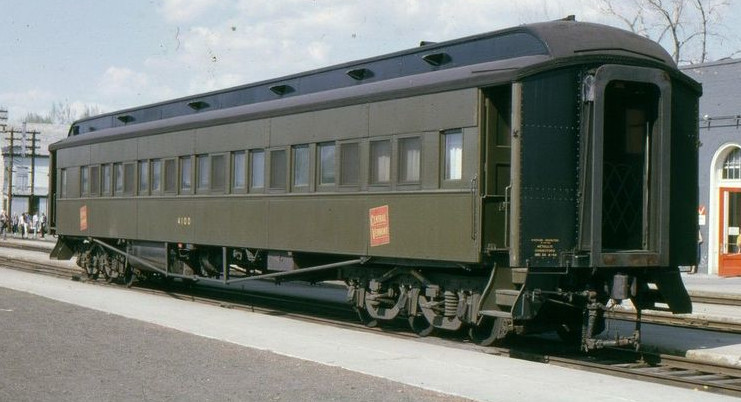 They were offshoots of wood open platform cars that Northwestern ran on Chicago locals (one or two of those might still exist). The C&NW had a sizable fleet of heavyweight coaches in use in commuter services, presumably before their well-known gallery cars were introduced.
You can learn more about heavyweight cars in our blog:
What is the difference between a Lightweight and Heavyweight Passenger Car?
The Box
These cars were released in a 6" acrylic box. This box has the same form factor as those used by their smaller diesel locomotives. The cars rest in a double cradle and have a sheet of soft plastic enclosing them. The five-packs use the same acrylic boxes but they are packaged together in a cardboard outer box.
The Trucks and Couplers
Like all modern Atlas releases, these cars use Accumate couplers. Our opinion is that these couplers do not work particularly well with longer consists unless the trackwork is perfect. Now that the patent is expired on the Magnematic couplers from Micro-Trains we wish that Atlas would switch over to MTL couplers. With the various tarriffs and increasing cost of labor in China, we believe that the MTL factory in Oregon could keep Atlas supplied with couplers at a competitive price, but what do we know?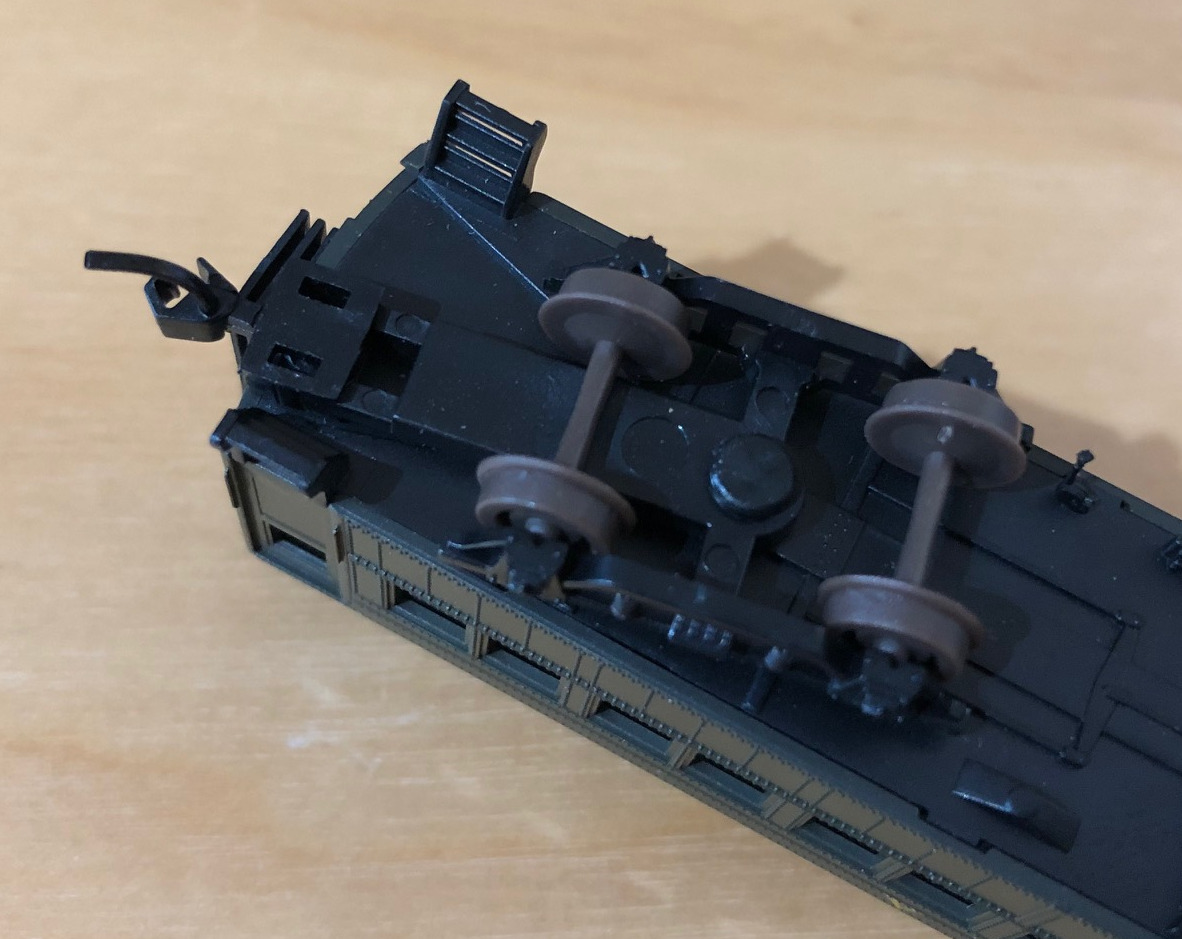 Trucks with attached Accumate® coupler
The couplers are truck-mounted, using a fairly long extension. Perhaps these are cheaper to produce than body mount couplers, or perhaps Atlas used truck-mounted couplers to make it easier to use these cars on tight radius turns. Perhaps both.
The wheels are basic injection-molded plastic. Sometimes Trainman releases use metal wheels, but not these cars. The cars roll reasonably well. The wheels are quite definitively low-profile and will be happy to play nicely on Code 55 track.
The Model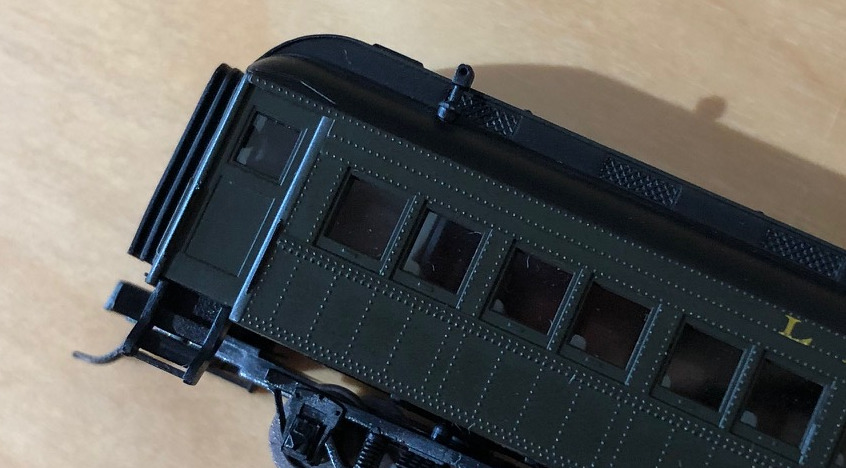 Model Detail
The overall quality of the model is not too different from the early Rivarossi heavyweights that Atlas imported once upon a time. The tooling is sharp and really conveys the heft of the prototype by means of the riveted sides and the distinctive heavyweight style roof. Unlike their longer cousins (modeled by Rivarossi), these cars sport 2-axle trucks, just as their prototypes did. The windows feature plastic glazing and the interior detail is more than adequate. They come apart easily so if you wish to add passengers to the interior, you can. The cars do NOT have slots for wiring leads from the wheels to the interior, so adding lighting would be easier done with a battery and Reed switch combination.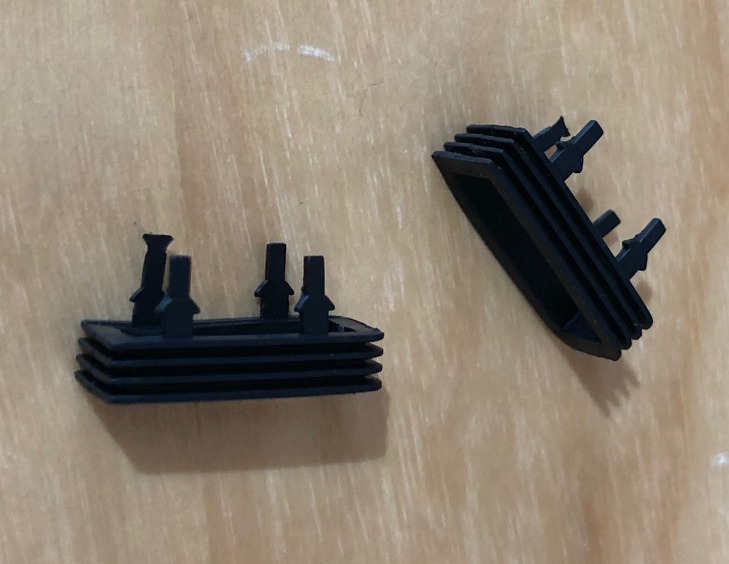 Replacement Diaphragms
The models come with two replacement diaphragms (which protect passengers from the elements when walking between cars to the restroom or cafe car by providing a continuous enclosed passageway from one doorway to the other doorway). There are no instructions for these. They are slightly longer than the two that are equipped on each car, so I presume these are to permit the owner to replace the installed ones to give more of an illusion of close coupling.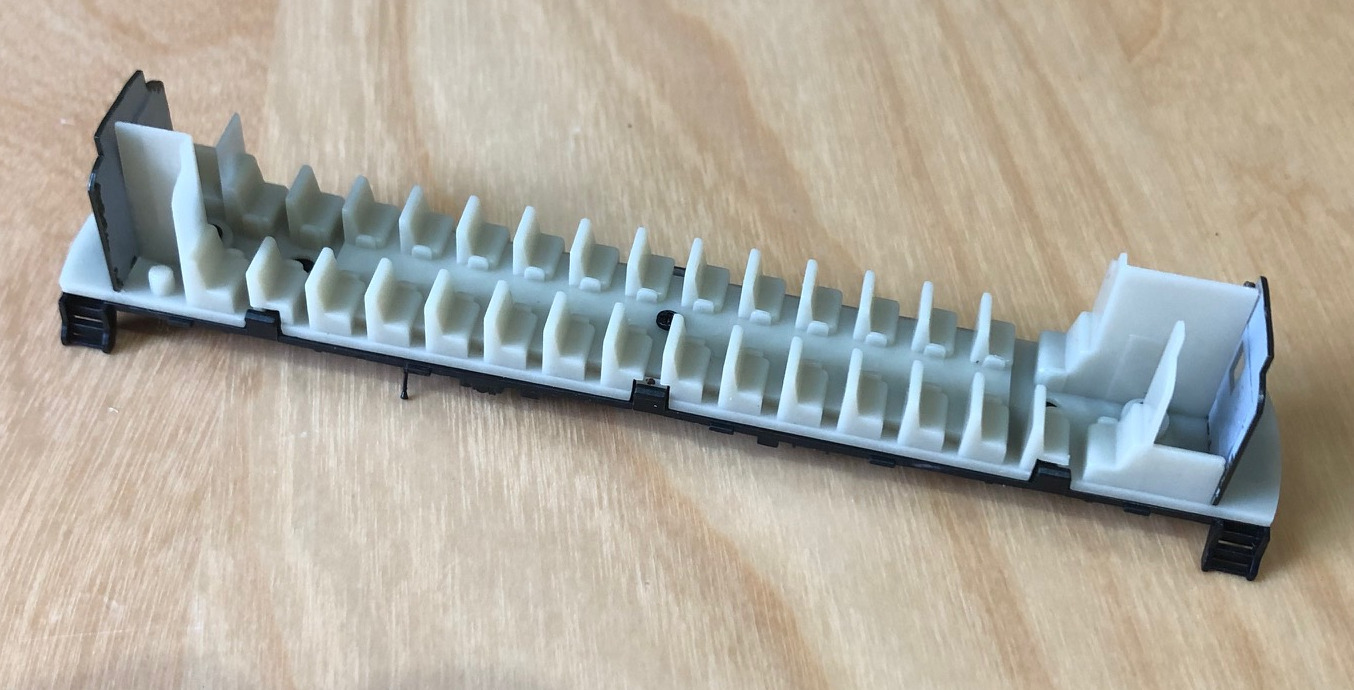 Detailed seats and bathrooms
The detail is about what you would expect for a lower-priced passenger car. Certainly it is better than the Rivarossi predecessors, but nowhere in the league of newer Wheels of Time or Rapido passenger car releases. The replacement diaphragms are a nice touch as are the detail parts for the chimney and a pair of widgets protruding from the under-frame. The balance of the under-frame is adequately detailed with nice attention paid to the air tanks. The roof shows some nice detail in the venting and the aforementioned chimney/stack is a really nice touch.
Summary
These are the first passenger cars ever made by Atlas. All earlier Atlas releases of passenger cars were made by Rivarossi or other non-Atlas sources and rebranded by Atlas. We applaud Atlas for bringing a lower cost alternative for passenger cars to the marketplace. This was brave. We also applaud them for producing something that will run on tight-radius turns while still providing a certain degree of prototypical accuracy. Most passenger cars produced today are 90 foot models, which won't run well on home (typically small) layouts and can't even make the inner curve of a T-Trak layout. These new passenger cars by Atlas may not look as impressive as a Kato Hiawatha, but they will run on many layouts on which the Kato cars would derail.
Click here to see a full list of all the cars in this series