Jacksonville Terminal Co. N-Scale Collapsible-End Flat Rack Containers: Functional & Nicely Detailed
Published: 2019-08-27 - By: gdm
Last updated on: 2021-08-12
visibility: Public - Headline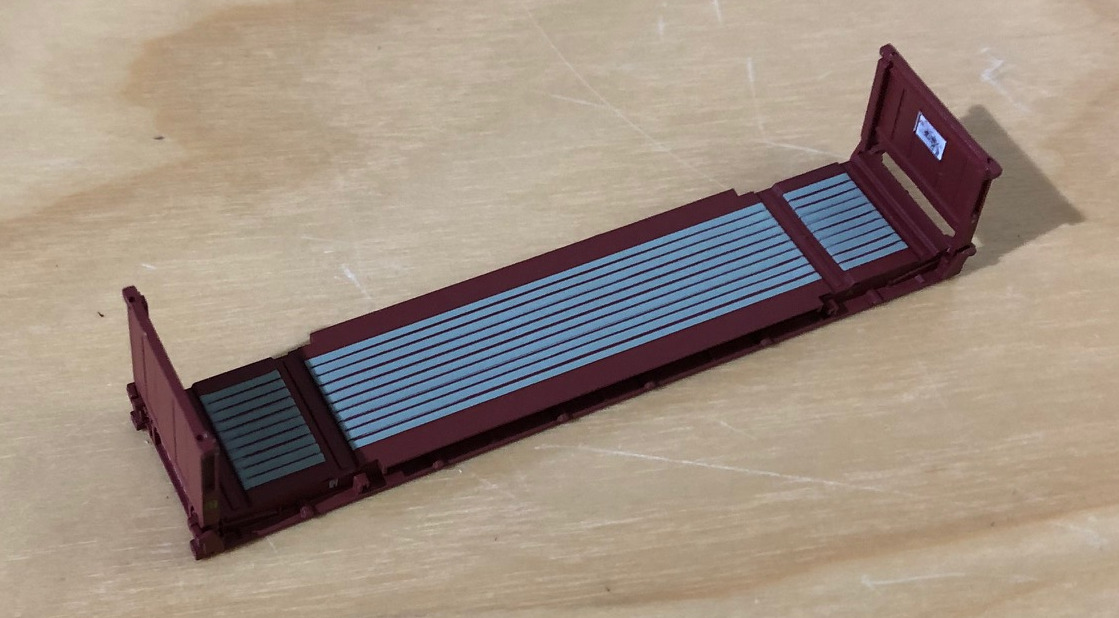 Jacksonville Terminal Company (JTC) is a new player in the N Scale space. The company's opening salvo in the hobby was similar to that of ScaleTrains.com -- an intermodal shipping container. JTC's first n-scale release (Trainfest 2017) featured two versions of the open/canvas top containers, never before done in N scale. Since then it has released a variety of 20' 40' 48' 53' containers.
Similar to its first foray into n-scale, JTC recently decided to go after another model that nobody had done before in N Scale, the Intermodal Collapsible Flat Rack. These models first became available in April of 2019. They are only available in 6-packs (40' standard height, 20' standard height and 40' high-cube height version) and these packs carry a retail price of $113.95. We were able to obtain a set for $85 from an online retailer. I would have liked to have seen them sold in simple 2-pack bags, but there is no such option yet.
The Prototype: Not everything fits into a box
The Flat Rack is a specialized intermodal container for goods (that have unique dimensions / abnormal loads) that need to be loaded from the sides or the top. Manufactured from steel, flat racks come in two varieties: fixed-end (ends do not fold down or collapse) and collapsible (ends fold down flat). Available in 20 foot and 40 foot lengths, they have no side walls. These containers (whose floor structures have extremely high-loading capacities) are popular with manufacturing companies such as steel, trucking, construction, sugar, mining, oil and gas.
40 ft flat rack with odd-sized cargo
Flat racks are used for heavy cargo, odd-sized or odd-shaped cargo, machinery transport and bridges.
N-scale: 40 ft flat rack on a flat bed railroad car
Cargo is secured to the base of the container by using web slings, lashing belts, wooden stoppers and bracing. Thus, typical cargoes include: pipes & tubes, break bulk cargoes, transformers, boilers, LPG tanks, earth moving equipment, construction equipment, cranes, oil field equipment, hydro projects elements, and wind turbine components.
Efficient transport of empty collapsible-end flat racks
Four collapsible empty flat racks can be shipped quite efficiently as they use the space of one regular dry container. Some flat racks have flush-fold ends, which make optimum use of space with minimal deck interruption. And in some cases, end walls can be removed for direct-loading dock capability.
The Box

Each box contains six flatracks
These containers come six-to-a-package in a 7 1/8" acrylic jewel box. Each container comes in a plastic sleeve which in turn rests in a foam cradle.
Operation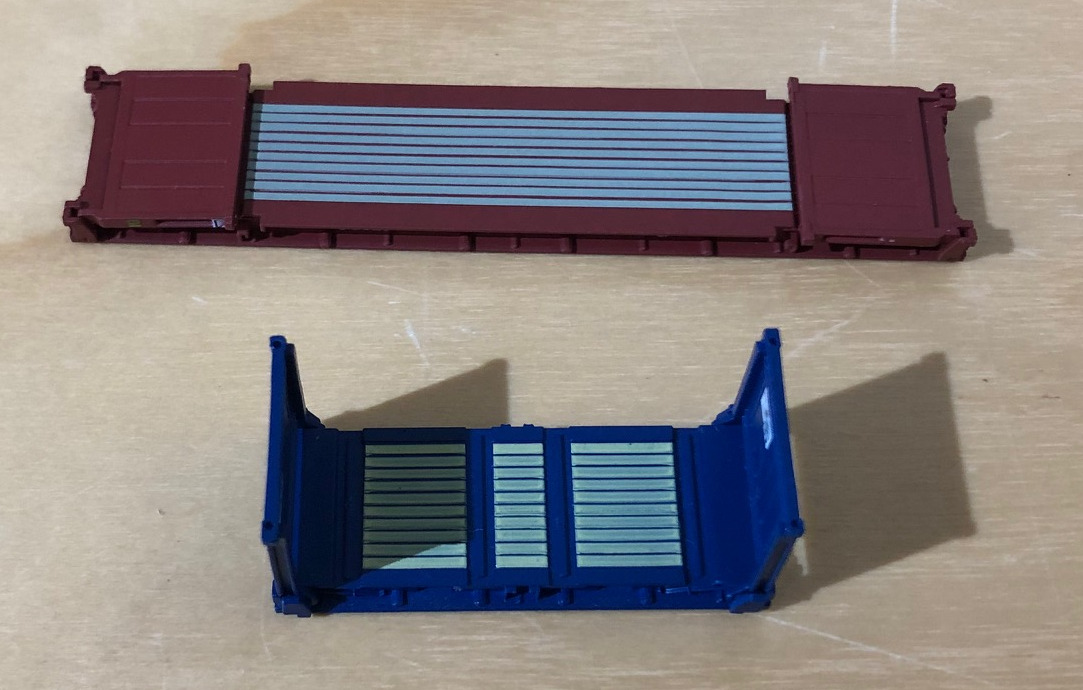 The ends can be collapsed
What makes these containers really interesting is a combination of two factors. First, they actually collapse. This means you can fold and unfold the ends depending on whether you wish to model them loaded or unloaded. The models worked flawlessly with the ends slotting nicely into the base when folded. Bravo! The second key feature is that they have embedded magnets so they will attach nicely to other containers that are similarly magnetized. This is a critical feature. What makes this really cool is that the magnets have effective grip whether the ends are collapsed or upright.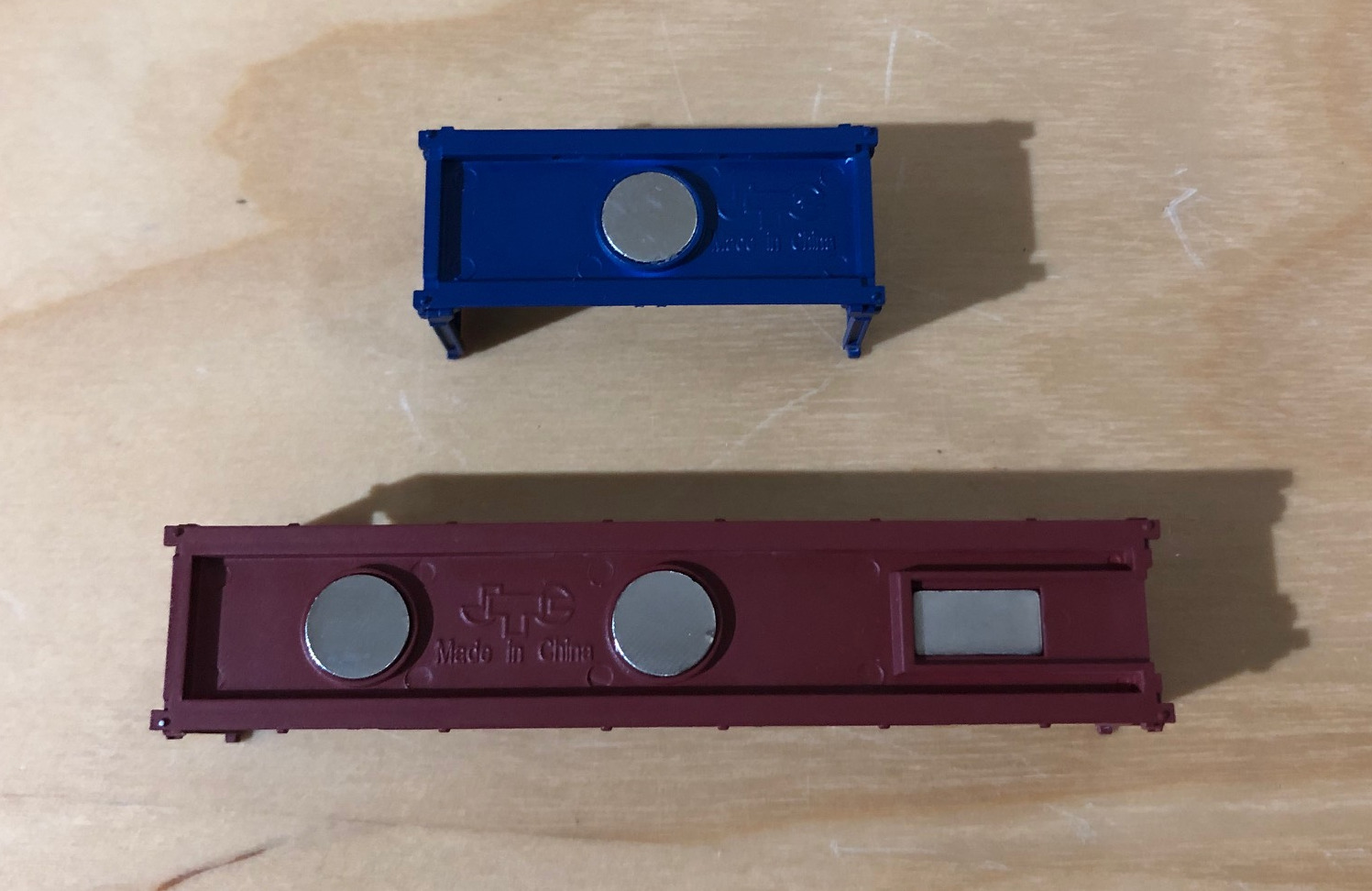 Magnets are affixed to the base
So we took them for a test drive. First, we did a basic trial of setting a 40' flat rack on top of a 40' magnetized Kato container. It stuck nicely. I was able to grasp the ends of the flat rack and lift it up and the Kato container was stuck fast to the flat rack. Even some vigorous shaking could not dislodge the flat rack from the standard container underneath. Cool.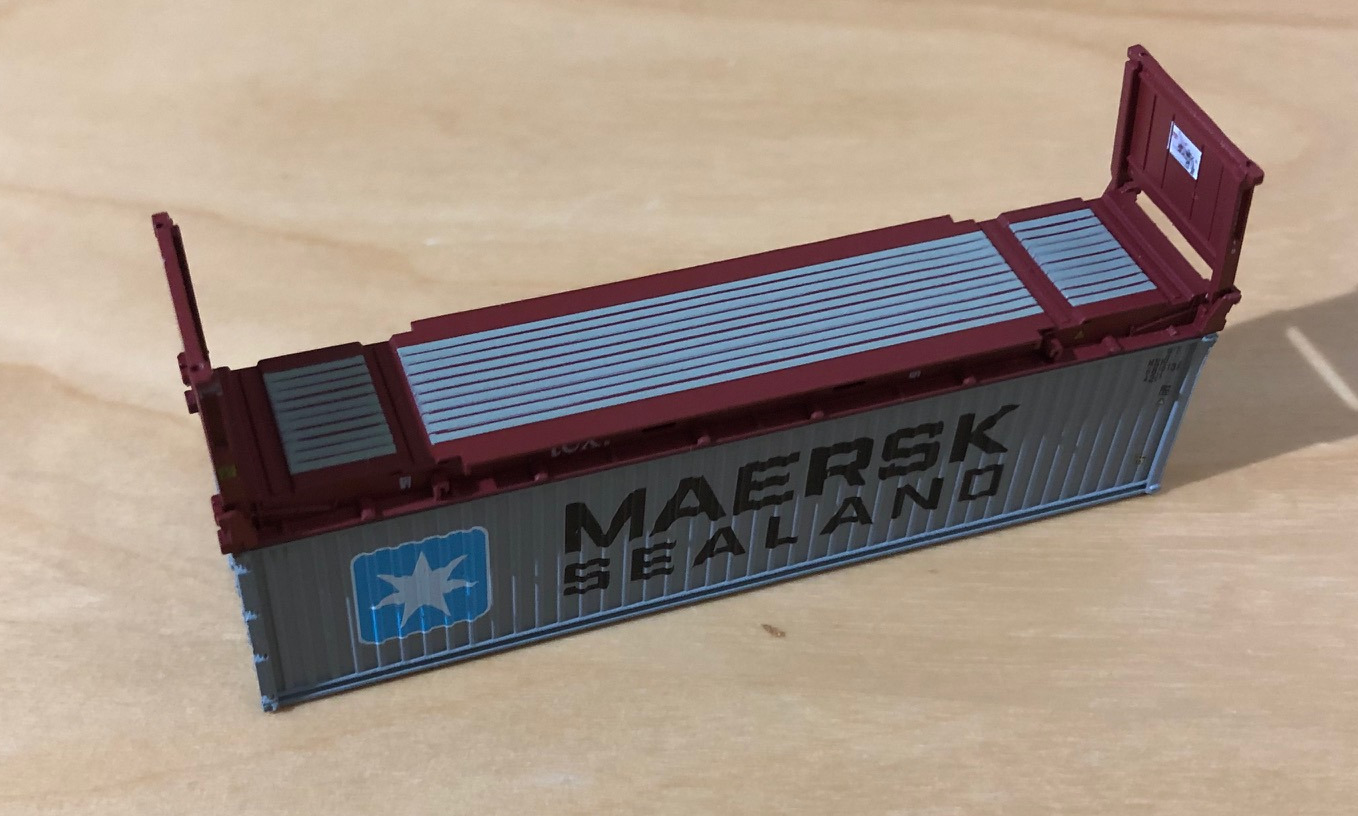 The flat rack attaches to a Kato container.
Railroads do stack loaded flat racks on top of regular dry containers;
weight, height and width of the load determine if this is feasible.
However, if you are using containers from different manufacturers (ie Kato and JTC), then all is not perfect. The Kato containers are slightly too small for scale and thus the pins do not line up perfectly. You can apply a little force and shoehorn the pins of the flat rack into the Kato container, but this will slightly scratch the pins on the flat rack. This will presumably not be a problem with larger containers or other JTC containers.
The positioning of the metal (non-magnetized) plate on the roof of the Kato model is both small and centered. This means that two JTC 20' flat racks will NOT stick to the roof of a 40' Kato container. This can be easily fixed by gluing additional metal plates to the roof of a Kato container, but this requires effort. After trying this, I learned that you would never see this configuration in real life (a 20' container cannot stack on top of anything except another 20' container, there' no support). But unless you are a container expert, you probably (like me) would never know this. You can't do this without modifying your Kato containers and again, this is never done in real practice anyway.
So which configurations will you see? Railroads stack flat racks that are packed with cargo on top of one another (mainly the height of the bottom load determines if this is feasible). You will also see railroads stack empty flat racks under a dry regular container or on top. Empty flat racks with their bulkheads folded down can stack three high (on top or bottom) of dry regular containers.
The Model: Nice Detail
Containers, by their very nature, are rather streamlined products, thus feature less detail compared to a box car, for example. However, what detail there is on these containers is nicely rendered by JTC. For instance, contact points where the collapsing ends meet with the undercarriage is nicely done. The edges of the container surfaces also carry a high level of molding detail.
The paint work is excellent. The sharpness of the printing is all that you might expect with a 21st century N Scale model. But what really is nice is the accuracy of the painting of the wooden planks on the bed of the containers. Another nice touch is the 'instruction' plaque painted on the inside of the folding ends.
Summary
It is nice to see a new manufacturer in the N Scale space. Making model trains is not a lucrative enterprise so when we see a new player (presuming they are not complete idiots) we know they are aware they will never get rich doing this and hence they are doing it for the love of the hobby. I had the chance to meet with (Steve Campbell and Stan Brooks) the principals of JTC at both the Amherst Railway show and at the NSE convention in Chicago, June 2019. These two guys know exactly what they are doing and we applaud them for doing it. We only wish there was a lower price point that would allow folks to try out these excellent models without shelling out close to $100. We look forward to more models in the future from them.
Click here to see the models in this series