Fox Valley N-Scale PS Coal Gondola: Rugged & Well Made
Published: 2019-11-01 - By: gdm
Last updated on: 2021-01-01
visibility: Public - Headline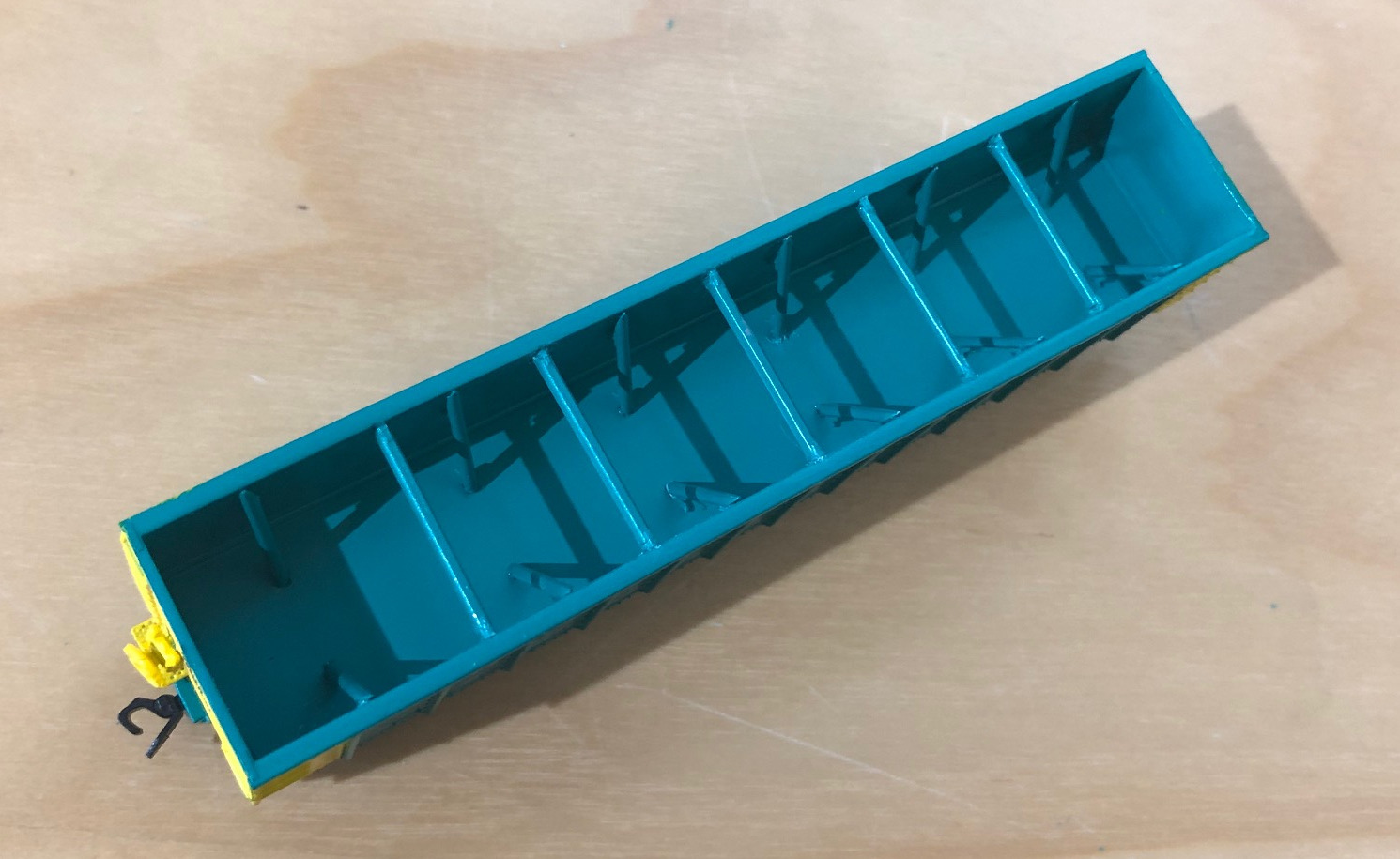 Double rotary version of the Pullman Standard coal gondola released by Fox Valley
Fox Valley announced this model at Trainfest in 2018. It first shipped in March of 2019. These models feature detailed injection-molded bodies, static couplers, accurate decoration and metal wheelsets. Cars are available in six packs except for specially decorated cars such as double rotary cars.
The single cars in this series were initially offered with an MSRP of $27.95, but we were able to obtain an example car online for $21. The six-packs carried an MSRP of $159.95, but we were able to obtain a set for $120.
The Prototype
Back in the 1970s, as demand for clean-burning coal rapidly increased, Pullman-Standard introduced a coal gondola for unit train service. Widely used by BN and many private utilities, unit trains of these cars hauled coal from Wyoming to users throughout the country. Thousands were constructed in the mid to late 1970s and many are still used in maintenance-of-way service and by secondary owners for moving scrap metal and other materials.
Many of these cars were engineered as 'rotary' gondolas. Previously, coal had been hauled in open hopper cars, and these cars were unloaded by opening bay doors on the underside of the cars to discharge the coal. Unfortunately these bay doors caused the hoppers to be expensive to build and to maintain (the doors get stuck) and slow to discharge due to the bay doors being necessarily small in comparison to the size of the cars.
Single rotary prototype of PS coal gondola
The new rotary design allowed the entire rail car to be flipped upside down
while still being coupled to its neighbors,
which removed the need for the bay doors entirely and allowed for almost instantaneous discharge of the load. This was accomplished by having one of the two coupler units set into a socket that allowed for 360 degree rotation. Imagine the coupler set into a round socket much like a light bulb goes into a socket. The coupler can freely turn inside the socket which in turn allows the entire car to rotate as long as one coupler on each end can rotate. The common practice was to position the rotary coupler at only one end of the car, and have that car be specially painted on the end with the rotating coupler. As long as all the cars were oriented in the same direction, the cars would have one rotary coupler on each end - one on the car itself and one on the neighbor.
Now of course, it would be silly to put rotary couplers on the locomotives pulling these cars, so certain cars would need to have rotary couplers on both ends. These cars would be the head car (or the tail car in the case where a caboose was present) to allow these cars to be rotated when their neighbors (the locomotive or the caboose) didn't have rotating couplers. These double-rotary cars were painted differently than their more common single-rotary siblings so as to stand out visually in the freight yard.
The Box
These cars come in 6 3/4" acrylic jewel boxes. The six-packs have these boxes. Each container comes in a single plastic nest with no plastic sleeve. The six-packs have the acrylic boxes set inside a cardboard box. The lack of a double nest or a protective sleeve is indicative that either Fox Valley didn't believe this extra protection was needed given the durability of the cars, or they were trying to save a few pennies on packaging or both. My opinion is that for this car, given the lack of breakable detail parts, that the extra protection would have been silly and wasteful.
Couplers and Trucks
These cars carry body-mounted couplers. This is always nice to see, but we are coming to expect this with newer third generation releases. (Please see my blog,
The Evolution of N-Scale Rolling Stock Models).
The couplers themselves are interesting. They are
dummy
knuckles. They don't open or close and they don't have magnetic metal bits masquerading as brake lines to trigger decoupling when rolled over a magnet. Not really a big deal as few people I know use these magnets. However, there are folks out there with operations-intensive home layouts who will likely be unhappy with this decision. However, couplers can be VERY expensive, and Fox Valley's decision to go with dummy knuckles likely shaved a dollar or two off the price of this car.
The wheels are (of course) Fox Valley's own world-class wheel sets. Fox Valley was the pioneer in making metal wheel sets to replace the standard injection-molded plastic wheel sets that come stock on so many other manufacturers' rail cars. Metal wheels are noisier to operate but they leave less residue on the track and they tend to roll much more smoothly. We tested one of these new coal gondolas on our home track and (surprise surprise) it ran very smoothly. You might think this is a given with modern N Scale models, but it is not. However, Fox Valley has such a strong reputation in this area, it would have been a major disappointment
if they didn't
run well. We were not disappointed. A simple push from my little finger sent this car sailing along a T-Trak module.
The Model
This is not an extremely detailed model. In fact, it is somewhat basic. It does come with a lot of
unassembled
detail parts on five plastic sprues, which can be attached by the modeler. More on that later.
This is a rugged runner's model. It sturdy (with no pieces to break off) and features a nice solid construction. Definitely OK for smaller hands to touch without fear. Don't drop it on a hardwood floor, but the car can take some mild abuse and still look new. I had the chance to speak with Matt a few years ago at the Pittsburgh NSE convention and I chastised him mildly for having some of the most boring under-frames around. You could always spot a Fox Valley model by flipping it upside down. You didn't even need to see "Fox Valley" stamped into the bottom. The simplistic under-frames spoke for themselves. Apparently whoever designs their toolings got the memo, because these models have enough carefully tooled detail molded in to the bottom to hold their own. Nice work Fox Valley! Also, the detail was accomplished without using detail parts so the basic durability was not compromised by the care put into the aesthetics of the underside.
There are few detail parts. Beside the ubiquitous brake wheel (brake wheels have pretty much always been detail parts, even in toolings dating to the 1960s) Fox Valley added a brakeman's platform below the wheel. I was unable to ascertain (due to the paint) whether this is an etched metal detail part or a plastic part. The paint is a bit heavy and ruins some of the effect of this really nice part. What Fox Valley has demonstrated with this model is the amazing level of detail that is now possible with the injection molding process. The car-end details, the under-frame, the fineness of the stirrups and the ribs all speak to the capability of achieving much finer results now possible from this ages-old process. The ladders are the weakest element and on close inspection they look a little melted. Unfortunately the ladders are some of the first details a modeler might notice. Similarly the grab irons look the same. Using detail parts for grab irons and ladders detracts for the durability and adds to the cost, so we understand why this choice was made, but given the excellent detail in the molding for so much of the car, it is a little surprising that these two elements don't look as good.
The paint work has a little room for improvement. I hope Fox Valley can work with the factory to improve certain elements here. First, as I previously mentioned, the heavy paint on the brakeman's platform partially offsets the excellent workmanship that went into designing and installing this part. Second, on the ends, there are some shadowy circles around the printing. Perhaps these are by design, but I suspect not. I believe they are artifacts of not-quite-perfectly executed pad printing. The sides are gorgeous with that typical "cool-I-can-read-it-with-a-magnifying-glass" effect. No paint artifacts from the angle most people will view these cars. Perhaps that is why this defect got through the QA process. If someone from FV reads this and can clarify that the shadow circles on the end were intentional, I will be happy to amend this paragraph.
Interior of Gondola fresh out of the box.
So far we have described a pretty good quality $20 model car. We are getting a good quality mold with high-end trucks and body-mounted couplers. So far so good. We also get a set of detail parts that we can install ourselves. If you plan to display or run these cars with loads (Hay Bros may make an excellent quality painted resin coal load for these babies), then you might as well toss the detail sprues back in the box. But in reality, 50% of the time, these cars run empty. If you want to run them empty, then you need to add the sprues, because the cars just look plain funny otherwise.
Bracing Detail Parts
I was originally going to skip installing the sprues. But I consulted the boss and she said "what kind of review would it be if you didn't talk about installation of the detail parts?" As always, she is right. So I took the plunge and located the following tools: sprue cutters (Xuron makes the best), an X-Acto hobby knife, Testors polystyrene cement and the boss lent me her pair of needle nose tweezers.
Interior with braces installed
One hour and twenty minutes later I was done. The angled braces weren't so bad, but the top braces were a cast-iron dog. Not my favorite job. I would happily have paid $8 more to get a car with these things pre-installed. Furthermore, the eight exterior braces don't fit. It seems the sprues were identical to the ones provided with the Fox Valley Silversides gondola. The smallest set of braces don't fit onto this model. That is because the exterior posts for this model are closer together than the ones on the Silversides. So they just won't fit! (Felt kind of like the OJ trial). These final 8 braces were designed to go on the outside and sit between the five middle posts on the sides of the cars. This is OK as I was sick of installing braces by the time I got to these, and as I understand it, the prototypes sometimes had this exterior bracing and sometimes not. I decided, on my model railroad, the procurement team would opt for the no-braces look.
Exterior braces don't fit
Summary
This is a good quality $20 car. It is rugged and well made. The paintwork needs some love for the next release. If it adds less than $1.50 per car, I would suggest Fox Valley upgrade to MTL couplers. I hated installing the braces, so it would be nice to see a 'Gold' level model that ran $8 higher and had the braces pre-installed. Some folks might enjoy installing them. Not me. However, if I can find a decent quality third-party resin load for these, I could see running nice unit trains. At this price point, buying a lot of them would be great. Oh, and by the way, these cars will look dumb in a mixed consist. They were designed (due to the rotary coupler mechanism) to run in unit trains only. However, it is your railroad, run them how you like.
Click here to see the models in this series.