Rapido Trains' N-Scale Meat Reefer: A Solid Model
Published: 2019-09-04 - By: gdm
Last updated on: 2021-08-12
visibility: Public - Headline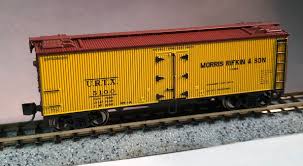 Rapido Trains of Canada released this model in 2015. The prototype is a General American Transportation (GARX) wood-sheathed refrigeration car. The car design dates from the late 1930s. The cars were released as singles for $34.95 or as four packs for $139.80. We assume these prices are US Dollars but since Rapido is a Canadian company, these prices might be CAD. As of 2019, these cars have become very difficult to find. I was fortunate to find one at a dealer at our local Greenberg show in Wilmington MA for $20, a real bargain. They are currently available on eBay for about $30 each.
First off, these cars are manufactured by Rapido Trains of Canada. This company should not be confused with Arnold Rapido, which is now a subsidiary brand of Hornby, a United Kingdom based model company. There is no relationship between the two companies.
The Prototype
Refrigerator cars or "reefers" made it possible to transport perishable food items such as meat, dairy and vegetables. Dating back to the mid-1880s, these cars used blocks of ice to keep their cargo cool. Prior to the use of meat reefers, livestock were transported (loaded into specialized stock cars) across the country (from the midwest to eastern markets) and slaughtered at regional slaughter houses. This system was fraught with inefficiencies. Livestock died on these long trips and roughly only 40% of an animal's mass is edible, which means shippers were paying to ship unusable cargo.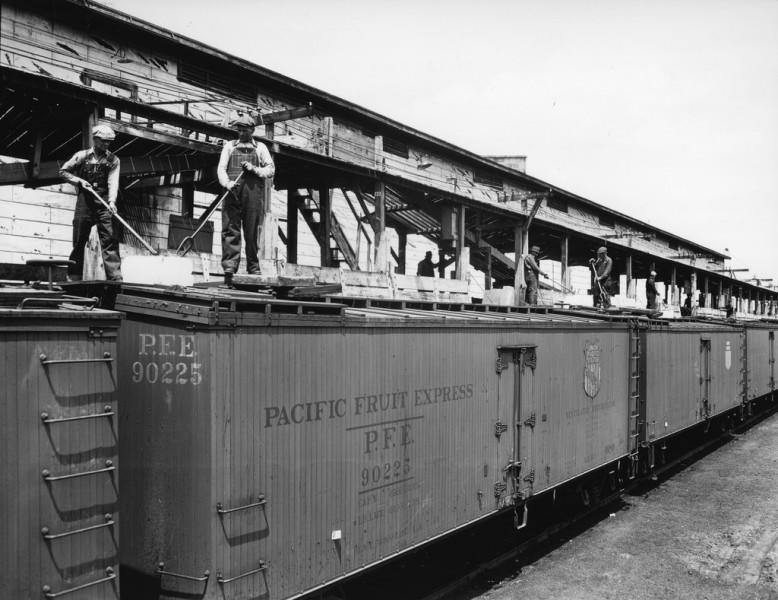 Men Icing a Reefer
General American built close to a thousand of these 37 foot refrigerated rail cars in the 1940s. They remained in service until the 1970s as they were well built and did a good job moving dressed meat (Dressed weight (also known as dead weight or carcass weight) refers to the weight of an animal after being partially butchered, removing all the internal organs and oftentimes the head as well as inedible (or less desirable) portions of the tail and legs. Wikipedia) from the midwest meat packers to destinations all over North America.
URTX Meat Reefer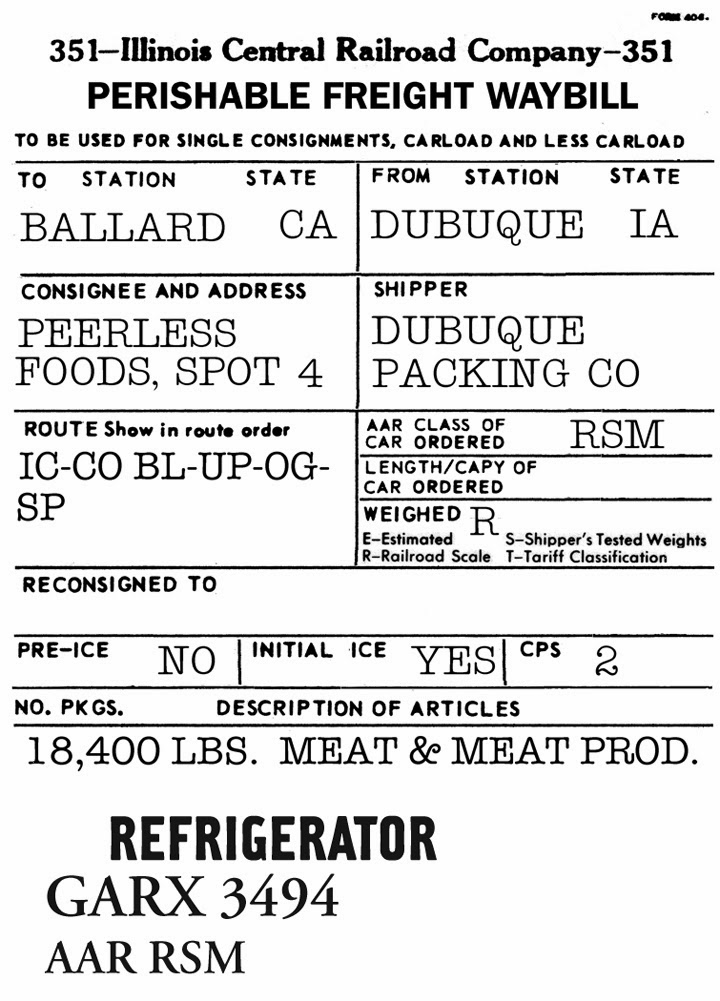 Perishable Freight Waybill (found on Tony Thompson's Modeling the SP blog)
The prototype design was a good one. Although they resembled (due to the wood sheathing) older cars, these reefers were very modern compared to what had been running up until that time. They used modern cushioned trucks (Barber), increased insulation thickness, steel interiors (which reduced leakage), and improved ice bunkers. Yes, these were ice reefers, but they were good ones. No mechanical refrigeration units were present. They were good enough that they stayed in service long after mechanical refrigeration became the standard in the post-war era.
The Box

This Box is Oversized
These cars come in 7 1/4" acrylic jewel boxes. The four-packs have the cars sleeved in cardboard and then packed in a boring brown cardboard box. A 7+ inch box for a scale 37 foot car is kind of silly. They should have used one of 4 1/2 inch boxes used by Atlas, InterMountain or Micro-Trains. This would make it easier to store. The four packs should have been put into presentation boxes similar to what Micro-Trains uses for Runner Packs. These were being marketed as 'Collector' sets, so they should have been more nicely packaged. Inside the acrylic box, is a double nest with a plastic sleeve around the car, both nice touches. However, these are durable models, and could have used a little less packaging and remained just fine. That being said, too much packing material is never a bad call when shipping long distances.
Couplers and Trucks
These cars carry body-mounted couplers. This is always nice to see, but we are coming to expect this with newer third generation releases. (Please see my blog,
The Evolution of N-Scale Rolling Stock Models).
The couplers themselves are (Holy Cow!)
actual, legitimate
Micro-Trains couplers, likely 1015's. The wheels are blackened metal low-profile wheels. I am sure all the Code-55 dudes out there will appreciate them. Personally, I prefer a little more flange, the MTL Standard design is an excellent one. Small wheel profile definitely looks more realistic, but I am an N-Trak guy, and I know track work ain't always perfect. Small profile flanges are subject to increased risk of derailment. However, most folks will like these wheels as they have about as little flange as you can get away with. Rapido didn't indicate who made the wheels so they could be from anywhere.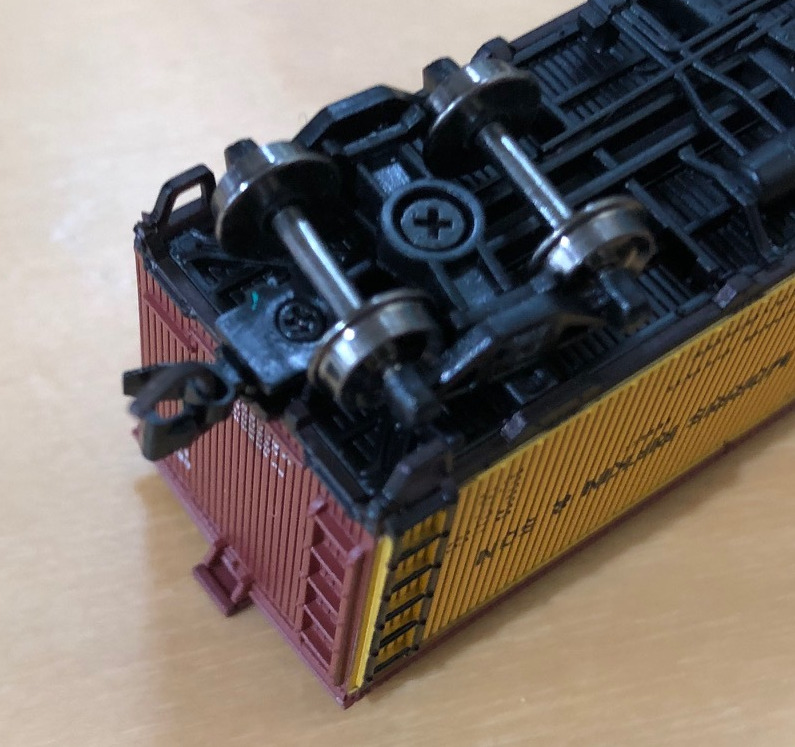 Truck and Coupler Detail
I placed my sample car on my T-Trak layout to give it a roll. It performed pretty well. A little more friction than some models, but nothing a modern engine will complain about. The tightness of the wheels may also help them not pop out when handled.
The Model
This is an excellent quality 3rd generation piece of rolling stock. The print and paintwork are perfect. The molding is top-notch. I am not sure if it is the molding or some kind of base coat, but the individual boards of the sheathing stand out like nothing else I have seen before. The folks from Broadway Limited could take a page out of the Rapido playbook to improve the look of their stock cars in a similar fashion. The sides of this model are just plain awesome.
It is a nice rugged runner-friendly model. There is nothing to break off easily. If you really mishandle them, the middle stirrups can be broken, but they were molded thickly. Although modern injection molding would have permitted Rapido to go thinner with the stirrups, someone made the wise decision not to push it. Instead they are a little on the thick side but they will NOT snap off due with moderate wear-and-tear. Similarly the ladders and grab irons are also molded in (though nicely painted) and this cannot break off. They don't look as good as other models (such as InterMountain), which uses detail parts for grab irons and ladders. Even the end platform for the brake wheel is a molded detail. The wheel, of course, is a detail part.

Amazing Underframe
There aren't many detail parts. Even the roof hatches are molded. Only the brake wheel and the underframe appear to be separately applied. But oh my! What an under frame! This makes up for the lack of detail elsewhere. The grooves of the floor, the tanks, the lines and the overall effect are all impressive. Rarely do we see such a nice combination of detail combined with durability. These parts can be handled directly without fear of knocking this or that off the model.
Summary
This is a nice third generation model rail car with body-mounted couplers, metal wheels and some excellent detail (the under frame). It is likely the best ice reefer model available from any N Scale manufacturer. It is, however, fairly pricey, but you are getting a solid model. At this price point I would have expected a few more detail parts, such as ladders, grab irons, hatches or the end platform. I like the ruggedness, but it seems you could have gotten just a tad more coolness in a $35 car.
Click here to see the models in this series