A Fine Release: The KenRay Models' Borden's Butterdish Milk Tank Car
Published: 2019-10-11 - By: CNW400
Last updated on: 2021-08-12
visibility: Public - Headline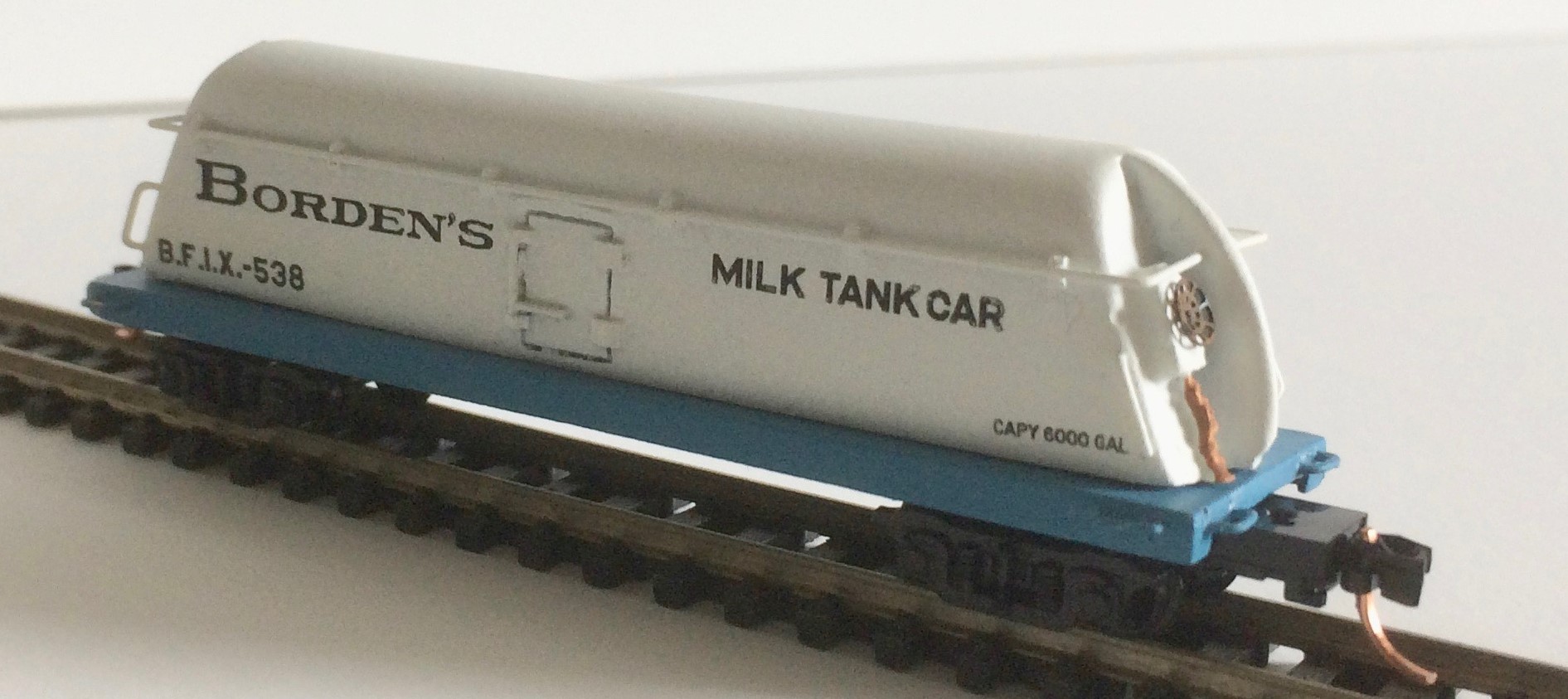 N Scale Borden's Butterdish Tank Milk Car, released by KenRay Model's in September 2006.
You're a grown man - why do you 'play' with trains? Aren't you too old to like trains?
I am sure our friends and family have accosted many of us adults in the model railroad community with these questions. They don't understand how a plastic 'toy' can give us hours of enjoyment - and just as many hours of frustration. Why we spend our disposable income on that newly released covered hopper or watch endless videos on the Internet on how to perfect our boxcar weathering techniques. Or why I save twigs found in my backyard, so they can live another life as trees on my foam mountain layout.
Model railroading and my interest in trains go far beyond just playing with miniature rolling stock and gluing 'stuff' together. It has opened another world and satisfied my interests in history and advertising. It has taught me new skills that I have transferred to my daily life. And it has taught what life was before being able to purchase whatever my heart desires with a push of a button or swipe on a computer screen.
The KenRay Models Borden's Butterdish Milk Tank Car, the model I am reviewing, has done just that -- broadened my knowledge of how the dairy industry expanded with the assistance of the railroad.
Prototype History - From Cow to Breakfast Table
The Borden brand has been a fixture in the milk industry since the mid-1800s, which is when milk transport by rail began in the U. S. The American countryside was dotted with creameries, many of which were located on a rail line. An innovator in milk rail transportation, Borden built creameries in upstate New York and New England during the mid-1900s. Today this dairy processor is headquartered in Dallas, TX and operates facilities in the Midwest, Southern and Southeastern parts of the U.S.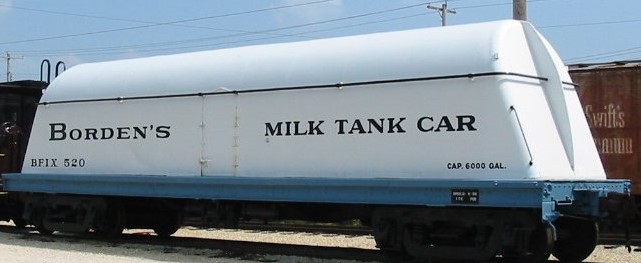 Car #520 preserved by the Illinois Railway Museum (IRM)
According to a Borden's Company press release dated February of 1936, the 'Butterdish Car' is "the first all-metal, stream-line milk tank railroad car ever built, refrigerated so that even in summer milk can be transported 200 miles with a rise of not more than one degree..." The tank car was revealed in Hoboken, N.J. and placed into service in the New England area.
The Butterdish car is believed to have traveled on the Delaware & Hudson (D&H), Rutland (RUT), New York Central (NYC), Boston & Maine (B&M), Delaware, Lackawanna & Western (DL&W), Lehigh Valley (LV), Erie and New York, Ontario & Western (NYOW) Railroads.
The Butterdish cars were conversions from older Borden's wooden milk cars. These rebuilt cars were fitted with six inches of cork insulation and two 3,000-gallon glass-lined milk tanks. The outside covering was an all-steel streamlined butterdish-shaped construction, thus the nickname for this tank car.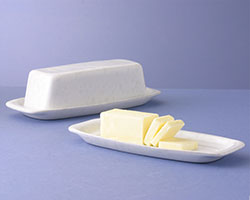 It is believed to be the first rolling stock to have a streamlined construction. The all-metal design was chosen because it was believed to have lower repair & repaint costs and a much longer service-time. The tank car was originally designed with a top fin and two ends fins. It has been rumored that the top fins were removed during the World War II scrap metal drives and never replaced.
The milk tanks were not cooled; as the milk was pre-cooled before loading and usually traveled on a passenger train consist for same-day delivery to the bottling plants. Thus, the tank cars were equipped with standard passenger train brakes and trucks. The cars were built under the supervision of Borden's General Engineer, E.J. Lockwood. Prior to bulk loading milk in tank cars, milk was transported via passenger train in individual milk wooden churns and then subsequently tin-plated steel cans. Learn more from the blog,
First Milk Trains to Manhattan.
Thirty-five Butterdish cars were designed with the BFIX reporting mark. The cars were either white/blue or silver in color with black lettering & numbering. The numbers seemed to have randomly assigned in the 500's.
Time Makes Changes
The tank cars went through many changes during their service-time. First, after World War II they were repainted Chinese lantern red with yellow lettering. Then there's evidence that the cars returned to one of their original paint schemes of silver and black during the 1950s.
It was during this time in the 1950s that the usage of the Butterdish cars changed from dairy to chemical. The ingredients used in Elmer's glue were reported to have been hauled by some of these tank cars. (The Borden Chemical company produced Elmer's Glue among other adhesives. Fun fact: In 1936 Elsie, the cow was introduced as the Borden brand's mascot and her family included her husband Elmer and calves Beulah and Beauregard.) Furthermore, the tank cars used in chemical service were renumbered in the 1000s and BCDX reporting mark was issued. In 1965 only 12 Butterdish Cars were reported in service. The last known Butterdish car, #520, currently resides at the Illinois Railway Museum (IRM) in Union, Illinois.
As Smooth as Butter
Two gentlemen started KenRay Models (kenraymodels.com) in 2005 with a passion for their hobby and a desire to fill the void for detailed military & steel mill model pieces. The company specializes in N Scale military vehicles and steel mill detail parts. KenRay's product line also branched into HO Scale and other specialty products, such as the N Scale Borden's Butterdish Tank Milk Car, released in September 2006.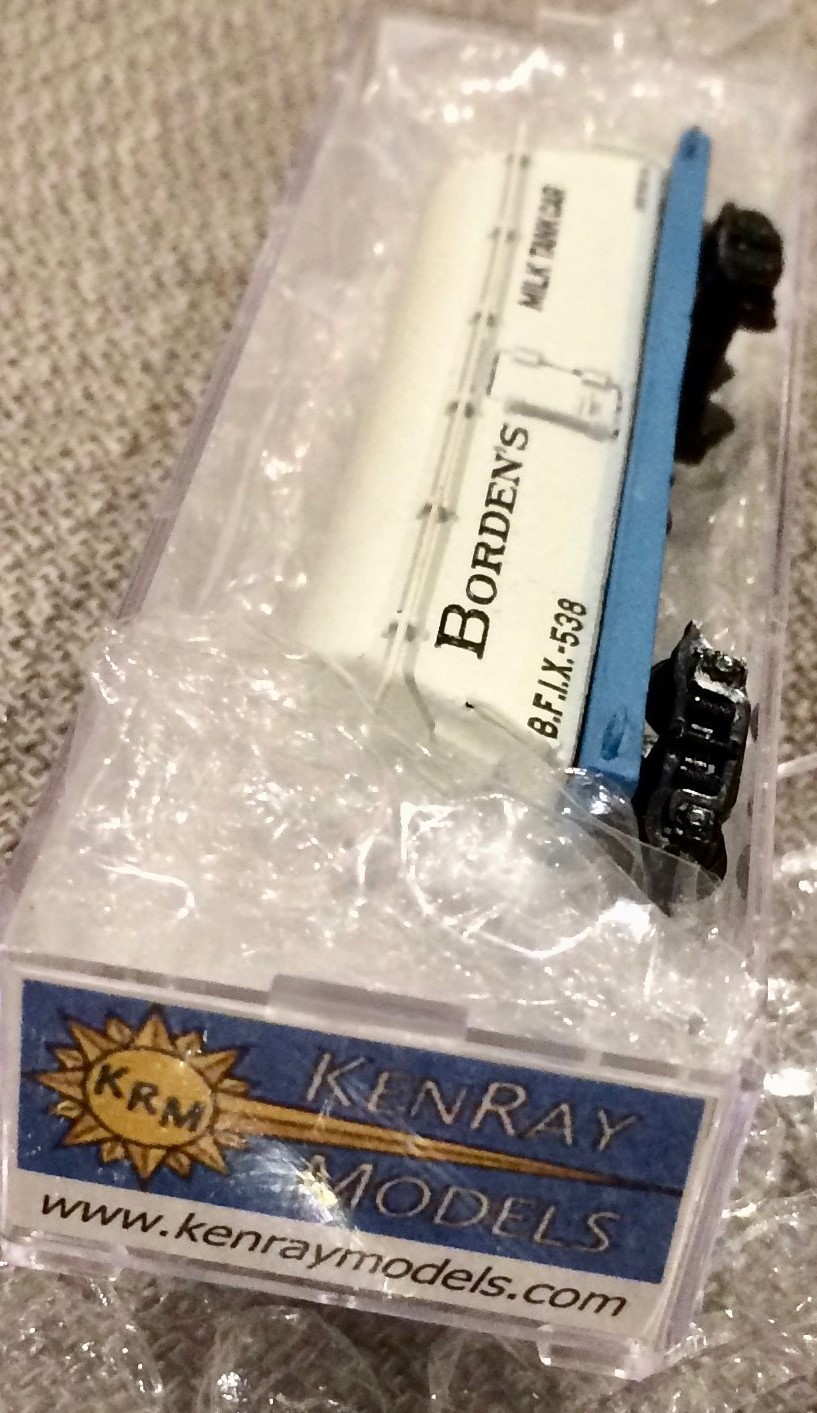 The Butterdish Milk Car is a resin cast superstructure on a 40' pewter cast under-frame. The model is available in two different paint schemes: white/blue or silver. Also, you may select among four different road numbers: 533, 535, 537 or 538. Furthermore, the highly detailed accessory pieces, brake wheel and handrails, are brass.
KenRay Models offers the Butterdish car in two versions...A ready-to-run model with Micro-Train BX Express medium trucks installed for $59.95. Or an unassembled kit without the trucks included for $30.00.
The assembled tank car comes cushioned in a bubble wrap sleeve that is packaged in the familiar clear plastic jewel case. No additional detail parts are included with the model.
I compared the KenRay Butterdish car to the only prototype example known to exist: Car #520 preserved by the Illinois Railway Museum (IRM). Tank car #520 is housed indoors in a rail barn at the IRM and is shown to the public at special museum events. It received a restoration paint and repair job in 2010.
At first glance, it's almost a prefect miniature representation of the real Butterdish car. The paint job is clean and neat. The colors are bright and crisp. The model for my review is the same white over blue paint scheme as #520. All letters and numbers are clear and legible. The letters are the correct font and are accurately positioned when compared to the original prototype tank car.
Both sides of the KenRay model feature center hatch doors and handrails. One difference between the prototype and the KenRay model is the color of the handrails. The prototype has black rails while the model has white rails. Since little evidence is left about the original design - we will credit this minor difference to artistic license and educated 'guess-work' from both sources.
The KenRay model is constructed with fins on both tank car ends. The fins appear to be the correct size perspective and are very realistic. The model does not feature the originally designed top fin piece as this part was removed shortly after the tank cars were placed into service in the 1940s. Similarly, the prototype in Union, IL does not have the top fin affixed to the tank. One end of the tank car features a brake wheel and access panel. Again, a minor difference is the brake wheel is brass color on the model and painted white on the prototype. Lastly, the tank car has finely detailed, well-sized stirrups at both ends.
The underside has all the basic molded details such as the brake cylinder, braking system components, stringers and cross bearers. And finally, the car is fitted with Micro-Train Lines BX Express medium trucks and couplers.
The car weighed 1.3 ounces and measured 3 1/8 inches - the weight is about a quarter ounce heavier than NMRA recommendations but tracked well during testing with no derailment problems or turn-out issues. The tank car runs very smoothly and has excellent balance, with no running issues when tested on Kato Unitrack. Both couplers were measured to proper height.
No Sour Milk Here
While one may balk at the steep price for a piece of rolling stock, this is a high-quality custom-made piece of 'art' for your model railroad collection. The vision of the bright white (or shiny silver) streamlined tank car attached to the back of a passenger train or mixed freight consist is sure to draw attention and spark conversation. The KenRay Butterdish car would make a grand addition to your layout. This is a well-built, good-looking model that is true to the prototype.
If you were looking for that one-of-a-kind, unique piece of rolling stock to add to your collection, I would highly recommend the KenRay Butterdish Milk Car. And while you're at it, checkout their always-expanding product line that includes N scale military vehicles, classic cars and steel mill detail parts.
Here is a link to
KenRay Models Milk Tank Cars on TroveStar.