Three Reasons to Use the N-Scale Model Trains Database on TroveStar: Research, Track Inventory and Buy & Sell Models
Published: 2020-03-21 - By: gdm
Last updated on: 2021-07-22
visibility: Public - Headline
by George Michaels, TroveStar Founder
In 2015, as a member of my model railroad club,
Northeast NTRAK,
I started attending local model train shows where I saw experienced n-scale brethren running long trains. Well of course I wanted to follow suit and run unit trains, specifically gondolas with scrap loads, coal hoppers and tankers. I also wanted to run single-road-name mixed consists like Vermont Central, Boston & Maine and the NYC. So, I started buying stuff on eBay and before I knew it, I had turned into an
accidental model train collector
, who in my haste to amass unit-trains, sometimes purchased duplicates by mistake.
I soon realized that if I wanted to -- avoid buying duplicates, fill out my long unit-train consists and build the proper inventory for my road name consists -- I would need information on n-scale models. For example, I needed to know what was available among, say, Atlas beer can shorty tank cars. Who made rolling stock for the B&M? How many 33' hoppers did Micro-Trains release? Did other companies model this prototype?
Hard-to-find Reference Data.
Try as I did, I was unable to find easily accessible reference data on n-scale model trains. So, I decided to put my database expertise (from years of working as a software engineer at investment banks and hedge funds) and love of model trains to work and build the N-Scale Model Trains Database on TroveStar.
Almost five years have passed since I began this labor of love, and the database has certainly changed quite a bit. It has grown in size and breadth. It started with a handful of trains and has grown considerably (thanks to our contributors). Today it provides n-scalers with reference data and other information on over 66,000 locos, rolling stock, structures and accessories (as of the writing of this blog in late October 2019). This free resource consists of items dating from the introduction of this gauge in the 1960s
(LoneStar OOO)
to new releases
(Micro-Trains monthly weathered cars)
and features more than 200 model train manufacturers from North America, Europe and Japan.
One, Two, Three Reasons to Use TroveStar.
The database has also evolved, and today TroveStar offers n-scalers three good reasons to visit and keep coming back.
The database helps n-scalers answer a wide array of questions about their coveted items.
N-scalers can use TroveStar's Personal Inventory tool to create comprehensive lists of their prized possessions and track their hundreds or thousands of locos and rollingstock.
The database hosts the N-Scale Enthusiast-TroveStar Classifieds, where n-scalers, who are always interested in culling or adding to their collection, can buy and/or sell models.
1. Use TroveStar to Research Models
N-scalers can answer all sorts of questions about their models by consulting the TroveStar Item Page.
The TroveStar Item Page.
Every model (locomotive, rolling stock, structure or accessory) in the database has its own dedicated item page that features a variety of information, including:
all-important photos of the item and often the prototype
at-a-glance, sought-after reference data (brand, stock number, original retail price, historical sales prices, manufacturer, production type, body style, prototype, road or company name, reporting marks, road or reporting number, paint color, print color, coupler type, coupler mount, wheel type, wheel profile, body material, DCC readiness, announcement date, release date, etc.)
text about prototype history, history of the tooling, road name history and brand information.
Here's a sampling of just some of the kinds of questions the TroveStar Item Page can address.
Can I upgrade this loco to DCC?
Imagine you are at your local model train show and found an Atlas GP9 in Baltimore & Ohio livery (product number 48302, road number 6471) and want to know if you can upgrade it to DCC.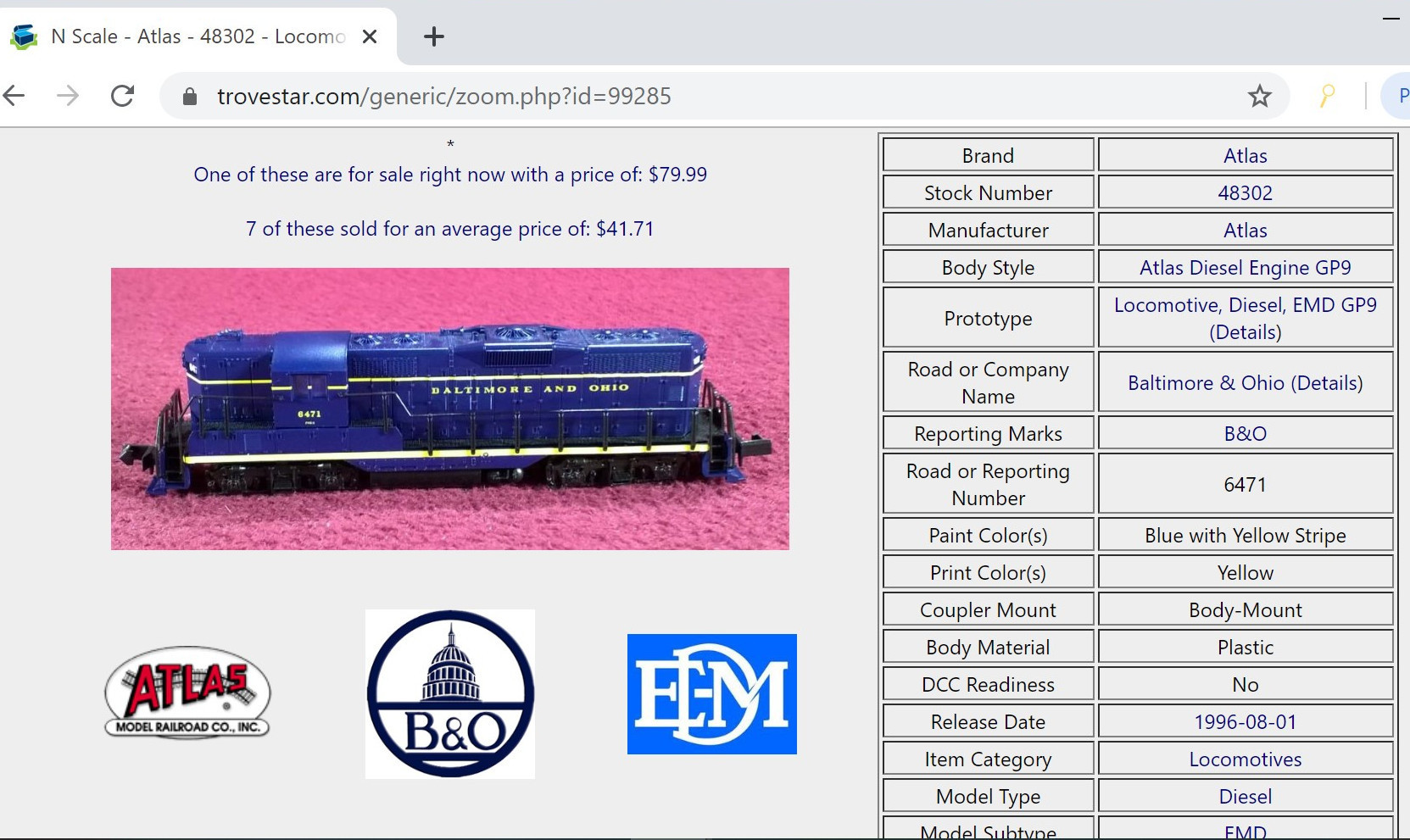 Atlas GP9 in Baltimore & Ohio livery
Made by multiple manufacturers, the Atlas GP9 has undergone many changes over the years. As a result, when you discover an older model like this, it can be a challenge to figure out whether it can be easily upgraded to DCC. The TroveStar item page for this loco can supply some answers. You can use your smart phone to search for the item (type in "Atlas 48302") on TroveStar. The
item page for this model
indicates that this item is a DCC-NO locomotive. It also includes some history of the model, which is one of the early Atlas-Made-In-China models and essentially a clone of the earlier Kato-made Atlas GP9. Neither the Kato nor the Chinese models of this vintage were DCC capable. It wasn't until 2006 that this product became DCC-capable and the locomotive in your hand was made in 1996 . . . so no joy here.
Is this the original?
If you are shopping in the used marketplace like eBay, it isn't always easy to tell if an item is unmodified or customized.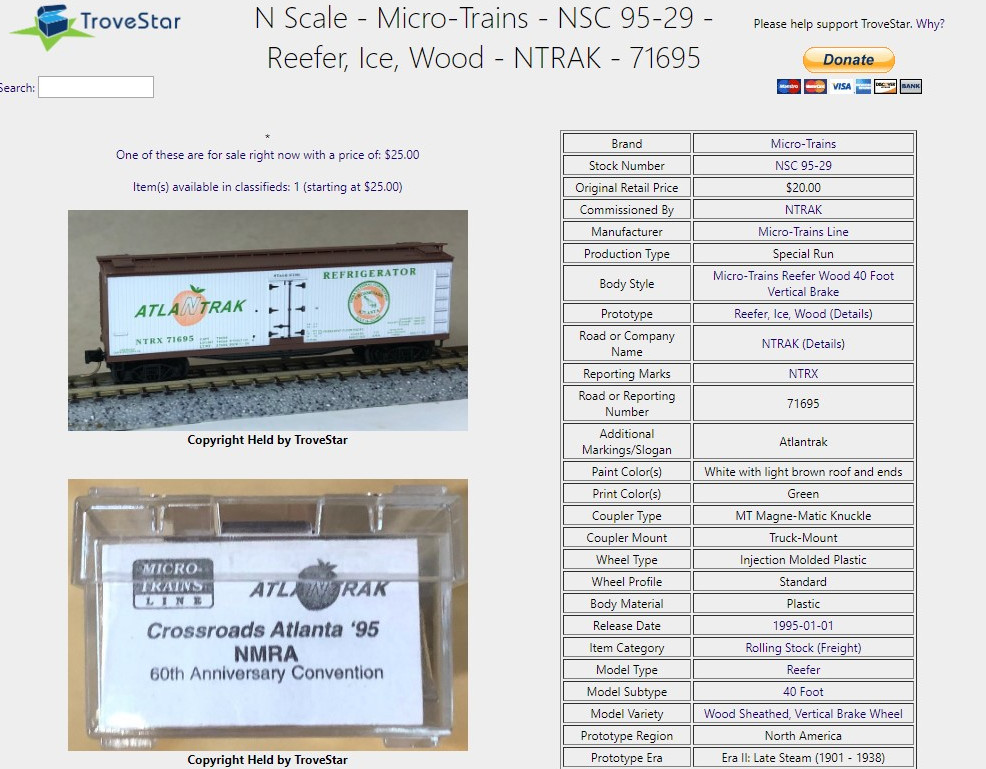 Many TroveStar item pages include pictures of
the original model as well as pictures of the original box.
It helps to know what the original box looks like. Often,
item pages
will include pictures of the original box, which will help you determine whether you are looking at a modified item.
What did that prototype carry?
Most folks who are newer to the hobby buy items because they look cool. But often, after some period, you might wonder who made the prototype railcar, what it carried, and in what era it was used. For instance, in September 2019 Atlas released
the former Walthers' tooling
for the
Gondola Difco Dump Car
(originally released in 2007).
Walthers 2009 release of the Gondola Difco Dump Car
The TroveStar item page for this model
features information about this prototype, which is the railroad's equivalent of a dump truck and can dump (ballast, fill, rip rap) to the left or the right of tracks.

Prototype history about the gondola Difco dump car.
What's the history of the railroad?
Sure, most of us have a 'favorite' railroad they like to model (I like Boston & Maine because I'm from the northeast and like to model what I see) and they already know all about it. But when you have purchased a slew of cars to populate a unit-train, it's very common to own models painted for railroads and non-railroad operators you have never heard of. For example, I run beer can shorty unit trains and over the years have purchased dozens of these cars, including a
Hooker Chemicals car.
I didn't know anything about this company, so I added information about it to the database. The TroveStar item page will frequently provide information like this, such as the history of the railroad, whether the railroad owned or leased its cars, etc.
Is this a good deal? What's my loco worth?
Whether n-scalers are curious about how much they spent on their hobby or they are considering selling or trading some or all their items, collectors want to know what their collections are worth. Knowing the value of an item helps when you are considering purchasing it. Maybe something on your wish-list is suddenly available on eBay? How much should you pay for it? Each item in the database, whenever possible, includes
historical transaction prices,
which you will find listed above the item photo.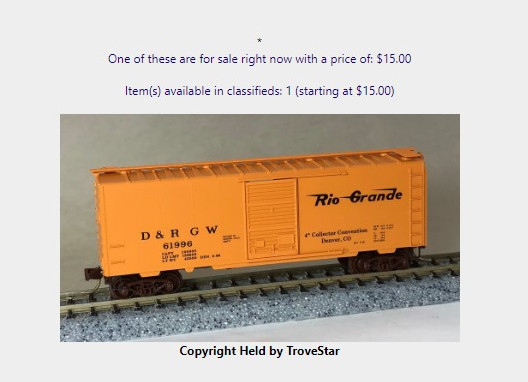 Whenever possible, TroveStar item pages
include historical transaction prices.
New prices are added every day. You can see if a model you are interested in has sold in the past, for how much and when.
2. Use TroveStar to Track and Manage Your Collection
Are you tired of buying something at a hobby shop or local train show only to get home and realize you already own it? When you create a
personal inventory
on TroveStar, you can track and manage your collection and avoid buying duplicates.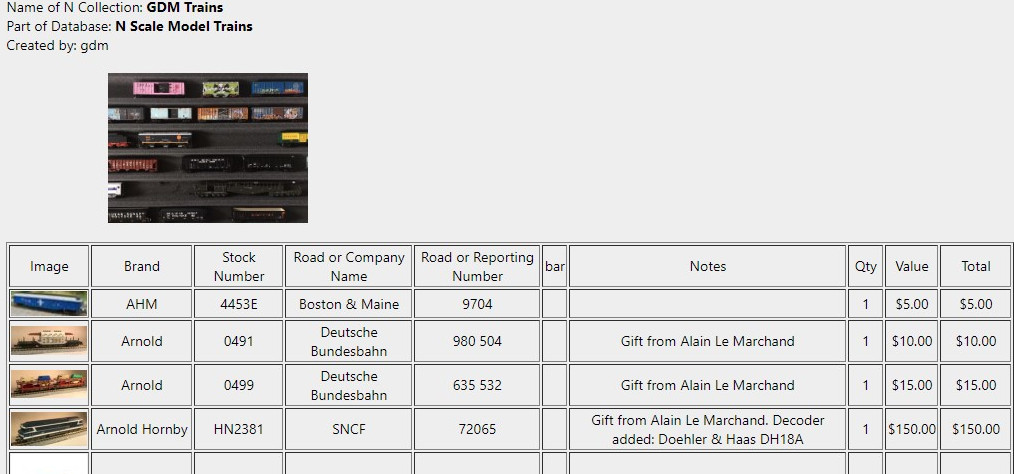 Here's a screenshot of some of my inventory.
Easy to use.
This tool uses reference data already in TroveStar. As a result, it is quick and easy for folks to create a list of the engines and rolling stock they own.
You can also use the Inventory tool to track acquisition price as well as current value to know whether your item has gone up or down in value, something every collector likes to know. The Inventory tool makes it possible to add your own photograph as well as personal notes to describe the condition (box missing) and customizations (e.g. weathered, couplers replaced).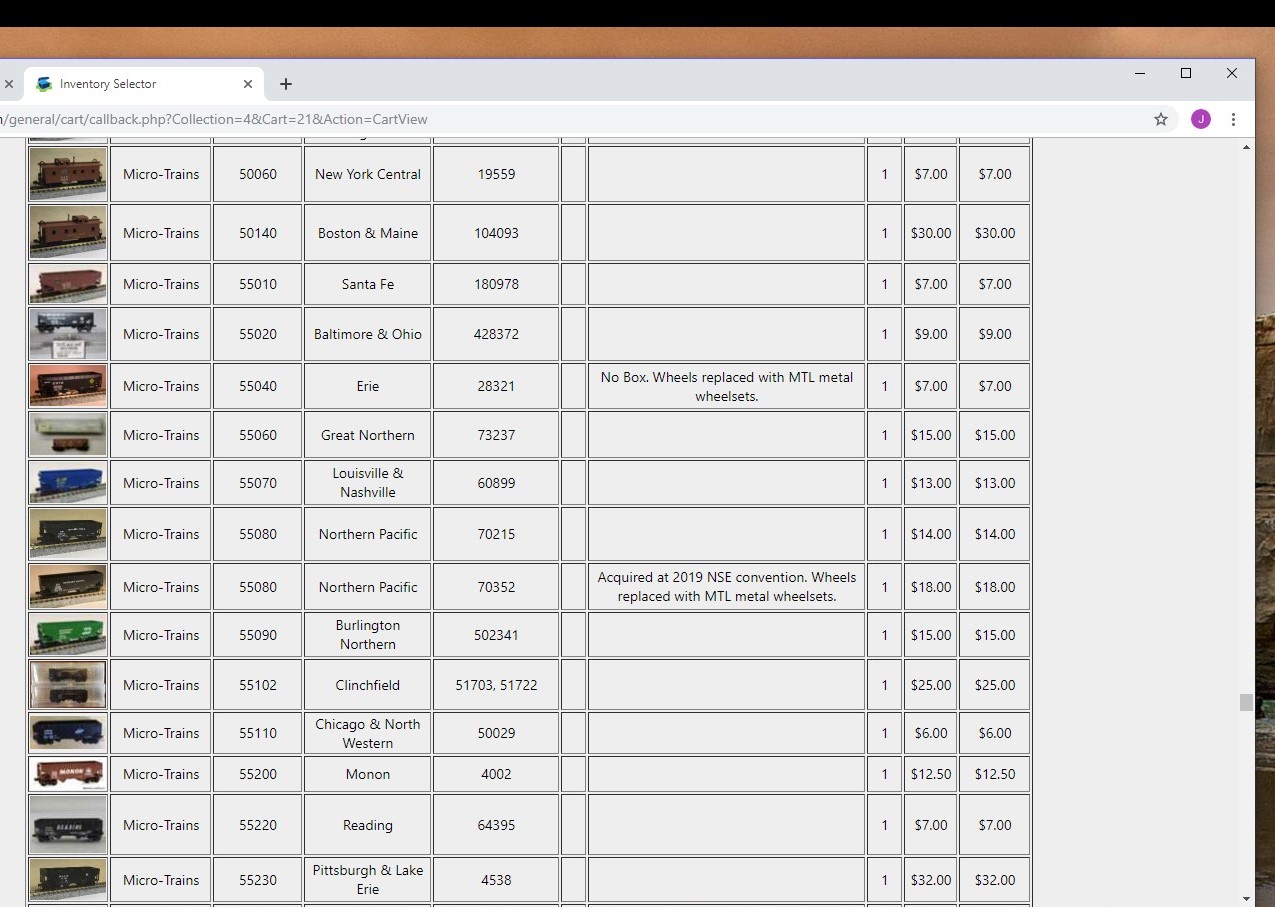 You can add personal notes to each inventory item.
When you own something that isn't in the database already, you can quickly add it to the database by copying an existing/similar item and simply changing the fields that differ. You can upload a picture (if you have one) through a standard web interface. Alternatively, for the internet-challenged (folks who do not want to add the item to the database), you can simply send a description of the item to a TroveStar curator who will add it for you. TroveStar allows you to upload data from an Excel spreadsheet so that you can create your inventory that way.
What am I missing?
By creating a personal inventory on TroveStar, you can track which items you are missing. The checklist "interacts" with your personal inventory interface and adds a "Have" column to the checklist, which will be blank for items you are missing or list the quantity if you own the item.
3. Use TroveStar to Buy and Sell Items on the N-Scale Enthusiast-TroveStar Classifieds
A big part of this hobby is acquiring trains and culling personal inventories. And the Classifieds offers n-scalers a great way to buy and sell a wide range of n-scale items.
The
NSE-TroveStar Classifieds
is a peer-to-peer, fixed-price marketplace for N-scale folks who want to buy and/or sell engines, rolling stock, figures and accessories. It currently (as of October 2019) features more than 1570 items (a mix of everyday items as well as hard-to-find collector's items) for offer. So far, approximately 40 buyers have purchased more than 400 items since the Classifieds went live in 2017.
The N-Scale Enthusiast-TroveStar Classifieds is a peer-to-peer, fixed-price marketplace.
When buying on the Classifieds, n-scalers are buying from sellers who are NSE members (this is a membership perk). George Johnsen of the NSE talks about this and other aspects of the Classifieds in the
N-TRAK Newsletter's Nov/Dec 2017 interview
). That means they are educated sellers and the item will be accurately described. It also means the seller will know how to package and ship your items safely.
Selling on the Classifieds is incredibly easy.
You can list your items for offer/excess inventory with just a few clicks of your computer mouse. All you need to do is find the item in the database that you want to list for offer. Once you have done that, you just need to provide three things: price, quantity and condition. TroveStar helps you avoid the need to provide a photo of the item or input reference data—two things that can be highly time-consuming and deter you from listing items (on other sites). The Classifieds on TroveStar can be an excellent way to cull an overly large collection. So, whether you are selling one items or hundreds, it makes for an easy-to-use alternative to eBay and Facebook. Furthermore, it will accurately track your online shop/inventory to correctly track how many of each item you have for sale to help you avoid selling the same item multiple times. Lastly, there is nothing to prevent you from listing items here as well as on more traditional outlets.
Dedicated Contributors.
So, these are the three good reasons for n-scalers to consult the n-scale model trains database on TroveStar. This resource is only available thanks to the hard work and dedication of our contributors. TroveStar is a collaborative effort based on contributions (fellow collectors/runners input data about different items they either own or interest them) from your fellow n-scale brethren. Like Wikipedia, TroveStar has grown and continues to grow every day because folks add to the database. Thank you to all our contributors for helping maintain and grow this resource!
Rewards Program.
To thank our contributors, TroveStar offers a
Rewards program
. Contributors can cash in points earned (each new train entry is worth one point) and purchase items from Appin House on the Classifieds. Shipping is always free for contributors.
Feedback Welcomed.
We hope that you take a few minutes to check out what TroveStar has to offer. And while you are on the site, we would love any feedback you may have and invite you to correct errors, add missing items and suggest improvements to the interface.