Woodland Scenics' Wheel Cleaner Takes a Bite Out of Grime
Published: 2019-11-08 - By: CNW400
Last updated on: 2021-07-20
visibility: Public - Headline

About three years ago, I once again became serious in the hobby and decided it was time to stop neglecting an important maintenance issue - wheel and track upkeep.
So, I purchased Woodland Scenics' Tidy Track N Scale Roto Wheel Cleaner. Kansas-based Woodland Scenics released this product in 2012 as part of its Cleaning & Maintenance series. The Roto Wheel Cleaner is available in N Scale #TT4560 (MSRP $24.99) and HO Scale #TT4561 (MSRP $29.99).
Dirty wheels, especially on locomotives, can cause a poor electrical connection with the rails, which in turn can make your train stall or stop. An unplanned train stop is no fun at all and can cause derailments, which can damage your models and/or scenery. To be proactive and keep my wheels and track as grime free as possible, I decided to try the Woodland product after seeing it at a local hobby shop. Woodland Scenics is an industry leader for model railroad accessories, so I was optimistic that I would be purchasing a quality product.
The Unpacking
The Roto Wheel Cleaner came sealed in a clear plastic package with an instruction card.

Kit contents
The package includes: 1 Roto Wheel Cleaner, 1 24" Power Connector with Alligator Clips, 2 sets of general cleaning pads and 1 set of deep scrubbing pads. There was no storage case provided for the product and accessories.
The wheel cleaner measures 6 3/4" long x 1" wide. The cradle can accommodate locomotives up to 6 3/8" (16.1 cm) and rolling stock up to 5" (12.7 cm) in length. Unfortunately, if your locomotive is too large to fit inside the cradle, you might be limited to the traditional methods of cleaning, which entails using a polishing tool that buffs one wheel at a time or using isopropyl alcohol and paper towel to remove grime.
The Roto Wheel Cleaner works with either DC (Direct Current) powered layouts or with DCC (Digital Command Central) systems. The maintenance system comes with a set of general cleaning pads (white) pre-installed. If a deep cleaning is desired for wheels with heavy dirt and grime, the scrubbing pads (black) can be easily inter-changed. All of the extra cleaning strips have a paper covered sticky back. Simply remove this paper backing and align the desired cleaning pad in the channel on either side of the center rail. To remove any excess residue, Woodland Scenics recommends always using the general cleaning pads (white) after the scrubbing pads are used. When operated properly, the wheel pads are specially designed not to scratch your models.
The Tidy Track Wheel Cleaner is constructed to clean all wheels (locomotive or rolling stock) simultaneously. The product uses no liquids or solvents, thus cleanup is easy and safe as dangerous chemicals do not need to be handled or stored.
Cleaning Those Dirty Wheels
Woodland Scenics designed the Roto Wheel Cleaner with three different methods to supply power to the maintenance system:
Direct power from the layout power transformer with the alligator clips.
Clip the Roto Wheel connector cord to powered layout track rails with the alligator clips.
Direct track power with pick-up metal strips located on the bottom of the cradle. Place the cradle directly on top of the rails making sure they are in direct contact with the metal strips; the system will capture your layout's power.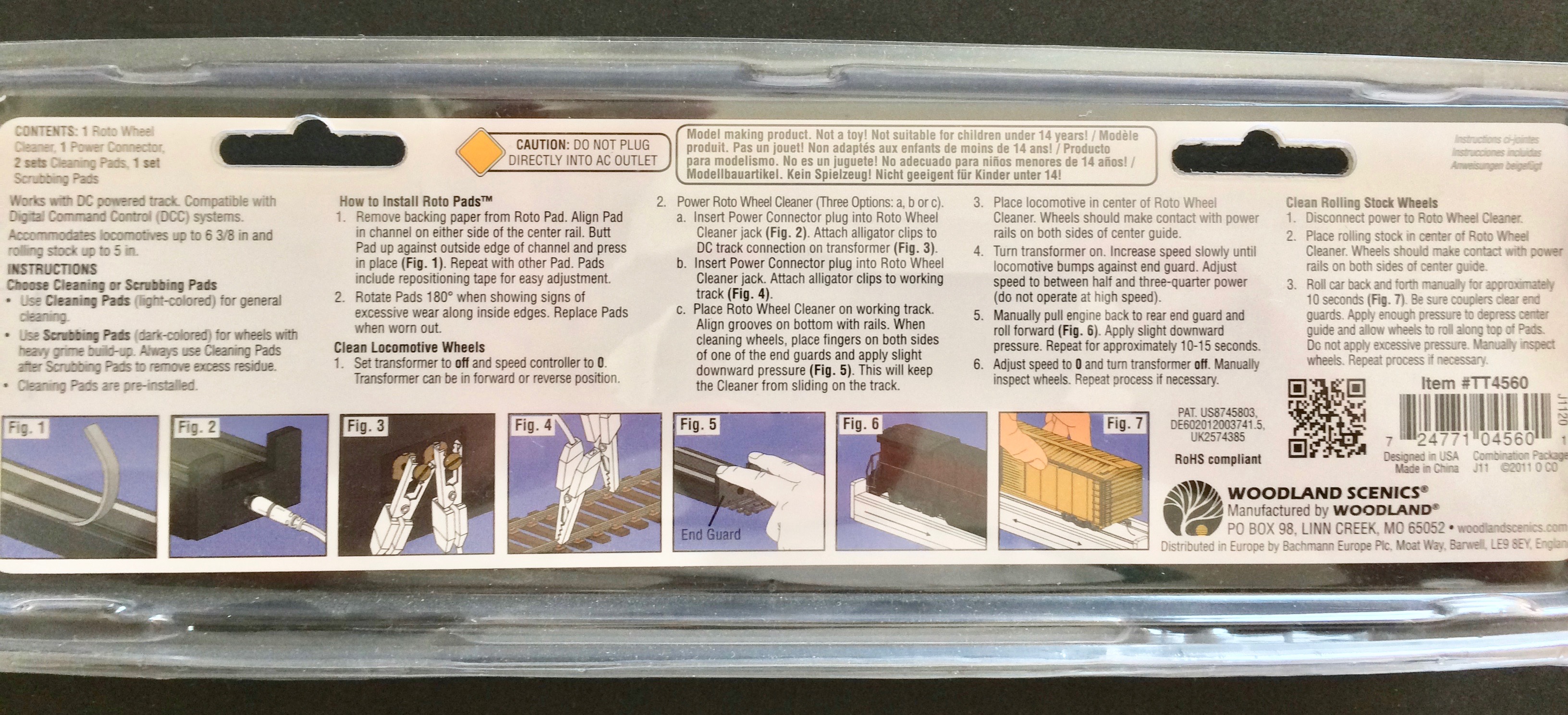 Instructions
Most of the following instructions can be found on the kit's enclosed instruction card or at
www.woodlandscenics.com
. If you follow these directions, you should have positive results without any damage to your model.

Cleaning locomotives:
Set the transformer to the OFF position and speed to ZERO.
Place your locomotive in the center of the cradle making certain that your wheels make contact with the center guide power rails.
Switch power ON and gradually increase speed until your engine nudges the forward end guard of the cradle.
Adjust controller to half speed (do not use at full power).
Manually grab your locomotive and roll it back towards the opposite end guard.
Apply gentle, downward pressure and guide your engine back-n-forth as it glides across the cleaning pads.
All wheels should be rotating and polished during this step.
Continue this rolling process for 10 seconds before turning speed to ZERO and turning power to OFF.
Visually inspect wheels and repeat if needed.
The black scrubbing pads should be used if heavy grime is not removed with the white pads.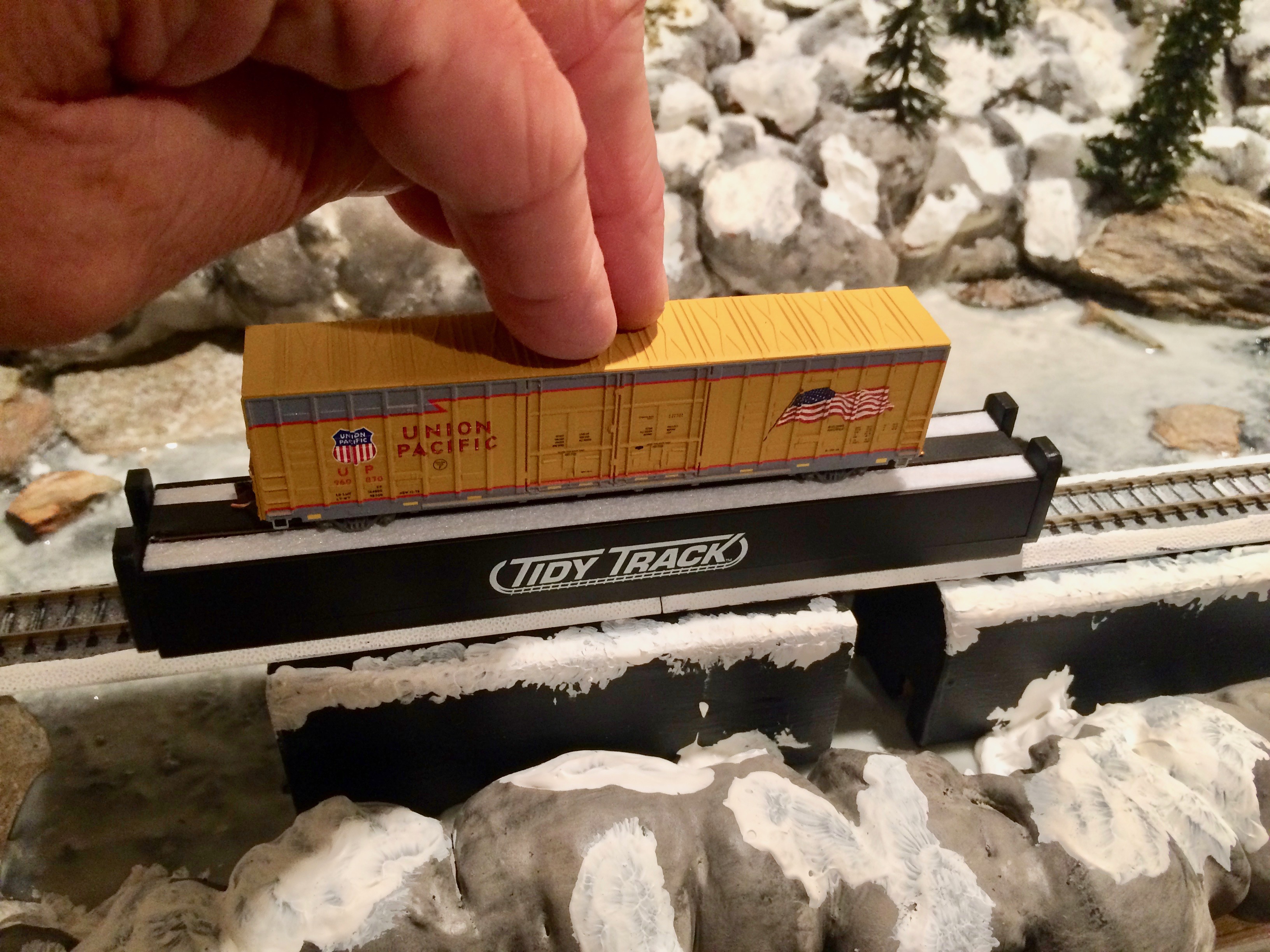 Power is not needed to clean rolling stock wheels
Rolling stock wheels are cleaned without the use of power.
Disconnect the power supply from the Roto Wheel Cleaner.
Place the rolling stock car on the center of the Roto Wheel Cleaner.
Gently apply pressure to the rolling stock and roll the car back-n-forth along the cleaning pads for 10 seconds.
Be careful that the couplers do not strike the end guards during this process.
Also be mindful not to supply excess pressure to the car.
Visually inspect wheels and repeat if necessary.
Once finished, the Roto Wheel Cleaner is small and narrow enough to fit into a drawer or toolbox for easy storage. If your pads become dirty or worn, they can be pulled-off and rotated 180 degrees so the other edges are used. If new pads are desired, Woodland Scenics offers replacement Roto Pads (#TT4562) with a suggested price of $7.99.
My Observations
PROS:
Ease of use: just clip and use . . . saves time.
No liquids or chemicals: easy cleanup and no safety concerns.
Compact: won't take-up too much room in your toolbox.
Pads can be flipped and rotated to extend their lifetime: I'm always looking for ways to save some money in this hobby; additional pads are available for purchase.
Three power options: Smart design to allow multiple power choices and the use on both DC and DCC systems.
CONS:
Price: this hobby is already expensive, so spending $25-$30 for a maintenance item might be out of budget.
Necessary for rolling stock?: I don't see this system for rolling stock as a better option than the paper towel and isopropyl alcohol method. The Tidy Track worked very well on my locomotives, which need clean wheels in order to maintain a consistent power flow with the rails. Locomotives also tend to track more dirt than rolling stock. Thus the Tidy Track's power method of rotating all wheels at a medium speed over a scrubbing pad gave positive results. In contrast, rolling a boxcar over a pad with only the pressure of my fingers isn't a more successful method than using alcohol to clean wheels.
In conclusion, I highly recommend the Roto Wheel Cleaner for use on locomotives. My engines didn't have many years of heavy use or grime but the cleaning pads did have signs of black residue. I can't speak for the outcome of using the black scrubbing pads on extreme dirty wheel sets, as most of my collection is newer. The system was extremely easy to operate and offered quick results.
In contrast, my rolling stock wheels didn't offer the same results. The pads showed very little collected residue. Maybe my wheels are too new or haven't been 'rolling on the rails' long enough, but I can't justify the purchase price of this system to clean rolling stock over the paper towel trick. Here's a useful
how-to article
by Ryan Kunkle of The Spruce Crafts site on this method and other ways to maintain smooth train operations.
Author's Grade: B+
Here are all the
Woodland Scenics products
listed on TroveStar.