Atlas Russell Snow Plow: More a Trainman Than a Master Line Car
Published: 2019-11-24 - By: Alain LM
Last updated on: 2021-08-12
visibility: Public - Headline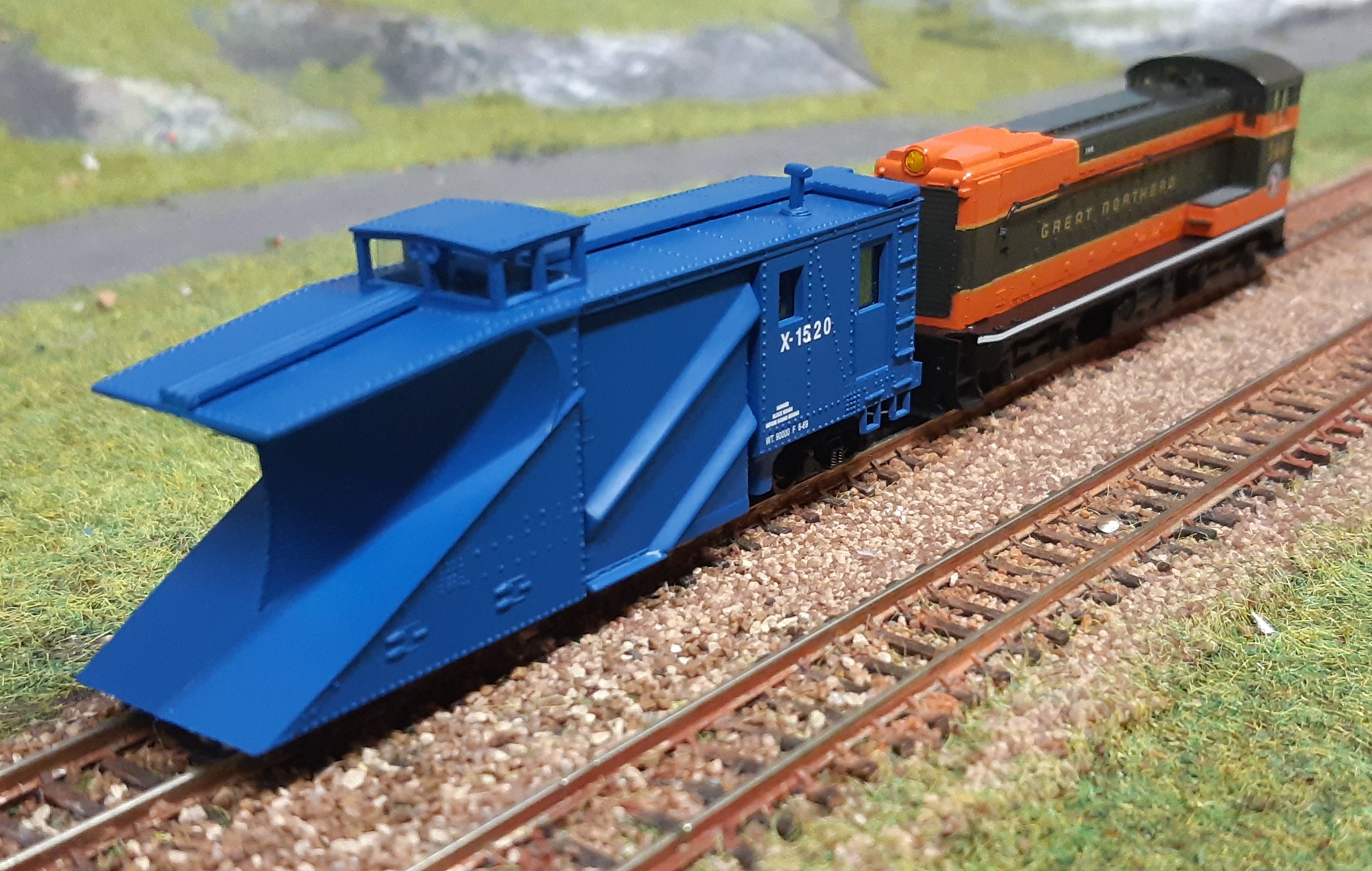 Russell Snow Plow released by Atlas Model Railway Co.
This model is a re-print of the Walthers Russell Snow Plow initially released in 1997. This is the first of a long series of
re-prints of Walthers N scale rolling stock
, that was
acquired by Atlas in June 2018
.

It was announced in November 2018 and a first run was released in September 2019, as part of Atlas' top range 'Master Line Rolling Stock' series. The first run was sold-out within a few days and a second run was immediately announced and delivered early November 2019.
The cars in this series were initially offered with a MSRP of $32.95, but we were able to obtain an example car online for $21.99. A 30% discount, on average, on the MSRP seems to be the rule for the price to pay for this model. This MSRP is somewhat nonsense when all vendors are immediately applying such a discount.
The Prototype
By the early 1900s, the Russell Car and Snow Plow Company of Ridgeway, Pennsylvania was a leading supplier of wedge type plows, one of the first kinds of snow plows used by railroads. The design had been modernized with a cupola and seats for an operator, headlight for night operations and a pair of air activated side wings to push snow up and away from the side of the tracks. Wooden bodies were still common, but within a few years, all steel plows had proven to be more durable. Both single track (as depicted by this model) and double track (which had one side of the blade enclosed to prevent snow from being pushed on to an adjacent track) were offered. Russell continued supplying steel plows to virtually every railroad that fought snow until early 1950s. Some of these snow plows were equipped with a front coupler mounted on the blade; this model does not have this feature.
Whilst having been decommissioned from Class I railroads for a few decades, a few of these are still in operation on short lines. All wedge plows are propelled by a locomotive, which increases the cost of running the equipment. It also means that the plow operator, not the loco engineer, must navigate rails. And in order to decrease the chances of derailments, these plows were weighted as heavy as possible so they could move tremendous amounts of snow and still stay on the rails. Snow plows must run at high speeds (often more than 50 mph) in order to effectively remove snow. It's critical that the snow plow spotter pay close attention to the terrain and know the route, otherwise accidents at upcoming obstacles (at crossings the plow should be lifted in order to avoid damaging and derailing equipment) can occur.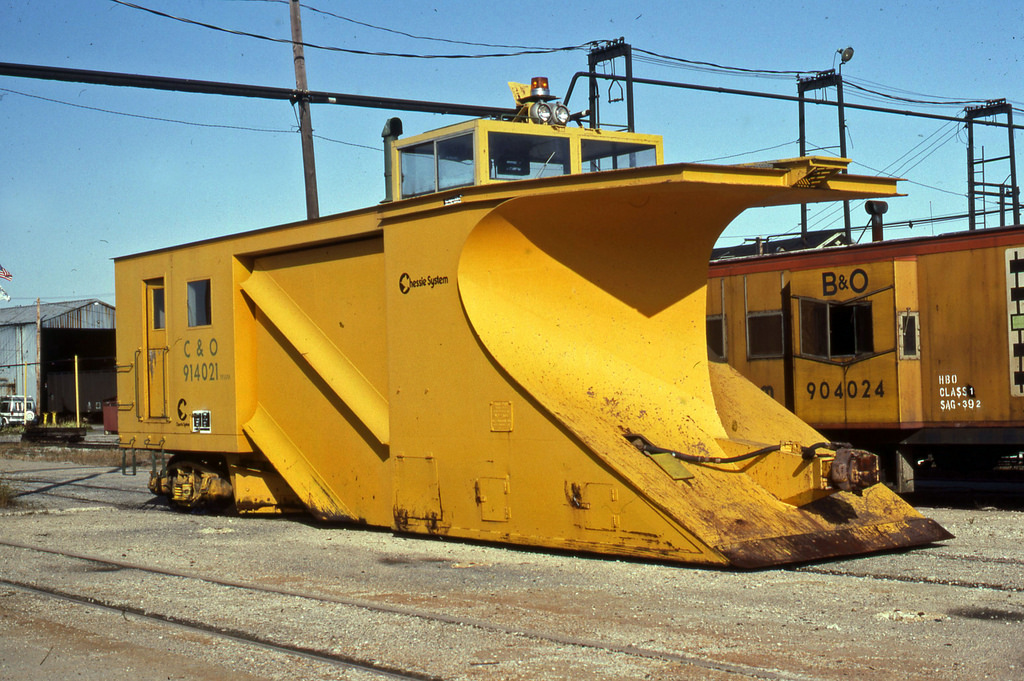 Single track wedge Russell snow plow, C&O #914021MW
Atlas has made some research to be as prototypical as possible, e.g. C&O, Conrail, Maine Central or Rio Grande to name a few. However, the Great Northern version used for this review might not have existed, though the road number is consistent with the range used for GN's snow plows. We have not checked each and every roadname of this series, so it is not excluded that there could be a few fantasy schemes.
The Box

These cars come in 5.9" x 2" (15 x 5 cm) acrylic jewel boxes. Each model comes in a plastic nest with a top plastic sleeve. There is no additional plastic sheet under or above the model. The lid is the height of the box and plugs into the lower part. This seems to be the new standard box for all new Atlas Master Line Rolling Stock. Quite an inflation compared to the previous size that was 4.9" x 1.6" (12.4 x 4 cm), with a lid that snaps on the box. This is nearly as big as an Atlas locomotive box, though a bit shorter. For those who store their N scale collection in the original boxes, like me, this is not good, as the box is somewhat oversized for most of the models.
Couplers and Trucks
These cars carry a truck-mounted coupler in the rear, with no coupling on the front. The truck is the ubiquitous
Atlas #22051
50-Ton Friction-Bearing 'Bettendorf' truck, with an AccuMate knuckle coupler, and brown plastic wheels; so a typical Atlas model.

The Model
This is not an extremely detailed model. In fact, it is somewhat basic. It comes fully assembled with no additional parts. Details like ladders and iron grabs are molded on the shell. The underframe has some simple detailing. The good news, compared to the original Walthers model, is that Atlas has added transparent plastic sheets to simulate the glass of the windows, whereas it was totally open previously. The print is crisp and precise, with very small characters perfectly readable (with a magnifier!). However, the major disappointment is that the wings are fixed and cannot rotate despite the hinges being properly represented.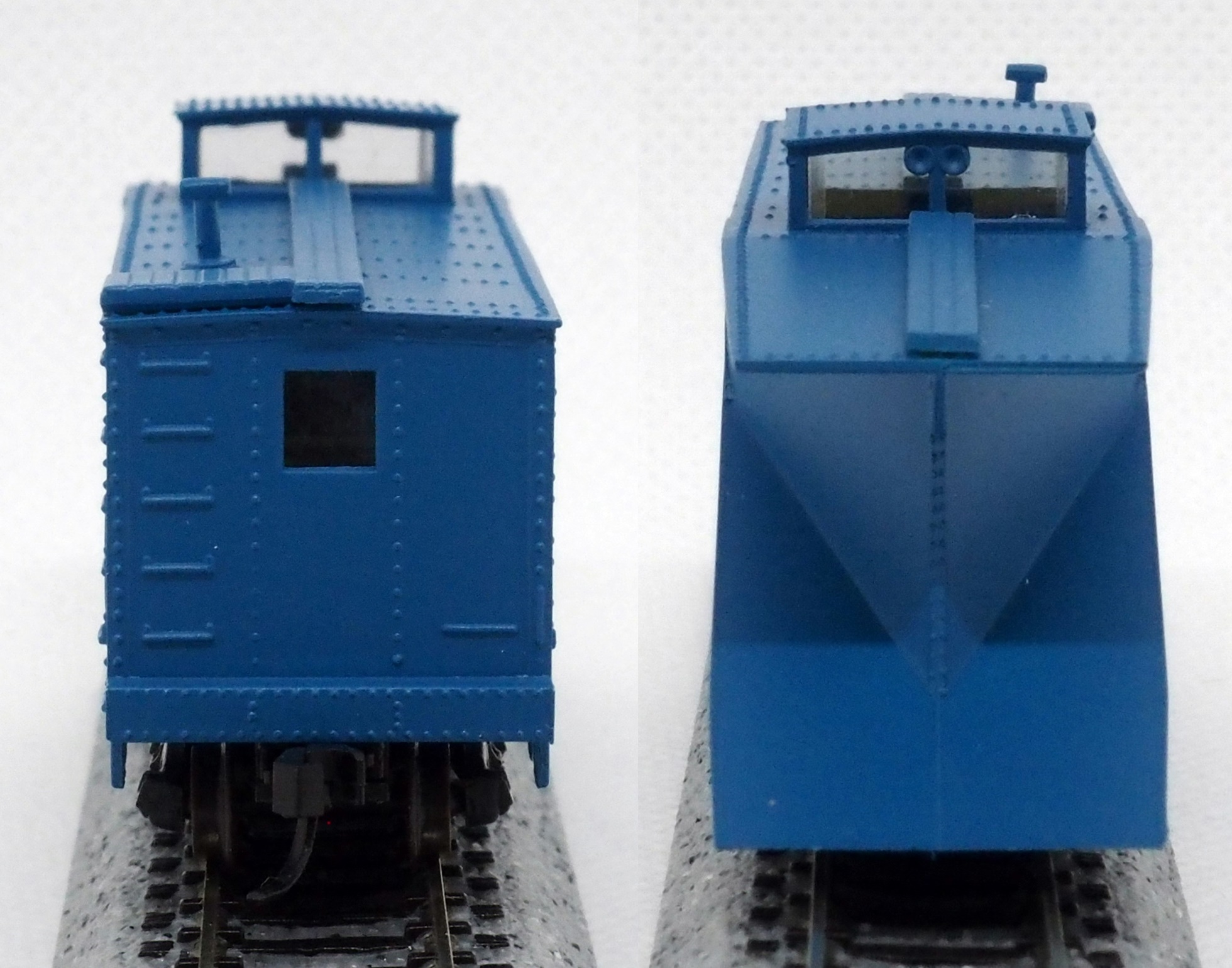 Summary
At the price point chosen by Atlas for this model, this is a clear disappointment. This model was designed 20 years ago and does not meet today's standard for a high-end model. Except for the trucks with knuckle couplers and the windows, there is no major difference with the original of 1997, as the molds have been reused as is. This model should belong to the Trainman range, that comprises older models with a lower level of detail. Trainman rolling stock is priced on average 30% lower than Master Line rolling stock.
Having positioned this model directly in the proper range, and at a much lower price point, would certainly have avoided this disappointment.
Click here to see the models in this series.