Atlas 4180 c.f. GATX Hopper
Published: 2020-02-13 - By: CNW400
Last updated on: 2021-08-13
visibility: Public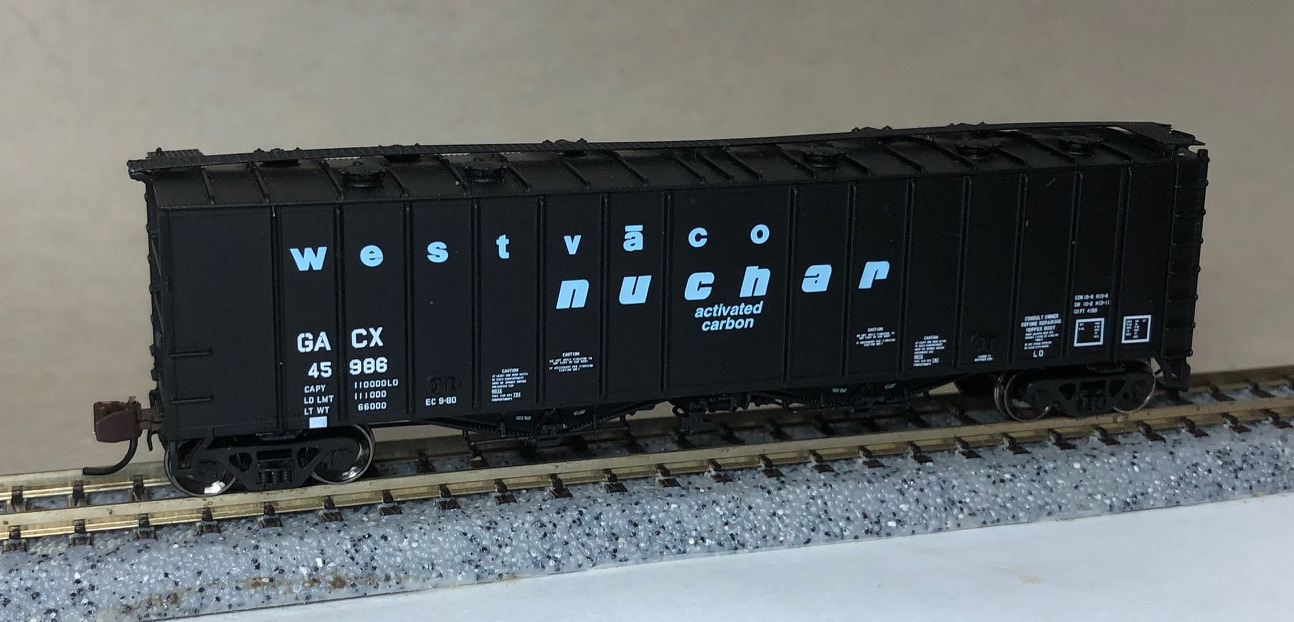 In October 2019, Atlas introduced the General American Transportation Corporation 4180 Airslide Covered Hopper into their Master Line Series. This model is a newly tooled N Scale rolling stock product.
Road Names and Pricing
The series includes five new paint schemes. The railroads represented in this collection include:
Gulf, Mobile & Ohio (GM&O)
Frisco
Rock Island
Southern
Westvaco
Four different road numbers are assigned for each railroad. The suggested retail price is $36.95.
My review includes observations of the Westvaco (West Virginia Pulp and Paper Company) GACX #45986 (Atlas stock number 50 004 801).
Prototype History
Open hoppers were a common freight car since the 1800's, used to carry products that did not need protection from the wind and rain such as coal and stone. The railroads were simultaneously looking for a more efficient method of shipping consumer bulk dry goods that were commonly bagged and loaded into standard boxcars. This routine had proved inefficient as it was time consuming and a great deal of product was either damaged or wasted. The railroad industry began to experiment with converting open hoppers by adding a waterproof top and outlet gates on the bottom. The car manufactures saw an opportunity and met this demand by introducing the first purposed-built covered hoppers to streamline the process of shipping such goods as: flour, sugar, starch, plastic, feed, fertilizer and carbon black.
In 1934, American Car & Foundry (ACF) released the 70-ton/2,050 cubic-foot and 50-ton/3,000 cubic-foot covered hoppers to haul cement and carbon black. Greenville Steel Car Company and Pullman-Standard also began to produce covered hoppers in the mid-1930's. Most of these cars were two-bay, 50 or 70-ton hoppers designed to transport cement and carbon black as well as lime, sand and phosphate. The covered hopper simplified the hauling process by allowing the product to fill the freight car through roof hatches (30" or 36" square shaped at first) and discharge out the hopper gates.
Pullman-Standard further revolutionized the covered hopper design with the introduction of the PS-2 line in 1952. The Pullman-Standard cars were all-welded with round roof hatches (30") and center running boards. The first PS-2 was a two bay 70-ton/2,003 cubic-foot covered hopper. Pullman-Standard introduced the larger 42-foot long, 70-ton, 2,893 cubic-foot car in 1953 and a 3,219 cubic-foot car in 1958. These cars were used to carry such items as salt, sugar, meal, barley and fertilizer.
A predicament for the shippers of these coarse, fine granular products was that the materials would not always flow freely out the bay doors. They would become clumpy and/or log-jammed during the emptying process.
The Fuller Company of Catasauqua, PA sought to alleviate this problem with the introduced of their Airslide design (US Patent 2527488 - Filed April 10, 1950). The Airslide covered hopper design has longitudinal shaped bays with steep side-to-side troughs. The bottom of each hopper is fitted with an air-permeable liner. During the unloading process, air is forced through the fabric causing the lading to deliquesce and flow smoothly out of the hopper bays.
The General American Transportation Corporation (GACX/GATX) introduced the Airslide covered hopper in 1954. The Airslide is easily identified with its "box" shape and uniquely designed outlet gates. Furthermore, the Airslide cars had a more waterproof construction that was suitable to haul powdered and grain materials that included plastics, animal feed, flour, starch, sugar and carbon black.
The initial Airslide covered hopper included two popular designs. The single-bay was a 50 or 70-ton, 2,600 cubic-foot car with six roof hatches. The larger variant was a two-bay 70-ton, 3,600 cubic-foot car with 10 roof hatches. General American Transportation Corporation introduced the two-bay 4,180 cubic-foot hopper in 1963. Over 5,000 of this rolling stock car was produced. The 4,180 cubic-foot car continued to be manufactured until 1980 when it was replaced by the larger 4,566 cubic-foot design. The 4,180cf hopper went through several design changes during its production including revisions to ladders, grab irons, side posts, running boards and roof design.
The Model
In my opinion, Atlas Model Railroad Company has hit a home run with their N Scale 4180 Airslide Covered Hopper release. A well-built, good-looking model that is accurate to the real-life car.
As I have stated in past reviews, the Atlas package design is my favorite - a clear jewel plastic case with a slip-off cover and a two-piece plastic cradle to cushion the car. The model information is clearly labeled on the end of the case for ease to locate when in storage. A thin plastic film was wrapped around the car to safeguard the extraordinary print job found on this model. All of the detail pieces are pre-attached onto the model with no additional pieces were found in the case.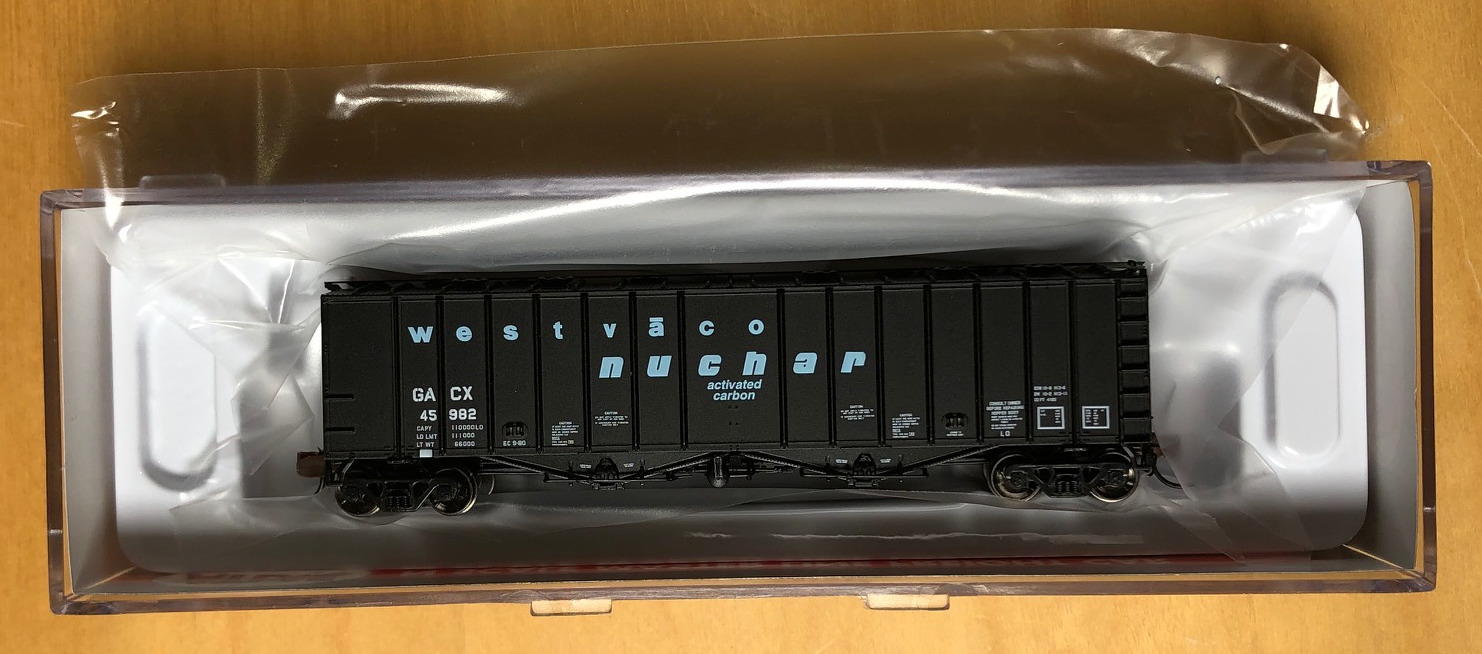 Cradle and Film
I was impressed with the model as soon as I uncovered the car from its plastic housing. The paint job is clean and even along the entire model with true life-like colors. The private operated Westvaco covered hopper is painted black while is it decorated to haul Nuchar® activated carbon. Nuchar® powdered activated carbon has helped purify an array of food, water and chemical products since 1913, including foods and beverages; the decolorization, deodorization and contaminant reduction of chemicals and catalysis; and municipal and point-of-use water treatment. (Source: Ingevity.com).
The lettering, font and placement are exact when compared to the only prototype image I could find during my research (GACX 45982). The lettering is crisp and neat, even when magnification is needed for smaller print. The Nuchar® activated carbon insignia is accurately colored a lustrous light blue as the prototype.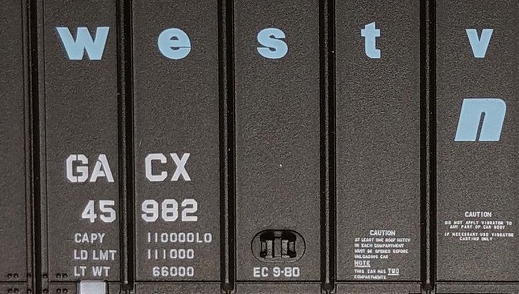 Detailed Printing
The model has an injection molded plastic body with extra fine scale detail. The top of the car features a metal etched roofwalk and ten circular loading hatches in the correct configuration. The sides have the correct 14-rib post (7 x 7) composition and all lettering is placed in the proper position between the posts. The sides also include a full ladder in one corner and two grab irons in the other corner - this alignment is correct when compared to the prototype photograph even though most 4180cf Airslide hoppers built after 1969 featured a half length ladder. The model and prototype both have a built date of 1980. Lastly, as I find on most N scale models, the end stirrups are rather chunky-looking but don't significantly distract from the elegance of this model.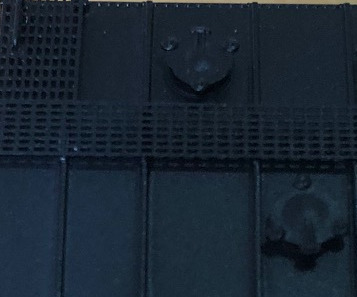 Roof Detail
Both ends feature a full height ladder and era correct double horizontal end braces. A mounted high handbrake and platform are located on one end, the same placement as the prototype image. Again the lettering on the ends is in the proper arrangement.
End Detail
The underframe has an elaborate pipe arrangement with a highly detailed 2-bay, 4-outlet gate design. The model features Barber S-2 100-ton trucks and blackened metal wheels. The prototype image appears to be fitted with Barber S-2 70-ton trucks. The Accumate knuckle couplers are mounted to the proper height on both ends.

Underframe
The car weighs about 1.0 ounce and is 4 inches in length. Although a little light according to the National Model Railroad Association (NMRA) recommendations (which are 1.1 - 1.2 ounces for a four inch car), I found it a good weight while test running the car on Kato Unitrack with no issues around curves or through turn-outs.
In conclusion, this is a dynamite series by Atlas - easily on my list of top releases in 2019. A highly detailed model that is true to the prototype. It's also an excellent runner that needed no adjustments to perform smoothly. I was excited to order this piece and it has been a pleasure to add this car to my rolling stock roster. I would highly recommend the Atlas 4180cf Series to be featured on many layouts as this covered hopper was used by the railroads well into the 2000's.
Click here for a link to the entire series