Micro-Trains 40' Drop-Bottom Gondola with Wood Chip Load
Published: 2020-08-10 - By: CNW400
Last updated on: 2020-08-10
visibility: Public - Headline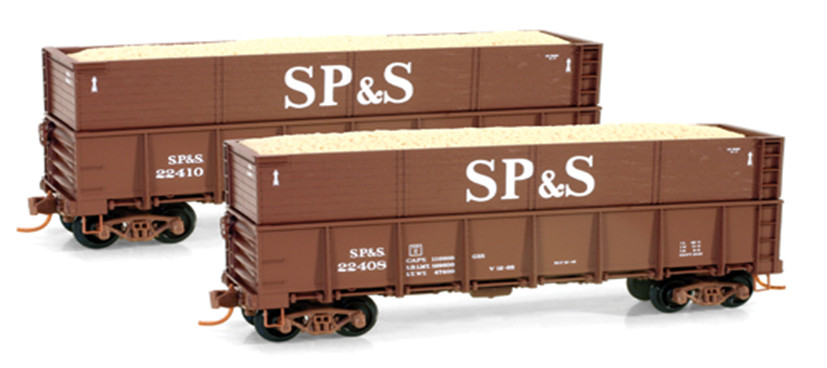 Originally released in the Summer of 2008, Micro-Trains Line (MTL) introduced two Spokane Portland & Seattle Railway (SP&S) 40' Drop-Bottom Gondolas into their N-Scale family. These were the first models in a new body style line for Micro-Trains.
Paint Schemes and Pricing
The gondola series includes six different road names made available 2008 thru 2018. The variations represented in this collection include:
Spokane Portland & Seattle Railway (#22408 & 22410) - Summer 2008
Southern Pacific Lines (#352005 & 352010) - Summer 2008
The Milwaukee Road (#93118 & 93120) - Winter 2009
Ringling Bros. and Barnum & Bailey Circus (#20156) - Winter 2011
Northern Pacific Railway (#118534 & 118538) - Spring 2012
Southern Pacific Lines (Runner Pack #92 / 4 Pack) - Spring 2014
Spokane Portland & Seattle Railway (Runner Pack #100 / 4 Pack) - Winter 2015
Western Pacific Railroad (#5035) - Winter 2015
Southern Pacific Lines (Runner Pack #8 / 8 Pack) - Spring 2018
My review includes observations of the 2008 introductory model released in the 40' Drop-Bottom Gondola with Wood Chip Load Series: MTL 084 00 012 - 2008 Release - Road Number 22410.
The suggested retail price was $22.40.
Prototype History
Wood chips are a byproduct from the lumber and saw mill industries. The chips are collected and sold to other trades to become such items as paper & cardboard products, construction materials or garden mulch. Power plants even use woody biomass to run their boilers. The shipping of this valuable yet lightweight load has always been a predicament for the railroads. How to maximize their payload hauling one of the least-dense commodities and still make it worth their trouble?
The railroads created their first wood chip cars by raising the sides of older gondolas and open hoppers with wood or metal side extensions to allow more capacity. Boxcars were even pressed into service, some retaining their side doors to be unloaded by hand. Other railroads, such as The Bangor & Aroostook converted 40' boxcars by plating over the doors, removing the roof and adding side extensions. Today with the production of larger, commodity-specific rolling stock, these decades old retrofitted cars have been repurposed by railroads to transport scrap materials or haul trash.
A typical modern wood chip railcar, among the largest rolling stock in operation, can hold a 100-ton, 7,000 cubic foot load and is 65 feet long. They are commonly found in the lumber states of the Pacific Northwest and Southeast.
Since wood chips will clog any type of tubes or pipes used for unloading, a common method preferred in the warmer United States regions is to use a drop-bottom door gondola to empty the load into a pit and onto a conveyor system to be processed. This method saves time and more efficiently removes the contents from the car as the hot, dry climate holds less moisture, thus allowing the wood product to flow more freely.
Similar to the coaling industry, railroads in the 1960's began to order specialized open hoppers that are either emptied into a rotary dumper by rotating the car upside down to unload its contents or the car being tipped-up on an end with the chips spilling through an end door. If necessary, the end door can even allow a front-end loader access to remove the chips. Some wood chip cars have hooks on their vertical braces to hold a mesh cover over the load to minimize loss of product. These types of railcars are popular in the more wet and cooler regions of the United States and Canada as high moisture content and frozen product makes unloading bottom-dump hoppers difficult in these areas.
The most recent development is a bathtub-style chip car from FreightCar America. Patterned after the BethGon coal car, this railcar can haul a 110 ton, 8,200 cubic feet load and is 75 feet long & 16 feet tall.
Today much more of the wood chip loads are hauled away in trucks. Trucks have been found in some applications to be a more economical, versatile and convenient choice - especially for short distance runs. Rail service can be a better option when transporting large amounts of lightweight wood scrap over a long distance. Furthermore, frozen product in open railcars is a concern in the northern climates and further reason why trucks have become a more favorable alternative in these regions. Some railcars can have up to 20% of their load frozen in the wood chip hoppers because of the wet, snowy and colder weather conditions.
The Model
The Micro-Trains Line (MTL) 40' Drop-Bottom Gondola with Woodside Extensions is a perfect fit for those of us that model the lumber and paper industries before the production of the large modern day equipment. This model represents a Pressed Steel Car Company gondola built for the Denver and Rio Grande Western Railroad (D&RGW) in 1948. The Spokane Portland & Seattle Railway (SP&S) acquired a group of these gondolas for wood chip conversion in 1964 & 1965 and numbered 22400 thru 22474. The MTL model was marked for modification in December 1965.
The model arrived in the typical MTL clear jewel plastic case with a slip-off cover and a one-piece plastic cradle to cushion the car. All of the small detail pieces are pre-attached onto the gondola with no additional pieces in the case. The side extension and simulated wood chip load are both removal and can be used interchangeable. Both of these pieces are assembled onto the gondola when purchased.
Side View
The boxcar red paint job is crisp and neat along the entire model. The lettering, font and placement are exact when compared to prototype images. A large SP&S is proudly displayed on both extension side panels. A smaller reporting mark and road number is printed on the left side panels of the actual gondola. The SP&S reporting mark and road number is also visible on the end panels. The lettering is clean and neat, even when magnification is needed for smaller print on both the gondola frame and the extension panels. There also exists a second lettering scheme for this railcar with the reporting marks and road number centered at the top of the gondola and the ampersand (&) excluded from the larger reporting marks on the wooden extensions (Intermountain Railway Company has a HO example of this alternate lettering). George J. Irwin from UMTRR noted that these cars were painted in batches of fifteen during their conversion and lettering schemes somewhat varied depending on which shop completed the job.
Three additional interesting markings present are the Association of American Railroads (AAR) GSS gondola classification (a general service gondola with fixed sides and ends & drop-bottom doors hinged along the center sill) and the Plate C notation (a height designation that the railcar does not exceed 15' 6" - the standard for most boxcars, covered hoppers and centerbeam flats). The Extreme Height of 15' 3" is noted on the extension panels.
GSS & Plate C Notations
The model has an injection molded plastic body with a hard plastic 'wood chip' load. The main gondola frame represents a steel body with seven vertical posts. An extra fine detail and pleasant surprise is the presence of rivets along the entire steel body. The sides feature a thin stirrup in each corner (not too clunky like other models), grab irons and ladder.
Drop-Bottom Chutes and Rivet Detail
The floor of the gondola has 2 rows of 8 drop-bottom chutes for content unloading.
Brake Wheel and End Detail
The ends both have a ladder and one end includes an Ajax hand brake with various piping and chains.
The removable extension piece features a three-post structure with a rather unconvincing plastic faux wood grain finish. All four sides have ladders matching the configuration of the gondola body. Also unimpressive is the cream-colored 'wood chip' load. An uninspiring shiny, hard plastic design that other than the color does not truly embody the look of wood. I will probably scratch-build a load with real sawdust for a more authentic representation of wood chips.
Interchangeable Three-Piece Model
The most impressive feature is the elaborate underframe arrangement with a brake cylinder, truss rods, brake rigging and other assorted rods & pipes for drop-bottom unloading - very intricate detail for a N-Scale product.
Underframe
The model features boxcar red Micro-Trains Magne-Matic knuckle couplers and injection molded black plastic wheels. Both truck-mounted couplers were aligned to the proper height. The use of plastic wheels is somewhat disappointing and I will be upgrading to metal wheels in future for better performance and more realistic track "sounds" (need my clickety-clack rail noise). The gondola also includes prototypical boxcar red Bettendorf trucks.
The car weighs about 0.8 ounces and is 3 inches in length. The weight is a tad light according to the National Model Railroad Association (NMRA) recommendations (which are 1.0 - 1.1 ounces for a 3-inch car). Extra weights can be easily attached to the gondola floor and hidden with the side extension and load assembly. I found it to run well while test running the car on Kato Unitrack with no wobbling or tipping issues around curves or through turnouts at slow and medium speeds. In conclusion, this was another solid release by Micro-Trains. The highly detailed underframe is worth the price alone. It's a highly researched model that is true to the prototype. It's also an excellent runner that needed no adjustments to perform smoothly, but some may wish to add some weight to match NMRA guidelines and upgrade to metal wheels. Lastly, a rather simple project of a homemade load will benefit the representation of the model, as the provided plastic load is rather 'cheesy'. Overall the MTL 40' Drop-Bottom Gondola is a fine addition to those modeling the lumber and paper industries of the 1960's thru 1980's. You can even have it take of the trash!
About the Author
ScottAKoltz became enamored with trains while watching the 'Green & Yellow' double-decker cars clad with shiny green windows (C&NW) rumble by his childhood house in Chicago. His first train set was the Tyco Bicentennial model in 1976. Always a fan of the railroad, ScottAKoltz is newer to the hobby, active for the last three years (now that all the kids are grown-up!). Furthermore, he is also a collector of railroadiana focusing on lanterns, stock certificates and insulators.