A Nice Runner: Rapido Trains Dash 8-40CM
Published: 2020-10-10 - By: Alain LM
Last updated on: 2023-02-03
visibility: Public - Headline

A nice runner: Rapido Trains Dash 8-40CM
... a brand new model just released in stores in September 2020. Let's discover this Canadian-specific prototype, and its N scale model by Rapido Trains, of Markham in the Greater Toronto Area.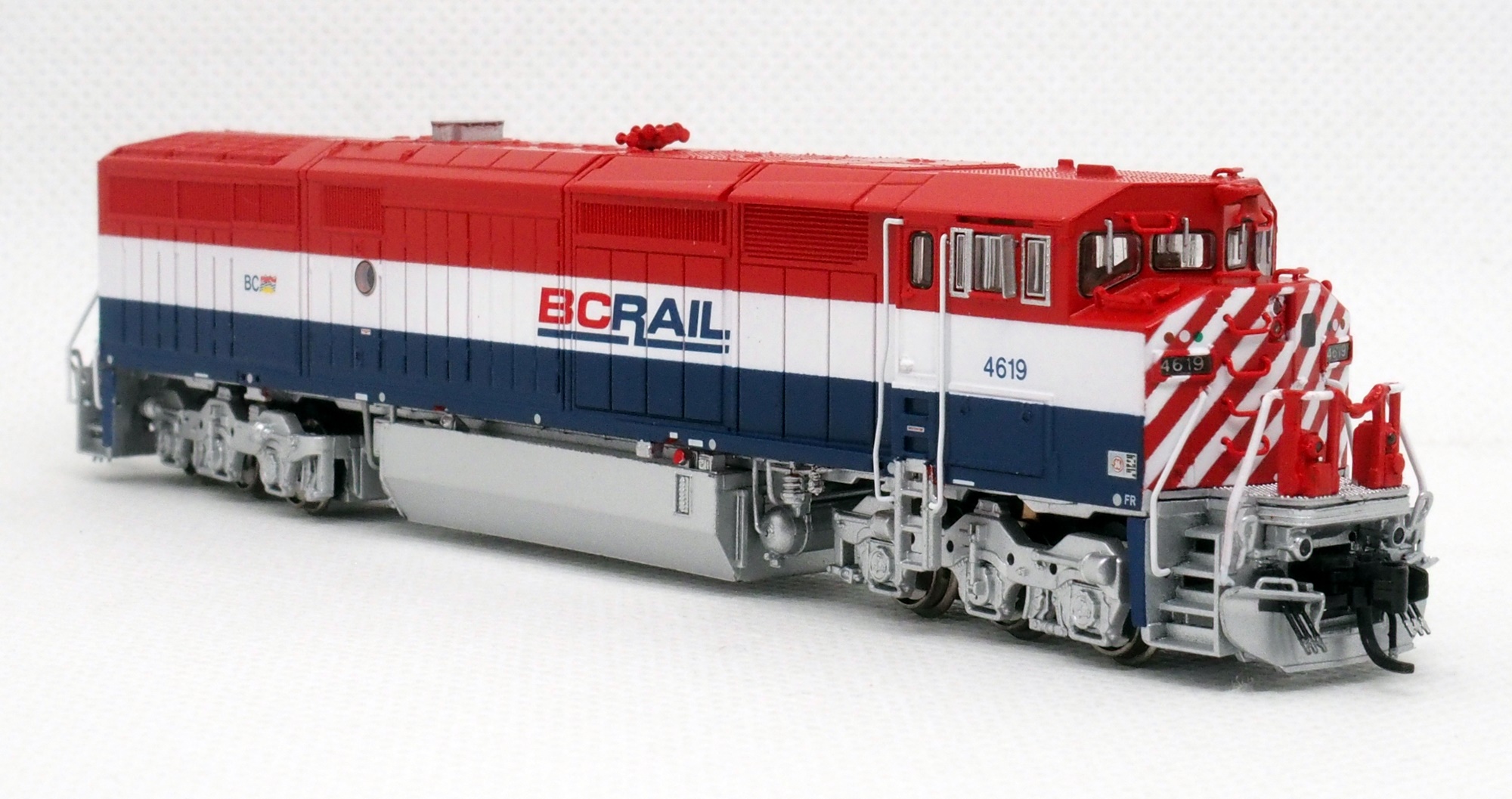 About the prototype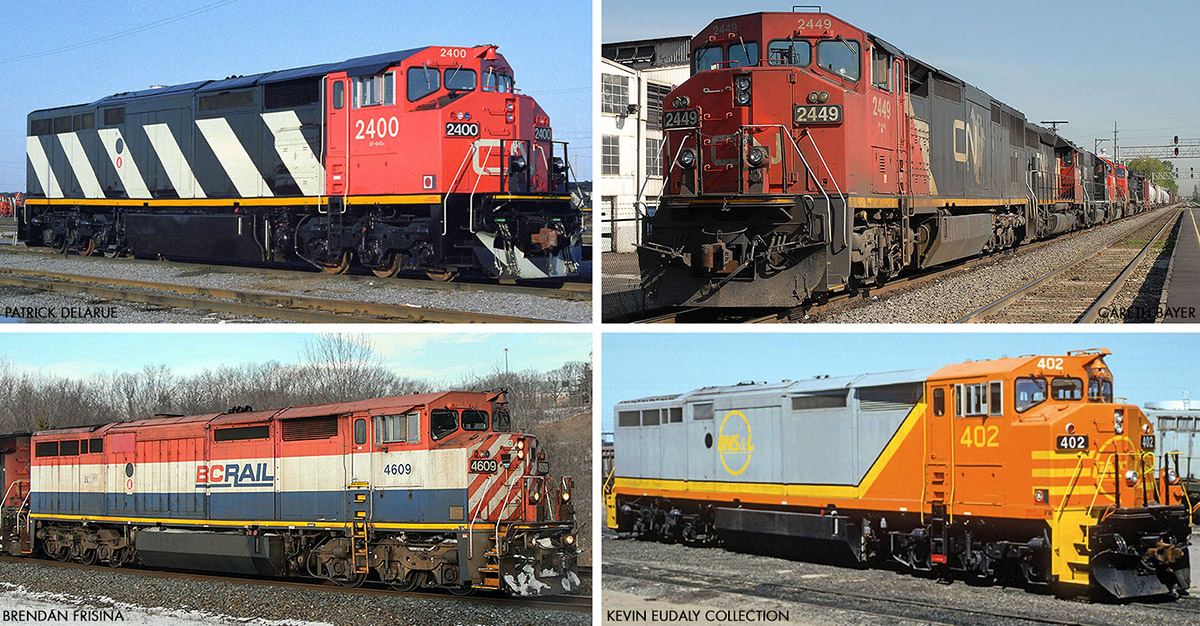 The General Electric C40-8M is a 6-axle diesel locomotive built by GE Transportation Systems from 1990 to 1994. It is part of the GE Dash 8 Series of freight locomotives, and is often referred to as a Dash 8-40CM. It is mechanically identical to the Dash 8-40CW.

Powered by a V16 FDL 4000-horsepower prime mover, the main features of this distinctive design are the four-window North American cab, the cowl-style body and the famous "Draper Taper" cutout behind the cabs (designed by CN's Assistant Chief of Motive Power, William L. Draper to provide better reverse visibility on full-width cowl units). These great-looking locomotives always turn railfan heads in trains! The Dash 8-40CM (also known as the C40-8M) was introduced in 1990 with an order of 30 units for Canadian National (2400-2429), classified EF-640a. This was followed by a further 25 units (2430-2454) in 1992, classified EF-640b.

BC Rail received 22 units (4601-4622) in 1990, followed by four more (4623-26) in 1993. These were transferred to CN following the de facto purchase of BCR in 2004. The final units were for QNSL, which acquired three locomotives (401-403) in March 1994. Amazingly, all 81 CN and BC Rail Dash 8s are still in service. Most are still in their original paint schemes but several have been repainted into the newer CN.CA livery.

In the mid-1990s, the "Draper Tapers" made regular visits to Chicago via CN's Grand Trunk Western route through Michigan and Indiana and sometimes further afield as run-through power. However, it was CN's purchase of the Illinois Central in 1998 that really expanded their range of use and it became common to see Dash 8-40CMs as far south as the Gulf Coast and all points between, on and off CN/IC track. CN's units were joined on their foreign adventures by BC Rail's units starting in 2004.

From Rapido Trains Inc. website.
Click here to read more on the prototype, on TroveStar.
And now for the review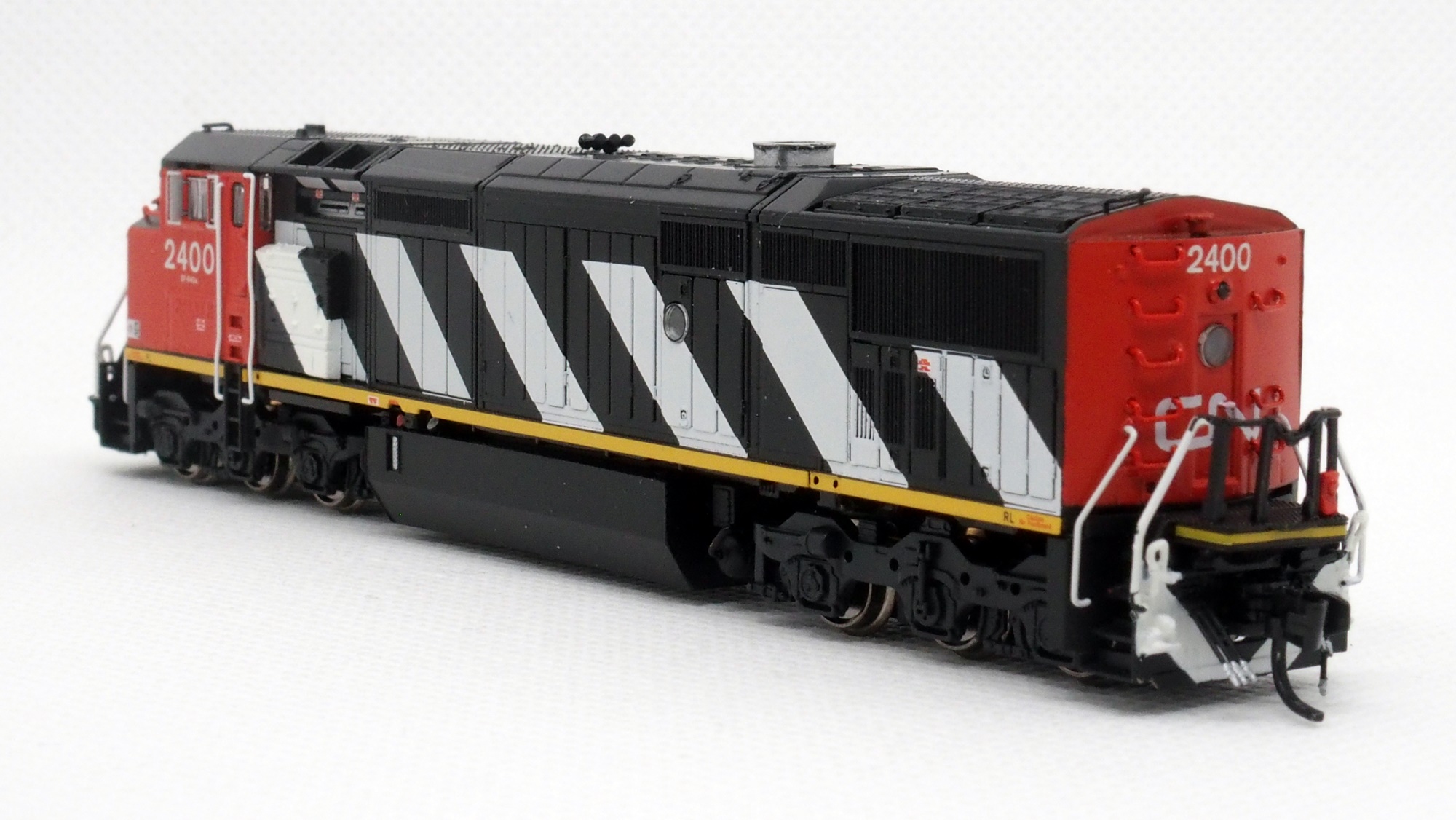 This is the first foray by Rapido Trains in modern diesel engine in N scale. They previously released this Dash 8-40CM, a specific Canadian locomotive, in HO scale, but they claim that their N scale version is even better and more detailed than its larger scale predecessor. This I cannot say, but I can compare it to recent productions of models of the same vintage by other N scale designers. Overall, I would say that this model is positioned in the high end of the pack. But, more on that later.
Unboxing
The model is packed in a usual jewel box, with a colorful cardboard sleeve.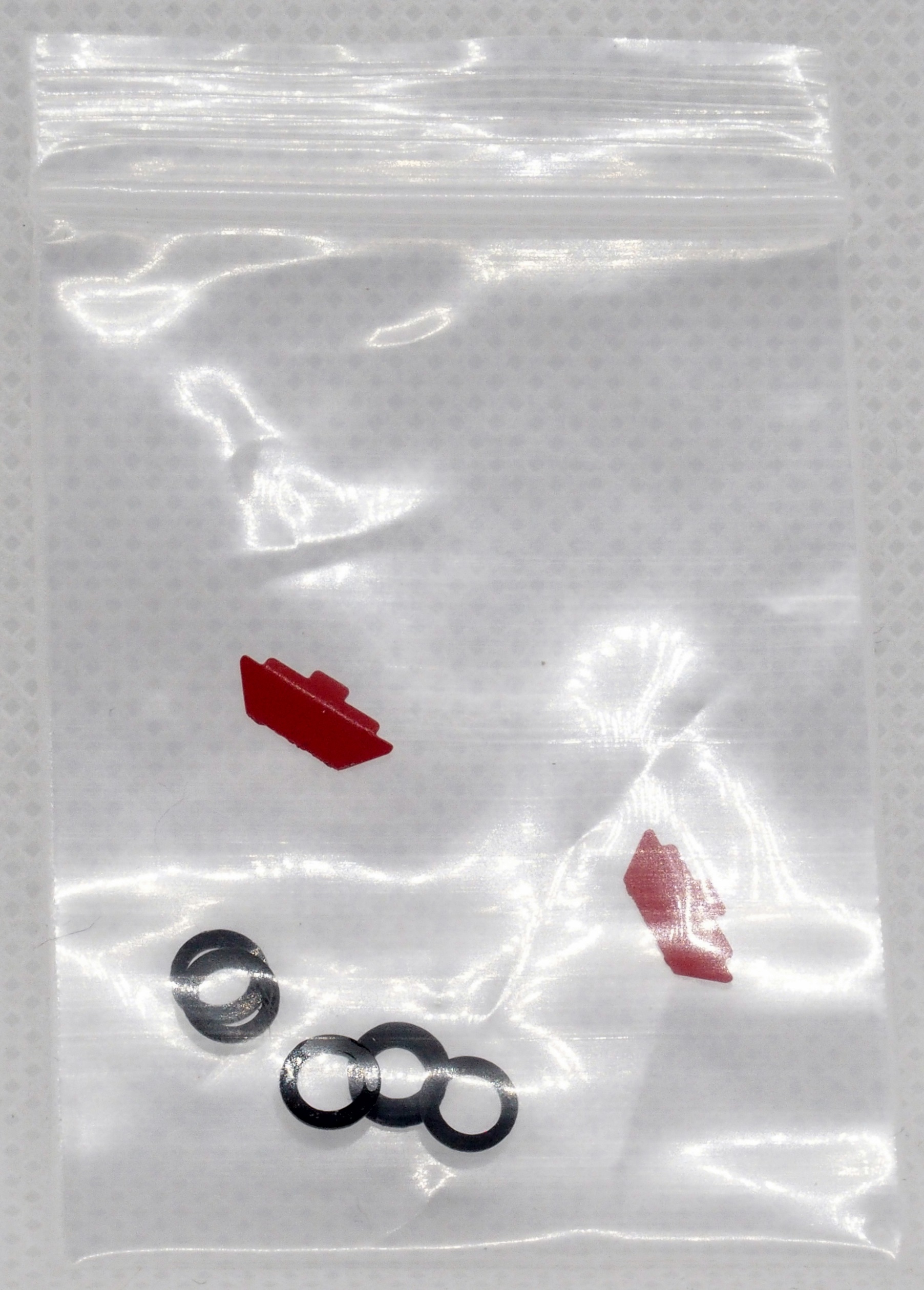 The operator manual is also available under the locomotive cradle. It just a two-side one-pager instruction sheet, one side in English and the other in French. You can get it on the manufacturer's website or here. The French version is definitely a French-Canadian version, with some translations being literal or just not existing in "français (de France)". I already sent my comments and suggestions for changes to Rapido Trains about their French version of the Turbo-Train manual, but given their lack of understanding of my feedback, I just decided to save my time and not make any comments anymore; after all, if the French-Canadians are OK with it, what else matters.
In both models that I acquired, I found a few detached parts in the box, including one truck. Putting back the truck in position was not difficult - it just snaps in. Identifying what the other very small parts were and then mounting them again on the model prove to be more complicated. These parts are then after very prone to fall again, so a drop of glue is recommended if you face similar issues. I'm giving you this advice that I did not follow myself in the first place, so I've lost the bell of the BCRail model just after I photographed it. Too bad...
Also, why are the sun shades not factory-mounted? Does not look as an optional item on the photos of prototypes. So far, on my end, they are still in the bag...
The trucks are all-geared and provide pick-up, like in all modern models. But one wheel per truck is equipped with a traction tire; that is quite unusual for a recent North-American N scale model, where traction tires seem to have long gone. It certainly can help to improve traction at slow speed or in slopes. The underbody is rather smooth, given the prominence of the fuel tank. But as detailed underbodies are a landmark of Rapido Trains, see below what they say about it.

First run
There is absolutely NO tuning required to move the engine. The DCC-Sound version starts moving slowly and smoothly at DCC step 1 (with a 128 step configuration). The top speed seems to be properly set, so this locomotive will not run like a rocket at step 126. Slow speed operation is absolutely amazing and smoothless; at step 1 the engine is moving sleeper after sleeper and you can use a large span of DCC steps for very slow speed operation, without needing a special 'shunting' DCC command to cut the speed by half, like with certain other decoders. The pulling power seems to be very decent; my layout is pretty small, so I could only hook 30 cars behind one of these locomotive, but it did not show any difficulty with it. As I acquired two of them, I also made them run concurrently, but they were not exactly reacting the same. Maybe the lack of break-in, but some speed-matching might be required.
What's inside?
To remove the shell, your first need to remove the 4 handrails attached to it by gently moving them away. Then, you'll need to pry away the shell from chassis from behind, for instance with toothpicks, to remove it. Unlike what I read elsewhere, it is not going to lift off on its own...

DCC & Sound version
The chassis is a classical split-frame, with however no screw; both parts hold together with plastic clips. The printed circuit board (PCB) is located on the top, with all wires properly pulled between the two half frames. The loud-speaker is housed in a cutout at the rear of the chassis, facing up; an unusual design, whereas other manufacturers very commonly house it in the fuel tank, facing downwards.
Putting the shell back in place is no trouble. However this is not the same story with handrails, if you have fat fingers like me. So, unless you have a good reason to do so, do not remove the shell.
DCC and Sound
The model is proposed in two variations: DC-only and DCC-Sound factory-equipped with an ESU LokSound V5. There is no (silent) DCC-only factory-equipped version, so for those interested, you'll have to install the decoder by yourself. This is fairly easy, so no worries. I note a trend in the market not to propose any longer DCC-only (no sound) factory-equipped variants, but only either DC or DCC-Sound, if not only DCC-Sound like Broadway Limited Imports.
The model accepts DCC decoders (sound or no-sound) meeting the Next18 interface standard. The decoder is plugged into the Next18 socket on top of the PCB. We already presented the Next18 standard in a previous article. This interface, introduced in Europe, is gaining popularity in North-America. ScaleTrains.com was the first one to introduce it on its models, and I'm glad to see that Rapido Trains is following in the footsteps. Maybe one day, all other North-American manufacturers will step away from their model specific plug-in boards to move in the same direction - please see my article on DCC-ready about that.
Note that if you want to install a sound decoder in the DC-only version of this model, this is very easy - mechanically speaking. However, you might run into trouble getting the configuration file and sounds, as Rapido Trains are NOT publishing their LokSound configuration files on ESU website, unlike some other manufacturers.
DCC features
The LokSound Next18 decoder offers 6 outputs, the usual front and rear lights, plus 4 more. In this model, only 5 of them are used, so you have one spare if you want to add something else in your model. The good news is that this spare output, AUX2, is available and easily accessible on the top of the PCB on pads marked 'X2' and 'U+'.

The assignment of the AUX outputs is as follows:
- AUX1: Ditch Lights
- AUX2: not used, but soldering pad X2 available on the PCB
- AUX3: Rock Lights
- AUX4: Number plates
Given the high flexibility of the ESU LokSound configuration, several combinations of effects and outputs can be assigned to one single function, and Rapido Trains made a good use of it.
Light effects:
- F0: Front light (non directional)
- F6: Ditch lights (fixed, not alternating)
- F7: Headlight Dimmer (front and rear) - switches off the ditch and rock lights.
- F11: Rock lights (BC only)
- F12: Shunting mode - front and rear lights on and dimmed - switches off the ditch and rock lights.
- F13: Rear light (non directional)
- F19: Number plates are illuminated by default. They can be switched off with this function.

Undocumented:
- F15: Directional headlights. Forward = front + ditch + rock lights / Reverse = rear light (Note that you will have to switch off F0, F12 and F13 to get that effect.)
F15 also cancels the starting delay that is applied when the sound of the engine is on (F8). This can be of interest if you want to MU this locomotive with a non-sound equipped locomotive that does not have this delayed start feature. The starting delay of the LokSound can be permanently disabled (CV124.2), but assigning this to a function key is a smart idea, as it allows flexibility without going to the programming track.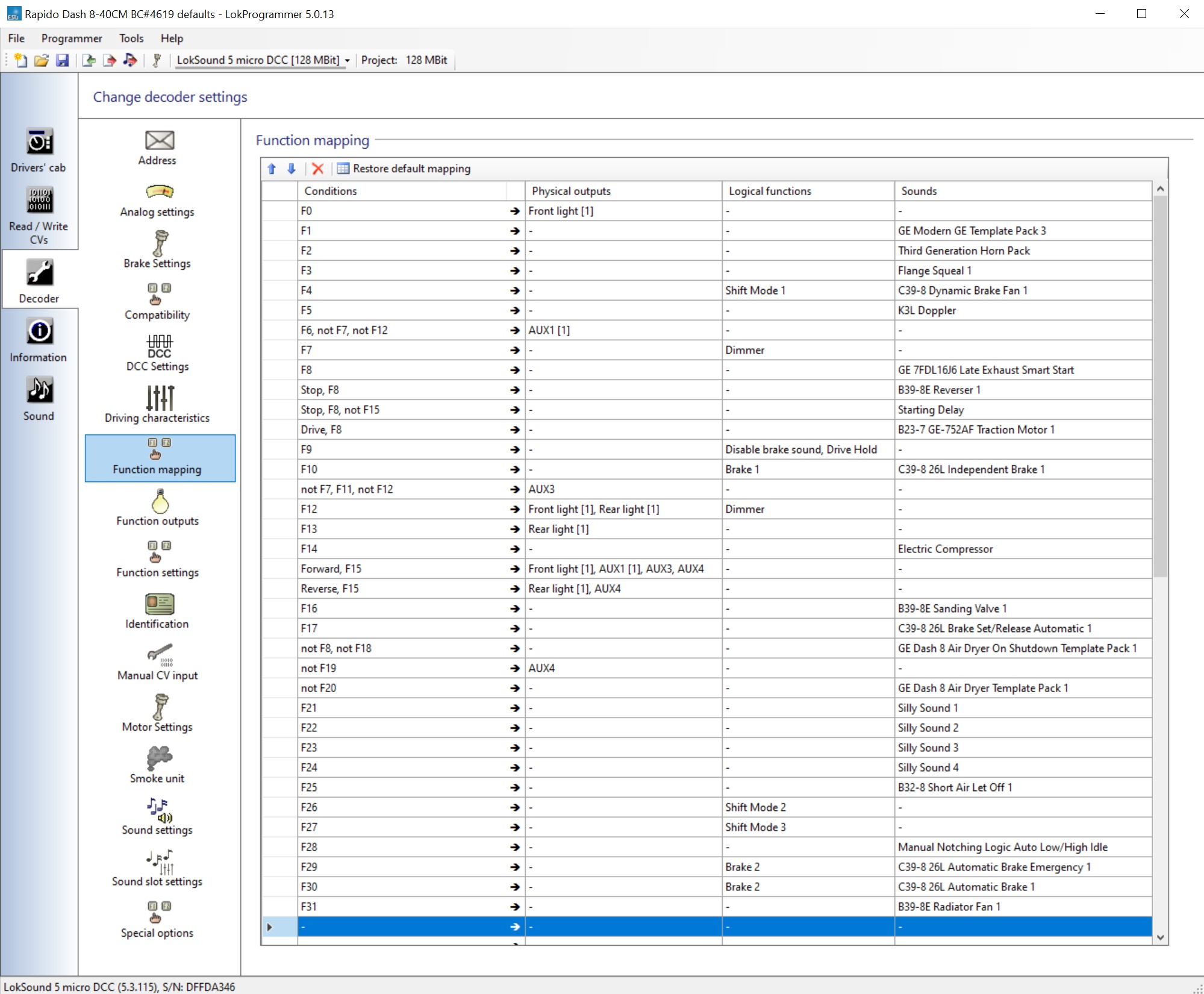 Undocumented Goodies:
- F21 to F24: Silly sounds. You need to listen to them in the video below: the sounds really come from the locomotive!
In case you don't know Rapido Trains, well, just have a look at their website, newsletters and videos, and you'll discover their sense of humor. Looks like there was spare room in the ESU decoder, so they packed these additional sounds into it. Nothing to do with the 'ambient' sounds that Broadway Limited Imports, for instance, provides in their Paragon decoders.
Just listen and let us know if you recognize what they are. Not all of them are North-American ...
Conclusion - a very nice model, though somewhat fragile
This new model confirms Rapido Trains as a serious player in providing quality models for the N scale, after their GDM-1 and Turbo-Train notably. All are Canadian models that are disregarded by other North-American manufacturers, so Rapido Trains runs unrivaled in filling the gap for Canadian modelers. You can be assured to acquire an original model that no one else will offer. Operation if just fantastic, with a breath-taking and flawless slow speed, and a lot of sounds and light effects. The Quality/Price ratio is pretty decent, with a price point around $240 (CAD) - less than $190 (USD) - for the sound version, which is a bit below a ScaleTrains.com similar modern engine from their Rivet Counter range. Well, Rapido Trains finish is not Rivet Counter, but it is above ScaleTrains.com Operator however; as an example, the trucks on ScaleTrains.com Rivet Counter are much more detailed, with additional piping compared to Rapido Trains. I'm not a rivet counter myself, so it does not really matter. What is more annoying is all this small parts that are falling apart, as I'm afraid that some other might disappear when operating the model, which more likely would result in a definite loss, given the very small size. This is the only caveat from my review. Overall, if you like original models and Canadian railroads, don't hesitate, buy one when it is still possible.
Credits
The copyright of this article is held by Alain LM, who grants TroveStar the right to display it.
Except where otherwise mentioned, all images and videos are copyrighted by the author.
Click here to see all Rapido Trains Dash 8-40CM on TroveStar