Bachmann Track Cleaning Boxcar
Published: 2021-02-01 - By: CNW400
Last updated on: 2021-02-01
visibility: Public - Headline
In September 2019, Bachmann Trains introduced the Track Cleaning 50' Plug-Door Box Car into their Rolling Stock Silver Series. This is Bachmann's entry to provide an economical, low-maintenance dry-cleaning system for the model railroader.
Road Names and Pricing
This release includes four different paint schemes. The road names represented in this collection include:
Union Pacific #499191 16366
Western Pacific #56057 16367
Baltimore & Ohio #478554 16368
Conrail #229657 16369
The suggested retail price is $40.00.
Tracking Cleaning Replacement Pads are available (#16999) in a 2-Pack for $17.50.
My review includes observations of the Western Pacific #56057 (Bachmann item number 16367).
Prototype History
During the 1930's, the railroad companies began to replace their aging cars and upgrade their fleet of rolling stock. Steel became more readily available and the preferred material for the construction of these new cars. At the same time, shippers began to look for specialized cars and ways to ship more freight. Longer boxcars (50 foot) were becoming more common and weight capacities were increasing. Furthermore, technology was developed for boxcars to improve ride-quality and reduce the chance of damaged freight. The Bachmann boxcar featured displays the 'DF' (Damage-Free) designation - the boxcar was equipped with internal lading restraints to prevent loads from shifting and minimize damage during transport. The insulated car was equipped with adjustable locking panels to inhibit the movement of merchandise.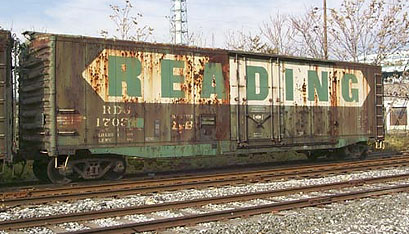 Reading 50 Foot Boxcar
In the 1950's, the plug door was developed along with the introduction of fiberglass and foam for insulated boxcars. The plug door slid on tracks to open and offered a wider and less obstructed opening for loading/unloading. This allowed the use of forklifts and other equipment to work more freely with freight. Once closed, the plug door created a firm seal that maintained the temperature of the load within a few degrees for several days. The ability to offer an assortment of load restraining devices and the capability to keep perishables fresh made these insulated railcars attractive with shippers of fruits & vegetables, beverages, canned goods and paper products. These boxcars earned the Association of American Railroads (AAR) classification code of 'XI' for insulated car.
Pacific Fruit Express (PFE) was at one point the largest operator of these insulated boxcars. The PFE was founded in 1906 by the Union Pacific and Southern Pacific Railroads and included in 1923 the Western Pacific Railroad. In 1967 the Western Pacific ended their partnership with the PFE and joined the Fruit Growers Express (FGE). The Fruit Growers Express built and maintained an expansive fleet of these boxcars at their Alexandria, Virginia and Jacksonville, Florida shops. The FGE was founded in 1920 and had included the partnership of ten different railroad lines during its lifetime. Currently the Fruit Growers Express business is controlled by the CSX Corporation.
The Model
This ready-to-run boxcar comes packaged in a clear plastic jewel case with a slip-off cover and a two-piece plastic cradle to cushion the model. The model information is clearly labeled on the end of the case to make it easier to locate it when in storage. A thick rubber film was wrapped around the car to protect the print job from scuffmarks - nice touch for an expensive purchase. A single replacement coupler was included in a small plastic pouch but I was surprised that no instruction sheet was produced for this product. I would have appreciated a small slip with directions on how to use the car, change pads, etc.
Model and Box
The paint job is crisp and even along the entire injection molded plastic model. The Western Pacific car is painted boxcar red with sleek yellow printing. Lettering is extremely sharp and clear, even when some magnification is needed for the smaller printing. Those small characters are neat and legible. All of the diminutive letters and numbers are fine and readable.
I found it amusing that Micro-Trains Line (MTL) also released the identical prototype model (MTL 032-00-500) and Western Pacific road number (#56057) the same time as the Bachmann Cleaning Car. While both exhibit the proper placement, font and size of printing to that found on prototype images - there is a glaring difference.
I was not able to locate an image of the model's road number, but I was able to view photographs of comparable rolling stock and other boxcars in the Western Pacific 56000-series. The prototype (real-life) "rides like a feather" boxcar displays an orange feather, 'DF' designation on the plug door and Western Pacific road name - all other print is yellow. The MTL model and other similar Western Pacific 50' plug door hobby models of larger scale present this correct color scheme. The Bachmann car has all printing in solid yellow. Although it does not take away from the function of the cleaning car or belittle the fine details - it is an obvious variation for those that prefer to run prototypically accurate rolling stock.
Fine Rivet and Panel Detail - Excellent Print Job
Each side features a Youngstown plug-door, 12-panel side configuration, stirrup steps and molded full ladders. Extra fine detail is exhibited with raised panel lines, crisp rivets and V-shaped locking mechanism.
Dreadnaught End and Hand Brake
Both ends feature a full ladder, mid-level tack board and 5/4 Dreadnaught ends. A mounted high Ajax pressed steel handbrake, brake line piping and platform is located on one end. Again, the lettering is neat and in proper arrangement with the road marker & road number at the top right of each end.
Nice Panel Roof and Running Board Detail
The diagonal panel roof features a separately applied plastic running board, laterals and wire grab irons (a really nice touch!). The underframe offers no detail other than some rib bracing. The scrubbing pad glides along a black plastic housing attached to the underframe with plastic pins. The boxcar rides along Bettendorf trucks and Celcon metal wheels. While they are advised as "blackened" metal wheels, they are much too shiny and silver looking for my taste. Finally the model is equipped with brown body-mounted E-Z Mate Mark ll Magnetic Knuckle couplers. Both couplers were set to proper height.
Underside Offers Little Detail - Scrubbing Pad and Shiny Metal Wheels
The car is 3 3/4 inches in length and weighs about 1.5 ounces, which is a tad heavy according to the National Model Railroad Association (NMRA) recommendations (which are 1.1 - 1.2 ounces for this size car). Bachmann added extra weight for optimum tracking and cleaning performance. It is a nice solid car that performed relatively well on Kato Unitrack - more on this below.
The Test Trials
The first step before using the Bachmann Track Cleaning Boxcar is to remove the small white foam strip that stabilized the spring action bracket during shipment.
Remove Foam Insert Before Using Cleaning Car
The Bachmann Cleaning Car is designed to help with the chore none of us enjoy, but all of us need to (or should) perform on a regular basis - track maintenance (I swear mom - I'll clean my room later!!!). Later - the word that gets us into trouble.
Reusable Cleaning Pads Slide-Out When Needing Replacement
Dirty rails can cause poor electrical connection with your locomotives. This bad electrical flow can cause your train to stall or stop if the power supply in interrupted. Debris on your tracks can also cause derailments and hair and/or dust can clog gears, axles and other moving parts. Finally, we should just take pride in our layout's overall appearance and keep an organized and tidy track.
I ran the Cleaning Car in the middle of a seven-car consist on Kato Unitrack. The car ran well around curves and through turnouts at low and medium speeds - no derailment issues or the pad "snagging" on uneven points on the rails. The spring action bracket appears the help the pad navigate over any changes on the track's surface. I did observe at times that the car wobbled slightly for a second or seemed to 'drag' but I found this minimal and not a major concern.
I have seen other hobbyists recommend to add weight and/or remove the action springs to improve car performance. I honestly did not see the need to modify this car - I would be afraid to over-weight an already heavy car or cause a snag with the removal of the spring action brackets navigating abnormities on the track. Every layout is different and everyone's needs are not the same - my layout is flat without any inclines. A modification to the cleaning car may fulfill your desires.
Experienced No Issues with Pad Maintaining Contact with Rails
Conclusions
I ran the Track Cleaning Car around my U-shaped 10x6x10 Kato layout twice during the initial test. Again, it ran smoothly for me without issue. The pad did show some signs of dirt streaks - I would say this pad is a very good duster or spider web collector but will not remove any hardened grime. Probably something I will do once a week to keep my track dust free.
Note the marks where there are signs of dirt streaks after two time around
The Bachmann Track Cleaning Box Car is a convenient tool that is easy to use that has no liquids to cleanup and reusable pads that switch-out in a jiffy when replacement is necessary. It also is a good-looking, almost true to prototype piece of rolling stock that looks fine running on the rails. The one drawback is the expensive suggested retail price of $40 and $17.50 for pads - but I am certain a discounted price can be found through your favorite hobby shop. If used with its intended propose in mind - a dry-cleaning system that will remove dust and loose participles and not some miracle track cleaner that will remove heavy grime or restore neglected track - this is an excellent maintenance tool for your layout.
To see a list of all cars in this series,
Click Here.