Athearn 50 Foot Hi-Cube Boxcar
Published: 2021-04-22 - By: CNW400
Last updated on: 2021-04-22
visibility: Public - Headline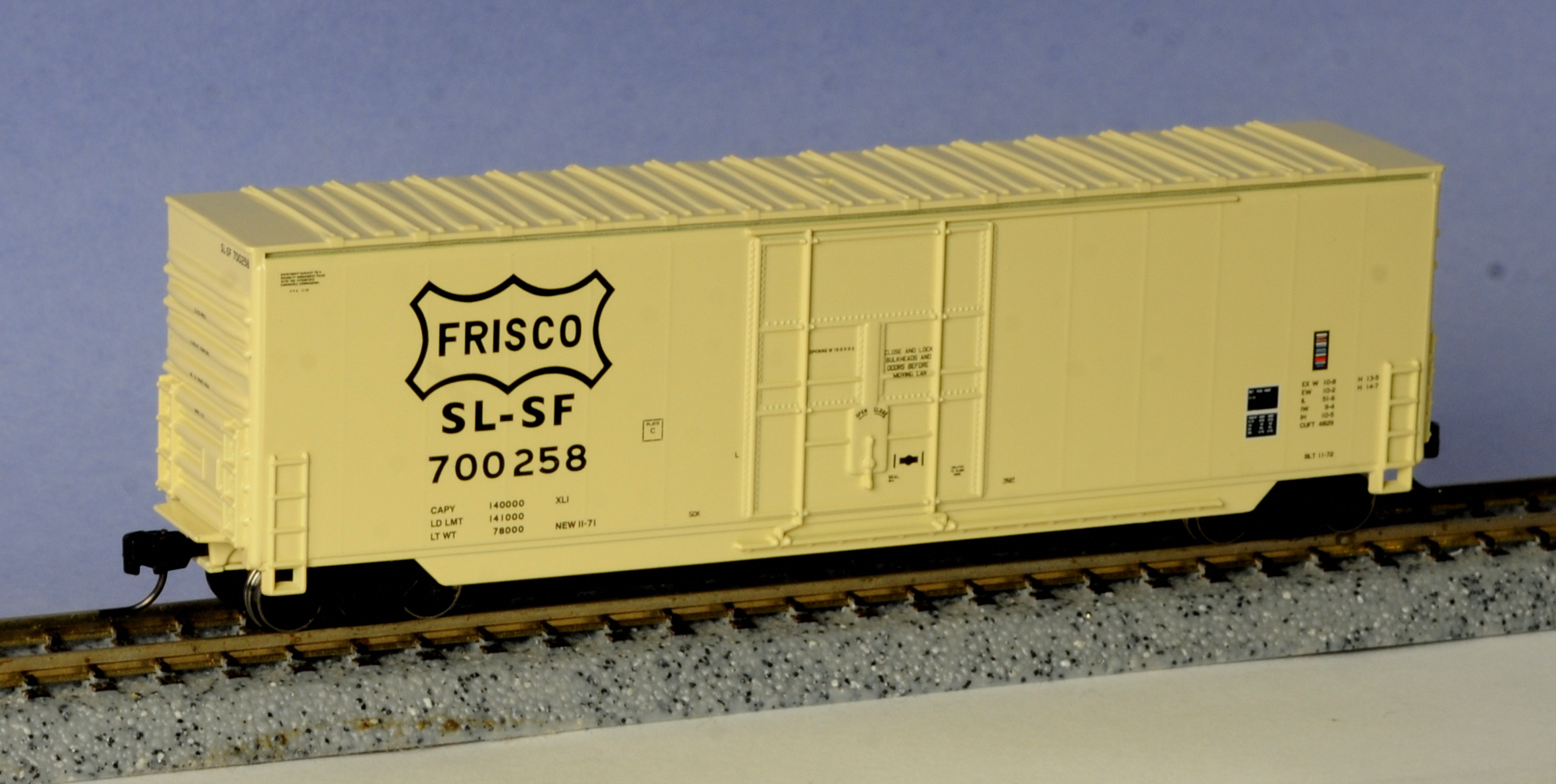 In July 2020, Athearn Trains expanded their 50' Smooth-Side High Cube Plug Door Boxcar collection with the release of seven road names. This recent compilation was announced in July of 2019 and was produced from old MDC/Roundhouse tooling acquired by the Athearn Trains parent company, Horizon Hobby, in 2005. Unfortunately after several stellar new models and home run reviews - the mighty Athearn has struck out.
Road Names and Pricing
The July 2020 release includes seven new paint schemes. The railroads represented in this collection include:
Burlington Northern
Burlington Northern Santa Fe
Cotton Belt
Frisco (St. Louis - San Francisco Railway)
Golden West (VCY)
Iowa Northern Railway (Primed for Grime)
Santa Fe
Primed for Grime models simulate the look of real 'in service' rolling stock with faded colors and applied patches.
The suggested retail price is $24.98 with three different road numbers assigned for each rail line.
My review includes observations of Frisco #700258 (Athearn stock number ATH1420).
Prototype History
Some of the earliest specialized boxcars were designed for the automobile parts industry in the 1960's. The 60' and 86' auto parts cars were introduced to carry light, bulky products that tend to "cube out before weighing out" and could be stacked vertically, such as fenders and body panels. The 86' boxcars had a 70-ton capacity, larger interiors and excess height clearance - because of their extra height they became the first boxcars, starting in 1964, to be delivered without running boards. Running boards were not mandatory on new equipment built after 1966 with a target date of 1974 to have running boards removed from all rolling stock. The deadline was extended to 1983 to allow removal during normal maintenance cycles. The 60' parts boxcars had a cushioned underframe and either a 70- or 100-ton load capacity. The cars hauled the heavier items: engines, transmissions and axles. The auto parts cars were the initial pieces of rail equipment to be coined the term 'high cube'.
Next, the 40' high cube boxcar appeared in the mid-60's with its greater cubic foot capacity to ship commodities and boxes that are again bulky, yet don't weigh a lot. The taller interiors allowed vertically stacking and became popular with the home appliances industry.
Larger and longer high cube boxcars became more common in the early 1970's. The 50' high cube boxcar is similar to a 50' standard car but with an additional two feet of interior height. The high cube car is known as a Plate F railcar. The maximum height of a Plate F car is 17'0". However, the actual height can range from 15'10" to 17'0". The 50' high cube car has a 100-ton load capacity and are typically equipped with double plug doors and cushioned underframes. These cars are primarily used to haul rolls of paper, lumber, plywood, particleboard and other sheet material.
Similarly, 60' high cube boxcars are comparable to 60' standard boxcars with two feet of extra interior height. They are also assigned a Plate F designation, have cushioned underframes and 100-ton capacity. The 60' high cubes are fitted with a variety of door configurations.
The Model
The ready-to-run boxcar comes packaged in a clear plastic jewel case with a pop-off cover and a two-piece plastic cradle to support the model. The model information is clearly labeled on the end of the case for ease to locate when in storage. A thin plastic sleeve was wrapped around the car to protect the print job from scratches. My first impression out of the case was that the quality was reminiscent of something from the 1970's. The plastic car felt thin to the touch and the boxcar had a low, hollow-echo when handled - often experienced with below standard products.
Model with box
MDC/Roundhouse originally released this model in 1979 and again in the mid-1990's. I have learned from a few sources that this particular boxcar, with a November 1971 built date, is a fantasy design - similar to the Pacific Car & Foundry (PC&F) 50' insulated boxcar - yet it is not actually patterned from a true prototype.
Furthermore, I believe this Frisco boxcar has been incorrectly labeled as a high cube railcar. First, the PC&F release with the built dates of November & December 1971 were 50' 70-ton insulated exterior post boxcars with a series road number of 600000. These 1971 cars also have a different paint scheme than the Athearn models with a large Frisco logo right of the plug door (the Athearn model has a small Frisco logo left of the door). Secondly, the real life Frisco 700000 number series that the Athearn model most closely resembles were built in 1977 and identified as PC&F 50' 70-ton XLI insulated plug-door boxcars (XLI - box-insulated loader equipped with attached movable bulkheads with cushioning devices and Youngstown plug doors).
Third, the Athearn model and prototype are both labeled 'Plate C'. Plate markings indicate if a railcar's outside dimensions falls within a standard cross-section. Freight cars are assigned Plates B, C, E, or F - a square with the appropriate letter is stenciled on the side panel. Plate C indicates a car height of 15′ 6″, which is standard for the majority of boxcars, covered hoppers and center-beam flatcars. Anything exceeding Plate C is considered to be oversized and The Code of Federal Regulations specify that rail equipment of excessive height have a white band painted near the roof of each car end stenciled with 'Excess Height Car' just in case the car is wrongly assigned to a low-clearance line. Lastly, the many prototype images of the Frisco boxcar show them the same height as other rolling stock and I found a picture of a prototype Frisco boxcar next to a true high cube - the high cube had the visible white band announcing its height and appeared much taller than the Frisco car.
Although the paint job is clean and even along the entire injection molded plastic model, the finish is much too slick and gives off a plastic toy-like sheen. The Frisco boxcar is painted cream with black letters and numbers. Athearn shines with their crisp, sharp lettering - even when magnification is needed for tiny printing - all characters are neat and legible. The directive to "Close and Lock Bulkheads and Doors Before Moving Car" on the plug door to the boxcar specifications on the Dreadnaught ends are razor sharp.
Sharp and Clean Printing
The boxcar also features the era correct KarTrak ACI tag. The KarTrak ACI tag was a color-coded 13 horizontal bar label that was designed to help identify rolling stock and locomotives with optical scanners located trackside. This assisted with pinpointing the exact location of equipment and shipper's cargo. These six-inch wide labels used series of red, blue, black and white patterns with a vertical gap between each line. Each line provided unique information to identify each engine or railcar. In 1967 the Association of American Railroads (AAR) required all pieces of rail equipment to have the KarTrak tags installed - by 1975 over 90% of all stock were labeled. Athearn does not disappoint with their printing.
I was able to locate prototype images of the 'real-life' Frisco #700258 and other Frisco high cube boxcars from the 700200 series. Frisco #700258 was photographed riding the rails as late as 2007. The boxcar's road number was 'patched' - I assume this was done because the car was heavily sprayed with graffiti and the identification marker was illegible. As noted above, the prototype railcar and the Athearn (MDC) model are similar but have some differences - thus not offering a true representation of PC&F insulated boxcars that were originally built for Frisco in September of 1977.
First, the Athearn boxcar sides feature a 6x6 double sheathed (smooth side) panel body and a 10'0" x 9'5" Youngstown plug door. The prototype has a 7x7 side panel configuration. The horizontal braces on the plug door are lazily molded and flat - not as bulky & pronounced as shown on the prototype and other N scale product. Furthermore the half ladders featured near the ends also lack definition and fail to 'pop' from the boxcar. Lastly, the prototype has a straight side sill while the model has a side sill variation with a diagonal notch on each end to allow access to the trucks.
Lack of Prototypical Correct Detail
Both ends feature two molded half ladders and a tack board. A separately applied low mounted pressed steel handbrake is located on one end - Ajax, Ellon-National or Universal brake wheels were commonly equipped on the prototype. The Athearn model has the correct 4/4 Dreadnaught pattern with plastic crossing platforms on both ends. Again the lettering is neat and in proper arrangement with the road marker & road number at the top right corner of each end and car specifications on the corrugations.
Uninspiring Yet Prototypical Correct and Clean Printed Ends
The top features a rather unimpressive prototypical correct flat diagonal-panel roof. The roof pattern is etched too deeply and a mystery dot is very visible in the center of the panel. It is quite obnoxious and not present on any other rolling stock that I own and not represented on any images of actual diagonal-panel designs. Unless I am ignorant to the function of that dot - I assume it is a tab from the production process.
Roof Detail Molded Too Deeply and Annoying Production Mark
The underside is equally disappointing - a rather unrealistic paint job with a molded brake reservoir, valve, lines and gears that lack any detail and have no dimension (half of the molded pieces cease to exist). Again there are mystery markings - several random circles that appear to be from the manufacturing procedure. The boxcar rides along blackened metal wheels and the model is equipped with screw body-mounted McHenry operating scale knuckle couplers that are attached to the proper heights on each body end.
Poor Molded Underside Detail and More Production Markings
The car is 4 inches in length and weighs about 1.1 ounces, which is perfect according to the National Model Railroad Association (NMRA) recommendations (which are 1.1 - 1.2 ounces for this size car). Athearn Trains added weight to this car for optimal performance - the proper car weight is something Athearn has accomplished consistently the last few years, as I am more conscious of weighing my rolling stock. I found it a good runner while testing the car on Kato Unitrack with no issues around curves and minimal wobbling through turnouts at slow and medium speeds. The minimum recommended radius is 9 3/4".
After several fantastic releases, I was surprisingly disappointed in this Athearn Trains model. Yes - you can expect neat & crisp printing, proper weight and balance and trouble-free running...BUT the use of secondhand tooling that is over 40 years old offers some inherited problems: annoying production marks, lack of dimension and details (underframe and ladders), unrealistic roof panels and from my investigation - a fantasy piece that is mislabeled as a high cube. If you're looking for a quality, prototypical Frisco high cube boxcar - this may not be the choice for you.
Tomorrow is another day - Athearn Trains will again get their chance at-bat to bring joy to Mudville.
To see a list of all cars in this series,
Click Here.