Bachmann 40-Foot Gondola
Published: 2021-05-09 - By: CNW400
Last updated on: 2021-05-09
visibility: Public - Headline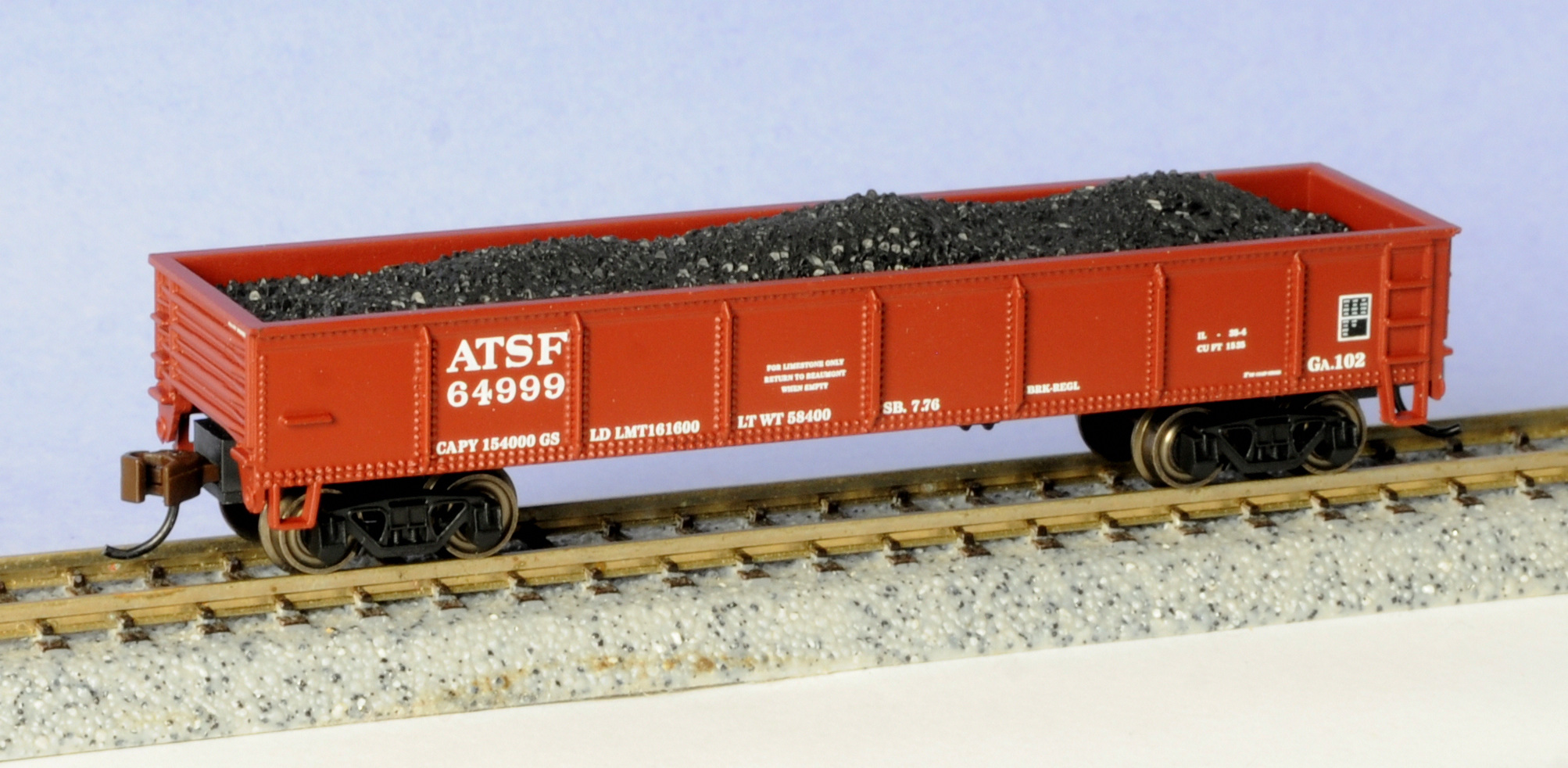 In July 2020, Bachmann Trains expanded their 40' Gondola collection with the release of four road names. The Silver Series offers greater attention to detail and frequently includes separately attached parts and metal wheels. These gondolas, first introduced by Bachmann in 1972, feature updated tooling for this current selection of cars.
Road Names and Pricing
This Bachmann Silver Series includes four different paint schemes. The road names represented in this collection include:
• 17251 - Santa Fe (ATSF - #64999)
• 17252 - Burlington Northern (BN - #500043)
• 17253 - Pennsylvania (PRR - #390252)
• 17254 - Rio Grande (D&RGW - #50435)
The suggested retail price is $30.00.
My review includes observations of Santa Fe #64999 (Bachmann stock number 17251).
Prototype History
I heard a gondola described as a boxcar cut into half horizontally... a simple explanation for a sturdy, open-topped railcar with low sidewalls used to haul bulk materials. The gondola is a multipurpose piece of rolling stock the carries loose materials (such as coal, limestone, aggregates, scrap metal, sand, copper and iron ore) or items too large to fit into a boxcar or hopper (steel beams, pipe, coils, lumber, machinery and logs). The gondola is primarily constructed with steel yet the railcar saw action as a composite piece of equipment with steel truss framing and wood interior sides & floors during the metal shortage of both World Wars. These 'War Emergency Cars' were mostly 41 foot, 50-ton fixed-end with solid bottom or 52 foot, 70-ton drop-bottom gondolas. The railroads rebuilt a great number of these composite cars with steel sides after World War II when raw materials became more abundant.
The life of a gondola isn't a pretty one - a strong piece of rail equipment that is used-n-abused and rewarded with dented & deformed sidewalls.
There are two general categories for gondolas - mill or general service.
First, as the name implies, mill gondolas saw extensive action in the steel mills hauling scrap metal or finished products such as beams or sheet metal. Mill gondolas were typically 40 to 65 feet long with 50 to 70-ton capacity. Furthermore to save on weight restrictions, generally the longer the gondola was constructed the lower the sidewalls were built.
Mill Gondolas Along Monongahela River, Allegheny County, PA
Library of Congress Prints & Photographs Division - Public Domain
John McWilliams Collection
Mill gondolas had drop-ends that collapsed inward towards the car floor to allow loads (beams, pipes, etc.) longer than the car itself. An idler flatcar; a flatcar used to provide additional space for loads overhanging the gondola; was arranged on both ends of the gondola when carrying such oversized loads. Thus these drop-end cars had their brake wheel mounted on the side end parallel to the car or used a brake lever affixed near the end panel.
The gondola floors were either solid steel construction or wooden planks. Special restraints or racks were designed to support a specific type of load like coiled steel or automobile parts. Stake pockets and tie-down points were also common to support shiftable loads.
A common spotting feature for a 40' mill gondola is straight bottom sills while the larger 50'-plus cars have tapered sills between the trucks to provide structural support.
Gondolas sides were riveted until the late 1950's when welded construction became the norm for railcars and the 52'-6", 14 side post gondola became the prevailing mill car.
General Service gondolas commonly had drop-bottom doors along each side of the center sill along the car floor to unload lading either outside or between the rails. A 12 or 16-door configuration were the most common variants of drop-bottom cars. These gondolas had a car length door-operating rod mounted on each side just below the bottom sill. A hand lever on the end of the car controlled a series of links and chains to manually open and close the drop-bottom doors.
The most typical general service car (thus chosen by Bachmann) was 41 feet in length with 4 to 5 foot tall sidewalls and 7 vertical support posts. These gondolas were also designed with smooth-side versions since side-panel strength wasn't as critical for general-purpose use.
The Model
The ready-to-run gondola comes packaged in a clear plastic jewel case with a slip-off cover and a two-piece plastic cradle to cushion the model. The case is much too large of this relatively small railcar. The model information is clearly labeled on the end of the case for ease to locate when in storage. A single replacement coupler was included in a small plastic pouch. Upon first impression, the gondola felt very underweight in my hands and the car was equipped with an unrealistic removable coal load.
Model with Oversized Storage Case
The ATSF 40 foot drop-bottom gondola, Class Ga-102, was produced by Santa Fe in 1957 at their private shops in Topeka, Kansas. A total of 175 gondola cars were manufactured that year with the assigned road numbers of 64825 thru 64999.
The prototype red oxide car had a nominal capacity of 154,000 pounds and a load limit of 161,000 pounds. The gondola was 40'-1" in length and 9'-7" wide sill to sill with an inside wall height of 4'-0". Other features included fixed ends with a dreadnaught four-rib pattern and Ajax 14500 hand brake and 16 steel drop doors. The Santa Fe prototypes were built with corrugated seven post side panels that were much stronger and more resistant to dents and damage than riveted smooth-side panels. Bachmann Trains has fallen into the trap of 'one design fits-all' and has issued all railroad lines with the same smooth-side model - no matter if it's prototypical or not.
That's fine if you crave a 40-foot Santa Fe gondola in any configuration - but not appropriate if you wish to model your layout with historical and prototypical accurate rolling stock. Bachmann gloats that their gondolas "come in a variety of colors and road names" but not true representations of real life equipment.
The paint job is crisp and even along the entire injection molded plastic model. All lettering is sharp and clear. The model does exhibit the proper placement, font and size of print that is found on prototype images. I did chuckle to myself when I read the message "For Limestone Only - Return to Beaumont When Empty" and the model is fashioned with a plastic coal load.
Sharp, Crisp Printing - Incorrect Prototypical Construction
Each side features the correct 7-support post configuration but exhibits incorrect construction. The prototype car is equipped with corrugated side panels and a single row of rivets. The Bachmann model features the Santa Fe gondola with incorrect smooth-side panels and a double row of rivets (although wrong - the rivets are finely tooled and a nice detail). The Bachmann model is also missing the car-length operating bar that is positioned right above the trucks to open and close the drop-bottom doors. Furthermore, positioned correctly, the molded side ladder and end stirrups are much too chucky.
Proper 7-Post Structure
Missing Corrugated Panel and Unloading System
Both ends feature the correct four-rib dreadnaught pattern and neat, properly aligned road marker & road number located at the top right corner of both fixed panels. The 'B' end has a separately attached Ajax brake wheel (which is the wrong color according to images - should be red oxide not black) and again, a poorly molded ladder and platform...much too thick for a premium series product.
Clunky End Detail Features
The gondola bed offers its own set of issues. First, for the prototype modeler, the Bachmann car features a solid, riveted floor and does not include the drop-bottom doors found on this series of railcars. Secondly, the obnoxious production flaw in the center of the floor is an eyesore. Third, if the above are not important because you plan on using loads, the rather unimpressive coal load that most model train brands supply should be upgraded in my opinion - a homemade load made from real material will do the trick. I wish model companies would stop trying to pass-off these cheap, shiny plastic parts and take a few bucks off of the price. I have a box of these parts that I will never use.
Lack of Prototypical Design
Unsightly Imperfection
The underframe is impressive with an elaborate pipe arrangement with highly detailed features such as the brake cylinder, braking system components, stringers and cross bearers. The boxcar rides along blackened machined metal wheels. While I do appreciate the inclusion of metal wheels, they are much too shiny and silver looking for my taste. Finally, the model is equipped with brown body-mounted EZ-Mate magnetically operated couplers

Detailed Underframe Parts
Metal Wheels and Body-Mounted Couplers
The car measures 3 1/4 inches in length and weighs about 0.5 ounces (with removable plastic coal load), which is extremely light according to the National Model Railroad Association (NMRA) recommendations (which are 1.0 - 1.1 ounces for this size car). Extra weight could be hidden under the removable coal load or a heavier load could be added to the gondola to achieve optimum performance. I found it a decent runner while testing the car on Kato Unitrack with just a slight wobble around curves and through turnouts at slow and medium speeds.
Conclusions
Again, the Bachmann 40 foot gondola series show some discrepancies between the model and true prototypical rolling stock. If you're looking for a model that embodies the real Santa Fe 1957 Ga-102 gondola - take a pass. Bachmann used a basic design and slapped the ATSF road name on the side. But if you're a Santa Fe railfan that "needs" anything marked ATSF - this is a decent enough car that runs good but I think the price tag is a little steep...shop around to fill-up your rail yard. Bachmann did not perfect this "Santa Fe All The Way".
To see a list of all cars in this series,
Click Here.