CMW International Harvester R-190 Truck
Published: 2021-05-25 - By: CNW400
Last updated on: 2021-05-25
visibility: Public - Headline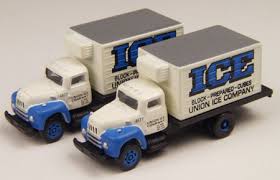 Classic Metal Plastic Works International Harvester R-190 Series Tank Truck
In September 2019, Classic Metal Works introduced a new item into their N Scale vehicle product line - Combination Packs. Round 2 LLC presented this line of merchandise, which professed to" feature exacting detail "..." to please the most discerning collector". Classic Metal Works/CMW Holdings Ltd. entered into a 5-year licensing agreement with Round 2 LLC back in April of 2017. After the term expires, CMW Holdings Ltd may agree to extend the lease agreement or sell the Classic Metal Works brand and its assets to Round 2 LLC (Source: Trains.com - May 5, 2017).
Names and Pricing
This release includes three unique paint schemes. The companies represented in this collection include:
60000 Conoco (Continental Oil and Transportation Company)
60001 Union 76 (Union Oil Company of California)
60002 Standard Oil
Each package includes two 1954 International Harvester R-Series Fuel Trucks, gas pumps and signage.
The suggested retail price is $28.99.
My review includes observations of Standard Oil (Classic Metal Works No. 60002).
Prototype History
The International Harvester Company (IH) was created in 1902 with the merger of five companies including the McCormick Harvesting Machine Company and the Deering Harvester Company. International Harvester was headquartered in Chicago and was a manufacture of agricultural equipment, tractors, automobiles, commercial trucks and lawn & home products.
IH Logo
After years of financial difficulties - International Harvester began to sell-off divisions of its company in 1982 and finally reorganized itself exclusively a truck and engine manufacture, named Navistar International, in 1986. Presently, Volkswagen's truck division, Traton SE, has agreed to purchase the remaining shares of Navistar for $3.7 billion. Traton SE already owns a 16.7% stake of Navistar. The deal is expected to close by the middle of 2021.
The International Harvester R-Series truck was introduced in 1953 as the replacement for their L-Series model line of road vehicles. The R-Series introduced four-wheel drive vehicles and the expanded use of diesel engines. The light and medium duty trucks were replaced with the S-Series models in 1955 but the heavy-duty R-Series vehicles continued to be produced until 1972 when the Paystar Line replaced them.
The changes were slight between the L- and R- Series of vehicles. The L-Series ornate grille on the light and medium models were modified with a rectangular-shaped grille opening with a tapered bar running across the middle. The heavy-duty models had four vertical bars removed from their upper grille. The International Harvester 'IH - man on a tractor' logo was attached on the center of the grille. Furthermore, more cab-over-engine models were made available and the R-Series grew to offer 168 basic chassis models in 296 wheelbases.
International Harvester produced twenty-nine different engines for their vehicles, including the newly offered Cummins and Buda diesel engines available in the RD-190 and RD-200 Series. The "D" denoted models with diesel engines and an "F" denoted tandem rear axles; an "H" was used for heavy-duty models. Diesel-powered models grew in sales as the market for these units doubled in 1954.
The light-duty R-Series included model lines R-110 thru R-130 that encompassed pickup trucks & panel trucks and the Schoolmaster bus chassis, Metro delivery van and Travellall station wagon. The medium-duty R-Series was comprised of production models R-140 thru R-180 and offered the first factory-option four-wheel trucks in 1953.
The heavy-duty R-Series were designed for substantial operations such as fire engines, commercial semi-tractors, fuel tankers, construction, logging and towing. The R-190 is the truck that made International Harvester famous during the 1950's. The popular 'rounded' cab with a one-piece curved windshield remained in service until 1972.
Product Specifications
International Harvester manufactured vehicles at five plants during the 1950's: Bridgeport, Connecticut - Emeryville, California - Fort Wayne, Indiana - Springfield, Ohio - and Chatham, Ontario, Canada.
Their biggest seller during this era was the R-110 light pickup truck.
The Model
The ready-to-run fuel truck collection is sandwiched between a two-piece clear plastic cradle that is mounted to cardboard. The model information is clearly labeled and this particular selection is a Limited Edition of 600.
Product Packaging
Classic Metal Works (CMW) specializes both in HO Scale and N Scale automobiles and trucks of the transition era to the mid-1970's. CMW used to be a symbol of quality in the modeling industry - much has changed the last few years.
The paint job along the fuel truck is very sloppy and uneven along the entire model. Several areas exhibited overspray and splotchy paint. The lettering is equally messy with smudges and crooked placement. The quality of the gas pumps is also substandard (pun intended). Clumsy overspray, cockeyed nameplate and decals adhered at every angle but straight. Take careful notice of the careless presentation at the base of the gas pumps.
Uneven paint job and smudges
Windows not attached to cab
Splotchy Lettering and Paint
Messy overspray, crooked decals and sloppy production
The quality offered in these fuel tank releases harkens back to the budget-line models of the 1970's - plastic pieces that are cheaply made and poorly decorated.
Less egregious yet crooked signage
"This Classic Metal Works Mini Metals... is perfect for adding realism... each licensed vehicle features a die cast metal chassis... realistic graphics, chrome-finish details... window glazing and interior seats" boasts the packaging --- well that was true in the past. You'll be hard-pressed to find any metal in this 'die cast' vehicle. The cab, fuel tank, wheels and underframe are molded plastic. You will find a thin sheet of foil adorning the side and back sills of the tanker. Furthermore, the windows in both trucks were not attached to the interior and were visibly loose inside the cab.
Sloppy paint job and loose window details


The Mini Metals line of vehicles used to be my 'go to' brand for realistic, high-quality automobiles and trucks. METAL bodies with CLEAN paint jobs and SHARP printing. These recent production values have hit the bottom of the barrel in my opinion (I also had some quality issues with CMW garbage trucks released in 2020). The Classic Metal Works 1954 Ford F-700 SOHIO fuel truck (CMW 50299) released in 2007 is a perfect example of what purchasing a Mini Metal product meant in the past. A highly detailed body, with an excellent paint job. The SOHIO F-700 and the Standard R-190 have very similar body designs and paint schemes - but the quality is miles apart.
Classic Metal Works 50299 - F-700 Fuel Truck (Image Courtesy of CMW)
Additionally, Classic Metal Works model 50204 (White 3000 Fuel Truck) produced in the early 2000's featured a true die cast metal body, crisp paint job and fine details. The older fuel truck also weighed twice as much as the modern model.
Classic Metal Works 50204 - White 3000 Fuel Truck
New Plastic Model Weight vs. Original Die-Cast Metal Model
Not all is lost - the CMW model does have the correct R-Series front three-horizontal bar grille and front bumper configuration. An emergency fire hydrant is featured near the end panel on the driver's side. The underside exhibits fair detail and the tanks located under each cab door are nicely structured and in the correct location according to prototype images. I was not able to find an International Harvester Standard fuel truck from that era to compare color choices or placement of lettering. Not to say this vehicle did not exist but I could not confirm if this model is a true prototype or a fantasy piece.
Underframe
Conclusions
The verdict - utter disappointment from a brand I use to adore and had strong product loyalty. Whenever I wanted a vehicle for my transition era layout - my first choice was always Classic Metal Works. I have not been impressed with my last two purchases of CMW vehicles. I truly had a "what is this" (in a bad way) moment when I opened the contents of this Combination Pack. Going cheap and cutting corners make the perfect recipe of alienating your customer base. I hope this is not the new 'standard' of products we will be expecting from Round 2 LLC in the future.