Atlas ACF 5800 Covered Hopper
Published: 2021-06-04 - By: CNW400
Last updated on: 2021-06-04
visibility: Public - Headline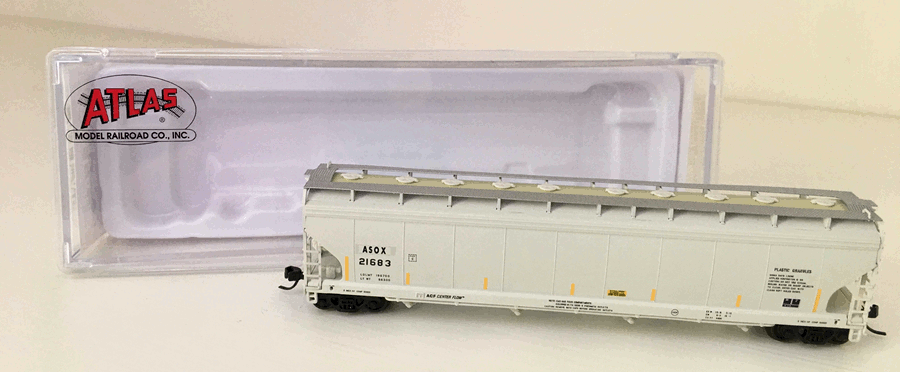 In November 2019, Atlas Model Railroad introduced nine road names into their American Car and Foundry Company 5800cf Center Flow Plastics Hopper family. Atlas first produced this series of rolling stock cars as a new model back in March of 2008.
Road Names and Pricing
The most recent collection is comprised of nine different paint schemes. The road names represented in this collection include:
Americas Styrenics (ASOX)
BASF (DBCX)
BP Amoco (AMCX)
Eastman Tennessee (ETCX)
Himont USA (HPIX)
Oxyvinyls (OCPX)
PolyOne (TGCX)
Shintech (ROIX)
Wells Fargo Rail (WFRX)
Undecorated
Two different road numbers for each rail line are available for individual purchase at $29.95. An undecorated version is also offered for $22.95.
A special Holiday ACF 5800 Plastics Hopper was issued in October 2020 with a suggested retail price of $34.95 (Christmas Graffiti).
My review includes observations of Americas Styrenics ASOX #21683 (Atlas stock number 50 005 394). Americas Styrenics LLC produces and sells polystyrene and styrene monomer products and is headquartered in The Woodlands, Texas.
Prototype History
They are known as one of the largest covered hoppers on the railroad - plastic pellets hoppers that haul the low-density, lightweight materials used for injection-molding products. The need for these specialized cars grew throughout the 1960's as the use of plastics increased during that decade.
Plastic pellet covered hoppers are typically four-bay cars equipped with tightly-fitted 20" round roof hatches for loading and pneumatic (to operate by air or gas under-pressure) outlets to discharge directly into a storage tank or truck. Plastic pellet hoppers do not use the standard bottom-dump gravity outlets utilized by the grain and fertilizer industries.
The interior of the bays are usually sloped downward and lined to help the product move more freely during the unloading process. The pneumatic outlets have pipes mounted across each outlet - a hose is attached to the outlet pipe for discharge. Air pressure is applied to force the lading out. The plastic pellets are not exposed to the elements but go directly into awaiting storage tanks. Besides the plastics industry, the pneumatic system is commonly used on other easily contaminated, light-density lading such as flour, sugar, seeds and pelletized chemicals. Click for close-up photo of pneumatic outlet and plastic pellets.
Two easy spotting features to identify plastic pellet covered hoppers are a majority of plastic pellet and resin cars have round hatches on top with have pneumatic outlets on the bottom to unload. The round top hatches form a tight seal that keeps moisture from penetrating the bay and damaging the load. Additionally, other smaller covered hoppers, such as sand or cement cars, also use round hatches to keep water from ruining the load or adding unnecessary weight by making the load wet.
Contrastingly - grain, soda ash, potash and fertilizer cars tend to use trough hatches with sliding gate outlets to unload.
Some examples of commodities hauled by covered hoppers along the rails. Ideally the maximum weight limit of a hopper will be reached when fully loaded - thus the density of the product determines the size of railcar needed. Explains why the plastic pellets hoppers are so large and sand & cement hoppers are small. (Source: Model Railroader Publishing)
Some other covered hopper spotting features include length, capacity and body-type (cylindrical, teardrop with smooth round sides or flat-side with vertical posts).
The American Car and Foundry Company was among the first railcar manufactures to produce the specialized plastic pellet cars. ACF is an American manufacturer of railroad rolling stock that was founded 1899. It is currently known as ACF Industries LLC with its headquarters located in St. Charles, Missouri.
Produced at their Huntington, West Virginia plant, ACF introduced a 4-bay 58-foot long, 5250 cubic foot Center Flow covered hopper in 1964. The newly designed 5250cf 'Center Flow' had curved sides for added strength and extended ends outward over the end platforms, nicknamed teardrops, to increase load capacity. Each bay was fashioned with a single centered outlet - thus the name Center Flow.
ACF developed the 65-foot long 5701cf in 1968 for bulk plastic transport and the specialized 5748cf for grain. The 5800 cubic foot covered hopper evolved from the 5701cf for transporting bulk plastic pellets. The 5800cf car can still be seen in service today. The 62 -foot long, 6200cf was released by ACF in 1990.
By 1992, ACF had built more than 100,000 Center Flow cars. American Railcar Industries (ARI) - an ACF subsidiary that began building Center Flow hoppers in 1994 - currently produces a 6224 cubic foot Center Flow covered hopper for plastic pellets and 3256 cubic foot Center Flow covered hopper for cement and other high-density products.
The Model
The ready-to-run boxcar comes packaged in a clear plastic jewel case with a slip-off cover and a one-piece plastic cradle to cushion the model. A thin plastic film was wrapped around the car to protect the paint job from scuffmarks. The model information was labeled on the end of the case but is a little too small for those of us without perfect eyesight - there was plenty of blank space available for larger print. Lastly, a limited warranty card was enclosed offering coverage for production defects up to one-year after purchase.
Unboxing of Model with Warranty Information
The paint job is crisp and clean along the entire injection molded plastic model. The Americas Styrenics hopper is painted light grey with black lettering and yellow Conspicuity stripes. The yellow Conspicuity stripes are situated on rolling stock to reflect the headlights of a vehicle. All railroads have adopted the practice of applying reflective stripes to their equipment. The ARR mandated that all in service rail cars have reflective markings by January 1,2014. Lettering is extremely neat and legible - even when magnification is needed for the smaller printing. All of the printed details are readable - all data, labels and instructions are clear and easy to read. I was particularly impressed with the inclusion of the emergency contact phone number label and the clarity of the information printed on the far right panel - considering the amount of words to fit on a tiny space:
PLASTIC GRANULES
SIGMA 5476 LINING
APPLIED HUNTINGTON 8-95
CAUTION: DO NOT USE STEAM,
BOILING WATER OR SHARP OBJECTS
TO CLEAN. ENTER CAR WITH
CLEAN SOFT SOLED SHOES
The color, placement and size of printing is very similar to that found on prototype image - Americas Styrenics ASOX 21648 (RRPictureArchives.net). Several prototype photographers were found of ASOX covered hoppers built in August of 1995 and the only lettering distinction between the model and the real-life cars is the yellow emergency contact label is adhered in all different locations on the side of the prototype hoppers... far left, centered, far right, straight and crooked. There seems to be little directive on the placement of the label as long as it is applied to the side and visible.
Crisp Printing - Pneumatic Outlet Detail
Each side of the model features the proper 9 full-panel side configurations, seven Conspicuity stripes pattern and Plate C designation. Plate C indicates a maximum car height of 15′ 6″, which is standard for the majority of boxcars, covered hoppers and center-beam flatcars.
Furthermore, the Atlas model exhibits the proper spotting features for ACF 5800 Center Flow hoppers from the era represented: First, the side sills of the ACF hopper travel straight through the end platforms in a line. Modern Center Flow hoppers built by the ACF subsidiary, American Railcar Industries (ARI), have a distinctive side sill that 'steps-down' at the end platforms. Secondly, the Atlas car has the ACF 'teardrop' design with rounded corners and end cutouts that start out vertical then follow a swooping, shallow angle to the bottom sill. Finally, end ladders and stirrups are properly arranged and proportionate on both sides of the car.
End Platform and Welded Side Panel Detail
Brake end details include separately applied brake wheel, brake cylinder, air reservoir and molded brake lines. Both car ends feature a plastic molded end platform, crossover board, end bracing and piping details with prototype correct full and half ladder. Again the lettering is neat and in proper arrangement with the road marker & road number located in the upper right corner.
Brake End Detail Parts and Model Top with Metal Roof Walk
Round Hatches and Grab Irons
The top of the covered hopper features ten 20" round loading hatches, finely detailed etched metal roof walk and two separately applied grab irons. The Atlas model correctly exhibits the ACF plastic pellets hopper roof wrapping around the sides of the car. The underside features four pneumatic outlets and discharge piping. The covered hopper rides along 100-ton roller bearing trucks and plastic wheels (disappointed with the wheel selection). Finally, the model is equipped with truck-mounted AccuMate couplers.
Model Underside with Pneumatic Outlets
Discharge Pipes and Plastic Wheel Sets
The car is 4 1/2 inches in length and weighs about 1.1 ounces, which is just a tad light according to the National Model Railroad Association (NMRA) recommendations (which is 1.2 ounces for this size car). I found it an excellent runner while testing the car on Kato Unitrack with no operating issues around curves or through turnouts at slow and medium speeds - surprisingly the car did not wobble during my test runs. The car is very well balanced and has that solid "feels right" sensation in your hand.
Summary
This is another fabulous release by Atlas - one of my favorites thus far for 2021. A quality-made model that is true to the prototype. The incorporation of accurate details, metal etched parts and the fantastic print job makes this model first rate. It's also an excellent runner that needed no adjustments to perform smoothly. My only disappointment was the use of plastic wheels for at $30 model. The Atlas Model Railroad ACF 5800 Center Flow Plastic Pellets Hopper will be an excellent addition to your modern era layout.
To see a list of all cars in this series,
Click Here.