InterMountain Railway 4750 Cubic Foot Rib-Sided 3-Bay Hopper
Published: 2021-09-15 - By: CNW400
Last updated on: 2021-09-17
visibility: Public - Headline

The InterMountain Railway Company is no stranger to the railroad modeling community – with a vast collection of HO and N scale merchandise and a multitude of product added annually. This review is focused on the Evergreen Hatchery Covered Hopper – part of the extensive compilation of 4750 cubic foot hoppers offered by InterMountain.
The freight cars available in the Evergreen Hatchery livery include:
653109-01 USLX #5900
653109-02 USLX #5901
653109-03 USLX #5902
653109-04 USLX #5903
653109-05 USLX #5904
653109-06 USLX #5906
These hoppers have a suggested retail price of $29.95 for a single car. My review includes observations of InterMountain Railway stock number: 653109-01 – Evergreen Hatchery (USLX) #5900.
PROTOTYPE HISTORY
The story of the Evergreen Hatchery 4750 cubic foot 3-bay hopper began on March 15, 1973. According to a lease agreement obtained from the Surface Transportation Board archive files (www.stb.gov) - Evergreen Hatchery, Inc. of Dysart, Iowa entered into an agreement with United States Railway Leasing Company (USLX) of Des Plaines, Illinois for the use of "Five (5) New 100-ton 4750 cu. Ft. Covered Hopper Cars". The reporting marks for these cars were USLX 5900 – 5904. Specifications designated by the lessee were recorded as:
Each car to be painted conventional freight car gray color.
Apply company name 'Evergreen Hatchery, Inc.' to each car side.
Apply following return stencil to each car side:
"When Empty Return to Evergreen Hatchery, Inc., Dysart, Iowa Via Reverse Route."
The cars were to be delivered to Washington, Indiana by June 15, 1973, with a lease duration of 7 1/2 years for the use of grain products. The Evergreen Hatchery was a local supplier of chicks, pullets (hens) and poultry feed & supplies. The company also owned and operated a local grain elevator.
The InterMountain freight car has been incorrectly identified by several sources and retailers (including InterMountain!!!) as a fish hatchery from the Pacific Northwest.
Evidence of this fact includes: 1. The lease agreement for grain product. 2. A quick Google and eBay search for Evergreen Hatchery advertising 3. Sioux City Journal newspaper article describing the May 31, 1958, tornado in Dysart, Iowa and the damage to the Evergreen Hatchery warehouse and incubators.
Furthermore, the lease rate was $225 per car per month...broken-down as a "constant factor" of $185 per car and $40 maintenance fee based on the per hour AAR general labor rate of $12.27. At the end of the rental agreement, all cars were to be returned with only 'normal' wear-n-tear to an USLX managed yard in Washington, Indiana or Blue Island, Illinois.
The tale for two of these hoppers became richer when they were part of the famous Province of Manitoba covered hoppers of 1980. In 1979, over 50% of Manitoba's grain inventories were undelivered because of a shortage of hopper cars. The Province of Manitoba set aside $2 million CDN for a one-year trial of reducing inventories for the following year. With the hopes of moving over 38 million bushels of grain, Manitoba leased 400 covered hoppers with a wide variety of reporting marks and paint schemes from North American Car, Pullman Leasing and United States Railcar. All leased cars were adorned with the Manitoba provincial buffalo crest placard mounted on each side of the railcar. Evergreen Hatchery hoppers USLX 5900 & 5904 were assigned to this grain hauling service.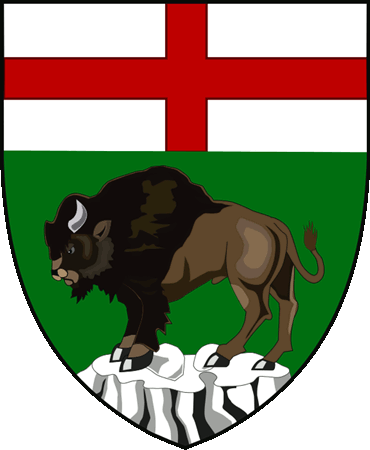 Province of Manitoba Arms Crest – Similar image mounted to boxcars (Source: Wikimedia Commons)
The experiment proved to be successful as the grain inventories were reduced to almost zero and helped to justify the creation of the Manitoba-Canadian government co-operative fleet of grain boxcars beginning in 1985. Pullman-Standard began to produce covered hoppers in the mid-1930's. Most of these cars were two-bay, 50 or 70-ton hoppers designed to transport cement and carbon black as well as lime, sand and phosphate. The covered hopper simplified the hauling process by allowing the product to fill the freight car through roof hatches (30" or 36" square shaped at first) and discharge out the hopper gates.
Pullman-Standard further revolutionized the covered hopper design with the introduction of the PS-2 line in 1952. The Pullman-Standard cars were all-welded with round roof hatches (30") and center running boards. The first PS-2 was a two bay 70-ton/2,003 cubic-foot covered hopper. Pullman-Standard introduced the larger 42-foot long, 70-ton, 2,893 cubic-foot car in 1953 and a 3,219 cubic-foot car in 1958. These cars were used to carry such items as salt, sugar, meal, barley, and fertilizer. With the debut of a 4,000 cubic-foot covered hopper in 1962, Pullman-Standard began their dominance of the wheat transport industry. These hoppers introduced the center discharge system and trough-style top hatches - both features became the norm for loading and unloading grain hoppers. These cars also had an increased load capacity of 100-tons. These advances lead to the demise of the 40-foot boxcar hauling grain along the rails.
The center discharge system (CD) allowed the hopper to discharge grain from bottom outlet gates. These gravity-controlled outlets had a plate covering their opening - once the plate was slid open with a crank - the load flowed out of the gates. Furthermore in 1962, the newly designed grain roof hatch had a centered trough-style opening with running boards along both sides of the car. This allowed for speedy and continuous grain loading along the hopper's single car-length hatch opening. Since grains did not require a tight seal, four narrow hatch covers were used to seal off the grain product. Other commodities that needed protection from the elements such as flour, sugar, chemicals, and plastic pellets still used covered hoppers with round loading hatches, as these hatches offered a more weatherproof seal.
In 1972, Pullman-Standard introduced its most popular covered hopper with the 4750 cubic-foot PS-2CD. These cars have a trademark 18 evenly spaced side post pattern and rounded roof with elevated center troughs. Notches began to appear at the bottom on the posts starting in 1973. These cars remained into production until 1982 with over 56,000 hoppers built (for the major railroads and private operators) and thousands are still seen in grain transporting service today.
Pullman-Standard was not the only builder of the beloved 4750 cubic-foot covered hopper. Some of the more prominent builders of this railcar included: Thrall Car Manufacturing introducing their hopper in the mid-1970's initially with a 6-4-6 side post pattern and flat roof section. Thrall later changed to a 16 evenly post pattern that resembled the Pullman-Standard appearance. Ingalls Shipbuilding produced 4,000 of this hopper scheme with 18 evenly spaced posts and a distinctive overhanging eave along the entire length of the car with shallow sides. Richmond Tank Car's version was quite like the Ingalls design but with 18 or 19 uneven side posts. Finally, Magor Car Corporation produced over 3,000 aluminum 4750 covered hopper cars with a 5-4-5 side pattern.
Private owner cars have a reporting mark that ends with 'X'. A United States Railway Leasing Company car would have the reporting marks of USLX. According to Pullman production records – two hundred 4750 cubic foot hoppers were manufactured for USLX.
The unidentified InterMountain Railway 4750 cubic foot 3-bay hopper is most similar to the Pullman-Standard design with the 18-post notched bottom pattern with a roofline resembling the Thrall version.
THE MODEL
The ready-to-run covered hopper comes packaged in a clear plastic jewel case with a slip-off cover and a clear two-piece plastic cradle to support the model. The model information is clearly labeled on the end of the case for ease to locate when in storage. A plastic sleeve was wrapped around the car to protect the model from scuffmarks. No additional pieces were found inside the box.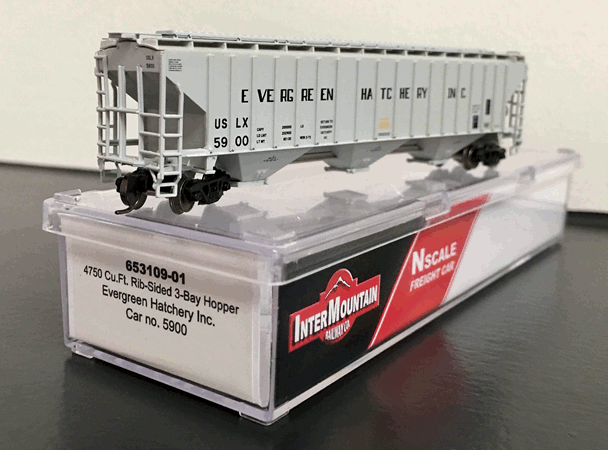 The paint job is clean and even along the entire injection molded plastic model. The Evergreen Hatchery covered hopper is painted a cool grey color with black letters and numbers. Lettering is "razor" sharp and clear, even when some magnification is needed for the smaller printing. All characters are neat and legible. The font and size of printing is perfect when compared to prototype images. The placement of letters between the ribbed side posts is flawless with a side-by-side evaluation of photographs from the real-life railcar. There is accurate depiction of the smaller printing details such as the yellow WARNING notice, return to directions, USLX logo and dimensional data.
The InterMountain hopper includes the KarTrak Automatic Car Identification (ACI) tag on the hopper's side panel. The KarTrak ACI tag was a color-coded 13 horizontal bar label that was designed to help identify rolling stock and locomotives with optical scanners located trackside. This assisted with pinpointing the exact location of equipment and shipper's cargo. In 1967 the Association of American Railroads (AAR) required all pieces of rail equipment to have the KarTrak tags installed - by 1975 over 90% of all stock were labeled.
The sides also feature the distinctive diagonally sloped end panels for easy unloading of product, stirrup steps and platform ladders.
Both ends feature a full height ladder and support rails for the 45-degree rapid discharge sloped bay contours. A poorly formed low mounted Ajax pressed steel handbrake is located on one end along with an air tank and brake mechanism – brake pipe assembly is present on the opposite end platform. Again the lettering is neat and in proper arrangement with the road marker & road number at the top right corner of each end.
First, it would have been a nice touch to include a metal etched crossing platform to match the roof – unlike the rather unimpressive plastic platform that is furnished on the model. Secondly, I found some of the molding and detail work mediocre – thick crooked posts with visible flashing – ladders seem bowed – a little messy for the "finished" product, especially on the ends.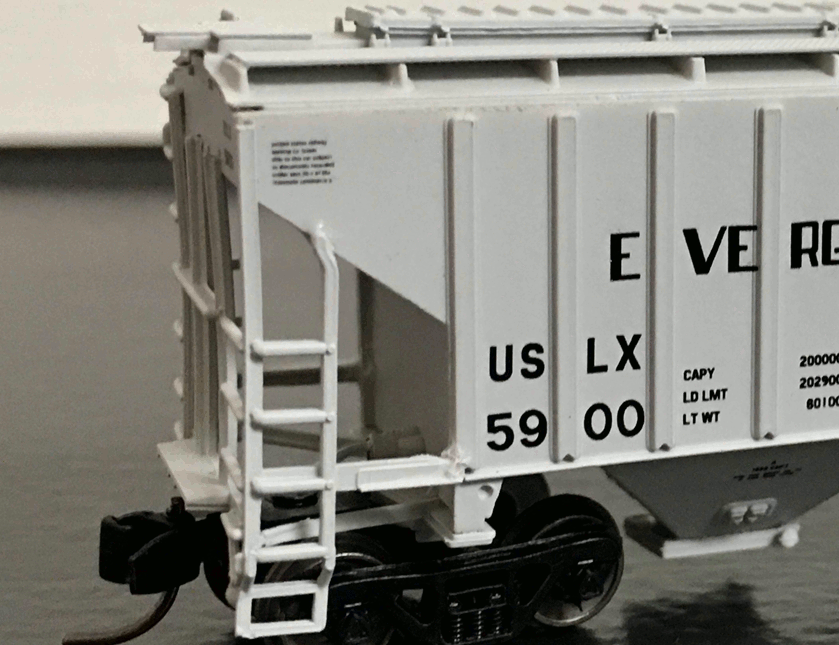 ladder detail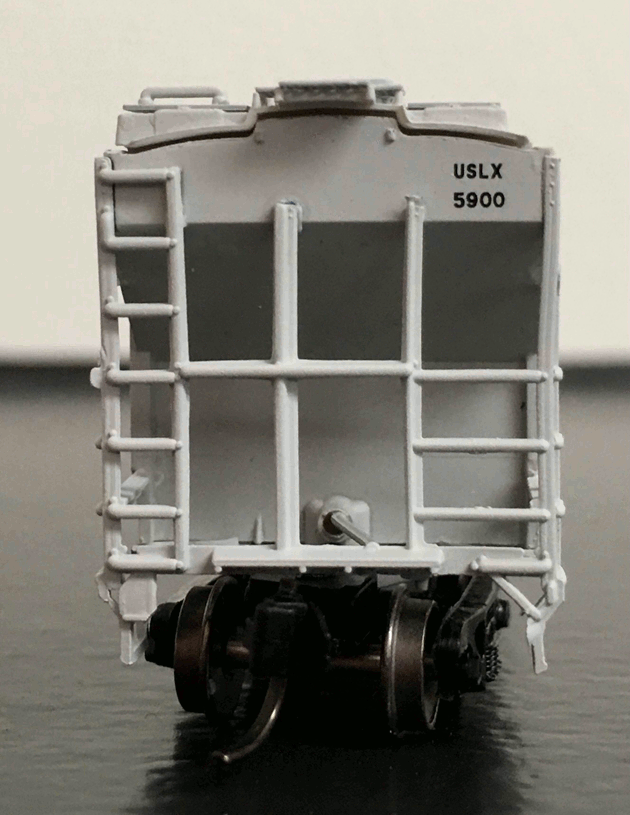 end detail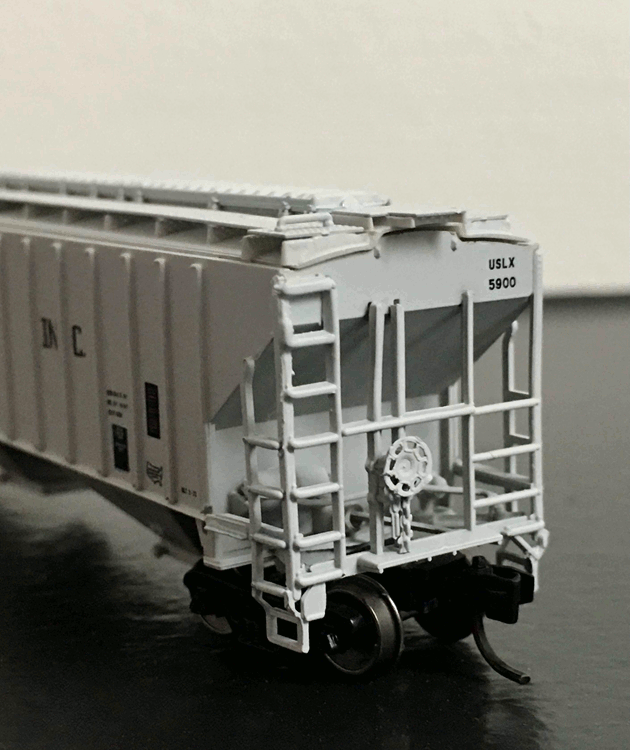 Bent posts and ladders – sloppy mold with flashing visible
The top of the hopper has highly detailed see-through metal etched running boards, a center loading trough with the proper four separate panel hatches composition and separately applied grab irons at each car end. The only minor detail missing for the prototype modeler are the lack of diagonal braces that hold the overhang on the far ends of the running boards. Prototype images exhibited two supports on each end of the car.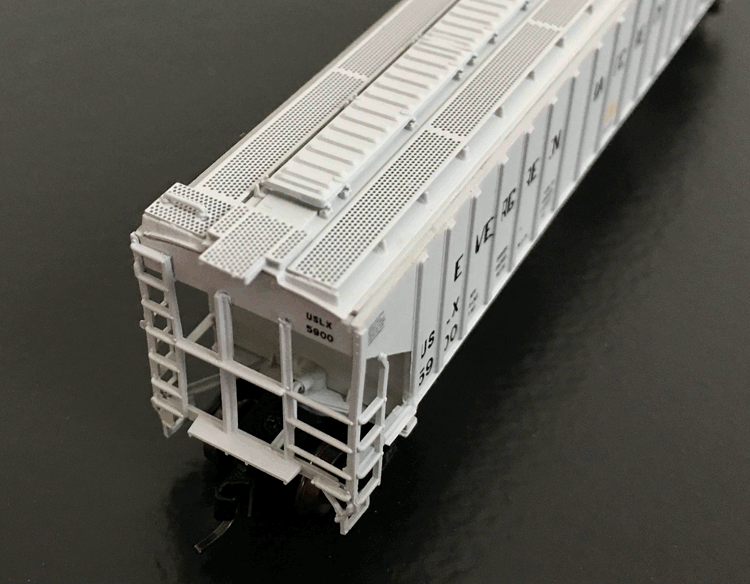 Nice top side metal running boards, grab irons and loading trough
The underframe has an elaborate Miner three-outlet gate arrangement with sharp printing and the cover plate unloading system. The model lacks the crank unloading system piping seen on the prototype and represented on recent N scale hopper releases from other model manufactures. The cubic feet capacity numbers transcribed on each bay outlet (1656, 1438 & 1656) add-up to the proper total of 4750. The boxcar rides along 100-ton roller bearing trucks with truck mounted metal wheels. Finally, the model is equipped with Intermountain magnetic knuckle couplers that were mounted a hair too low and gave me some difficulty hooking with a few other brands.

Truck mounted metal wheels and detailed outlet bays – Missing outlet bay piping
The car is 4 1/4 inches in length and weighs about 1.2 ounces, which is perfect according to the National Model Railroad Association (NMRA) recommendations (which are 1.1 - 1.2 ounces for this size car). I found it a smooth runner while testing the car on Kato Unitrack with no issues around curves or through turnouts at slow and medium speeds.
In conclusion – I would rate my first exposure to InterMountain rolling stock as just decent...a pretty railcar from afar but some flaws once studied and compared to prototypes. Sloppy molding, warped ladders and posts, exclusion of keys components such as gate piping and metal crossovers and low mounted couplers left me underwhelmed. Thumbs-up for excellent paint & print job, metal wheels and separately applied metal roof walk and grab irons.
Maybe one slipped through the cracks – but better-quality control is needed... I cry 'fowl' on this covered hopper.
To see a list of all cars in this series,
CLICK HERE
.