Micro-Trains 39 Foot Dome Tank Car
Published: 2021-10-13 - By: CNW400
Last updated on: 2021-10-14
visibility: Public - Headline

Micro-Trains Line is currently releasing a new food-grade tank car each month into their 'Sweet Liquid' Series. A total of twelve 39-foot single dome tank cars, available both in N and Z-scales, will be included in this collection.
Road Names and Pricing
As of September 2021, seven tank cars have been released with a suggested retail price of $29.95.

Sweet Liquid Series, First Seven Cars
My review includes observations of H.J. Molasses #1007 (MTL 065-00-186).
Protype History
Molasses...a dark, thick syrup found itself at the center of one of the grandest, if not strangest, industrial tragedies for the city of Boston. During the early afternoon hours of January 15, 1919, a giant storage tank exploded - spewing over two million gallons of molasses throughout Boston's North End. The streets were saturated with the sticky syrup - up to a foot in some areas. In the aftermath twenty-one people lost their lives. It was said that the scent of molasses lingered in the Boston air for decades after the incident. United States Industrial Alcohol were the proprietors of the tank who received shipments of Caribbean molasses for alcohol production and munitions fabrication during World War I.
The investigation into the accident revealed several defects. First, the steel walls of the 2 ½ million-gallon tank were too thin to support the pressure of a full load. Secondly, poorly designed rivets and haphazard rivet patterns attributed to the failure of the syrup tank. Also, hastily produced steel with a deficiency of manganese became brittle during air temperature fluctuations and finally gave way on that fateful January afternoon. Millions of gallons of salt water were used to rinse away the syrupy mess causing the Boston Harbor to be brown for several months. Similarly, this past March in Cannon Falls, Minnesota, a food tank car being loaded with molasses exploded at the Progressive Rail facility. Progressive Rail Inc. is owner and operator of several branch and shortlines in nine states: California, Illinois, Iowa, Minnesota, Missouri, North Carolina, Oregon, Washington and Wisconsin. No one was injured as Progressive employees were able to evacuate the immediate area when smoke was observed streaming from one of the railcar tanks. The Progressive building suffered substantial structural damage and the neighborhood was covered with sticky goo. The preliminary cause of this incident was blamed on high pressure building-up inside the tank car.
Molasses is a syrup formed during the sugar-making process. Juices extracted from sugarcane or sugar beets are boiled until the sugars crystallize. The syrup by-product from this procedure is called molasses.
Tank cars were one of the first all-steel pieces of rolling stock – from the early 1900's throughout the 1950's their basic design went unchanged. A riveted horizontal tubular-shaped tank with a dome. The tank rode along a separate steel underframe, sitting in a saddle and anchored to the frame with a series of narrow bands wrapped around the tank to the frame. The tank was not riveted to the underframe – allowing for expansion and contraction of the tank.

Indian Refining Company Tank – IRCX #1277 – Built 1918 (IRM in Union, IL – Koltz)
The tank cars original cargo was crude oil from the Pennsylvania fields in the late 1860's. Merely tanks mounted onto flatcars to transport oil evolved into 140,000 steel tank cars hauling over 100 different commodities by the 1930's.
In the 1930's welded variant of tanks were introduced for high-pressure cars. There are two basic categories of tank cars: pressurized and non-pressurized. Pressurized cars are used to transport gasses in their liquid form while kept under pressure – between 100 psi and 600 psi. These tank cars are built with thicker steel and additional head protection to diminish the chance of puncture. The more customary produces hauled in these cars include chlorine, anhydrous ammonia and liquefied petroleum gas (LPG). Welded non-pressurized tanks were developed in the 1950's. Non-pressurized cars account for about ¾ of the tank car fleet and are designed to carry food grade liquid goods (vegetable oil, corn syrup, molasses) and hazardous materials that remain liquid at atmospheric pressure (gasoline, oil, ink).
Furthermore, non-pressurized tanks can be furnished with coils to warm the product for unloading. Some liquids harden or thicken during transport, thus circulating steam upon arrival (hot water or hot oil in the past) throughout the coils warms the liquid to a sufficient temperature where it can flow more freely during discharge. Molasses is commonly delivered to processing plants in these heated tank cars.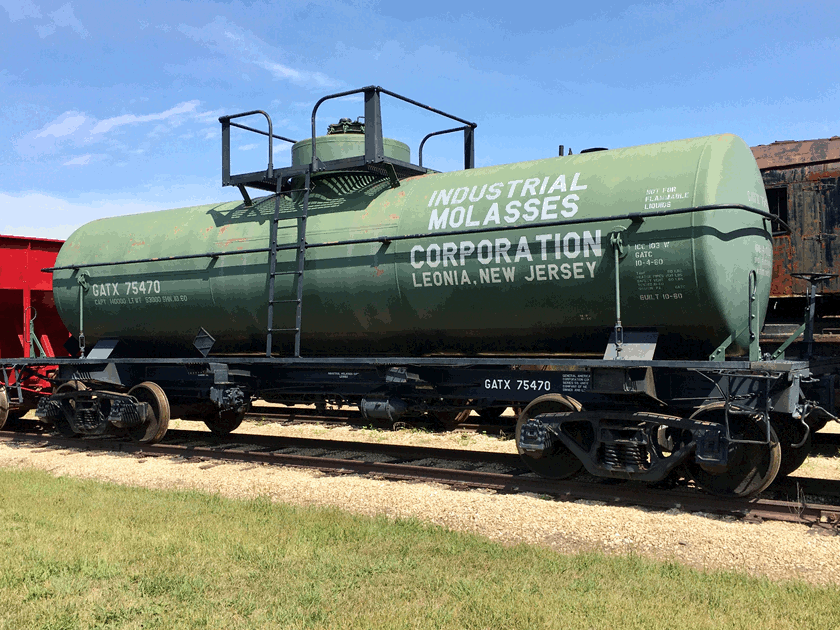 Industrial Molasses Corp. GATX #75470 – Built 1960 – Equipped with Heated Pipes (IRM in Union, IL – Koltz)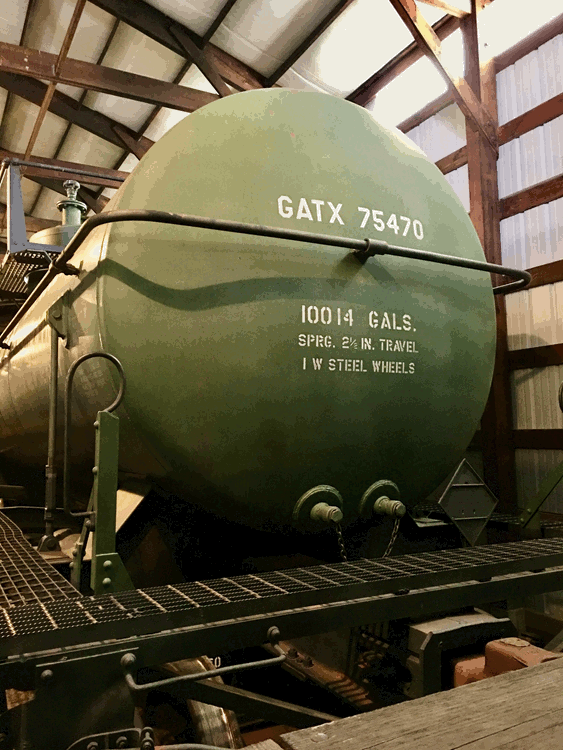 End Detail GATX #75470 (IRM in Union, IL – Koltz)
The most common color from tank cars was black. In theory it hid the stains and spillage of most commodities, and it is a basic, inexpensive paint selection. The basic tank had a handrail that ran horizontal around the entire car, running boards (wood until replaced with steel after WWII), a ladder to access the dome hatch (called a manway) and end sills. Depending on customer preference and the loading procedure, access to the manway atop the dome was either accomplished with a simple ladder and small step platform or a platform built around the entire manway with railings. Furthermore, to minimize fluctuations in temperature of the cargo during transport the tank car can be insulated with cork (and later foam) and then wrapped with steel sheathing.
Tank cars can have two or more compartments – each compartment will have its own dome. Cars with the same size multiple domes were constructed for that purpose. Tanks with different sized domes (i.e. large in middle with two smaller ends) were converted into multiple compartment cars. Non-pressure cars can be unloaded from a top or bottom outlet. A hose or threaded pipe is connected to an unloading valve. Pressure cars are unloaded from outlet connections located in a housing on top of the tank.
Tank cars hauling hazardous materials have four HAZMAT placards: one on both sides of the car and one on each end. The placard color is based on the material being transported and if it is flammable, corrosive, reactive or an inhalation hazard. Empty tanks have no placards posted. Furthermore, cars need to be stenciled with the lading being transported. The Interstate Commerce Commission (ICC) in 1927 developed a tank car classification system identifying the major components of the railcar and the tested pressure for the tank. This configuration was updated by the Department of Transportation in 1966 with the modern DOT Marking System which includes: Authorizing Agency (DOT, AAR, ICC or CTC)*, Class Designation, Separator Character, Tank Pressure (PSI), Type of Material Used for Tank Construction (carbon steel, aluminum, nickel, stainless steel, etc.), Type of Weld (Fusion or Forge) and miscellaneous car features. An example of this classification would be : ICC 105A 300W (105 = insulated, high pressure car class designation / A = top and bottom shelf couplers / 300 = test pressure (PSI) / W= fusion welding). This number is located above the data panel on the tank car's side – usually at the far end of the railcar. *( DOT- Department of Transportation, AAR-Association of American Railroads, ICC- Interstate Commerce Commission, CTC-Canadian Transport Commission)

Department of Transportation Codes
In 1921 American Car & Foundry (AC&F) introduced a general service 8,000-gallon tank car that was extremely popular with liquid product shippers. The AC&F Type 21 had longitudinal seams and shorter, fatter tanks. Identified by the circumferential rivets that encircle the tank body and full end & side sills, AC&F manufactured nearly 1,400 of Type 21 tank cars before being replace by their Type 27 model in 1927. AC&F dubbed its design by the year it was developed. American Car & Foundry built over 1,800 Type 27 cars as both models were one of the most common 8,000-gallon tank cars of the 1920's thru 1940's when they were later replaced with larger 10K-11K gallon capacity railcars.
The Model
The model comes packaged in a clear plastic jewel case with a slip-off cover and a two-piece plastic cradle to cushion the car. The model information is labeled on the end of the case and specific car data is printed on the back panel. A sprue with four blank HAZMAT placards was found jiggling around in the case.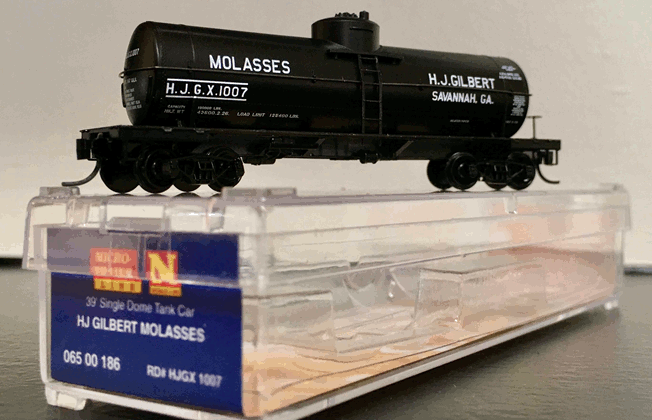 Model with Acrylic Box
The paint job is strong and even along the entire injection molded plastic model. The car is painted in stock tank car black with white lettering. Lettering is extremely sharp and clear, even when some magnification is needed for the smaller printing. All of those small characters are neat and legible.

Paper Insert
My research failed to unearth any tank cars lettered for H.J. Gilbert Company or with HJCX road markings, but I was able to find several examples of privately owned molasses cars and the placement and size of printing is very similar to prototype images. They only railroad reference I was able to find about H.J. Gilbert was a fee imposed on the company in 1925 for a violation concerning the transport of blackstrap molasses. Blackstrap molasses is produced after the third boiling of juices and is more bitter than regular molasses. It is commonly used as an ingredient is baking, cattle feed and fertilizer. It is also sold as a dietary supplement with high content of vitamin B, calcium, magnesium, iron and potassium.
The sides also feature finely molded handrails, stirrups and center ladders to dome platform. HAZMAT placards are not necessary since a molasses, or any other food product, tank car can only haul the product stenciled on the car itself. Hazardous materials can never be loaded into a food grade railcar.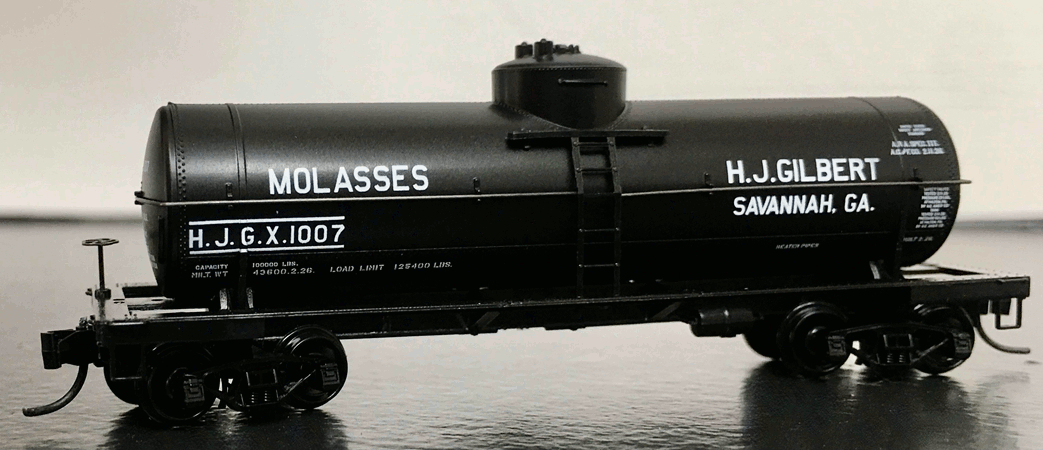 Crisp Lettering – Smooth Paint Job – Not Accurate Prototype AC&F Tank Car
What the sides don't have is the concern for those who prefer prototypical correct model railroading. Although not advised as an AC&F tank – Micro-Trains is clearly trying to pass this model off as such...AC&F shop stenciling is visible on the far end and the model is marked as a Type-21 on the ends. American Car & Foundry Type 21 tank cars appear to be a little stubbier and have four distinct rivet patterns circling the tube-like body and horizontal seams running along the entire length of the car. Additionally, Type 21 tank cars have a side sill with the road marking and car number visible - again not present on this model. As the case with a few other Micro-Train products – a generic mold was used to resemble a prototype but does not accurately represent the true-life railcar.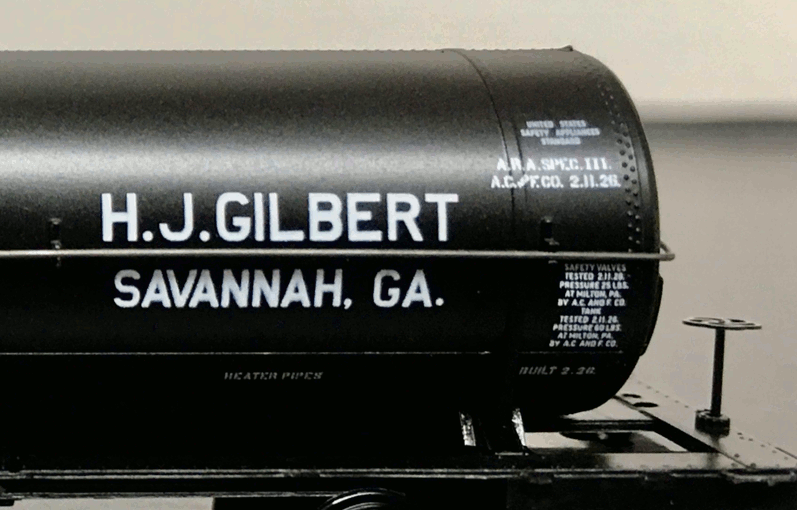 American Car & Foundry Shop Remarks – Vertical Handbrake Staff
The tank ends display the common stencils used on tank car from that era: Reporting Marks & Car Number, Gallons Capacity, Coupler, Draft Gear and Brake Beam. Molasses weighs 11.6 pounds per gallon – if this tank car was filled to maximum capacity – about 94,000 pounds of brown sticky syrup would be inside this 100K railcar. The B-end features a fragile (careful not to bend) separately applied vertical handbrake staff with a Miner 24-inch hand brake that is mounted at the proper height when compared to the prototype.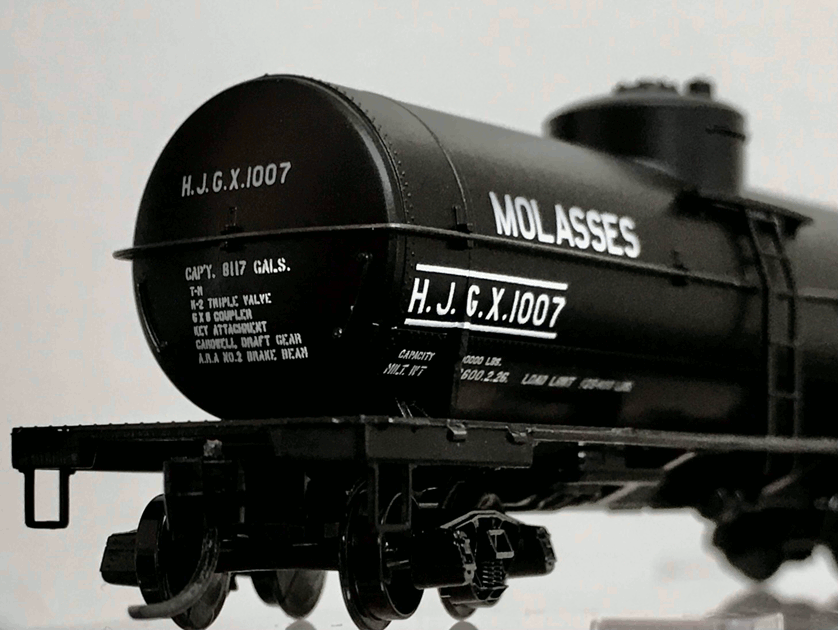 Accurate End Stencil Detail
The single-dome tank car top features Apex side platforms and dome housing with vents.
The black underframe features a rather unimpressive riveted platform along the tank – the platform lacks definition and looks like a shiny plastic rectangle surrounding the tank. The underside is adequately detailed with separately applied cylinder, reservoir and brake gears & rods. These underside-braking components are visible both on the prototype and model. The tank car rides along Bettendorf trucks and black plastic wheels. As a side note, AC&F Type 21 tanks were originally equipped with Andrews trucks until they were ban from interchange service around 1954. Furthermore, the model is equipped with truck-mounted Magne-Matic® Couplers and both were mounted to the proper height at each end of the car.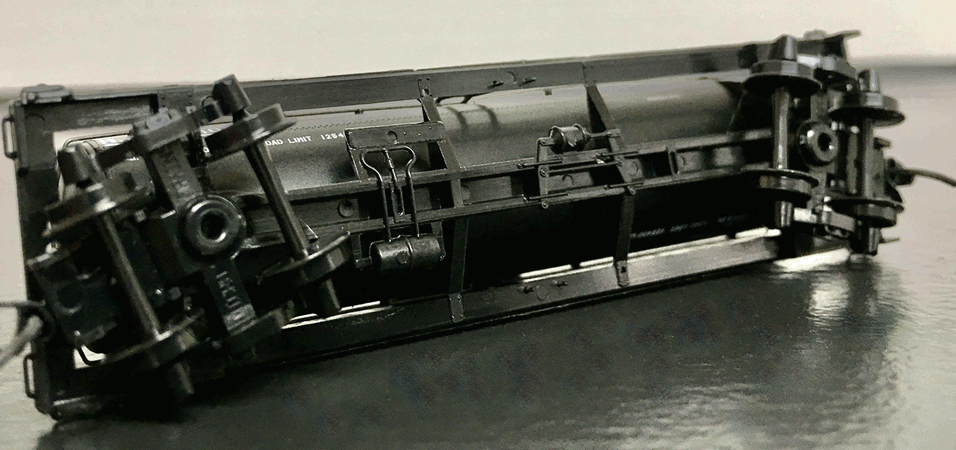 Nice Underframe Detail – Missing Car Length Side Sill
The car is 2 7/8 inches in length and weighs about 0.6 ounces, which is light according to the National Model Railroad Association (NMRA) recommendations (which are 0.9 - 1.0 ounces for this size car). However, I find it a good runner while testing the car on Kato Unitrack with no issues around curves or through turnouts at slow and medium speeds – I would be careful connecting too many of these together without adjusting weight for fear of derailment. In the future, for my own personal preference, I will upgrade the wheel sets to black metal wheels.
As most Micro-Trains Line models– a beautiful car with top-notch printing quality, smooth running (even with plastic wheels at $30) and the best coupling system on the market. Beware if you prefer real-life protyipcal modeling – a genetic tank car was used and disquised as an AC&F Type-21 model. I love my tank cars and admire Micro-Train's years of excellence – I can look away for a nice looking car with an unique road name. I guess you can say I am 'sweet' on Micro-Trains.
To see a list of all cars in this series,
CLICK HERE
.