Broadway Limited Heavy Mikado
Published: 2021-12-15 - By: CNW400
Last updated on: 2021-11-18
visibility: Public - Headline

Broadway Limited Imports (BLI), an innovator in model railroading sound, is about to release their third series of N scale USRA Heavy and Light Mikado Steam Locomotives. The target delivery date for this collection is December 2021. I am going to look-back at a prior BLI Heavy Makido production model from May 2020 - letting you know what to except from this highly anticipated winter release.
Road Names and Pricing, 1st Release (July 2017):
Baltimore & Ohio
Burlington Route
Canadian National
Erie
Great Northern
Indiana Harbor Belt
Milwaukee Road
New York Central System
Pennsylvania
Santa Fe
Southern
Union Pacific
Undecorated
Two unique road numbers with Paragon 3 Rolling Thunder sound are available for each road name (except Southern) with an individual suggested retail price of $329.99.
2nd Release (May 2020):
Central Railroad of New Jersey
Louisville & Nashville
Milwaukee Road
Missouri Pacific
Santa Fe
Southern
Western Pacific
Undecorated
Two different road numbers with Paragon 3 Rolling Thunder sound are available for each railroad with a suggested retail price of $359.99.
3rd Release (scheduled for December 2021):
Burlington Route
Great Northern
New Haven
Northern Pacific
Santa Fe
Southern Pacific
Undecorated
Two road numbers with NEW Paragon 4 Rolling Thunder sound will be available for each road name with a recommended retail price of $369.99. My review includes observations of the 2nd series released Milwaukee Road #376 – Broadway Limited Imports stock number BLI5957.
Prototype History
The Mikado-type 2-8-2 is celebrated as the classic American steam locomotive. The Mikado, its name referring to the honor of a Japanese emperor, is comprised of one lead axle (two wheels) then four driving axles (eight wheels) and finally one trailing axle (two wheels). The Mikado replaced the prevailing at that time 2-8-0 Consolidation model.

Public Doman (Wikipedia Commons)
The Lehigh Valley Railroad was the first to experiment with a 2-8-2 configuration in the 1880's, redesigning their 2-10-0 Camelbacks to reduce flange wear (a part ensuring wheels stay on the rails through bends, over defects & debris, against sudden crosswinds and other such obstacles). It wasn't until 1893 that the 2-8-2 arrangement went into mass production with Baldwin Locomotive Works building a fleet of narrow-gauge engines for the Japan Railways.
In the United States, the Virginian Railway in 1909 was the first American railroad to fully utilize the 2-8-2 with 42 Baldwin built locomotives. Shortly thereafter, the Chicago, Milwaukee, St. Paul & Pacific Railroad (Milwaukee Road) constructed twenty Class L-1 Mikado-type locomotives at their own shops (road numbers 8500 – 8519).
The 2-8-2 was said to be a smooth riding engine known for its speed, power and pull – used both in passenger service and freight duty with the ability to pull up to 5,000 tons over tough grades. Built primarily by the manufactures American Locomotive Company (ALCO), Baldwin Locomotive Works and Lima Locomotive Works until 1944 - the Mikado-type featured new improvements such as larger fireboxes and boilers for greater power, superheaters, boosters and mechanical stokers.
Fast-forward to December 1917 when the Interstate Commerce Commission (ICC) recommended federal control of the railroads to help coordinate efforts to support the nation's World War I operations. This 'nationalization' of the railroad system was approved by President Wilson and the United States Railroad Administration (USRA) was created to supervise all passenger and freight traffic.
In February 1920, the Transportation Act of 1920 (also known as the Esch-Cummins Act) was passed giving the ICC greater oversight over the railroad industry and eliminating the USRA as of March 1920. The Transportation Act of 1920 gave the ICC power to approve or disapprove mergers and abandonments and to set rates. It also returned control of the railroads back to private operation with the federal government giving financial assistance to restore the rail industry.
One of the duties of the USRA was to develop and approve standardized designs for locomotives and railroad cars. The USRA allocated the 2-8-2 locomotives into Light Mikado and Heavy Mikado designations. The Light and Heavy Mikado were built similar – the Light Mikado was constructed with an axle load of 54,000 pounds, allowing usage on most railroad systems. The Heavy Mikado was built to a higher maximum axle load of 60,000 pounds with larger cylinders and boilers making it restricted to systems with heavily constructed tracks.
This weight restriction allowed the USRA Light Mikado to become a more popular choice amongst railroads with 625 Light Mikado-type engines built during the USRA era and another 641 "copies" constructed after the USRA's reign. In contrast 233 USRA era Heavy Mikados were built with additional 724 produced after the USRA years.
The Milwaukee Road was by far the largest purchaser of USRA Heavy Mikado locomotives ordering 100 ALCO built 2-8-2 engines in the years 1918 and 1919. These designated Class L-3 locomotives had 63" diameter drivers, 27" x 32" cylinders, and 190 psi boiler pressure. Originally assigned road numbers 8600-8699 and renumbered 300-399 (same series as subject model), all of these locomotives were removed from service between the years 1936 thru 1956 and ultimately scrapped.
As a side note – several railroads, including the Baltimore & Ohio and Union Pacific, refused to refer to the 2-8-2 locomotive as a Mikado during the conflict with Japan in World War II...instead identifying them as a MacArthur in tribute to General Douglas MacArthur.
ALCO (American Locomotive Company) was founded and headquartered in Schenectady, New York and operated from 1901 to 1969. A builder of locomotives, diesel generators and tanks, ALCO lost market position to General Electric (GE) and Electro-Motive Diesel (EMD) during the transition years and never recovered enough to stay profitable. The last pair of T-6 switchers was produced in January 1969 for the Newburgh & South Shore Railroad (Cleveland, Ohio) with the ALCO plant closing later year and selling their designs & rights to Montreal Locomotive Works.
The need for bigger and faster locomotives evolved into a four-wheel trailing truck configuration allowing for a larger firebox and greater steam power. In 1925 the Texas & Pacific Railroad built the first 2-10-4 Texas-type locomotive which eventually developed into the Lima Locomotive Works 2-8-4 Berkshire first used in mass by the Boston & Albany Railroad likewise in 1925.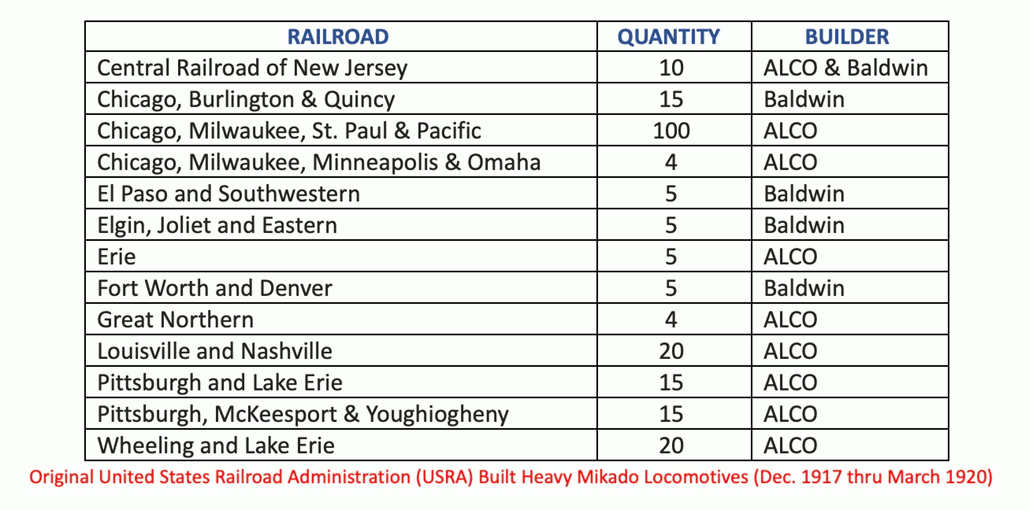 None of the original 233 USRA Heavy Mikado locomotives have been preserved
All were scrapped by 1961.
The Model
The boxcar comes packaged in a clear plastic jewel case with a slip-off cover and a thick foam bed to cushion the engine and coal tender. A thin strip of foam protected the axles and delicate parts on the underside of the locomotive and a rubber stopper was lodged around the coupler to minimize the movement of the connected engine and tender. A sheet of clear plastic covered both pieces of equipment to protect the finish from scuffmarks and scratches. A plastic bag was found inside the case with two spare traction tires. Excellent packaging – model felt snug and secure inside the case.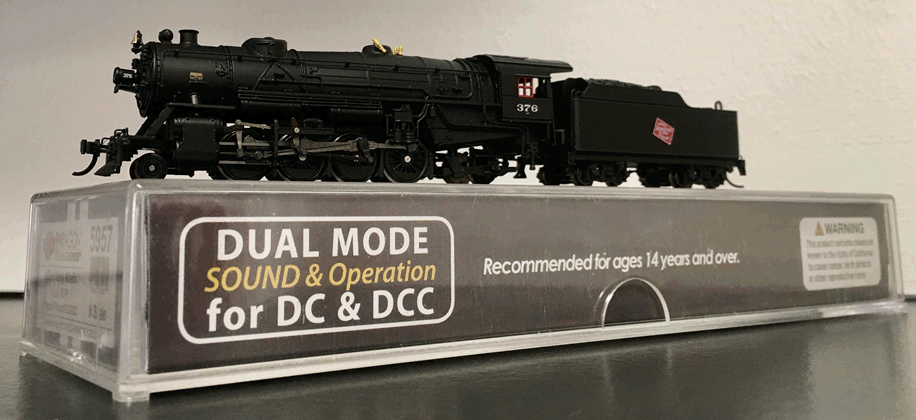 Model with Acrylic Box
The paint job is crisp and even along the entire metal locomotive and plastic coal tender A tender is a rail vehicle hauled by a steam engine carrying its fuel (wood, coal or oil) and water. The Milwaukee Road locomotive is painted black with red cab side window frames which are not fitted with "glass". The tender is also black and proudly displays the slanted red and white Chicago, Milwaukee, St. Paul and Pacific placard on both sides.

Model in foam cradle
With no surviving USRA Heavy Mikado locomotives and mostly black-n-white images for comparison, I was not able to verify the red window frames as being prototypical correct. All color photos of Milwaukee Road locomotives I viewed had black cab windows. The minimal amount of printing that is found on the locomotive is sharp and clear. The color, placement and size of printing is very similar to that found on Milwaukee Road steam locomotive images. The white road number is bold and properly located under the cab window and on the headlight. Furthermore, the L-3 class designation is stenciled under the cab window road number (although some magnification is needed to read it).
A nice touch is the gold American Locomotive Company builders plate located on both sides of the smokebox.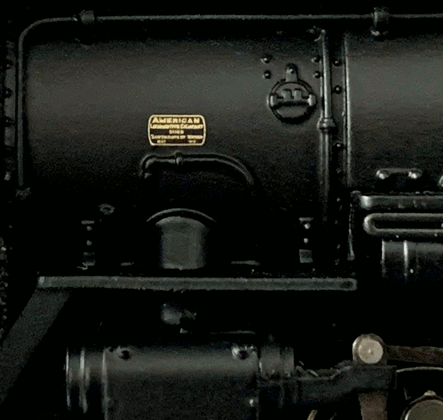 Builder Plate Mounted on Smokebox
The locomotive displays sharp rivet points and sharp panel lines. Separately applied detail parts include the handrails, grab irons, gold whistle & valves, and brass bell. The elaborate molded piping is finely detailed with variations in its configuration on both sides of the engine. My only disappointment in the body are the flat, molded roof hatches atop the cab – would have been neat to have the ability to prop the hatches open.

Anatomy of a Mikado

Intricate Separately Applied and Molded Detail Parts on the USRA Heavy Mikado
The tender is just as finely detailed with raised rivet patterns, realistic molded coal load, separately applied crew ladder & grab irons and water hatches. The speaker for the sound system is mounted inside the plastic tender shell.

Milwaukee Road Coal Tender with Prototypical Placard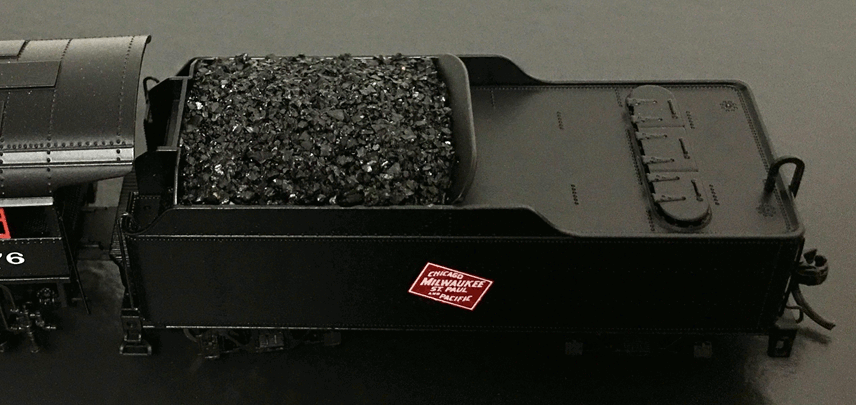 Raised Rivet Points and Molded Load and Water Hatches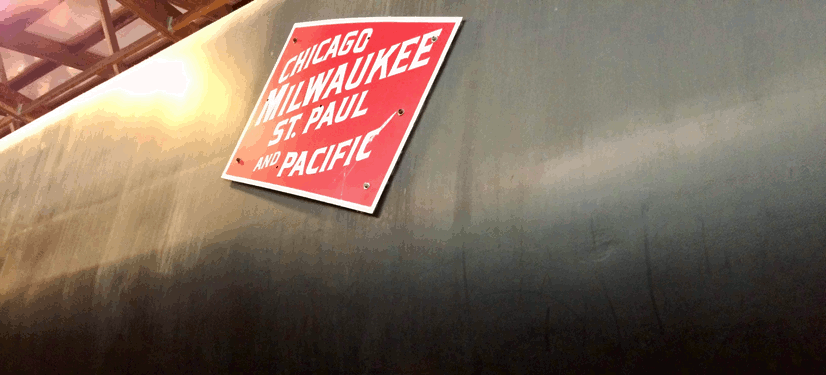 Placard on Milwaukee Road #265 Tender – Illinois Railway Museum in Union, IL (Koltz)
The front of the locomotive features a golden white LED headlight, brass bell, cow catcher and operating Micro-Trains #1015 coupler. The alignment of the road numbers on the headlight is correct when compared to similar prototype images.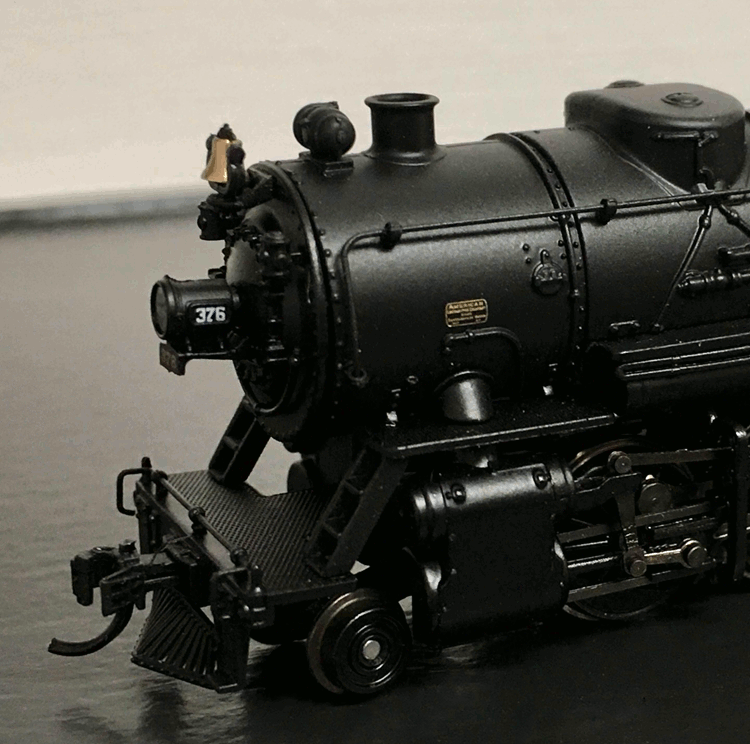 Golden White LED Headlight, Brass Bell and Cow Catcher
The undersides of the locomotive and tender both feature a metal chassis, low-profile blackened metal wheels and body-mounted Micro-Trains #1015 couplers at the front and end of the hook-up. The tender has a simple molded braking system with a few rods and a cylinder. The steam engine and tender are attached with a fixed position drawbar.

Metal Chassis, Low-Profile Metal Wheels and Body-Mounted Coupler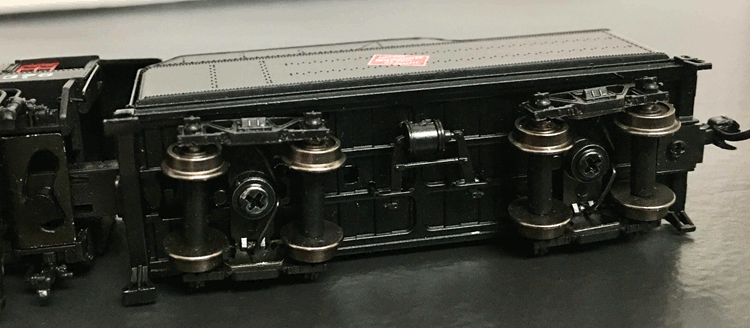 Simple Molded Braking System , Metal Wheels and Body-Mounted Coupler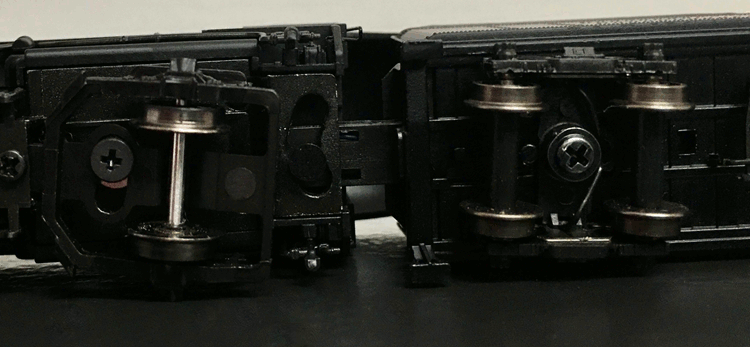 Drawbar in Fixed Position
The pair measure 6 inches in length with a recommended minimum radius of 9.75 inches. The locomotive and tender combo will operate in both DC & DCC mode and run-on Code 55, 70 and 80 track.
Although the locomotive will function in both DC & DCC modes, a DCC system or Broadway Limited Imports 'DC Master' control box for analog users is required to experience the complete variety of 28 sound options offered on the Paragon 3 model (see below). Some DCC sound features include record & play operations, three different whistles, adjustable bell ringing intervals, chuff sounds varying with load and speed and adjustable volumes for each effect. You can now separately control the front and rear lights by assigning a unique function key for each light – for example, keep the headlight glowing or turned-off during reverse running.

DCC Light and Sound Functions
When operating in DC mode only (without the DC Master sound box), the user will only experience the opening sequence of turning valves, releasing of steam and the stoking of the firebox. Also, the standing chuff sound is heard, and the running chuff sound does vary with speed. One issue I encountered while in DC mode was the sound ending abruptly when slowing down the engine – not a smooth transition to a standstill. To fully take advantage of the great variety of bells and whistles (pun intended), a DC Master sound system or DCC is highly recommended.
While running the BLI Heavy Makido in both DC and DCC modes, I had no issues testing the locomotive and tender on Kato Unitrack around curves or through turnouts at slow and medium speeds. A very smooth runner and great slow creeper in both modes – but the factory default sound is much too loud for my ears and can be adjusted with a DCC controller. This is a wonderful model in my opinion – highly detailed, well-built, smooth running and delightful sounds. This my first and only Broadway Limited steam locomotive and have experienced no major issues thus far – some minor cosmetic complaints and the default volume settings are my only nit-picky objections. These BLI locomotives are heeaavvvyyy* man!
*Slang – meaning awesome or good
To see a list of all cars in this series,
CLICK HERE
.