Athearn 50-Foot FMC Combination Door Boxcar
Published: 2022-01-15 - By: CNW400
Last updated on: 2022-01-01
visibility: Public - Headline

In July 2021, Athearn Trains expanded their 50-foot Exterior Post Combination Door Boxcar collection with the release of four road schemes. Athearn Trains acquired the tooling of this model from MDC Roundhouse during the summer of 2004. This model represents the FMC (Food Machinery Corporation) 5277-cubic foot boxcars manufactured during the second half of the 1970's Incentive-Per-Diem (IPD) era.
Road Names and Pricing
This current release includes four railroads with six different paint schemes. The road names represented in this collection include:
British Columbia Railway (BC Rail)
Canadian National
Minnesota, Dakota & Western
Railbox, 3 Different Paint Schemes: Early, Late and "Primed for Grime"
Three different road numbers are available for each of the above rail names with a suggested retail price of $26.98. A '3-Pack' of unique road numbers is available for both the Railbox Early and Railbox Late schemes with a suggested retail price of $76.98.
*Primed for Grime cars are made to resemble "In Service" railcars complete with fading and patches. Ready for the modeler to add his/her own personal weathering touches. My review includes observations of Minnesota, Dakota & Western (MDW) #10032 – Athearn Trains stock number ATH20095.
Prototype History
The Food Machinery Corporation (FMC) can trace its beginnings back to 1883 when retired inventor John Bean fabricated an insecticide spray pump to fight the ravages of scale insects destroying the Western states fruit crops. Incorporated in 1904, the Bean Spray Pump Company acquired two of its main competitors in 1928 – the Anderson-Barngrover Company and Sprague-Sells. As a result, the Bean Company became the world's largest food machinery manufacturer and changed its identity that same year after a public naming contest to Food Machinery Corporation (FMC).
FMC received a government contract from the United States War Department to design and build amphibious landing vehicles during World War II. In November 1943, the newly produced LVT (Landing Vehicle, Tracked) was placed into combat service at The Battle of Tarawa in the Gilbert Islands.
Afterwards, FMC continued to diversify its product line launching into the chemical business and railcar production. In 1965 FMC acquired the Gunderson Metal Works Company and renamed the railcar branch in 1973 as the Marine and Rail Equipment Division of FMC (MRED). Railcar manufacturing proved lucrative for FMC during the 1970's IPD (Incentive Per Diem) Era – producing over 6,000 cars annually during that period. However, when the early 1980's world recession hit, only 25 railcars were produced in 1982.
During this timeframe MRED, in a joint venture with The Greenbrier Companies, developed Twin-Stack well-cars to haul intermodal containers. In 1985, The Greenbrier Companies purchased MRED from Food Machinery Corporation. Since that time, Greenbrier has produced over 100,000 intermodal well-cars.
The Pullman-Standard Company is believed to have produced the first combination door boxcars during the late 1950's. With a traditional sliding door and snug fitting plug door, the railroads hoped to improve their loaded car miles. Originally developed for the forestry industries and the railroads servicing that area (Milwaukee Road, Northern Pacific & Union Pacific) - the larger double doors allowed machinery (forklifts) to load lumber and wood products from the Pacific Northwest for the journey east and the flush plug door provided a flat surface up to the sliding doorway offering lading protection of consumer products traveling back west.
The Minnesota, Dakota, and Western (MDW) Railroad, one of the oldest short lines in the country still in service, was established in 1909 to support the construction and operation of the Minnesota and Ontario Paper Company. The railroad delivered its first paper shipment in June 1910 – eighteen tons to Great Falls, Montana. The MDW, is located in International Falls, MN right off the banks of the Rainy River and near the U.S./Canadian border, operating on four miles of mainline track and twenty-three miles of yard track. Paper mills use millions of gallons water daily and are situated near rivers or lakes. Originally a subsidiary of Boise Cascade designed to serve its paper mills, MDW in 2008 was reassigned to Boise Cascade's paper, packaging, newsprint, and transportation division – Boise, Inc. Today, MDW primarily serves the Packaging Corporation of America (PCA) paper mill in International Falls, managing a fleet of over 2000 boxcars, tank cars and covered hoppers. The Minnesota, Dakota, and Western interchanges with Canadian National (CN) in Ranier, Minnesota.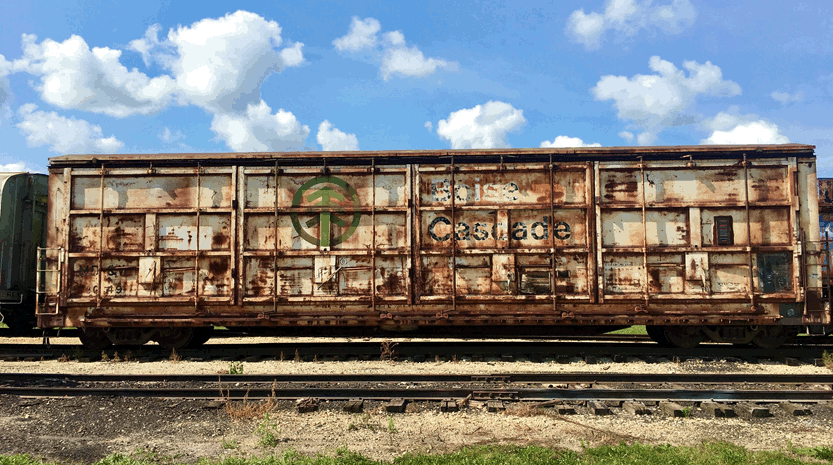 Boise Cascade MD&W #3049 – Illinois Railway Museum (Koltz)

The paper industry has always been an important partner for the railroads – from raw materials to finished products. United States paper mills produce 90-million tons of paper products annually...that is almost 250,000 tons per day! The railroads help keep paper and pulp mills productive by hauling lumber and reclaimed (recycled) paper in boxcars, delivering pulpwood (branches & trees too small for lumber) on bulkhead flatcars & gondolas, carrying wood chips on some of the largest railcars in operation, transporting chemicals in tank cars and importing powders in covered hoppers. Boxcars assigned to hauling finished products are usually held in captive service – exclusively assigned to shipping rolls and pallets of paper commodities. These boxcars must remain clean and maintained in good working condition. Briefly, the initial stage of papermaking is pulping or the separating of wood fibers. Softwood fibers are longer and stronger, but hardwood fibers produce a smoother finish. Usually, a blend of these two fibers is combined to create the ideal pulp.
First, woodchips and grinded pulpwood are washed and sorted by type. The separated chips are then fed into a digester and processed with water or chemicals. Mechanical pulping uses water and heat to release wood fibers – this method produces the lowest quality of paper, often reserved for newsprint. Chemical pulping, called the Kraft process, utilizes caustic soda to separate the fibers. This process cultivates a stronger bond of paper used for magazines or quality writing materials. Reclaimed or recycled paper is shredded and soaked in a water and detergent mixture to remove ink.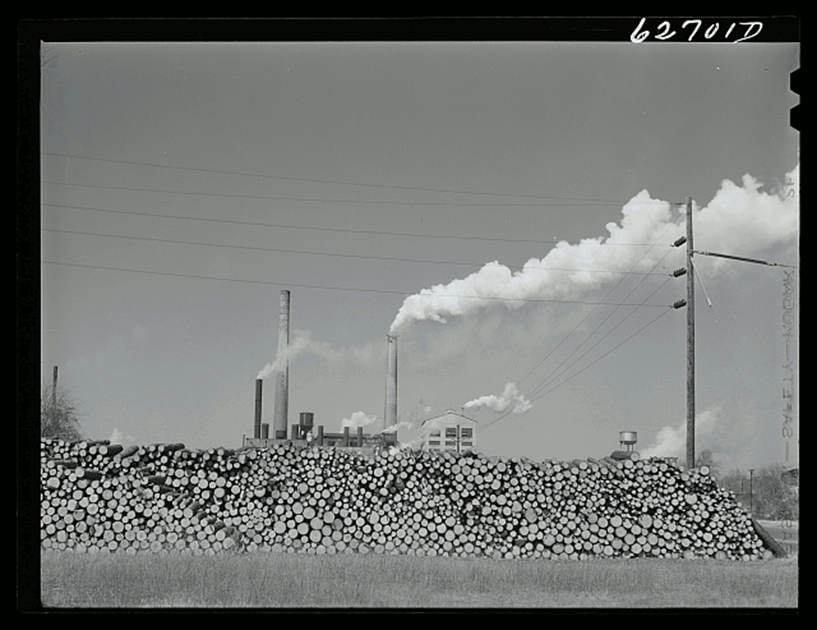 Pulpwood Waiting to be Processed – West Point, VA Paper Mill
Library of Congress Prints and Photographs Division Washington, D.C. 20540 USA- Public Domain Vachon, John, photographer. Paper mill. West Point, Virginia. Mar. 1941 Photograph. Retrieved from the Library of Congress.
Tank cars deliver bleaching agents to lighten the pulp mixture – chlorine dioxide, sodium hydroxide and hydrogen peroxide are a few of the chemicals used. Covered hoppers bring the powders used as fillers or coloring agents – starch, talc, kaolin clay, calcium carbonate and rosin are some examples.
Integrated mills (handle pulp and papermaking at the same complex) can store pulp in liquid form until needed or transfer the pulp via pipelines to the papermaking facility. Pulp only mills dry the pulp into sheets or rolls and ship those via rail or truck to papermaking mills.
The Model
The ready-to-run boxcar comes packaged in a clear plastic jewel case with a slip-off cover and a two-piece plastic cradle to support the model. The model information is clearly labeled on the end of the case for ease to locate when in storage. A thin plastic sleeve was also wrapped around the car to protect the railcar from scuffmarks. No additional parts were found in the case.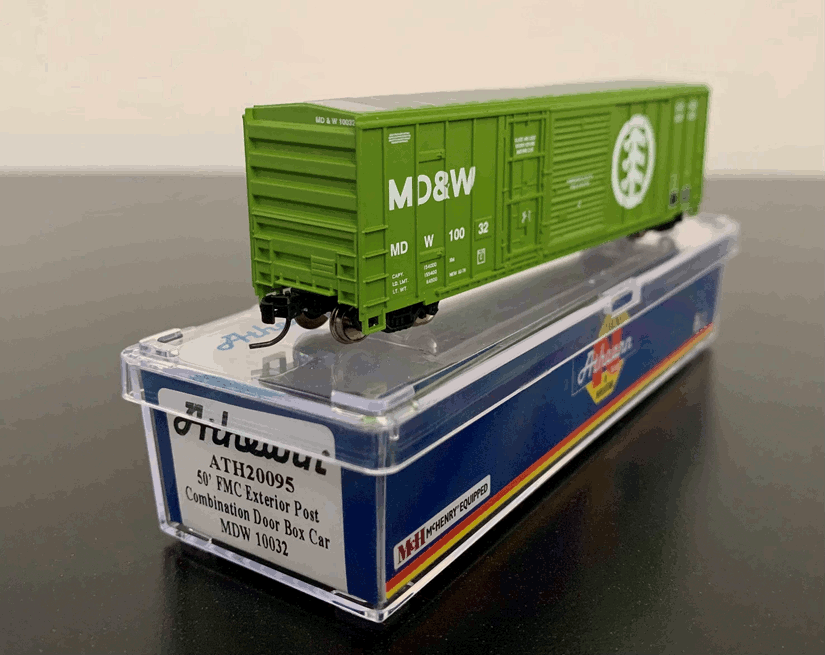 Model with Jewel Case
The paint job is crisp and even along the entire injection molded plastic model. The Minnesota, Dakota & Western (MDW) car is painted in its recognizable green and white color with a silver roof – a homage to the lumber industry of the upper-Midwest. Lettering is extremely neat and clear, even when some magnification is needed for the smaller printing. All diminutive letters and numbers are readable - even the plug door directive to "Close And Lock Doors Before Moving Car." Exterior posts are well-defined, and hinge and lock details are sharp. The size, font, and location of all stenciling on the Athearn boxcar matches prototype images – from Cushion Service to the Consolidated Stencils (black boxes listing brake data and maintenance dates) to the measurements on the sliding door (Opening Main W 8-0 H 9-9 / Total W 16-0 H 9-9) to '2 Inch HF Comp Shoes' (indicates the type of brake shoes equipped) notification above the trucks.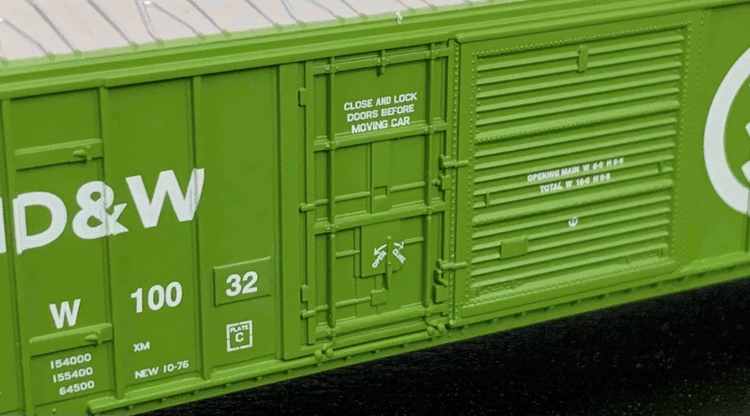 Crisp Paint and Lettering
The sides of the Athearn model closely resemble the FMC 5277cf Combo Boxcar – 50'-6" foot steel railcar with a six-foot plug door and Youngstown 10-foot sliding door with a horizontal corrugated pattern. The model also features FMC prototypical correct low mounted route board, four-rung grab irons and stirrup steps on each end of the boxcar. The grab irons are molded, and the stirrups are a little thick. The sides have a straight bottom sill notched all the way back to the bolsters.
Note the XM Association of American Railroads classification below the road number (photo above). The XM class boxcar was designated for general service and equipped with either side or side & end doors. Furthermore, the Plate C designation is also located underneath the road number. Plate markings indicate if a railcar's outside dimensions fall within a standard cross-section. Freight cars are assigned Plates B, C, E, or F - a square with the appropriate letter is stenciled on the side panel. Plate C indicates a car height of 15′ 6′′, which is standard for most boxcars, covered hoppers, and center-beam flatcars. Anything exceeding Plate C is considered oversized. This boxcar was built NEW in October 1976 by FMC at their Portland, Oregon plant.

Athearn Model with Not Prototype Correct Panel Configuration
The common side panel configuration for an FMC Combo Boxcar is 5x7 (five panels to the left of the plug door and seven to the right of the sliding door). But the MDW obtained in November 1976 a variant of the FMC 5277cf Combo Boxcar from SSI Rail Corp freight car leasing company (a division of ITEL). These boxcars were equipped with EOC (end-of-car) cushioning and an eight-panel composition to the right of the sliding door. Athearn Trains failed the prototype correct modeler using a generic version of the FMC Combo Boxcar with the wrong panel configuration for the Minnesota, Dakota & Western cars. The other road names in this collection used the basic FMC 5x7 pattern offered by Athearn.
EOC or end-of-car devices are situated near the coupling system and absorb the force of impact from coupling, rail yard collisions and slack during train operations. This system protects both railcar and lading from damage. Both ends feature prototypical correct three-rung grab irons on each side, a low mounted placard board and six-ribbed non-terminating ends (sides continue past the ends). The B-side features a low-mounted brake wheel. Again, the grab irons are molded details. The lettering is neat and in proper arrangement with the road marker & road number in the top right of each end, but Athearn used the road marker MD&W while protype images display the road identifier MDW.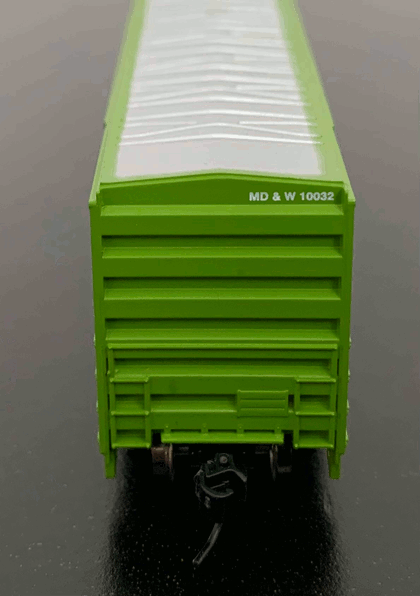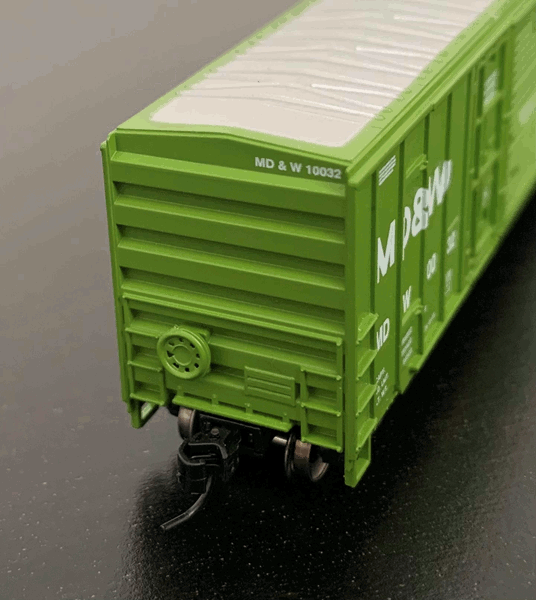 Six Rib Non-Terminating Ends with Incorrect Road Marker at Top
The top of the boxcar displays a silver 'X-pattern' Stanray nine-panel non-overhanging roof. The model also features the proper raised roof panel line with no running boards - running boards were not mandatory on new equipment built after 1966 with a target date of 1974 to have running boards removed from all rolling stock. The deadline was extended to 1983 to allow removal during normal maintenance cycles.

Stanray Panel Roof
The black underframe has a molded brake arrangement with features such as the brake cylinder, AB valve and reservoir. The boxcar is fitted with screw mounted roller bearing trucks with blackened metal wheels. Finally, the model is equipped with proper height body mounted McHenry knuckle spring couplers.

Underframe Brake Details – Body Mounted Coupler with Metal Wheels
The car weighs 1.0 ounce and is 3 7/8 inches in length. While this weight is a tad light according to the National Model Railroad Association (which are 1.1 - 1.2 ounces), I found it a good running car on Kato Unitrack with no issues around curves or through turnouts at low and medium speeds. A minimum 9 ¾" radius is recommended for operation.
Overall, another solid release from Athearn Trains – a well-built model that is a great runner right out of the case. Crisp paint, mostly accurate stenciling, metal wheels and an authentic representation of the FMC 5277cf boxcar EXCEPT for the MD&W model (incorrect panel configuration). Athearn needs to update this MDC Roundhouse tooling and upgrade the molded detail parts (grab irons and underframe) to take this model to the next level. You 'wood not' go wrong putting a few of these cars on your layout.
To see a list of all cars in this series,
CLICK HERE
.