Micro-Trains Line Heavyweight Depressed Center Flat Car
Published: 2022-04-15 - By: CNW400
Last updated on: 2022-03-10
visibility: Public - Headline

In the autumn of 2021, Micro-Trains Line expanded their Heavyweight Depressed-Center Flat Car collection with two new road numbers. First issued in 2001 by Micro-Trains, these flats closely resemble the Pennsylvania Railroad shop-built F-43 depressed-center cars. The current assortment of depressed-deck flat cars also includes two unusual and eye-catching oversized loads.
Road Names and Pricing
The most current releases include two unique road numbers and heavy-duty loads for the Micro-Trains flat car family. The road names represented in this collection include:

My review includes observations of Micro-Trains Line 109 00 093 – Southern Pacific #500501 with Marine Motor Load.

Pennsylvania Railroad 2021 Release – Image Courtesy of Micro-Trains Line
Prototype History
The basic flat car is a piece of rolling stock consisting of an open, horizontal deck mounted on a pair of two-axle trucks. The decks were often lined with wood planks until they became more commonly lined with steel in the 1950's. Flatcars were designed to carry cargo too heavy or bulky for enclosed boxcars or gondolas. The sides of the deck include evenly spaced pockets for iron or wood stakes or tie-down points to secure shiftable loads. The cargo - machinery to intermodal containers - must be able to survive during all weather conditions since it is exposed to the elements during the entire journey. Its flexibility in uses makes it a favorite railcar amongst the railroad carriers. The first flatcar to be placed into service can be traced back to 1826 in Quincy, MA. The Granite Railway, one of the first railroads in the United States, hauled granite from the mines of Quincy to the shipping docks of Milton, MA on the Neponset River.
There are several varieties of flat cars – from spine cars to centerbeams to well cars. These specialized railcars carry a wide variety of cargo – for example: machinery, lumber, boilers, structural steel, transformers, tractors, military equipment, and pulpwood.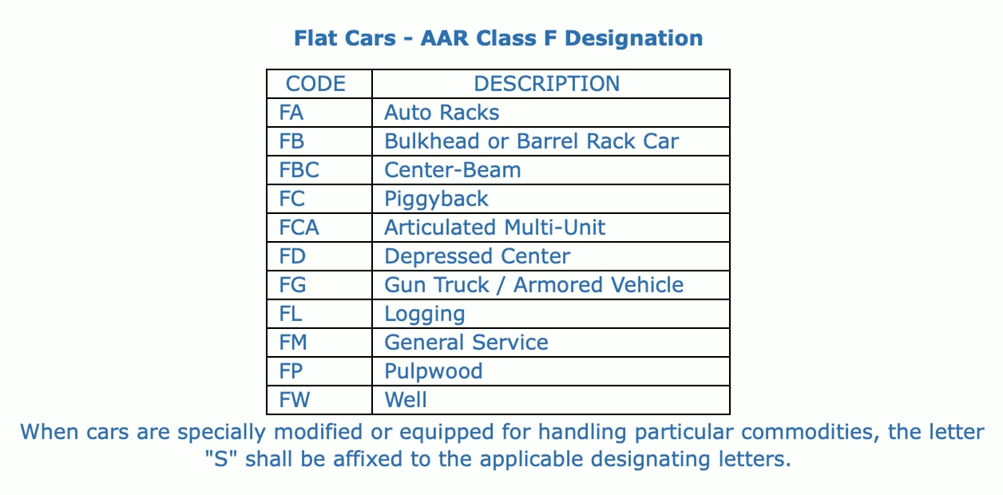 Heavy-duty flat cars are designed to haul oversized loads that are too heavy, long, wide, or tall to be transported on another type of railcar. These dimensional loads include industrial equipment, machinery, pipe, and beams. Depressed-center cars provide additional clearance for oversized loads with a lower middle-deck that allows several inches of extra room to travel under bridges and overpasses, through tunnels, or beneath other overhanging obstacles. Furthermore, since the cargo does not need to be lifted as high onto a depressed car opposed to a traditional flat car – loading and unloading is much easier.
The origins of the depressed-center car are muddled. Westinghouse Electric & Manufacturing Company appears to have ordered three depressed-deck flat cars in 1912 from the Atlas Car and Manufacturing Company. The Atlas Company, founded in 1896, was based in Cleveland, OH and specialized in small locomotives and industrial use rail equipment. These flat cars were a failed experiment as the railroads refused to grant permission for the movement of these heavy-duty railcars out of fear of damaging their rail lines.
The next reference I found was the Canadian Car & Foundry producing a few cars from the Canadian Pacific Railroad in 1921. The true history of depressed-center cars began in 1927 with the release of the Pennsylvania Railroad shop-built six-axle F-29 series flat cars. Ten riveted steel flat cars were built in the summer of 1927 with an additional ten structured in 1929. These twenty cars were created to handle the hauling needs of Westinghouse Electric. Westinghouse Electric was found in 1886 with its headquarters in Pittsburgh, Pennsylvania. Among their product lines were industrial turbines, transformers, generators, and motors. Only one of these depressed-center cars escaped the scrap yard and was part of the New York Central-Pennsylvania merger and painted Penn Central green.
United States Office for Emergency Management, Palmer, A. T., photographer. (1942)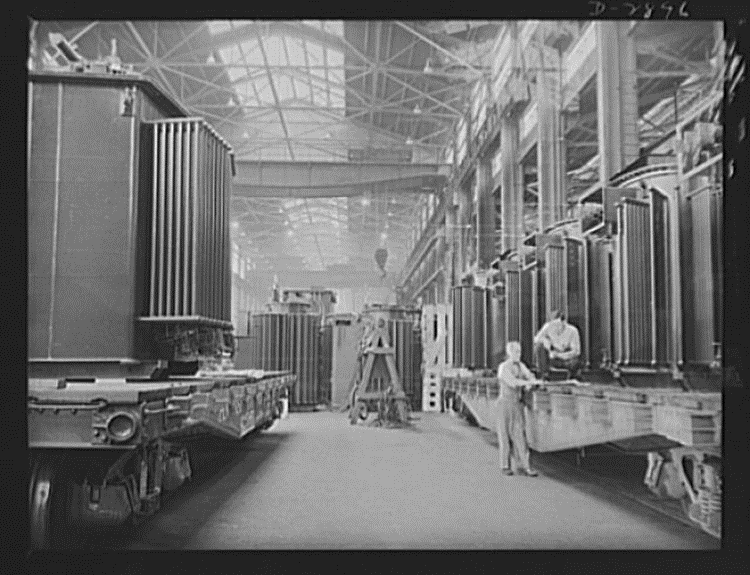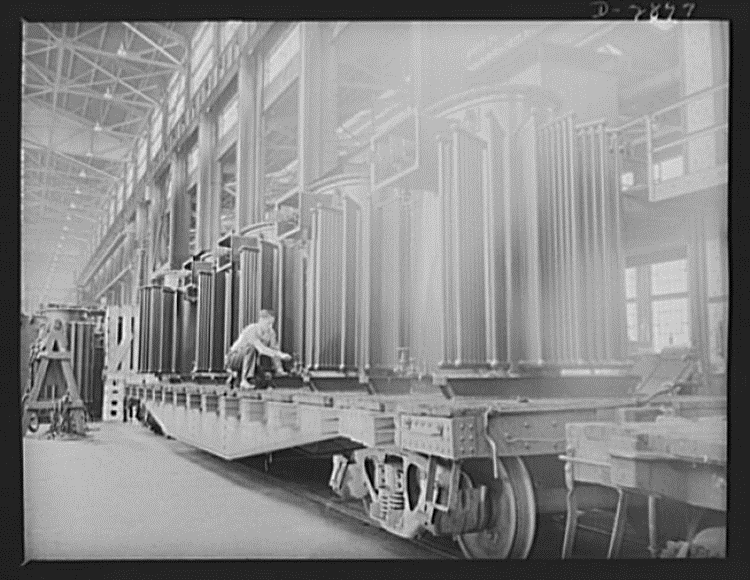 Transformer manufacture. These completed power transformers are sent to every part of the country and to almost every country in the Western hemisphere where they are needed in war production factories. These giants supply the power essentials to the production of ships, guns, and tanks, as well as all other war essentials. Cranes capable of handling seventy-five tons hoist completed transformers to flatcars. Westinghouse, Sharon, Pennsylvania. Pennsylvania Sharon Mercer County United States, 1942. Feb. [Photograph] Retrieved from the Library of Congress. Public Domain Free Use (Citation for Both Images)
In 1952, the Pennsylvania Railroad Juniata Car Shop created the world's largest piece of rolling stock with the FD-2 depressed-center flat car. Nicknamed 'Queen Mary' after the British ocean liner, the sixteen-axle, all welded steel flat car could haul 500,000-pound loads and weighed nearly 1,000,000 pounds when loaded to capacity – special orders for all movements was required. Only one of these massive cars was manufactured (PRR #470245), again to service Westinghouse Electric and their need to transport turbogenerators. The 'Queen Mary' was painted green and renumbered #766196 after the creation of the Penn Central. It then transferred to Conrail and painted brown. It is currently on display at the Altoona Railroad Museum and used as an entertainment stage since been taken out of service in 1996.
In contrast to the enormous Pennsylvania Railroad FD-2 flat cars, the six-axle depressed-deck flat car was the predominantly used style - 'home' shop creations for many railroads used General Steel Castings (GSC) bodies. General Steel Castings, later General Steel Industries (GSI), was founded in 1928 in Eddystone, Pennsylvania. GSC offered one-piece steel underframes with the sill, bolsters, cross bearers, draft pockets, and couplers all molded into a single casting. These bodies proved to be popular for depressed-center car fabricating with the more common length of these flat cars being 58 to 62-feet long. The practice of using three- or four-axle trucks at each end of the car is to spread the weight evenly over the decks. Each pair is connected by a span bolster which pivots on the car body. Finally, with little room below the flat car decks, separate handbrakes for each pair of trucks are located on each platform end.
The Model
The flat car comes packaged in a clear plastic jewel case with a slip-off cover and a thick foam bed to cushion the model. The model information is clearly labeled on the end of the case for ease to locate when in storage. A rigid plastic covering was situated on the exposed side of the car to protect the railcar and load from scratches. Also, a thin laser cut sheet was included to act as a bridge platform across the lower deck.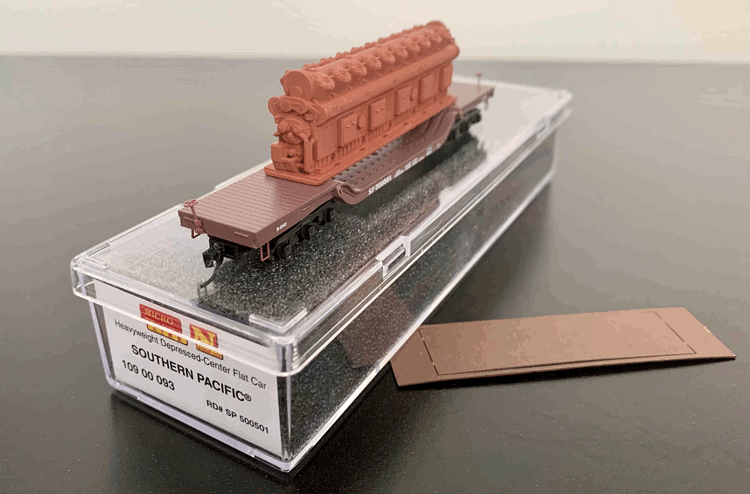 Model with box
Unlike most Micro-Trains releases, which are injection-molded plastic models, the depressed-center flat car has a die-cast metal body with plastic platforms on the two upper decks. The Southern Pacific flat is painted in prototypical Freight Car Red color with white stenciling. All lettering is sharp and clear, even when some magnification is needed for the smaller printing. All characters are neat and legible with placement, size, and font similar to prototype photographs.

Depressed-Center Flat Car Shipped with Foam Cushion
Surprisingly for a Micro-Trains product, the paint job is poor - several splotches and globs of paint on the decking and scratches down to bare metal on the bottom of the car. I understand this type of railcar is used & abused in service and many modelers weather their inventory – but my honest out of the box assessment is an unsatisfactory paint job.

Sharp Prototype Correct Stenciling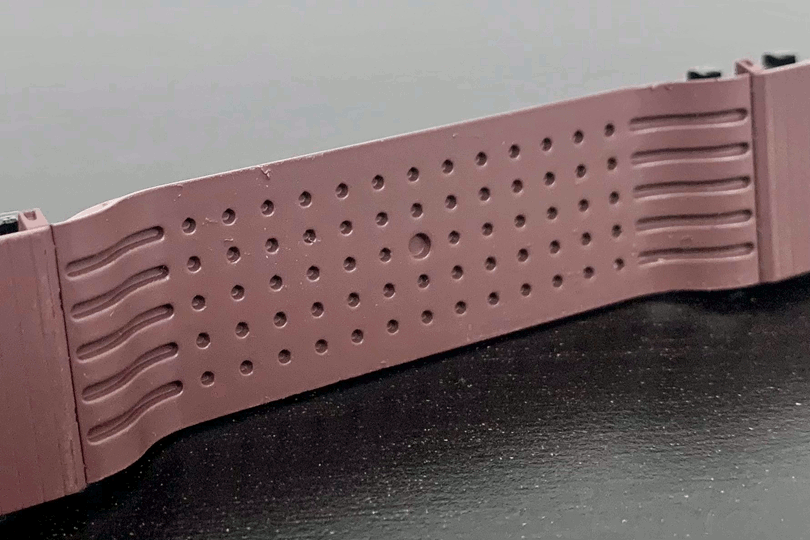 Sloppy Paint Job
The resin cast load included represents a large marine motor ready for transport. The load is undecorated and measures 7/8" tall x 3 inches long. While impressive, I think the choice of load that is supplied is not a good one. Yes, the depressed-center flat car was a heavy-duty mover, but I would prefer a load that represents the true function of this specific railcar...Oversized cargo that sets into the lower deck to allow for extra clearance along the rail system

Resin Cast Marine Motor Load
The sides of the flat car feature neat and bold stenciling – clearly displaying all data...including Capacity / Load Limit / Light Weight, Built Date (6-58) and Length 62'-9". Also represented is molded brake line piping and built-in, integral pockets to support chains or other materials when a load is secured to the flat car decking. Each upper platform is also identified as A-End or B-End.

Close-Up of Side Details – Crisp Letters, Piping and Load Pockets
Each end platform features two molded grab irons, stirrup step and a handbrake mounted on a vertical shaft that extends below the end sill. These handbrakes are very delicate, and care is needed to not bend or break them off. In real-life applications, vertical shaft brakes either had a tilting-handle or drop-shaft design to protect the braking system from harm's way. Today, modern flat cars have brake levers mounted on the side at the B-End instead of brake wheels.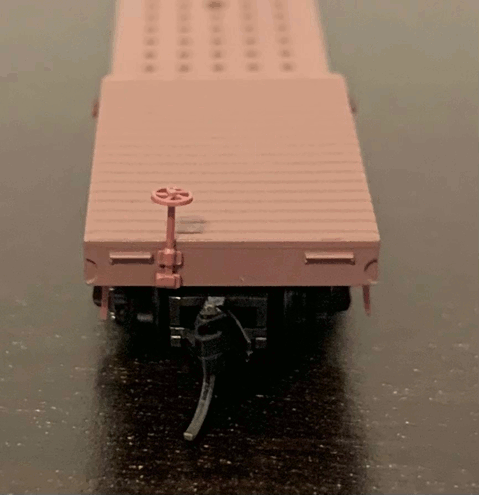 Vertical Shaft Handbrake and Molded Grab Irons on Each End Platform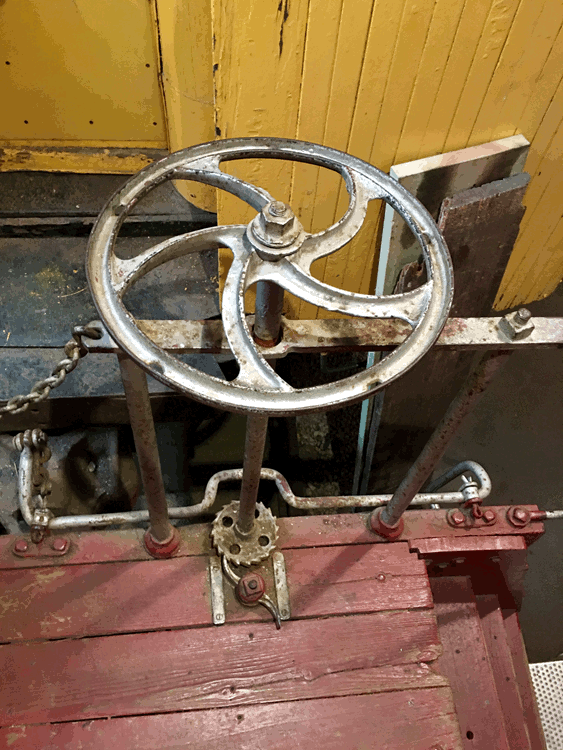 Example of Vertical Shaft Handbrake (Koltz)
The underside of the flat car is basic – much like the prototype. Since each end had its own braking system, reservoir tanks are mounted on the bottom of both ends. The model rides along two three-axle trucks with black plastic wheels. Originally fitted with Buckeye trucks when first issued in 2001, Micro-Trains has since been using the more prototypical correct Commonwealth Freight trucks on the more recent depressed-center flat car releases. Both truck-mounted Micro-Trains Magne-Matic knuckle couplers were aligned to proper height.

Underside Detail – Note Reservoir (blue) and Chipped Paint (red)
The metal car is 4 3/8 inches in length and weighs 1.0 ounces without a load and 1.6 ounces using the furnished motor load. The National Model Railroad Association (NMRA) recommendations are 1.1 - 1.2 ounces for this size car. I found it as one of best runners in my collection while testing the car without a load on Kato Unitrack - a smooth roller with no issues around curves or through turnouts at slow and medium speeds. I attribute the high performance to the six-axles and the low center of gravity metal design. The provided load and decking strip are a waste used 'as is'... the load either shifted or fell-over through curves and turnouts. The motor load does not stay fixed on the platform surface and has little stability...need to either tie-down, glue or use double-sided tape to secure the load and whatever platform piece you decide to use.

Laser Cut Platform Strip – Rather Unstable and Unimpressive
Conclusion
We have a split decision. First, the depressed-center flat car is a unique piece of rolling stock that will surely draw attention to it. The Micro-Trains metal flat car was an exceptional runner that needed no adjustments to run smoothly. On the other hand, the paint job was messy and scratched on this specific model – probably a fluke since Micro-Trains usually provides high-quality products. Additionally, the selection of the load provided for the Southern Pacific flat was a disappointment. The load had little stability riding on the laser cut platform and I would have liked to have seen a load that sets into the depressed-deck. I can look past the deficiencies as I really love how this car handles on my track (without load) and enjoy the uniqueness of this flat car. I can always find another load and with a little weathering, the paint job will not be noticeable (not excusing the condition how it came out of the case) --- so all-n-all there is nothing to be 'depressed' about.
To see a list of all cars in this series,
CLICK HERE
.