Atlas Model Railroad 41-Foot Ballast Hopper
Published: 2022-04-01 - By: CNW400
Last updated on: 2022-04-01
visibility: Public - Headline

In September 2021, Atlas Model Railroad released their second collection of Master Line 41-foot ballast hoppers after the acquisition of the entire inventory of locomotive and rolling stock tooling from Walthers Model Trains in 2018. Atlas produced the first set of ballast hoppers from old Walthers tooling back in the winter of 2019 with the introduction of new road names and paint schemes. The Master Line Series offers greater attention to detail and frequently includes separately attached metal and plastic parts.
Road Names and Pricing
The 1st Atlas Model Railroad release of ballast hoppers in November 2019 included six road names:
Amtrak (yellow)
Burlington Northern (brown)
CP Rail (black)
Herzog (brown)
Milwaukee Road (brown)
Union Pacific (green)
Individual cars were available with a suggested retail price of $29.95 and a 3-pack for each road name with unique road numbers were offered for $89.85.
The 2nd Atlas ballast hopper assortment was ready for delivery in September 2021 with a suggested retail price of $31.95 for single cars and $95.85 for a 3-pack. The six road names contained in this collection included:
Amtrak (orange)
Canadian National (orange)
CSX (orange)
Massachusetts Department of Transportation – Mass DOT (blue)
Missouri Pacific (brown)
Norfolk Southern (red)
My review includes observations of Missouri Pacific (MP # 16671) - Atlas stock number: 50 005 481.
Prototype History
Sand – Cinders – Gravel – Brickbat - Stones (not Jagger & Richards) ...hardly exciting words but these materials are part of the backbone insuring a safe and functional railway system. Ballast.
Ballast is a granular material that is arranged below (sub-grade) and distributed between & around railroad ties (also known as sleepers – a British term for wooden planks used as support). The functions of railway track ballast consist of:
Transfer and disburse the weight of the load from the railroad ties to a larger formation area
Give support to the track structure while also permitting flexibility
Prevent the growth of vegetation and weeds around the track bed
Provide adequate drainage to keep ties dry and eliminate water hazards
Hold the ties in a firm position during a moving train
Limit longitudinal and lateral movement – maintain alignment of track
Supply a level firm bed for railroad ties to sit upon
Ballast must be maintained regularly to lessen the chance of misalignment of railroad tracks due to settling of the materials due to the movement of trains and Mother Nature. Distorted rails will result in a bumpy ride and worst-case scenario – derailment. Furthermore, the ballast should be routinely cleaned to prevent dirt, trash, and weeds from interfering with the drainage of water. A well-groomed track with have ballast level with the top of the ties with shoulder ballast at least six inches to 18 inches wide with a depth of six to twelve inches. Trains can exert a force of 100 psi (pounds per square inch) and both track & ballast must be able to brace this continuous treatment. The ballast should slope downward away from the track into a trench that transfers water from the rail structure.
Furthermore, the main ballast material usually rests upon a sub-ballast made of crushed stones. This bed of stone gives additional support to the track and functions as a moisture barrier reducing the ingress of moisture from the ground. As stated before, ideal ballast must be resistant to wear and extreme weather conditions. It should be non-porous, non-absorbent and furnish excellent drainage. The ballast cannot have any physical or chemical effects on the railroad track structure. The shape of the ballast is also important – angular patterns "lock" together and provide extra strength. And finally, ballast should be inexpensive and readily available. Many railroads use materials 'online' (cheap and handy) and lines can be identified by the substance of their ballast (limestone in the South – granite out West, etc.).
Types of Common Ballast:
Broken Stone (Quartzite, Sandstone, Limestone, Granite)

Hard, durable, and non-porous
Angular shape lock into position and provide excellent stability
Easily available
Suitable for heavy traffic and high-speed tracks
Long-term economic benefits due to durability and lack of required maintenance

Gravel

Cheap alternative to stone – found in riverbeds or gravel pits. Must be cleaned before use
Excellent drainage
Smooth, round shape prone to shifting in the track bed structure

Sand

Coarse sand is preferred more than fine sand
Excellent drainage
Inexpensive and easy to obtain
Drawbacks include potential wear to rail equipment & rolling stock and continual renewal of ballast because of wind and train vibration
Used in desert climates or less important lines (sidings or yards)

Cinder or Ash

By-product of locomotives and coal-fueled furnaces
Cheap, abundant, and available
Good drainage
Used in sidings, yards and frequently the initial ballast on newly laid track
Is messy and has a corrosive quality hence should not be used with steel sleepers

Brickbat

Over-burnt crushed bricks
Good drainage
Inexpensive – unwanted product of brick industries
Can break and turn into powder requiring track maintenance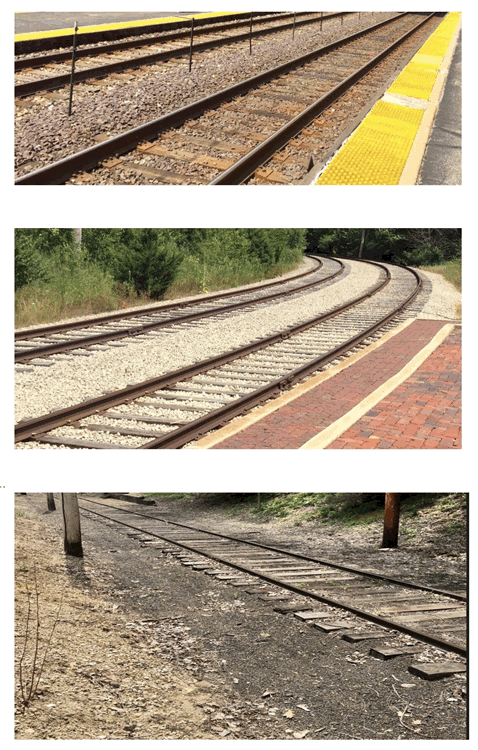 Example of Ballast Types
The Atlas ballast car represents a top-loaded, two-bay open hopper with four rectangular shaped gates that spill the ballast material outward around the tracks. The gates are manually operated by Maintenance of Way (MOW) crew members and must be closed while passing over crossings and switch points. The ballast hoppers tend to run in a string of cars, discharging the material one bay at a time. Once both bays are emptied, the locomotive must stop and allow the crew to move to the next filled hopper and manually open the gates. The train then proceeds forward at a slow, steady pace until the hopper has been emptied. The process continues until the entire string of ballast hoppers are unfilled.
In recent years, Herzog Railroad Services developed a ballast car with hydraulic powered gates that are remote controlled. Solar panels continuously recharge the electrical system, and the remote-control features reduce the number of employees needed for operation, increase efficiency with quicker discharge times, and provide a safer environment by eliminating manual procedures.
Finally, three pieces of railroad equipment used in conjunction with ballast hoppers are ballast tampers, ballast regulators and ballast cleaners. A ballast tamper is a self-propelled machine used to pack ballast under railroad tracks to make a more compact, level surface. This task was performed by manual labor before the introduction of the tamping machine.
Ballast regulators are used after track construction or ballast maintenance to evenly shape and distribute ballast material around the track structure. Regulators have three main pieces of equipment:
Plow Blades – move and shape ballast to proper height
Ballast Boxes – pull ballast towards the centerline of the tracks and contours the ballast downwards away from the tracks
Brushes – Sweep away any ballast or debris resting atop the ties or rails
Although designed to primarily maintain ballast, ballast regulators have been employed by railroads to plow snow, remove vegetation, dig ditches, and lay cables. Lastly, ballast cleaning machines scoop-up ballast from the railbed with an excavating chain and the ballast is sifted to remove any debris. The cleaned material is returned to the tracks.
The Model
The ready-to-run hopper comes packaged in a clear plastic jewel case with a slip-off cover and a two-piece plastic cradle to cushion the model. The model information is clearly labeled on the end of the case for ease to locate when in storage. A thin plastic film was wrapped around the car to protect the railcar from scuffmarks. No additional detail pieces were found in the packaging.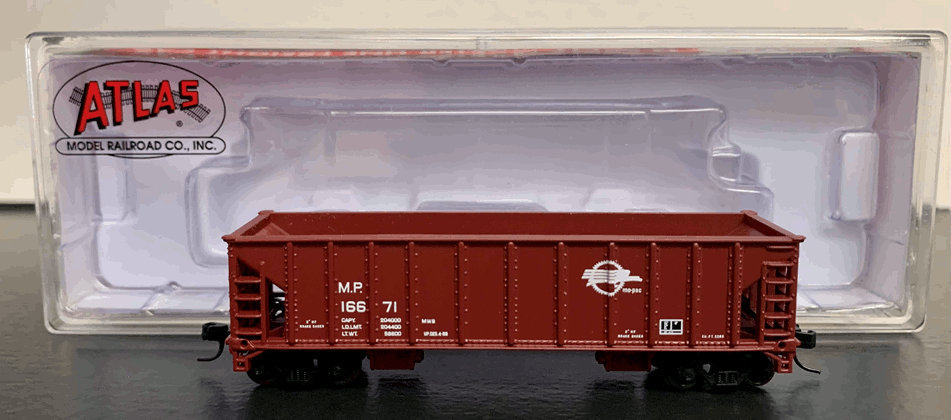 Model with box
The boxcar red paint job is crisp and even along the entire injection molded plastic model. Lettering is extremely sharp and clear, even when magnification is needed for the smaller printing. The tiniest text is neat and legible. The placement, font, and size of printing is similar to that found on the prototype image for Missouri Pacific #16635. The Atlas model appears to be a few shades too red when compared to other Missouri Pacific rolling stock photographs.
Each side of the model features the prototype correct 10 full-panel configuration and discharge gates mounted under the third & fourth posts from either end of the car. The steel constructed body also displays impressive sharp rivet lines. In contrast, the side platform ladders and stirrup steps are much too thick and look rather clunky.
This 2285 cubic-foot ballast hopper was built in December 1972 for the Missouri Pacific Railroad and proudly wears the Screaming Eagle herald which first introduced in 1969 and used until 1984. The railcar denotes that it was reassigned to the Union Pacific in April of 1988. On December 22, 1982, the Union Pacific Corporation gained control of the Missouri Pacific and Western Pacific Railroads and formed the Pacific Rail System with all three railroads maintaining their own corporate identity until January 1, 1997, when all equipment was officially merged into the Union Pacific Railroad.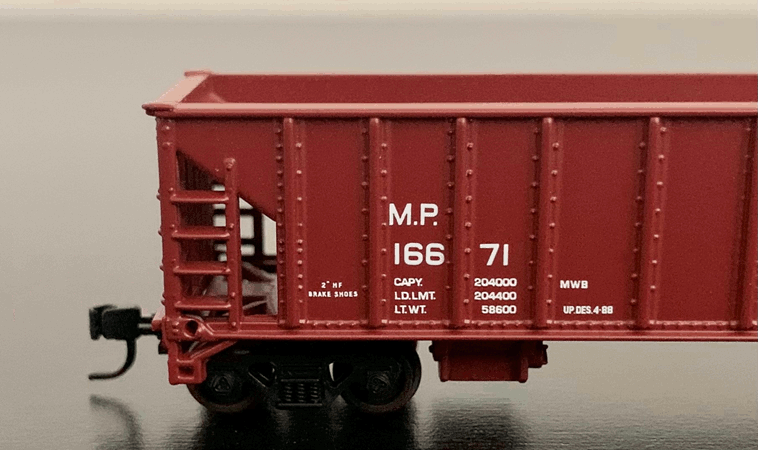 Sharp Rivets and Crisp Printing
Ladder and Step Too Large
Note MWB Designation
Both ends exhibit chucky ladders and center safety braces. Atlas boasts of a "detailed brake wheel" - nothing special here but a separately applied modern Ajax brake wheel that is regularly found on most N scale rolling stock. The B-end platform does display molded braking system and reservoir detail parts. The lettering is neat and in proper arrangement with the road marker and road number located on the top right corners.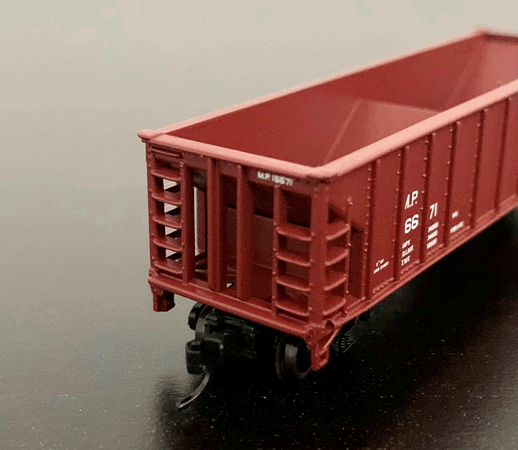 Ballast Car End Details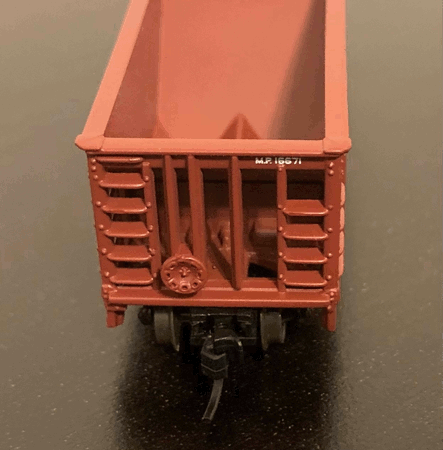 Ajax Wheel and Molded Braking System on Platform
The inside of the two-bay hopper displays sloped sides directing the carload towards the four outlet gates. Rather basic design with several production blemishes noticeable from the injection mold process. A hopper load is recommended to camouflage these imperfections.

Sloped Interior Walls
The underside of the flat car is simple with the braking system and reservoir tanks mounted on the B-side end platform. The ballast discharge gates are basic and unimpressive with no details and random production marks visible on the structures. The model rides along free rolling trucks with brown plastic wheels. I understand the brown wheels are added to simulate weathering and rust, but these shiny plastic wheels look like wearing brown socks with a black suit. Both truck mounted AccuMate knuckle couplers were aligned to proper height.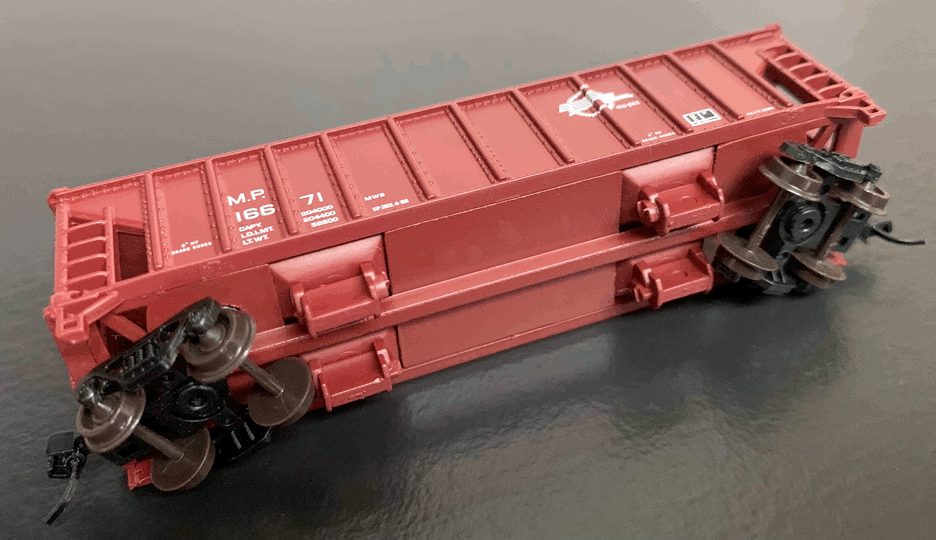 Weighted Underframe
Lackluster Discharge Gates and Plastic Wheels
The ballast car is 3 inches long and weighs 0.9 ounces, which is perfect according to the National Model Railroad Association (NMRA) recommendations (0.95 - 1.0 ounces for this size car). I was surprised to find an open hopper with perfect running weight, but the Atlas model offers thick sides and a weighted underside. It was an excellent runner while testing the car on Kato Unitrack with no issues around curves or through turnouts at slow and medium speeds.
In conclusion, the Atlas Ballast Hopper is a great running car that has sturdy, thick construction with excellent weight and balance. The model is mostly prototypical accurate with crisp printing and sharp rivet point details. Deficiencies includes oversized ladders and steps, brown plastic wheels and several visible mold marks. Looking for a heavy, well-made hopper with decent details – this is a good option...for the modeler the prefers flawless production and scale correct representation – you may be disappointed.
To see a list of all cars in this series,
CLICK HERE
.