InterMountain Railway Thrall Bi-Level Auto Rack
Published: 2022-09-01 - By: CNW400
Last updated on: 2022-08-11
visibility: Public - Headline

In December 2021, InterMountain Railway Co. and Fox Valley Models partnered together to release a new series of Bi-Level Auto Rack cars. The original tooling of these models was owned by Red Caboose and acquired by Fox Valley Models in 2017. This latest collection includes seventeen paint schemes for fifteen road names.
Road Names and Pricing
Union Pacific with TTX Speed Line Logo (TTGX)
Grand Truck Western (GTW)
Providence & Worcester (PW)
Southern Railway with TTX Speed Line Logo (TTGX)
Western Pacific with Trailer Train Logo (TTGX)
Ferromex with red TTX Logo (TTGX)
Burlington Northern Santa Fe (brown) with Circle Cross Herald (BNSF)
Canadian National – Nebraska Kansas Colorado Railway with wet noodle logo (NKCR)
Kansas City Southern with red TTX Logo (TTGX)
Transportacion Ferroviaria Mexicana with TTX Speed Line Logo (TTGX)
Conrail with TTX Speed Line Logo (TTGX)
Norfolk Southern (Thoroughbred Logo) with red TTX Logo (TTGX)
Canadian Pacific – CP Rail Herald (CPAA)
Burlington Northern Santa Fe (yellow) with orange Swoosh (TTGX)
CSX – Patched with TTX Speed Line Logo (TTGX)
Union Pacific – Building America with TTX Speed Line Logo (TTGX)
Rock Island – The Rock (ROCK)
Multiple road numbers are available for each railroad with a suggested retail price of $69.95 except for the Rock Island. The Rock Island model was a Spring Creek Model Trains exclusive product of six different road numbers. Only 50 cars were produced for each number with a retail price of $90.
Prototype History
The automobile industry and railroads have a long, storied history: the hauling of raw materials to production plants - delivery of auto parts in specialized boxcars -the transport of assembled vehicles to dealers and distribution hubs. But their relationship was not always easy; the railroads have worked hard to meet the ever-changing demands of the manufacturing industry and to stifle the competition from trucking lines.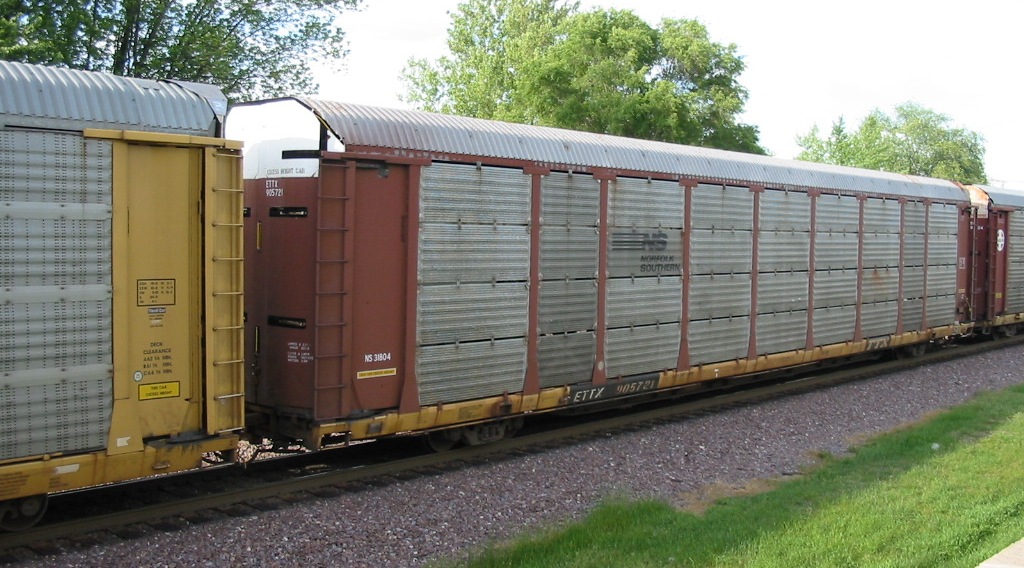 First, the railroads improved their access to the vehicle production hub of Detroit, MI and the surrounding areas. Thus, in the early days, the railroads were able to dominate the service offered to the 'Big 3' (Ford, General Motors, and Chrysler) and the smaller manufactures - hauling 70% of finished vehicles throughout the 1920's and 60% during the 1930's. Initially, 40 or 50-foot boxcars with wide double-doors were able to carry 2 or 3 automobiles (depending on size of vehicle). In the mid-1930's internal racks were developed to transport 4 vehicles - two hoisted at an angle and two secured to the boxcar floor. This process proved very time consuming to load/unload and was prone to cause vehicle damage.
After World War II, the railroads saw their finished automobile shipping numbers slip to 40% and further decrease to 19% in 1950 and to a devastating low of 8% in 1958. Stiff competition from the truck industry with the development of semi-trailers and improved highway systems was a deadly combination to the railroads during the 'auto boom' of the 1950's.
The railroads did try to develop more efficient means to transport automobiles. A few early examples include Grand Trunk Western (GTW) trials in 1923 with a 60-foot flatcar that could hold up to nine cars. The flatcar was deemed too difficult to load/unload vehicles onto the second level and GTW did not like the idea of dedicating a flatcar to a 'single use' product. If the automobile flatcars were not hauling automobiles, they would be sitting idle not producing revenue. The idea was scrapped until twenty years later.
In 1954 Evans Products Company experimented with a double-deck, open-side car for the New York Central and Union Pacific railroads. Dubbed the '6-Car Auto Loader', the flatcar was equipped with a built-in ramp to load automobiles on the second level. This idea did not reach its full potential and was also abandoned. The railroads also played with the idea of using 75 or 85-foot piggyback flatcars but again determined the use of a long, single layer flatcar was not efficient use of a railcar. The 85-foot flatcar was delegated to haul small trucks, buses, and military equipment.
The first modern auto racks to be pressed into mass service were introduced in January 1960 by the St. Louis-San Francisco Railway (Frisco) and Santa Fe (ATSF). The Frisco revealed a Pullman-Standard built 83-foot tri-level that held 12 to 15 automobiles. The Santa Fe developed a Topeka shop built 53-foot tri-level that could transport nine cars.
In 1963 Trailer Train adopted the 89-foot flatcar as the standard size for their piggyback and auto rack fleets. The length was increased to 89'-4" by request of the auto manufactures. The same design was used for piggyback and auto service to help simplify production and to ease the process should the flatcars needed to be redesigned or converted between rail services.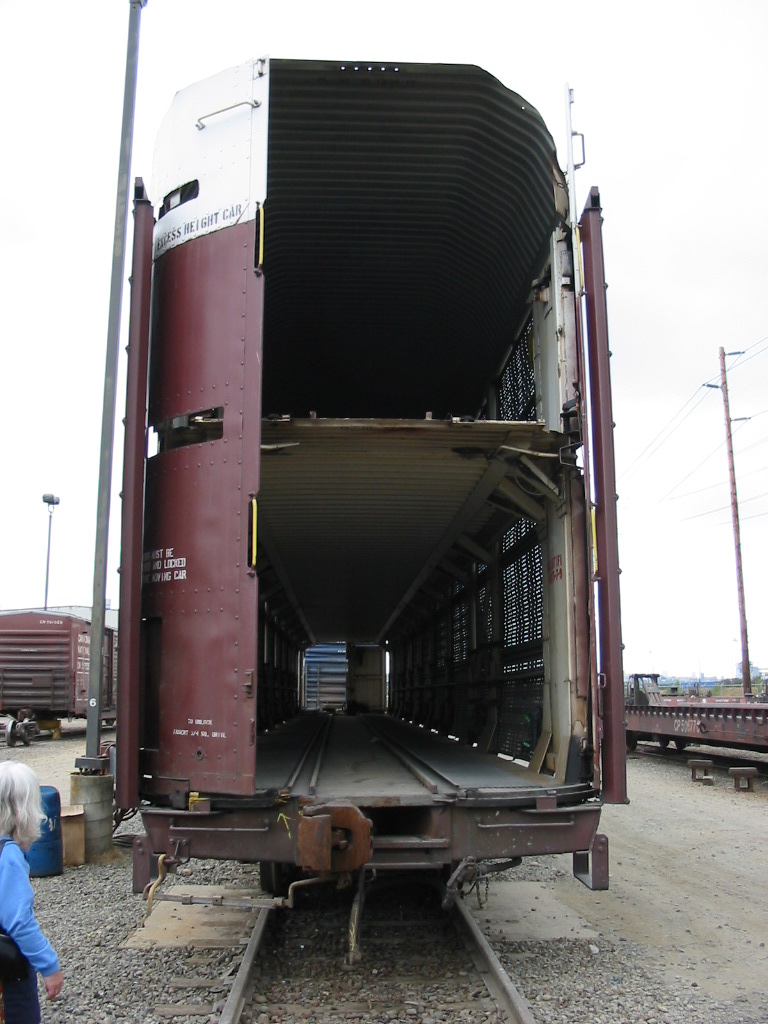 There are two basic categories of auto racks: bi-level and tri-level.
Bi-level auto racks have two decks that are usually fixed in height. Pickup trucks, vans and taller automobiles (with a load capacity of 8-10 vehicles) were primarily assigned to this railcar. Tri-level auto racks have three decks and can transport 12-15 standard size automobiles. Tri-level auto racks were one of the tallest railcars of the 1960's - reaching upwards of 18'4" fully loaded. This caused a predicament with the old tunnels and bridges of the eastern states. This resulted in the construction of two different tri-level varieties: the 'Western' variety with fixed decks that could freely travel the Midwest, Southwest, and Western states. The 'Eastern' variety B and C (top two decks) levels could be raised and lowered to navigate a greater number of tunnels. The auto rack decks were identified by letter (A-B-C) and the vehicles numbered in forward facing position. Thus, the middle car on the third rack is labeled C2. These 'elevating decks' (assigned ETTX road marks) were high maintenance and prone to failure and fazed out of service by 1970.
Trailer Train managed an equipment ownership pool of both piggyback and auto rack flatcars to eliminate empties and improve efficiency. Trailer Train would own the flatcars while the railroads owned the auto racks. Trailer Train assumed the risk of railcar ownership because the flatcars could be converted into different rail use services while sharing the financial burden and maintenance with the railroad ownership of the auto racks.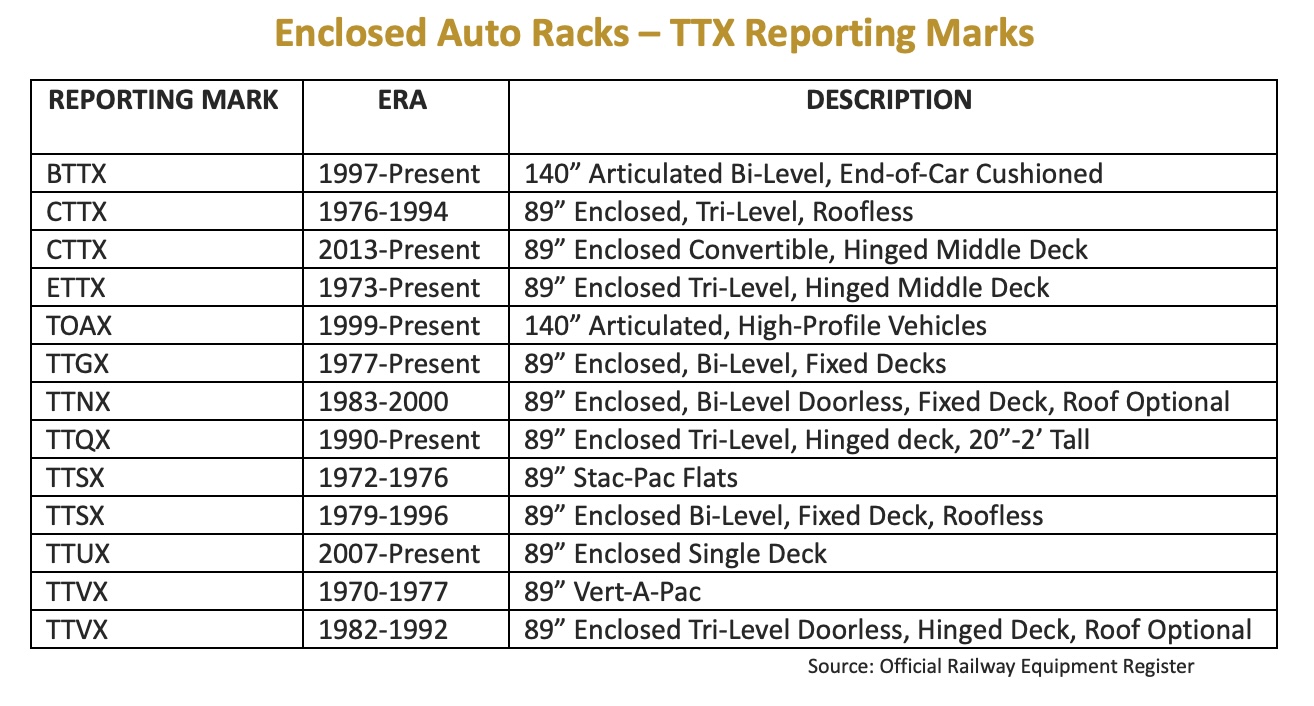 Anti-vandal side panels were installed to open racks starting in 1970 and the use of enclosed auto racks began in 1974. The enclosed auto rack car further helped to protect vehicles from the elements, vandalism, and theft. With the development of the enclosed car, many of the automobile flatcars were 'de-racked' and reassigned to other rail services such as Trailer-On-Flatcar (TOFC) or oversize load transport.
The railroads first attempt to reduce vehicle damage and theft was the application of solid sheet panels to the sides of existing open auto rack cars. Conversion kits, with a cost up to $2,000 per car, were manufactured of steel, aluminum, or fiberglass material.
Smooth-panel fiberglass and mesh screen panels were favored initially because of their light weight and low cost. But both options proved to not be as durable and resilient as corrugated galvanized steel or aluminum metal panels. Metal panels made the auto racks much heavier, adding 2,000 pounds of tare weight (weight of an empty railcar) but helped to reduce reported vehicle damage by over 40% during the preliminary stages of panel implementation.
To prevent further 'on-board' vandalism and auto parts thief inside paneled open-side racks, enclosed auto rack railcars were developed during the early 1970s. Some unique early ideas included the Vert-A-Pac railcar that held 30 compact automobiles in a vertical position and the Safe-Pak railcar that displayed perforated vertical metal panels over the side posts.
The two primary manufacturers of early enclosed auto rack cars were Whitehead & Kales and Paragon.
Paragon began to deliver enclosed auto cars in late-1973. Their first production model, the RailPac, had steel mesh panels between multiple vertical support posts with corrugated fiberglass roofs. In short time, Paragon began to use perforated metal panels and metal roofs. Similarly, Whitehead & Kales released its enclosed car in 1974 with perforated metal panels and arched corrugated metal roof. Both manufacturers released versions with or without end doors and roofless models for the vertical clearance challenges of the eastern railroads.
The Model
The ready-to-run bi-level auto rack came packaged in a flimsy, chipboard box with a clear plastic see-thru front panel. The model was sandwiched between a two-piece plastic cradle with foam pieces protecting the car ends. The railcar was also wrapped in a thin plastic sleeve to protect against scratches and scuffmarks. The model information is clearly labeled on the end of the box for ease to locate when in storage and no extra pieces were found inside the packaging. Although the model was safely delivered inside the plastic nest, the cheap cardboard box is not a solution for long-term storage and harkens back to the days of inferior packaging of the 1970s.

The paint job is crisp and clean along the entire metal and plastic model. The brown Western Pacific auto rack rests upon the era correct Trailer Trains yellow frame – Trailer Train began to change their fleet color from red to yellow in 1970. Trailer Train did offer the option to paint the flatcars and racks a custom color. The black and white lettering is extremely sharp and clear, even when some magnification is needed for the smaller printing. The color, placement, and size of printing is similar to that found on prototype images.
The InterMountain F89FHW auto rack represents an 89-foot fully enclosed bi-level car with fixed decks and vertical side posts that terminate at the horizontal roof support rail with protective panels between the posts.
The sides of the model accurately depict a Western Pacific Trailer Train auto rack with a date of 12-77. Finely etched metal see-thru anti-vandalism panels are exquisitely featured along each side. The Western Pacific (WP) herald is correctly displayed on the fourth panel. The sides also include the prototypical correct staggered nine panel configuration with a molded brake handle and full-length ladder and stirrup step in each corner. The screen mesh is extremely delicate – care must be taken when grabbing to not smash the metal surface.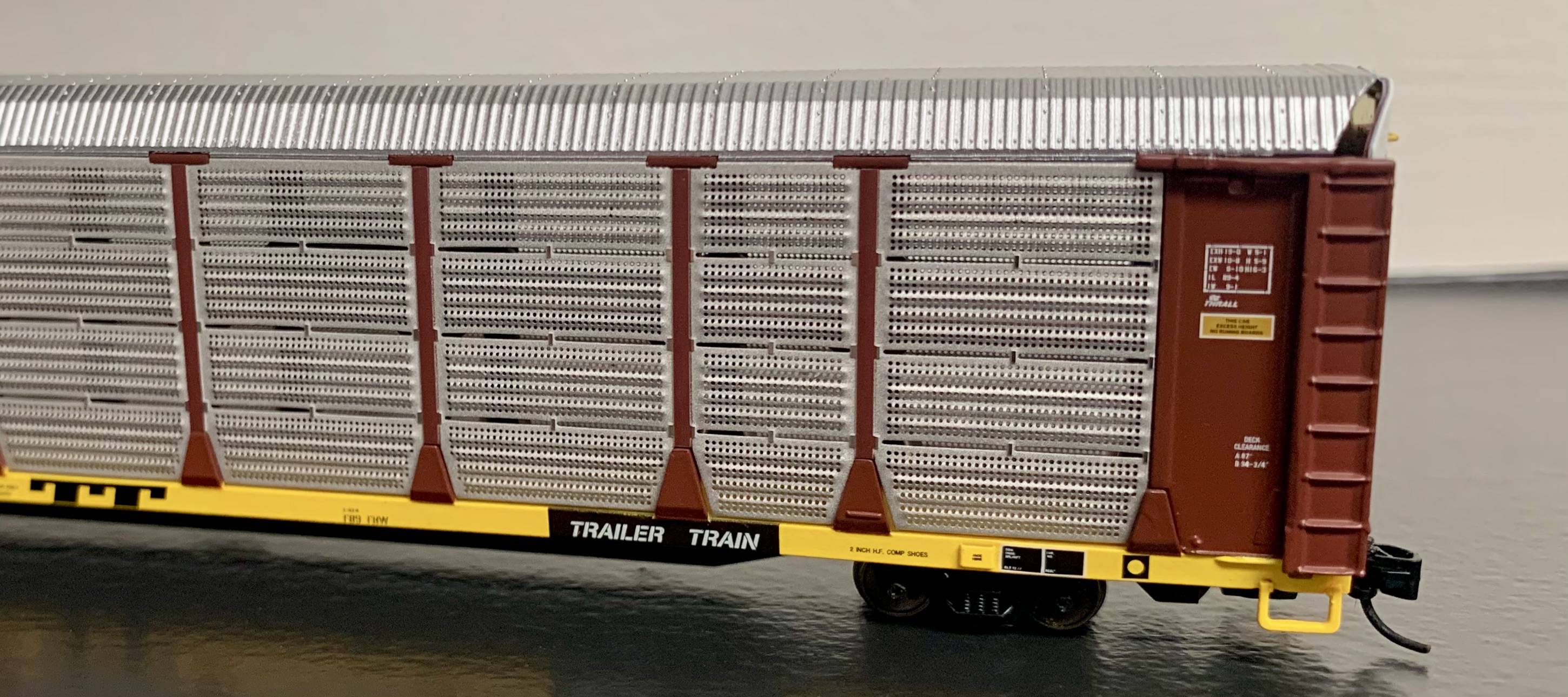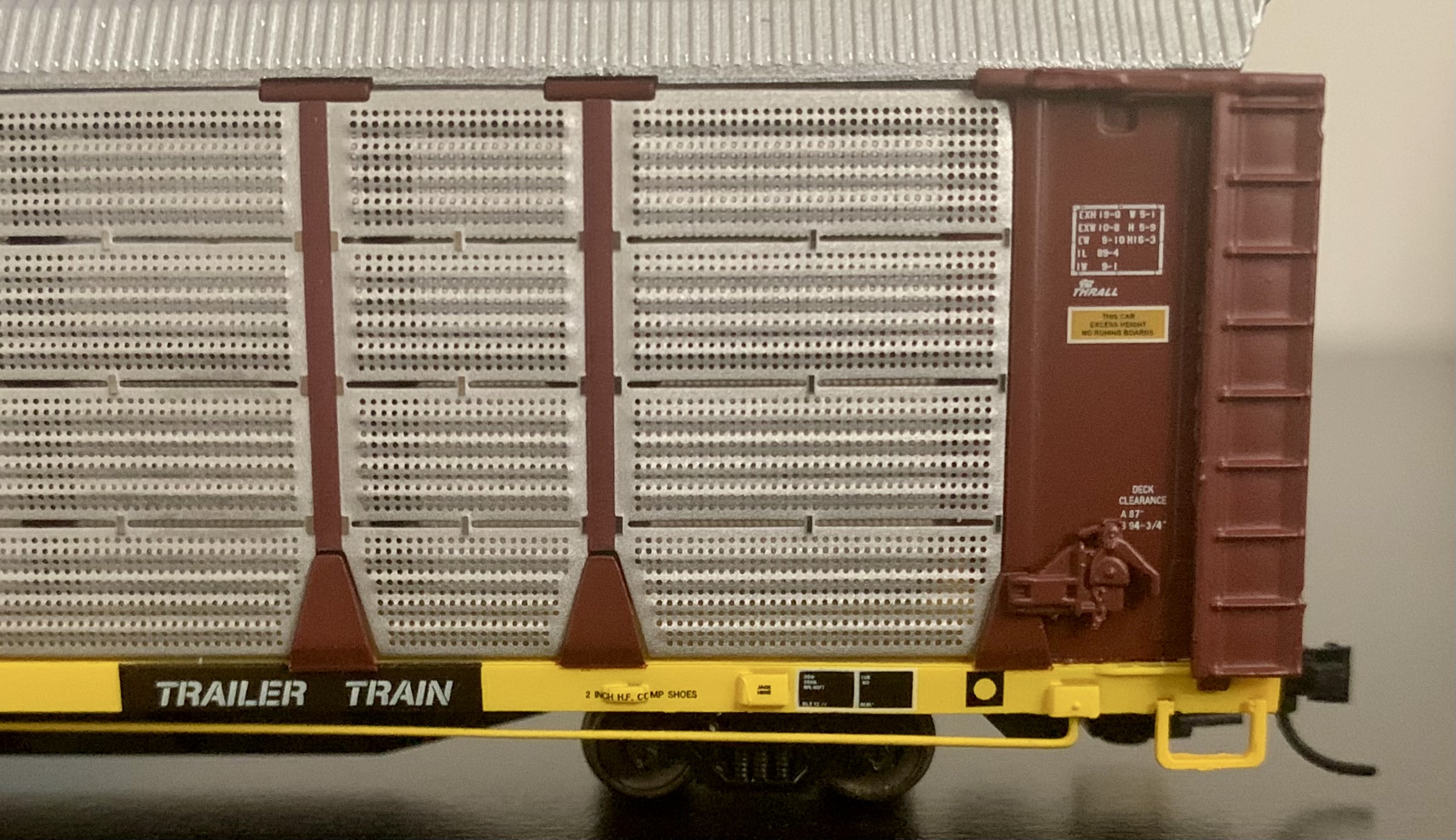 Each car end features a non-working, removable door with two separately applied grab irons at the top, two sets of molded vertical grab irons along the middle and rivet line detail. The brass doors represent the Thrall SealSafe Radial Door system. Once a door is removed (held by two brass tension clips) – the inside reveals a fixed deck with threads on each surface level. The radial door was introduced by Whitehead & Kales in 1975 with each door rotating open around and behind the side ladders. The SealSafe Radial Door system was a further development by Whitehead & Kales in the 1990s to create a tighter seal for security and to minimize the about of dirt pulled into the railcar.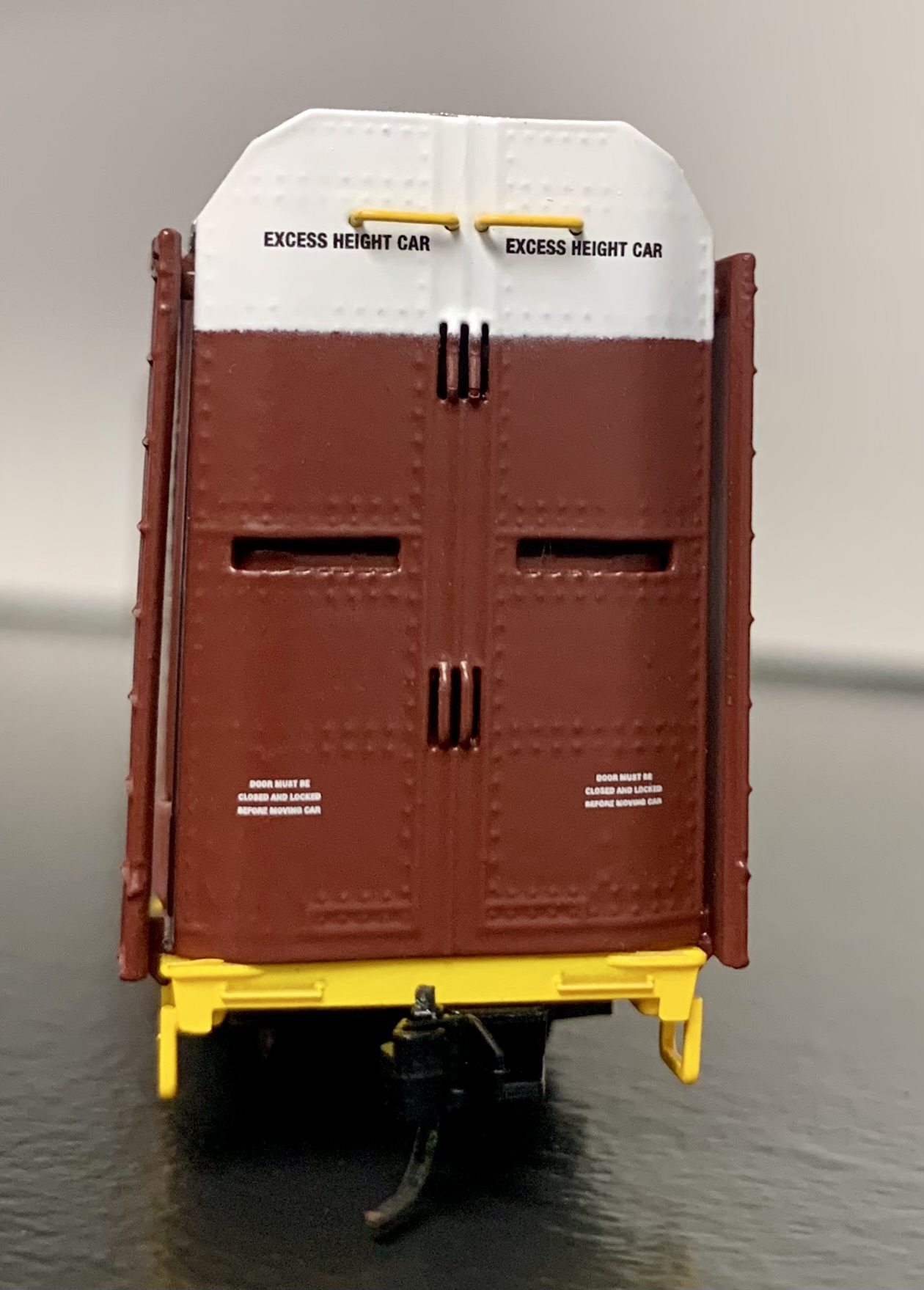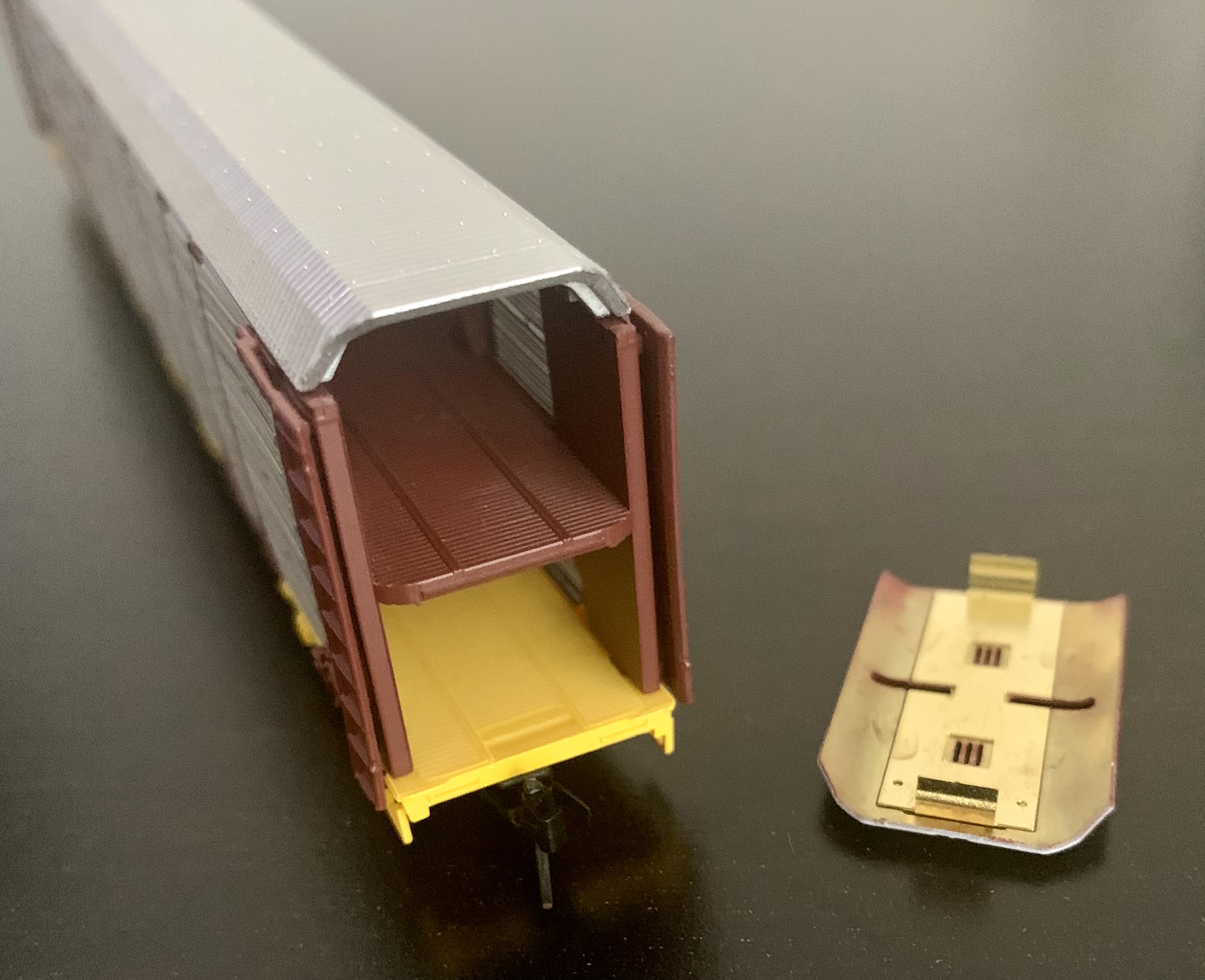 The top displays arched silver galvanized ribbed roof panels with crisp rivet detail lines. The underside features a die-cast metal frame for proper balance and weight. Underside details represented include reservoir tanks, cylinder, cross members, and separately applied wire brake line. The auto rack rides along Micro-Trains Line Barber roller bearing trucks with long extension couplers and 33" InterMountain blackened metal wheels. Both truck-mounted knuckle couplers were fastened at correct heights.


The car is 6 7/8 inches in length and weighs 1.7 ounces, which is a tad heavy according to the National Model Railroad Association (NMRA) recommendations (which are 1.5 - 1.6 ounces for this size car). A great runner with no issues on straight track and thru turnouts on Kato Unitrack at low and medium speeds. Attention is needed however maneuvering around curves and twists with a recommended operating radius of at least 15".
Conclusions
This is a special model – the InterMountain Railway/Fox Valley Models alliance produced a superb piece of rolling stock. The impeccably designed etched metal see-thru mesh sides, separately applied detail pieces and an excellent runner with prefect balance. My only complaint is the packaging – for $70 a rigid plastic jewel case should be the minimum storage option, not a thin cardboard sleeve. Every modeler should try and treat themself to this wonderful bi-level auto rack railcar.
To see a list of all cars in this series,
CLICK HERE