Atlas Beer Can 'Shorty' Tank Car
Published: 2022-10-01 - By: CNW400
Last updated on: 2022-09-21
visibility: Public - Headline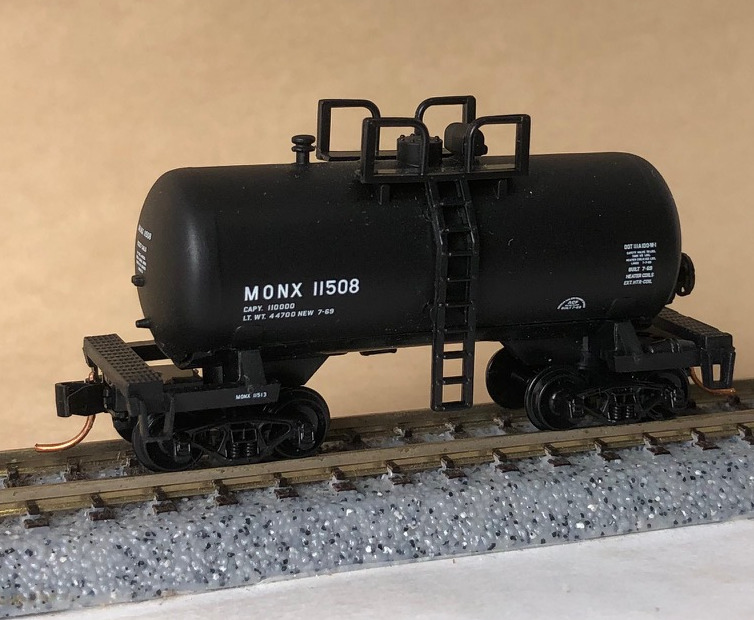 Announced in June 2020, Atlas Model Railroad expanded their Trainman 'Shorty' Tank Car collection with eight new fantasy paint schemes representing actual aluminum beer cans. The compact tank car earned the moniker 'beer can' for the shape it resembles – not for what it carries. These novelty tank cars, released in February 2022, are part of the Trainman Series which offers less attention to detail and targets the budget-minded modeler.
The story of the Atlas 28-Foot "Shorty" Beer Can Tank Car began in New Jersey in 1971. Early versions were equipped with Rapido couplers and shiny nickel silver metal wheels. Production was soon transferred to China with Atlas releasing over a dozen series of 'Shorty' tank cars.
Atlas Model Railroad has recently issued four additional beer themed products: 40-Foot Wood Reefer, 40-Foot Plug Door Boxcar, 45-Foot Pines Trailer, and Ford LNT-9000 Tractor Cabs.
Road Names and Pricing
This Trainman release includes eight different paint schemes. The brands represented in this collection include:
Beer (Generic)
Jax
Lone Star
Olympia (Little Oly)
Pabst Blue Ribbon
Primo
Schlitz
Stroh's
Two different road numbers are assigned for each brand of beer. The suggested retail price is $26.95. My review includes observations of Atlas stock number: 50 005 636 – Olympia Beer #1983.
Prototype History
Tank cars were one of the first all-steel pieces of rolling stock – from the early 1900's throughout the 1950's their basic design went unchanged. A riveted horizontal tubular-shaped tank with a dome. The tank rode along a separate steel underframe, sitting in a saddle and anchored to the frame with a series of narrow bands wrapped around the tank to the frame. The tank was not riveted to the underframe – allowing for expansion and contraction of the tank. The tank cars original cargo was crude oil from the Pennsylvania fields in the late 1860's. Merely tanks mounted onto flatcars to transport oil evolved into 140,000 steel tank cars hauling over 100 different commodities by the 1930's.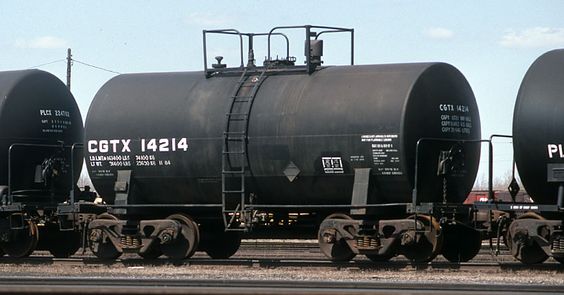 Common sizes for tank cars during this era were 8,000 – 12,000 gallons. The size tank was dependent on the load size requested by the customer and the weight difference amongst products. The American Association of Railroads (AAR) did not mandate a standard for tank cars; thus, a variety of designs were created. Sulfuric acid and chlorine are heavy commodities, thus demanding a smaller tank car. Gasoline and propane are lighter products and can be transported in larger tanks.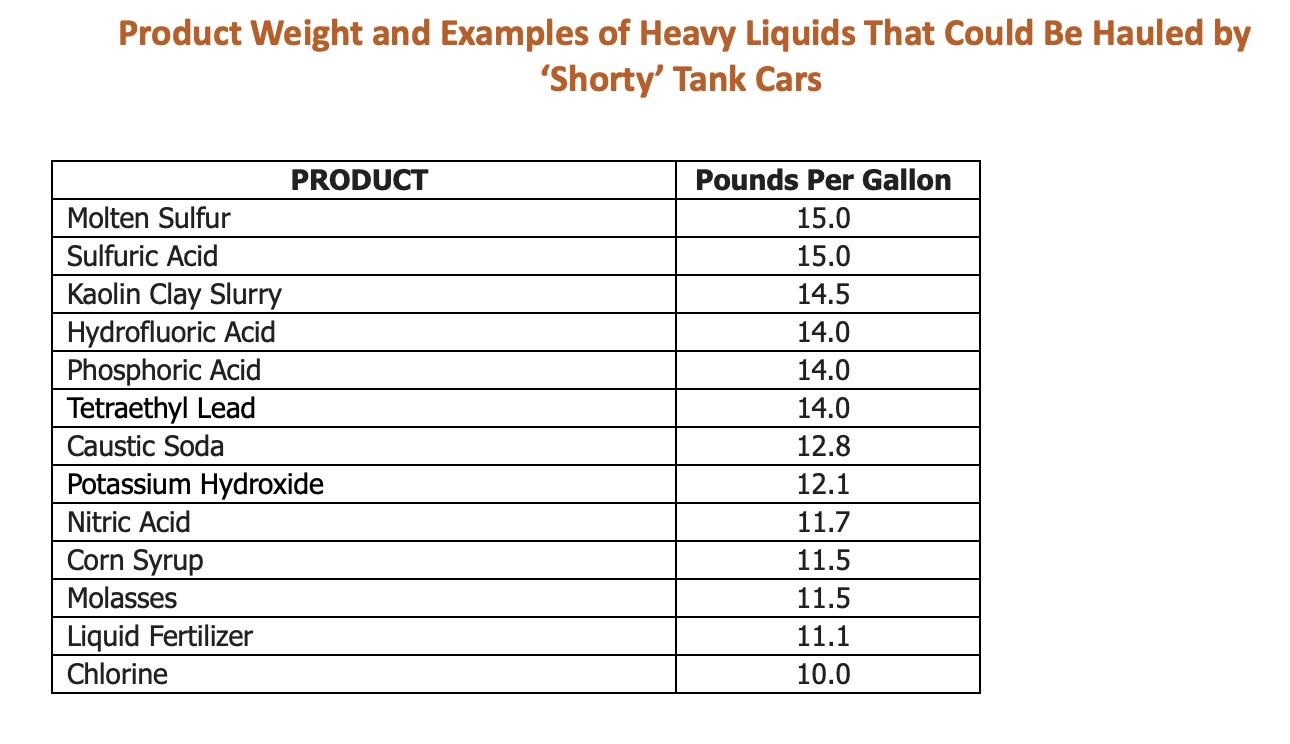 The basic tank had a handrail that ran horizontal around the entire car, running boards, a ladder to access the dome hatch (called a manway) and end sills. Depending on customer preference and the loading procedure, access to the manway atop the dome was either accomplished with a simple ladder and small step platform or a platform built around the entire manway with railings. Furthermore, the manway needed to be opened during the unloading of liquid product. Air needed to vent into the tank to help "push" the product out more quickly and the vacuum created during unloading could cause the tank to collapse if the proper air pressure were not maintained in the tank.
The 10,000 gallon 'Shorty' tank car was designed to transport high density acids or heavy liquids that would only partially fill-up a larger tank car before exceeding weight capacity limits. Moreover, a customer may order a commodity in a quantity too small to fill a standard tank car (less-than-carload / LCL) causing the product to slosh around– in both cases too much empty space and air makes the tank car unbalanced and the product unstable.
Tank cars can have two or more compartments – each compartment will have its own dome. Cars with the same size multiple domes were constructed for that purpose. Tanks with different sized domes (i.e., large in middle with two smaller ends) were converted into multiple compartment cars. Non-pressure cars can be unloaded from a top or bottom outlet. A hose or threaded pipe is connected to an unloading valve. Pressure cars are unloaded from outlet connections located in a housing on top of the tank. Three connections are used for unloading and venting: two for removing the liquefied product and the third for vapor. The connections are colored red for liquid and yellow for vapor. Non-pressurized cars were insulated with either cork or foam and covered with thin steel sheathing. These cars could also be equipped with steam heating coils to assist viscous liquids, such as tar or corn syrup, flow more freely during unloading. Pressurized cars were insulated with external steel sheathing and do not have heating systems.
The most common color from tank cars was black. In theory it hid the stains and spillage of most commodities, and it is a basic, inexpensive paint selection. Tanks hauling acids were white with wide vertical bands at center. Hydrocyanic acid cars, also called candy-stripe or candy cane cars, had white tanks, a thin horizontal stripe across the center and vertical red stripe above each truck. Tank cars hauling hazardous materials had four HAZMAT placards: one on both sides of the car and one on each end. The placard color is based on the material being transported and if it is flammable, corrosive, reactive or an inhalation hazard. Empty tanks have no placards posted. Furthermore, cars needed to be stenciled with the lading being transported.
Once the 1950's arrived the railroads lost a great of their fuel hauling traffic to pipelines and the trucking industry with the expanding highway system. The railroads tried to combat this loss of business with the development of larger tank cars to make it more efficient to use rail service and targeting the expanding chemical, rubber & plastics industries in North America.
Coors Beer in Tank Cars?
As mentioned above, the 'Shorty' Beer Car did not carry a finished beer product, but instead hauled heavy, high-density products that required a smaller car or to serve customers with small sidings and track weight limits. One exception to this practice - kind of - was Coors Beer.
Until 1976, Coors Beer was available in only 11 states – all west of the Mississippi River. The 1977 blockbuster film, "Smokey and the Bandit", famously spread the tale that Coors Beer was illegal in the eastern half of the United States. The mystery and curiosity of this 'forbidden' beverage helped to induce the high demand of Coors products.
The main reason for Coors Beer centralizing on the western market is pasteurization. Pasteurization is a process of sterilizing by adding heat to foods and liquids to destroy pathogens and extend shelf life. The Coors Company believed pasteurization ruined its unique beer flavor and remained an unpasteurized beverage – instead using sterile filtration, cold filtering, aluminum cans, and refrigerated trucks to preserve its product. Until improved distribution systems were developed, the Coors Company distributed exclusively in the western region of the United States. Furthermore, several eastern states (and Oregon) had laws on the books prohibiting the sale and distribution of unpasteurized beer and refused Coors the right to market its products within their borders. The beer "Brewed with Rocky Mountain Spring Water" was not available in all 50 states until 1991.
One way Coors expanded east was with their own fleet of over 300 tank cars. The Coors brewing facility in Golden, Colorado was composed of 36 miles of track. The Coors plant maintained their own railroad – complete with six switcher locomotives. Beginning in 1985, a daily trip of white tank cars with reporting mark CORX ran east to packaging plants in Elkton, Virginia and in 1990 to Memphis, Tennessee. These much larger 21,000-gallon tank cars were not brimming with beer but were filled with wort (beer concentrate) to be mixed, packaged, and shipped to the southern and eastern states. The trip from Golden, Colorado to the southeastern bottling plants took on average 5 to 7 days.
Coors Tub
A steeping tub at the MillerCoors Brewery, the world's largest single brewing operation and one of the Denver area's perpetually popular tourist attractions, in Golden, Colorado. Highsmith, C. M., photographer. (2016). Retrieved from the Library of Congress, https://www.loc.gov/item/2017688905/.
The Memphis and Virginian Shenandoah Valley areas were selected in part because of their excellent spring waters and abundant water supply. Considering some of their product was not fully produced in Colorado, Anheuser-Busch protested the "Brewed in the Rocky Mountains..." slogan. Coors responded by changing its tagline to "A Taste Born High in the Rocky Mountains."
Since then, Molson and Coors merger into the Molson Coors Beverage Company in 2005. Molson Coors acquired the Miller Brewing Company in 2016 – making Molson Coors the third largest brewer in the world.
The Model
The ready-to-run boxcar came packaged in a clear plastic jewel case with a slip-off cover and a one-piece plastic cradle to cushion the model. The model information is clearly labeled on the end of the case for ease to locate when in storage. A thin plastic film was wrapped around the car to protect the print job from scuffmarks. No additional detail pieces were found in the packaging.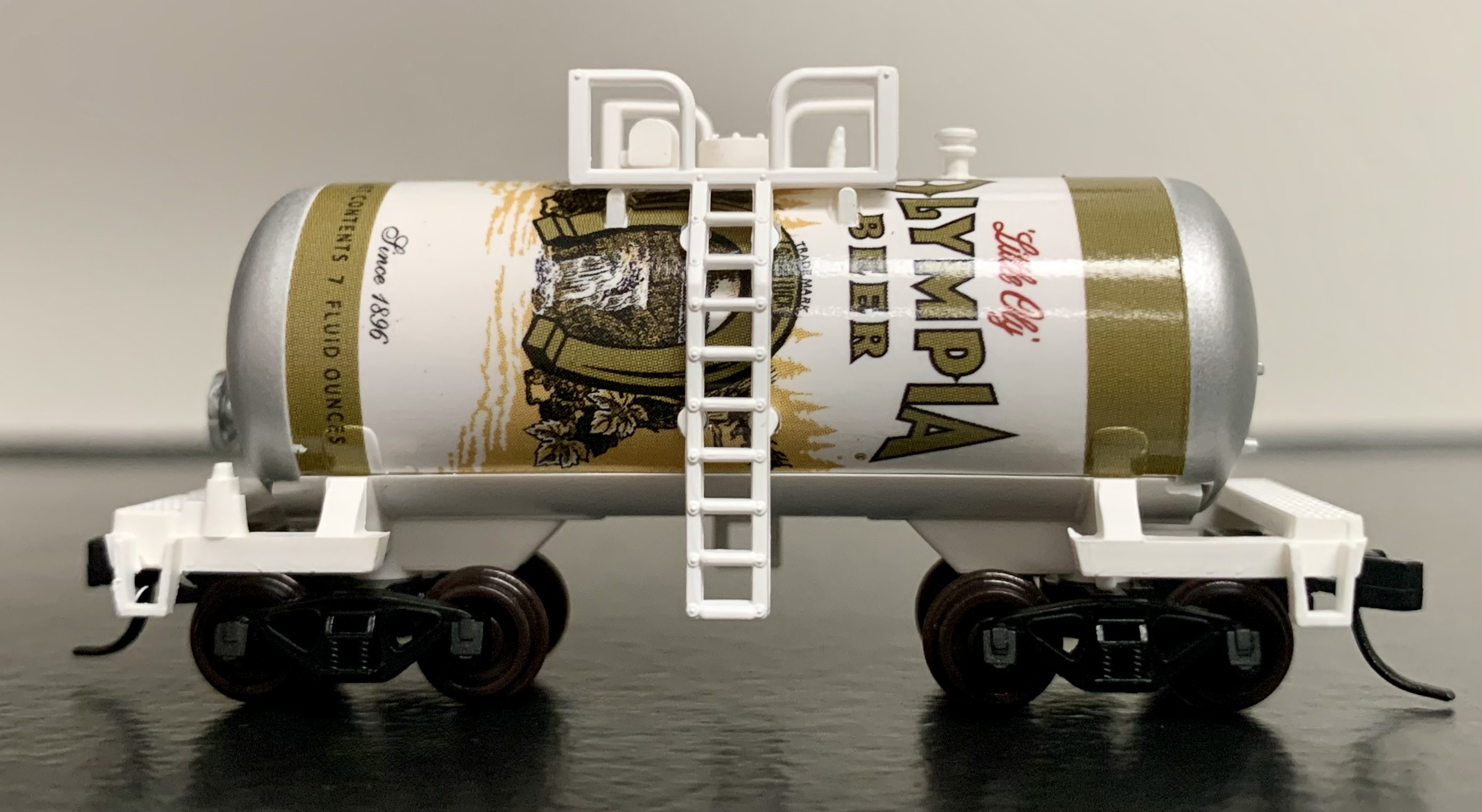 While there is no true prototype example for the Atlas 'Shorty' Tank Car – it is supposedly based on an ACF (American Car and Foundry) basic tank car plan from the 1960s. Furthermore, there is debate over which specific railcar type these tank cars represent. My best educated guess is the AAR (Association of American Railroads) T-103: a tank car designed for transportation of liquids, liquefied gases, compressed gases, or solids liquefied prior to unloading. The T-103 tank is a general service car built with a welded or riveted carbon steel jacket and may include rubber lining. Furthermore, the tank cars can be non-insulated or insulated and it has a load capacity between 10,000 and 11,000 gallons. The Atlas model has a marked capacity of 10,075 gallons.
The Olympia Beer tank car is fully decorated in a gold and white color can with its horseshoe logo and "It's the Water" slogan– a well-known marketing scheme used since the Olympia Brewing Company started canning beer in 1950. The Olympia Brewing Company was founded in 1896 in Tumwater, Washington by Leopold Friederich Scmidt. The company claimed their beer was the best because it was brewed with water "from Artesian wells." The 'Little Oly' size can, the same printing on the Atlas tank car, was named because it contained only 7-ounces of product – the standard can size for beer is usually 12-ounces. The 'Little Oly' can was introduced in 1962 in an 8-pack case.
G. Heileman Brewing Company acquired Olympia in 1983. It was later purchased by Pabst Brewing Company in 1999. On January 25, 2021, Pabst Brewing reported that it was "temporarily pausing production" of the Olympia brand beer because of a decline in demand. The artwork on the tank car is bold and vibrant. All lettering is extremely sharp and clear. The underframe and tank detail parts are all white molded plastic. The ends of the car are painted silver – similar to the top and bottom rims of a beverage can.
The sides of the tank car also feature oversized ladders and safety railings that lead to a smooth platform grate with no tread patterns – although the ladders do feature some nice rivet patterns. The chucky side details are one solid plastic molded piece that is attached at four points along the side of the tank. The ladders, along with the connecting railings and platforms, can easily be removed by prying-off and can be upgraded with more scale appropriate and finer detail parts with the Gold Medal Models brass detailing set for Atlas Beer Can Tank Cars (Kit #GMM-160-24). Lastly, no dimensional data is stenciled on the sides of the tank and no hazmat placards are mounted.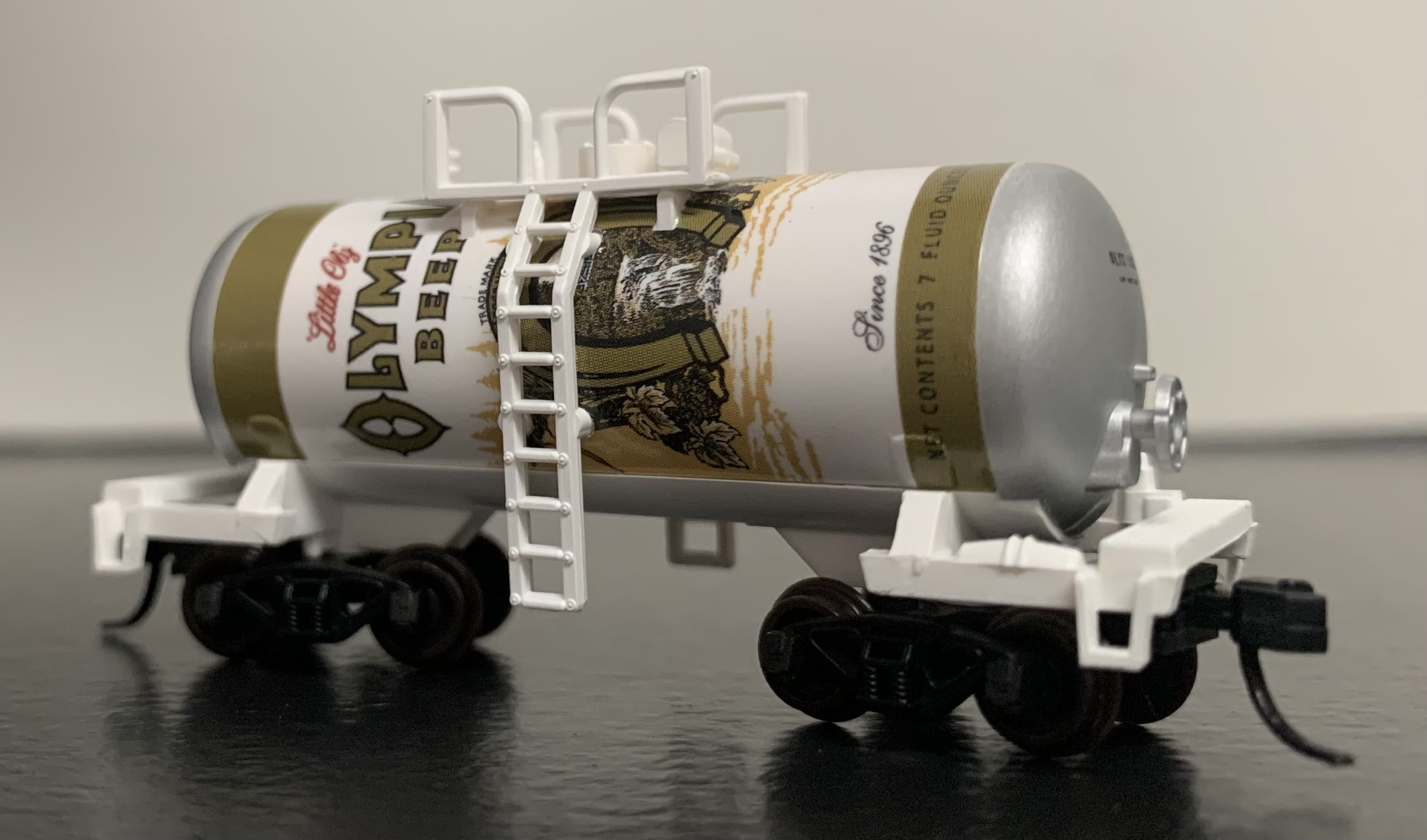 The 'A' End of the tank car features an old-school pull tab can opening – Olympia Brewing first used this removable tab innovation starting in 1964. With the nation becoming more conscious with the effects pollution has on our environment, the beverage companies began to transition to the modern can-opening push tabs around the early 1980s. The 'B' End features a separately applied Miner brake wheel mounted in the proper location, an air reservoir tank, and the only data printed on the tank car model – the reporting marks (OLYX 1983) and tank capacity (10,075 gallons). Each end also features a pattered steel grate platform.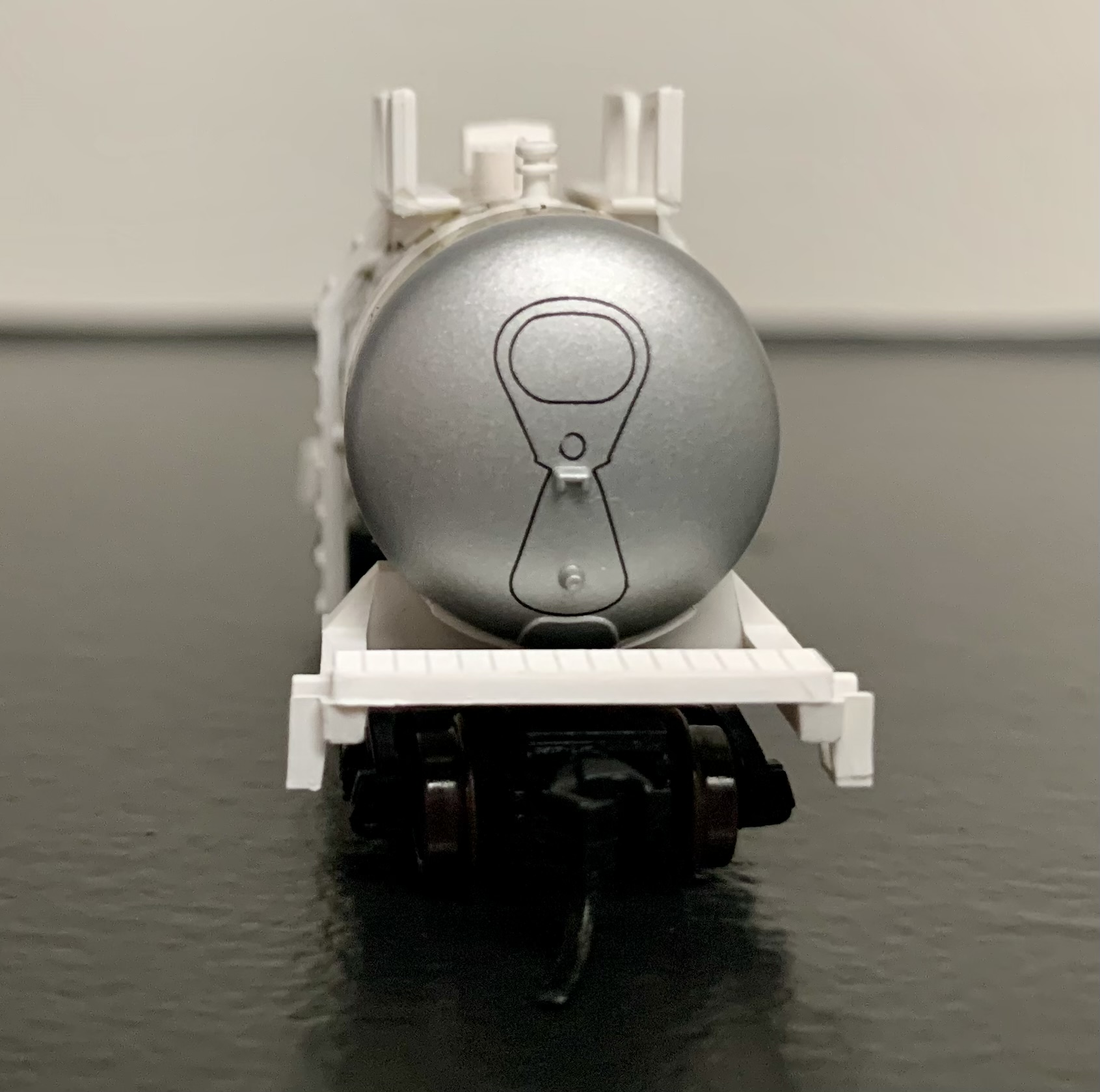 Both ends are missing safety railings on the platforms – all prototype photographs I have viewed of short length tank cars have this feature. The Gold Metal Models kit does include this part. The ends on the Atlas model have a release valve molded that is not prototypical on rail tank cars.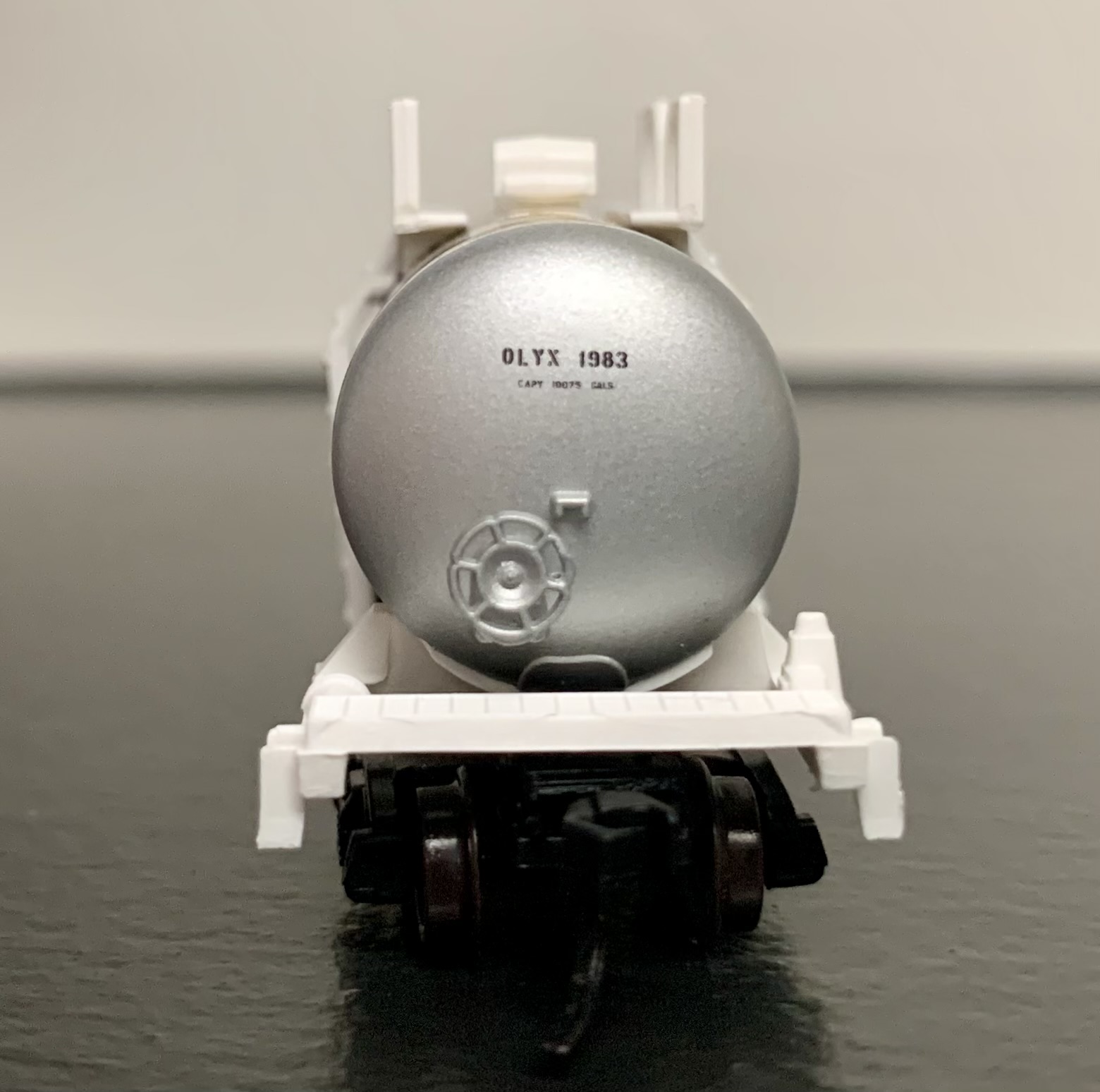 The top of the tank car features a respectable detailed manway, pressure relief valve, and fittings housing compartment The manway cover hatch has some nice bolt detail work. The underside is absent of any details – missing are bottom outlet valves and handles found on tank cars. The tank car rides along Bettendorf trucks with unsightly brown plastic wheels. The model is equipped with truck mounted AccuMate couplers that were both aligned to the proper height.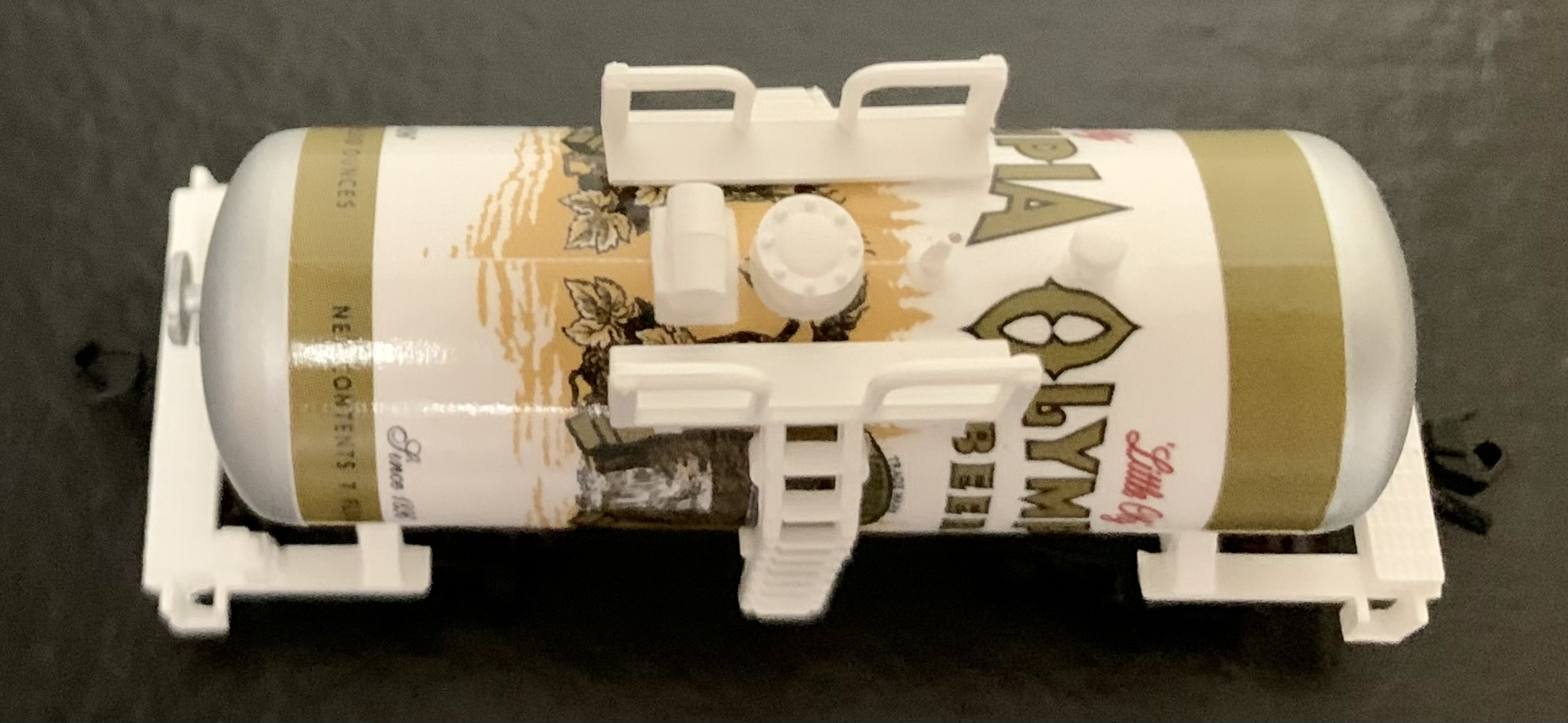 The tank car is 2 1/8 inches in length and weights 0.7 ounces, which is close to the National Model Railroad Association (NMRA) recommendations of 0.8 ounces for a car of this size. The model was a fine runner on Kato Unitrack with zero issues around curves or through turnouts at slow and medium speeds. In the future I will upgrade the wheel sets to black metal for better long-term performance and that clickety-clack on the track sound I love to hear. In conclusion, the Atlas 'Shorty' Beer Can Tank is a fun little car that will surely add some pizzazz to your layout - from their earliest 1970s models to their modern-day fantasy aluminum beer car design – the unique Atlas paint schemes has something of interest for every modeler. Atlas offers a wide variety of chemical and food (i.e., molasses and honey) names you will not find with any other N scale distributor.
Conclusions
The recent beer can series offers high quality multi-color printing on a budget friendly Trainman Line model. Furthermore, the pop-up tab on the tank's head end was a nice touch for this novelty railcar. It is a smooth running, well-balanced tank car. But it has some drawbacks – the design is not wholly prototypical, the detail parts are completely oversized, and the brown plastic wheels need to go away. Overall, the 'Shorty" tank car is a charming mainstay in the modeling world and a string of these stubby guys would look intriguing on your layout.
To see a list of all cars in this series,
CLICK HERE