Amherst Railway Show 2023
Published: 2023-01-27 - By: gdm
Last updated on: 2023-02-03
visibility: Public - Headline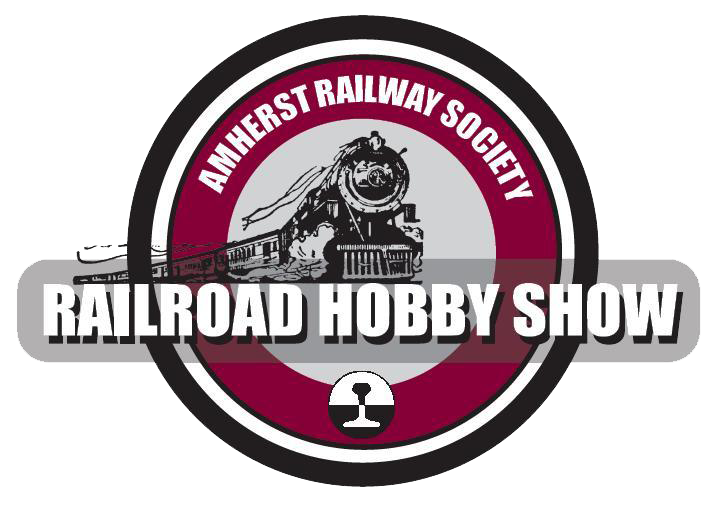 I woke up early today to catch a morning boat to Woods Hole to start my annual pilgrimage to West Springfield Massachusetts for the Amherst Model Railway Society's annual model train show. It was a gorgeous day for a boat ride and the turnpike was blissfully free of traffic and bad weather.
After scrounging some lunch I had the good fortune of being able to check in to the hotel early. Our group uses the Hilton Garden Inn located next to the Basketball Hall of Fame in Springfield, across the river from West Springfield. I had the good luck of running across Eric Smith from Micro Trains and finally got to meet David Kaplan with whom I had only previously communicated with through email and zoom. After some chitchat, I climbed in to bed and caught up on my sleep.
I woke up to meet with several N-Scalers for an enjoyable pizza dinner. Every year, Jim Nolan, of Northeast NTRAK organizes dinner for us at Pizzeria Uno, conveniently located next to the hotel.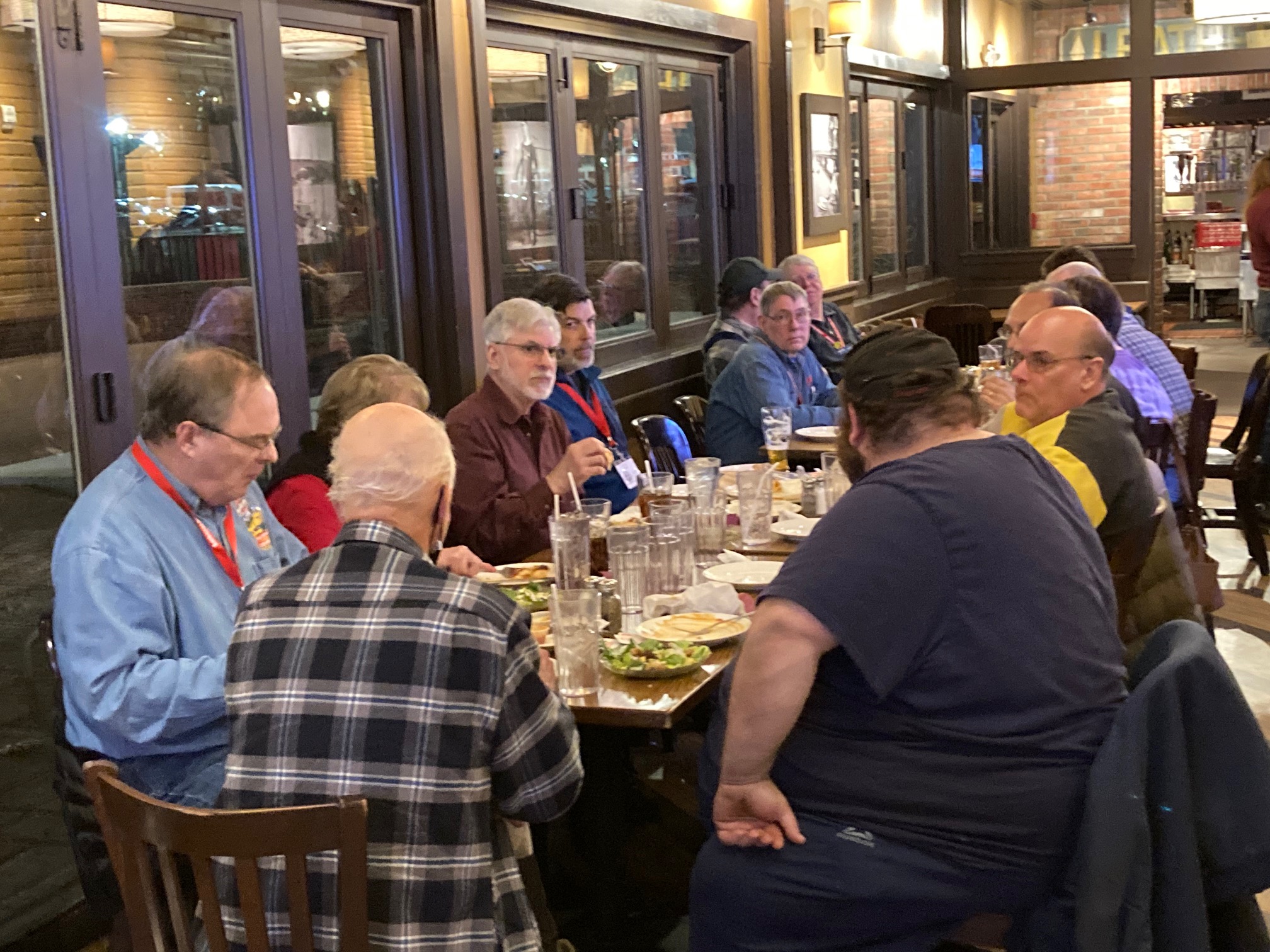 After a delicious dinner, we migrated over to registration where everyone received their nametags, a 16 oz water glass, raffle tickets and a pair of N Scale freight cars. Traditionally, Eric Smith, from Micro-Trains, donates a freight car to every attendee and TroveStar does the same, giving everyone two take-home gifts. For obvious reasons, I did not select a gift from the TroveStar bin, but was quite pleased to receive a C&O card from the MTL selection.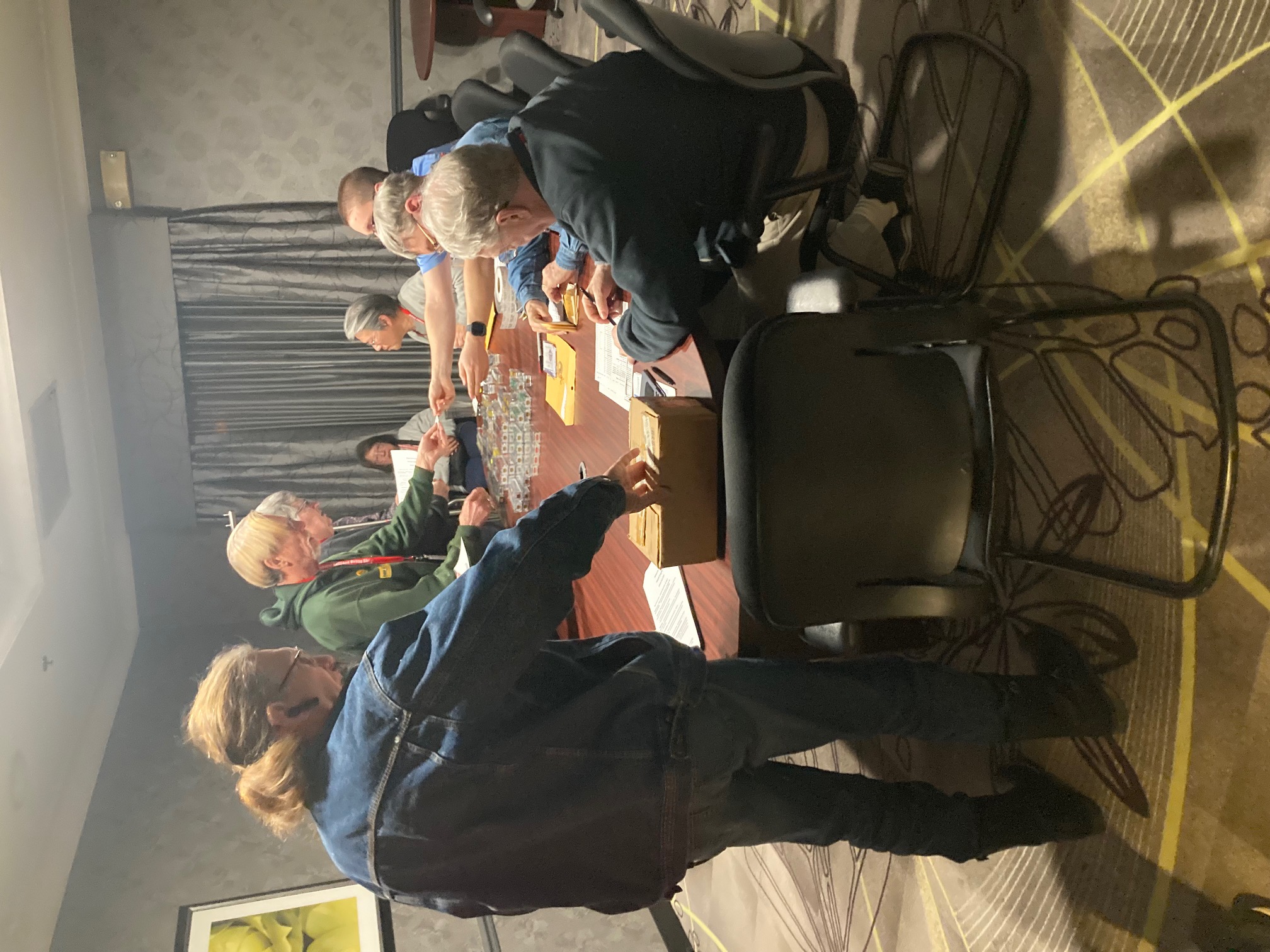 I was able to then spend some time with Eric Smith and Colin Reinhardt discussing the Micro-Trains product line. I got a good look at their new 095 series covered hopper. It is easily one of their best freight cars ever. The detail is solid, and like all new MTL toolings, the model includes metal wheels and body mount couplers. I will have to see about buying one tomorrow at the show.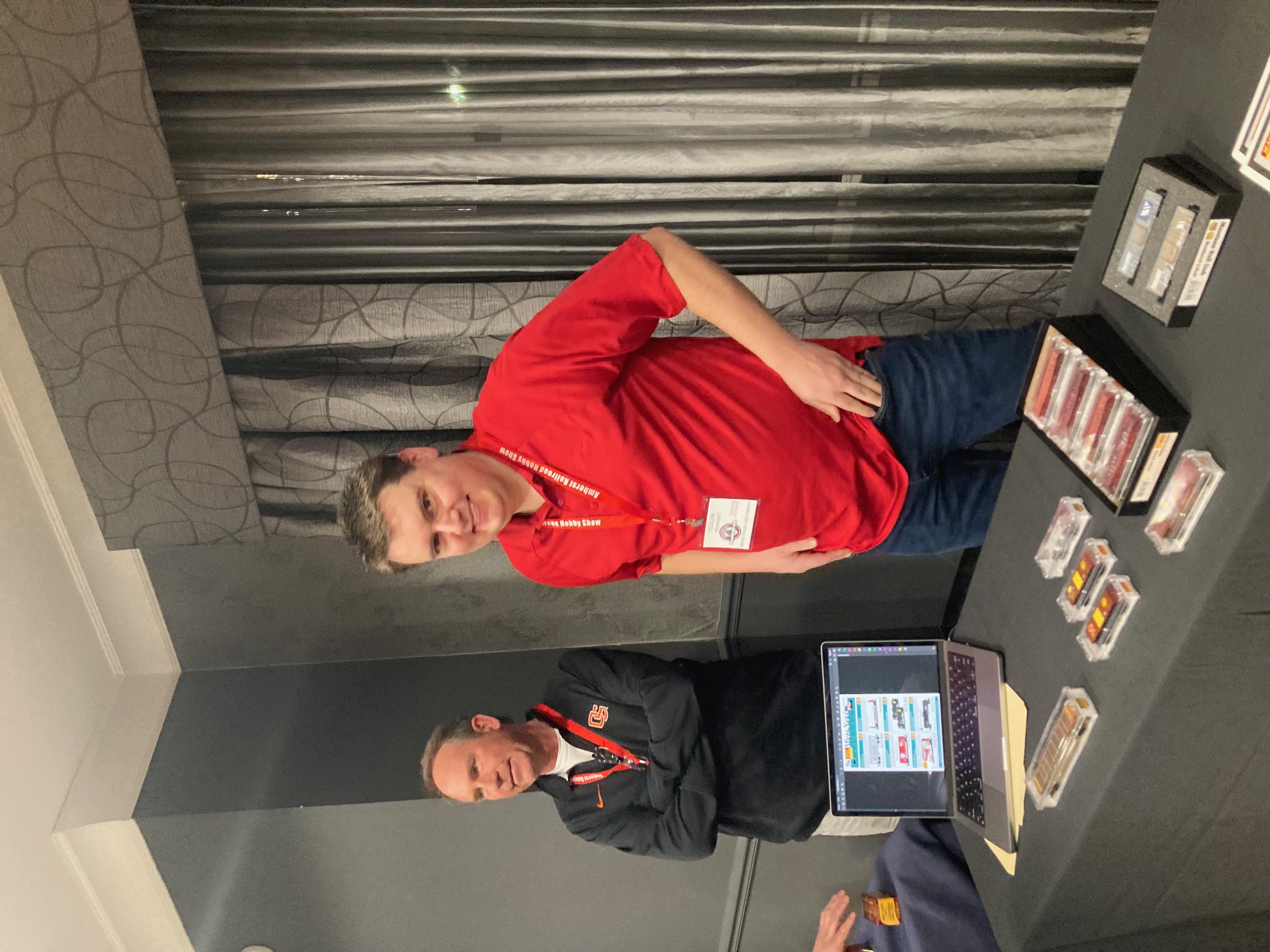 We also talked about their two new upcoming releases. A 65 foot, 70 ton mill gondola and a new flatcar. Prototype models are not yet available to handle, so for me, this was less interesting than the gorgeous hopper car which is now comes in three different road names. Of interest is that all new toolings will feature metal wheels and body mount couplers., whereas older toolings will always be produced with plastic wheels and sometimes with body mount couplers. Whether or not an older tooling comes with body mount or truck mount couplers depends on when they develop a new underframe that can support the new coupler style. Most of their 40 foot boxcars have already been adapted whereas the 33 foot hopper has yet to be updated.
Also of interest is their ongoing issues finding sufficient labor in the Central Portland location of their factory. They are not accepting orders for new special runs, and do not anticipate being able to do so for some moths to come. We inquired about running a new series for TroveStar, but sadly we will have to wait. Hopefully we can get in the queue so as to have a fresh round of giveaways for next year's (2024) ARS show.
Next, I got a chance to chat with Lowell Smith. He operates the Lowell Smith Signature Series as well as the Rail Smith brands. He was very excited to talk about passenger cars. He knows more about where toilets are located on a Pullman smoothside passenger sleeper than any man should ever know. He has recently released two brand new toolings for N Scale under the Rail Smith product line.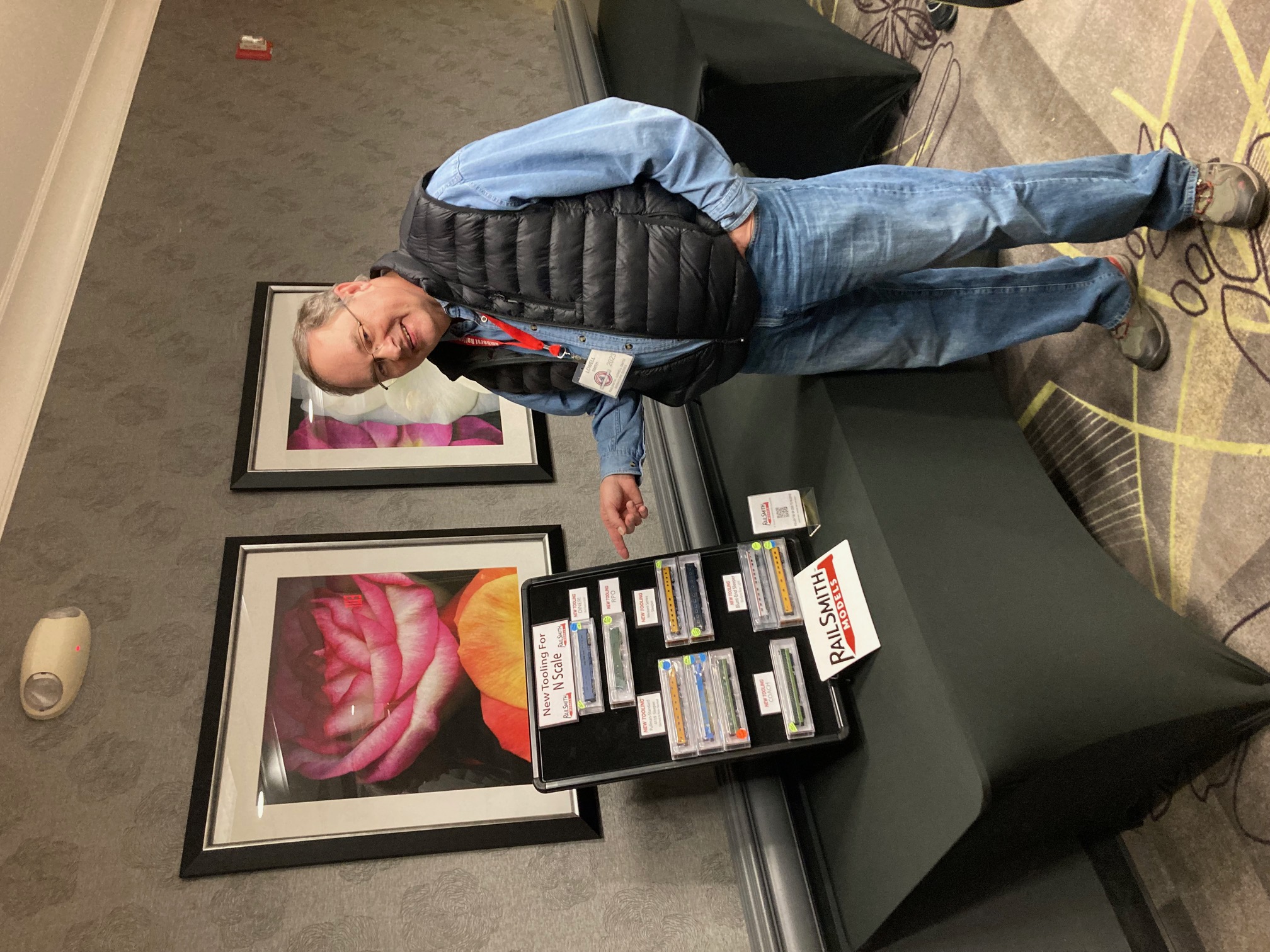 These new models use a new lighting system which he designed. It draws track power (no batteries!) and uses some fancy electronic wizardry to keep power steady over all rail conditions. This produces a flicker free, prototypically accurate lighting effect inside his new cars. He claimed the lighting was accurately tinted "Blood Red" but what do I know? I am colorblind. The lighting could be neon-orange and all I can do is nod my head and look impressed.
Lowell will be introducing another 4 new toolings in N Scale passenger service. Most will be Pullman Standard prototypes but one model is of an ACF sleeper. All of these models will feature his new lighting wizardry as well as accurately detailed toilets (yes really).
My next stop was with Bobby Allard of Rapido Trains. Rapido is a Canadian company that produces N and HO scale models. No, they have no relationship at all with Arnold Rapido of Germany. Bobby showed me their sexy centerbeam flatcar. I have only ever seen centerbeams from MTL prior to this and these look great. Better than the MTL models in my opinion. I also saw three new models that are in various stages of production but not yet available.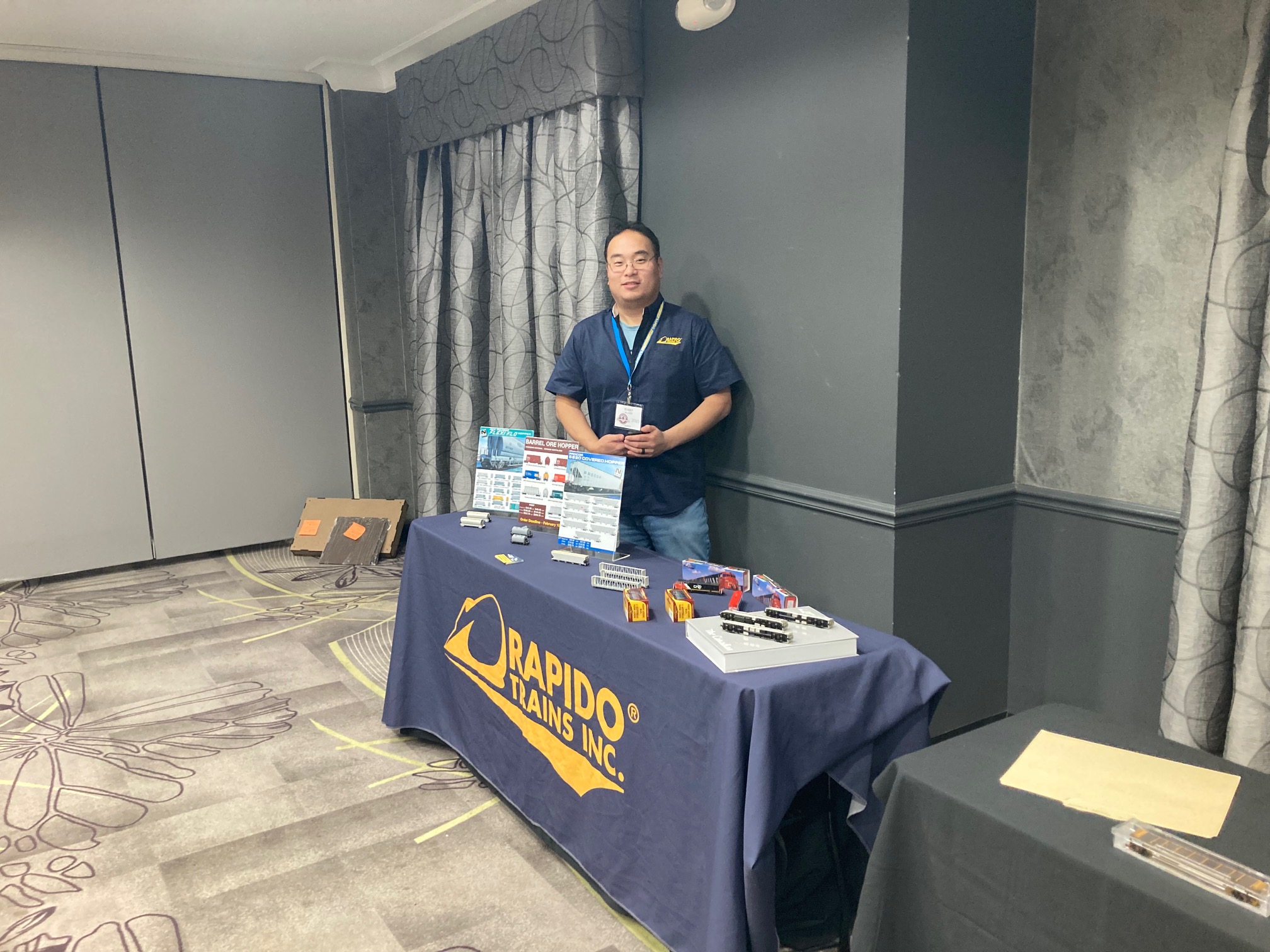 The first of the new models is an ACF PD 3500 FlexiFlo hopper. I believe these are used for plastics. The second model was an oddball: a barrel ore covered hopper. These are some kind of oddball Canadian prototype, but I think they look really cool. The last was a more boring Procor 5820 cf Covered Hopper. I think this last one is meant for grains. Kind of lackluster next to their other models, but still a very high level of quality with excellent detail, metal wheels and body mount couplers for everyone!
My final visit of the evening was with Shane Wilson of ScaleTrains.com. Shane was his usual personable self and happy to spend some time with me despite looking a little fatigued from some extended travelling. We chatted about their acquisition of Fox Valley models and their endless quest to find a compromise between detail and affordability.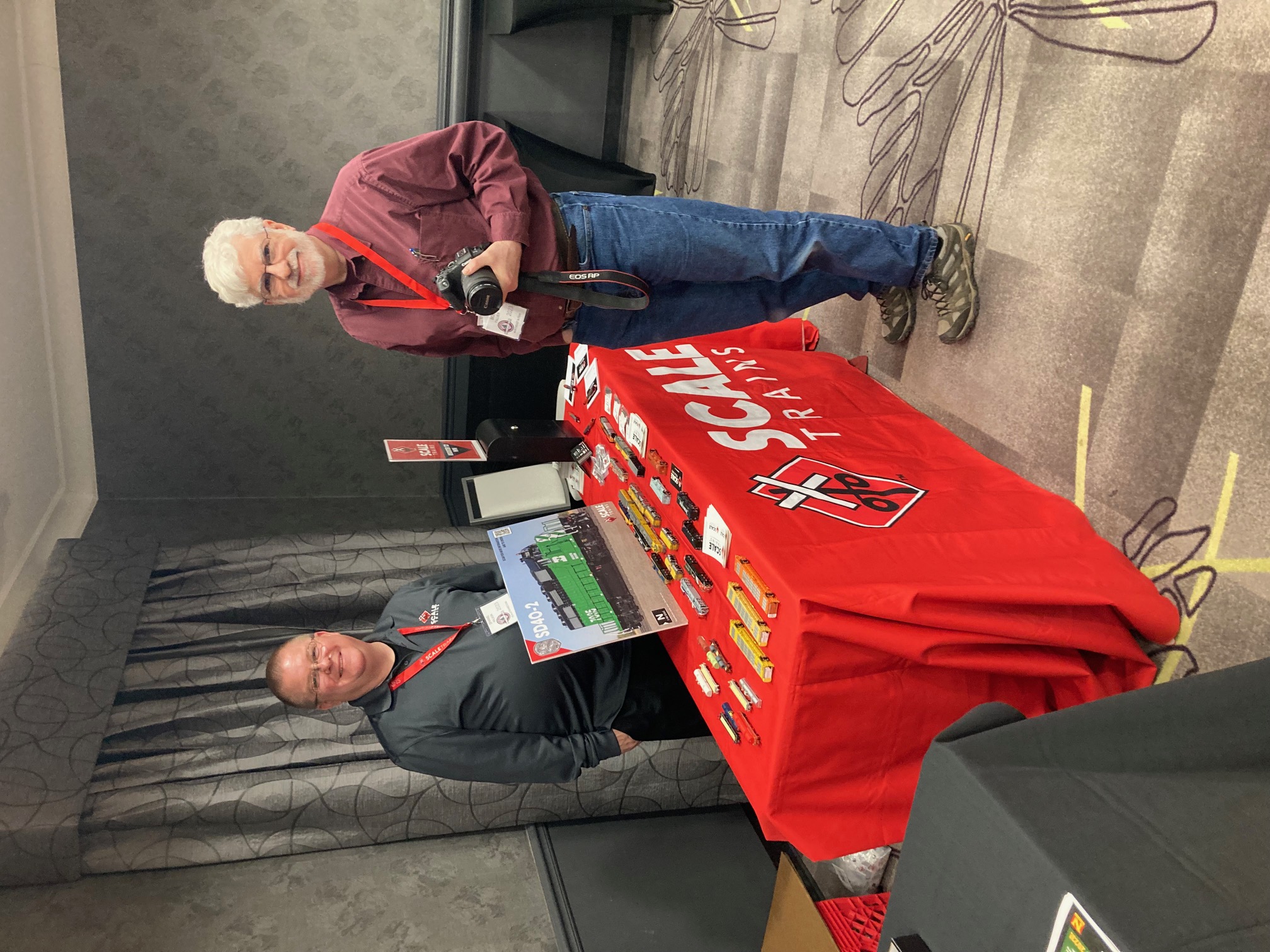 Shane mostly talked about their series of modern diesel engines. It is an impressive lineup including SD70s (EMD) and ES44s (GE). However, what really caught my eyes was their new Steel Coil cars. I am a freight car junky. I will freely admit it. But these are even better than freight cars; they are freight cars you can play with! You can remove the hoods, fiddle with the loads (real metal coil loads) and then put the covers back on. Red caboose and Atlas have both produced Steel coil cars in the past, and both models are nice, but you cannot play with them quiet the same way. The 42 foot car has a single hood and comes with five metal coils. It will be in stock in April of 2023. The 48 foot model has two hoods and four loads. It will be available in late Summer.
After that I chatted with some old friends, misplaced my MTL boxcar gift and beer glass, and then went back to my room to write this up. Part 2 will be published tomorrow (
click here to read it
). Hopefully someone grabbed my glass and model and will hand it to me in the morning....