Atlas Thrall 2743 Cubic Foot Gondola
Published: 2023-05-01 - By: CNW400
Last updated on: 2023-05-06
visibility: Public - Headline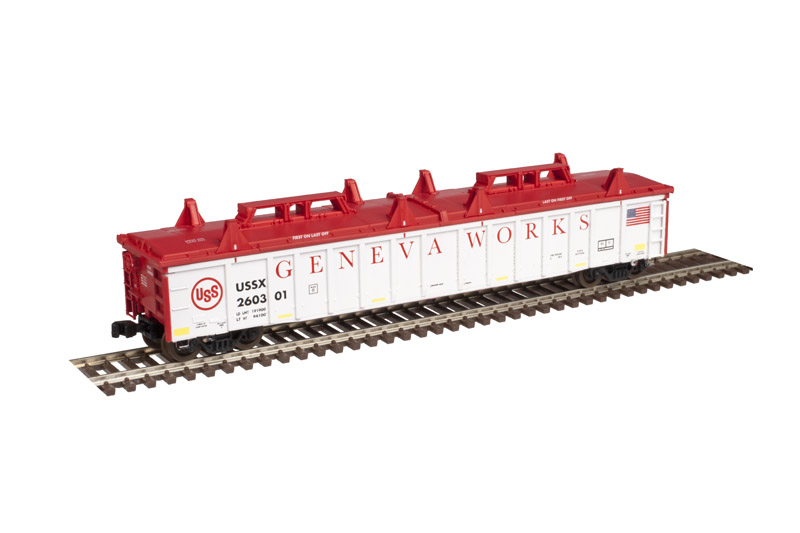 Background
After the United States was lured into World War II as an active participate with the attack on Pearl Harbor on December 7, 1941 – the Defense Plant Corporation (DPC) was authorized to construct an integrated mill to augment the national steel output. The Defense Plant Corporation was created by Congress in August 1940 to fund the conversion of industries into wartime equipment plants and to disburse monies to build mills and factories during World War II. These newly constructed facilities were leased to private entities to operate. Over $9 billion (about $28 per person in the US) was distributed by the DPC until it was dissolved on July 1, 1945 (Source: PBS).
A 1,700-acre site was selected in Vineyard, Utah – located between the cities of Salt Lake City and Provo on the shores of Utah Lake. Columbia Steel, a subsidiary of US Steel Corporation, built the 180-building industrial plant – the largest integrated steel mill west of the Mississippi River. In short, integrated mills use giant blast furnaces to produce steel from iron ore, coke, limestone, and scrap metal.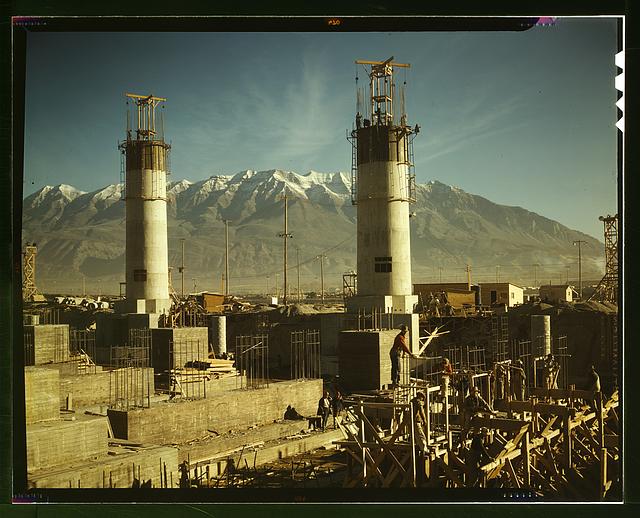 The inland location was chosen for a multitude of reasons. First, a western locale was a safeguard for steel supplies from a feared attack on the Pacific Coast and/or Panama Canal by Japanese forces. Secondly, its proximity was near the raw materials needed for production – coal deposits, iron ore mines, limestone & dolomite quarries, and fresh water. Furthermore, a large population and workforce neighbored Vineyard and the area was served by the railroads – Denver & Rio Grande Western, Southern Pacific, Union Pacific, and Utah Railway Company.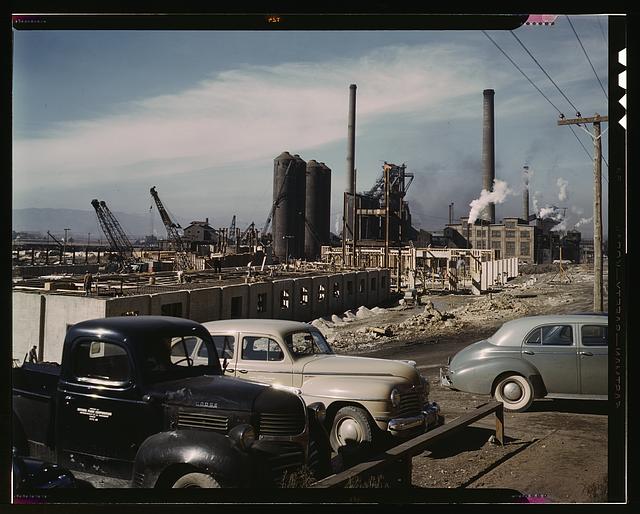 During construction, Geneva Steel - a newly formed U. S. Steel Corporation subsidiary, was contracted to operate and manage the mill. The name came from the beloved Geneva Resort in the Utah Valley – established in 1890 on Utah Lake by Captain John Dallin and christened in honor of his oldest daughter. The plant began operations on December 14, 1943, with the production of pig iron, steel, steel plates, and shipbuilding structural shapes.
After the War, the Defense Plant Corporation and Federal Department of Justice wished to dispose of the Utah steel mill and agreed to sell the plant and all owned coal & iron ore mines to US Steel Corporation for $47.5 million. The sale was completed in June 1946. Now operating as the Geneva Steel Company, the mill at its peak employed over 4,000 people and supplied over 60% of the steel used in the western United States. During its lifetime, the plant conducted business under various names: Geneva Steel Company (1946-1952), Columbia-Geneva Steel Company (1952-1964), Geneva Works (1964-1987), Basic Manufacturing & Technologies of Utah (1987-1989), and Geneva Steel Company (1989-2001). Basic Manufacturing & Technologies of Utah purchased the mill from US Steel Corporation on August 31,1987 after labor strife and union strikes caused a partial shutdown of the plant.
Plagued in the 1990s by foreign steel competition, rising labor costs, and new pollution regulations – Geneva Steel Company filed for Chapter 11 bankruptcy protection on February 1, 1999, and filed in November 2000, antidumping complainants against eleven countries with the International Trade Commission. Three years later, Geneva Steel finances were still unsettled, and repairs were necessary on the aging furnaces. Geneva Steel Company again filed for bankruptcy protection on January 2, 2002. Without a major investor willing to provide further funding, the mill was placed on 'idle' status. A sale of remaining all assets was negotiated in 2003 with China-based company, Qindago Iron & Steel Group, for $35.3 million. Demolition of the mill began on June 30,2005 with the implosion of the massive blast furnaces. Over 1,700 acres (about twice the area of Central Park in New York City) of property was purchased by Anderson Geneva Development Group – which spent nine years on environmental cleanup of the encompassing land.
Prototype History
The life of a gondola is not a pretty one - a strong piece of rail equipment that is used-n-abused and rewarded with dents & deformed sidewalls. There are two broad categories for gondolas - mill or general service.
First, as the name implies, mill gondolas saw extensive action in the steel mills hauling scrap metal or finished products such as beams or sheet metal. Mill gondolas were typically 40 to 65 feet long with 50 to 70-ton capacity. Furthermore, to save on weight restrictions, longer gondolas were constructed with lower sidewalls. Mill gondolas had drop-ends that collapsed inward towards the car floor to allow loads (beams, pipes, etc.) longer than the car itself. An idler flatcar; a flatcar used to provide additional space for loads overhanging the gondola; was arranged on both ends of the gondola when carrying such oversized loads. Thus, these drop-end cars had their brake wheel mounted on the side end parallel to the car or used a brake lever affixed near the end panel.
The gondola floors were either solid steel construction or wooden planks. Special restraints or racks were designed to support a specific type of load like coiled steel or automobile parts. Stake pockets and tie-down points were also common to support shiftable loads.
A common spotting feature for a 40' mill gondola is straight bottom sills while the larger 50'-plus cars have tapered sills between the trucks to provide structural support. Gondolas sides were riveted until the late 1950's when welded construction became the norm for railcars.
In 1995, new Association of American Railroads (AAR) standards were adopted with an updated Gross Rail Load (GRL) limit of 286,000 pounds. Newly designed railcars were built to take full advantage of the new limit. Interior wall heights grew taller to between 52'-6" and 6'-0" with 14 side post gondola became the prevailing mill car.
General Service gondolas commonly had drop-bottom doors along each side of the center sill along the car floor to unload lading either outside or between the rails. A 12 or 16-door configuration were the most common variants of drop-bottom cars. These gondolas had a car length door-operating rod mounted on each side just below the bottom sill. A hand lever on the end of the car controlled a series of links and chains to manually open and close the drop-bottom doors.
The Thrall Car Manufacturing Company introduced the 2,743 cubic foot gondola in 1995. The 52'-6" long railcar was designed with a 5'-6" interior sidewall height. Thrall manufactured over 6,700 of these gondolas between 1995 – 1999. The Thrall Car Company originated in 1917 in the far-south Chicago suburb of Chicago Heights selling railcar components. By the 1950s, Thrall became a leader in the production of specialty boxcars, gondolas, flatcars, and autoracks. The Thrall Company was sold to Dallas-based Trinity Industries (TrinityRail) in 2001. TrinityRail resumed production of the 2,743 cubic foot gondola in 2005.
Road Names and Pricing
Atlas Model Railroad first released their N Scale Thrall 2,743 cubic foot gondola models in 2008. There have been six collections produced in this series – the last in January 2019. The focus of my review is on the 5th released series which was shipped in May 2015. This fifth release features fully assembled steel mill gondolas in fourteen different paint schemes. Most of the rail names in this set include gondola covers (noted below).
AK Steel
Armco Steel
Bethlehem Steel
California Steel Industries
Conrail (without cover)
CSX Transportation (without cover)
Geneva Works – USS
Nucor
Republic Steel
Soo Line
Transportación Ferroviaria Mexicana (without cover)
Union Railroad
US Steel
Undecorated
Thrall 2743 Gondola Covers (separately sold)
Individual cars were released with a suggested retail price of $27.95 and $21.95 for versions without covers (noted above). The Atlas Model Railroad 'Parts Department' made available for separate purchase Thrall 2743 gondola covers in either black or white for $6.95. My review includes observations of Atlas Model (50 002 212) - Geneva Works USSX #260301.
The Model
The ready-to-run gondola came packaged in a clear plastic jewel case with a slip-off cover and a two-piece plastic cradle to support the model. The model information is clearly labeled on the end of the case for ease to locate when in storage. A thin plastic sheet was wrapped around the car to protect the railcar from scuffmarks. No additional parts were found in the case.

The paint job is crisp and even along the entire injection-molded plastic body. The bright white and red gondola appears to be a fantasy paint scheme for rolling stock as no images were uncovered with these colors during my research...black, brown, silver, and blue were discovered. Furthermore, white may not be the wisest choice of color considering the scope of work steel mill gondolas undertake. The white and red Atlas gondolas do match a similar color pattern used on Geneva Works switcher locomotives during the 1970s through the mid-1980s. This was followed by yellow and blue engine colors until the mid-1990s and then blue and white yard colors until its demise. Thus, according to my research and the fact that the Thrall 2743 was not released until 1995 – the Geneva Works color scheme chosen, although attractive, might be era incorrect.
Lettering is sharp and clear, even when some magnification is needed for the smaller printing. All characters are neat and legible. The model features the prototype correct fourteen exterior side post pattern and scale height side walls that display the new load capacity standards. The Thrall gondola had a taller interior height of 5'-6" and a body length of 52'-6". Sides also have separately applied ladders, yellow conspicuity safety stripes, molded grab irons and prototypical tapered sills.

Both ends include a hand applied ladder and molded grab irons. The B-End features a separately applied Ajax brake with chain and molded platform. Both ends have clean railcar spring and wheel equipment data lettering and road marker & road number near the top right corner.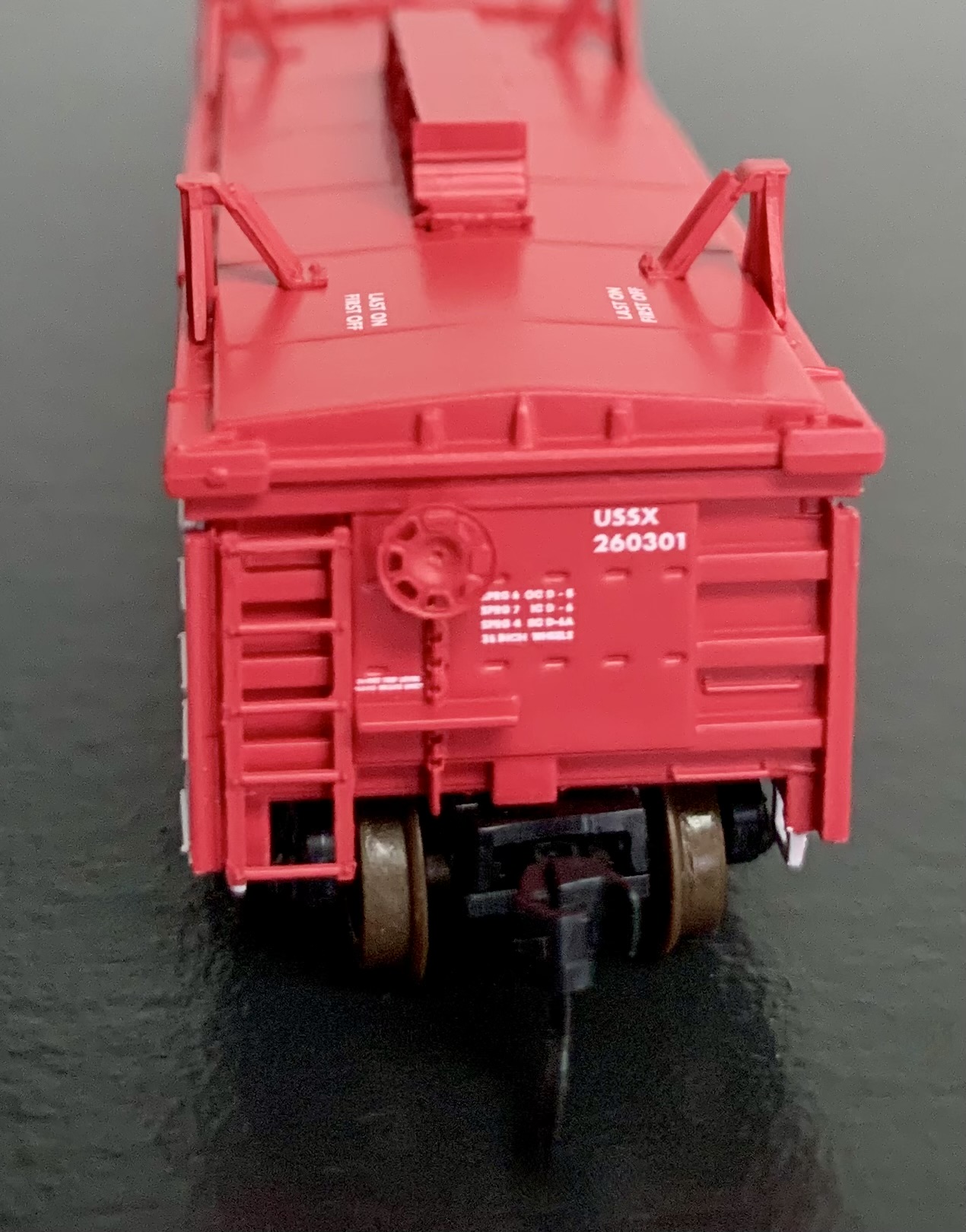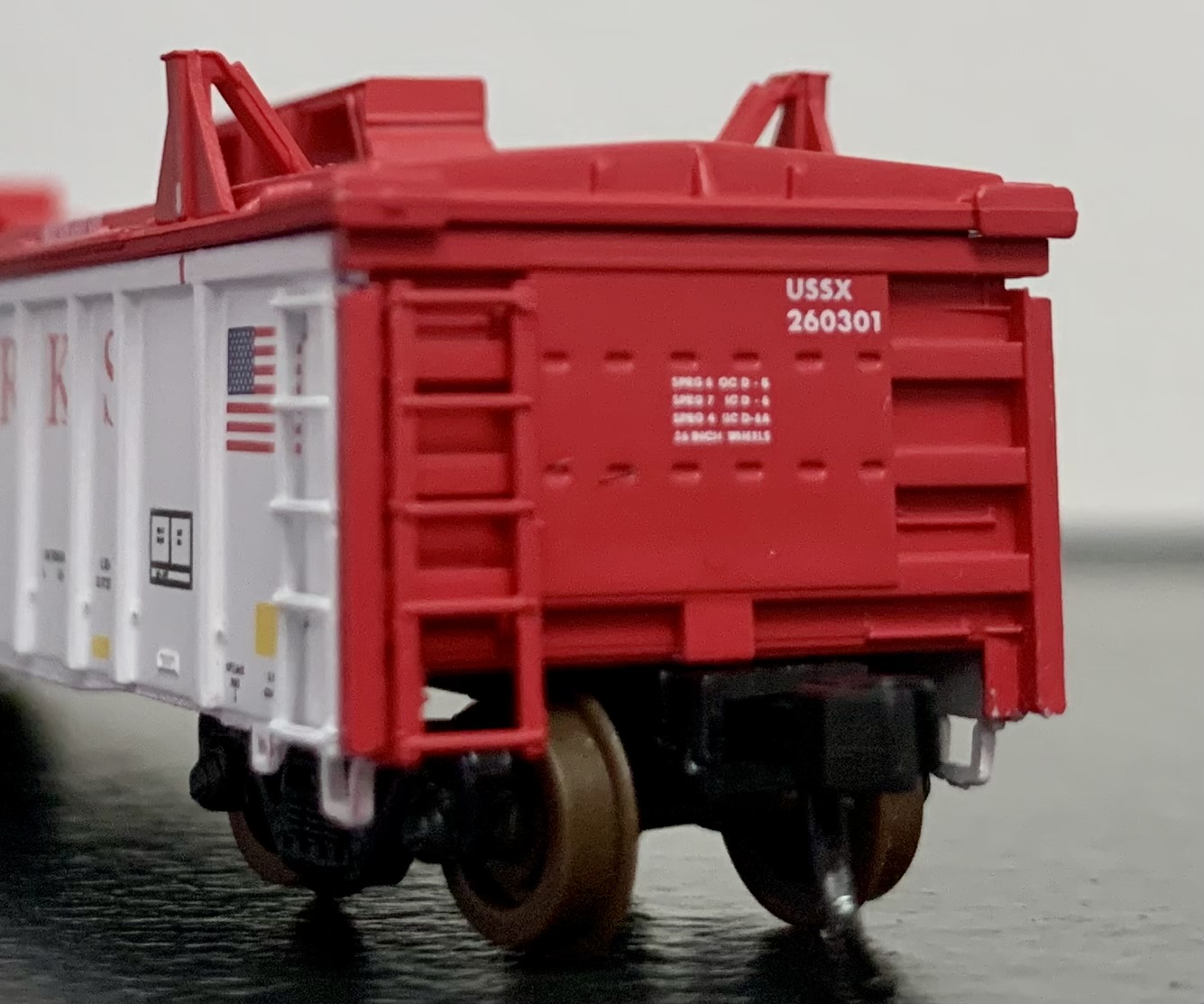 The Geneva Works mill gondola is fitted with a bright red cover. Once removed, the gondola reveals a blazing red undetailed, smooth interior with plenty of space for loads. Gondola covers are frequently used to protect the lading from wind and rain damage or to contain small particles or hazardous materials from escaping the railcar bed. An efficient steel plant would receive raw materials or scrap metal on inbound trains and fill those same gondolas with finished steel sheets or coils for outbound shipping. Gondola covers can be removed with modified forklifts with tall mast supports or Galion cranes. Furthermore, gondolas can be unloaded with cranes, backhoes, or claw magnets.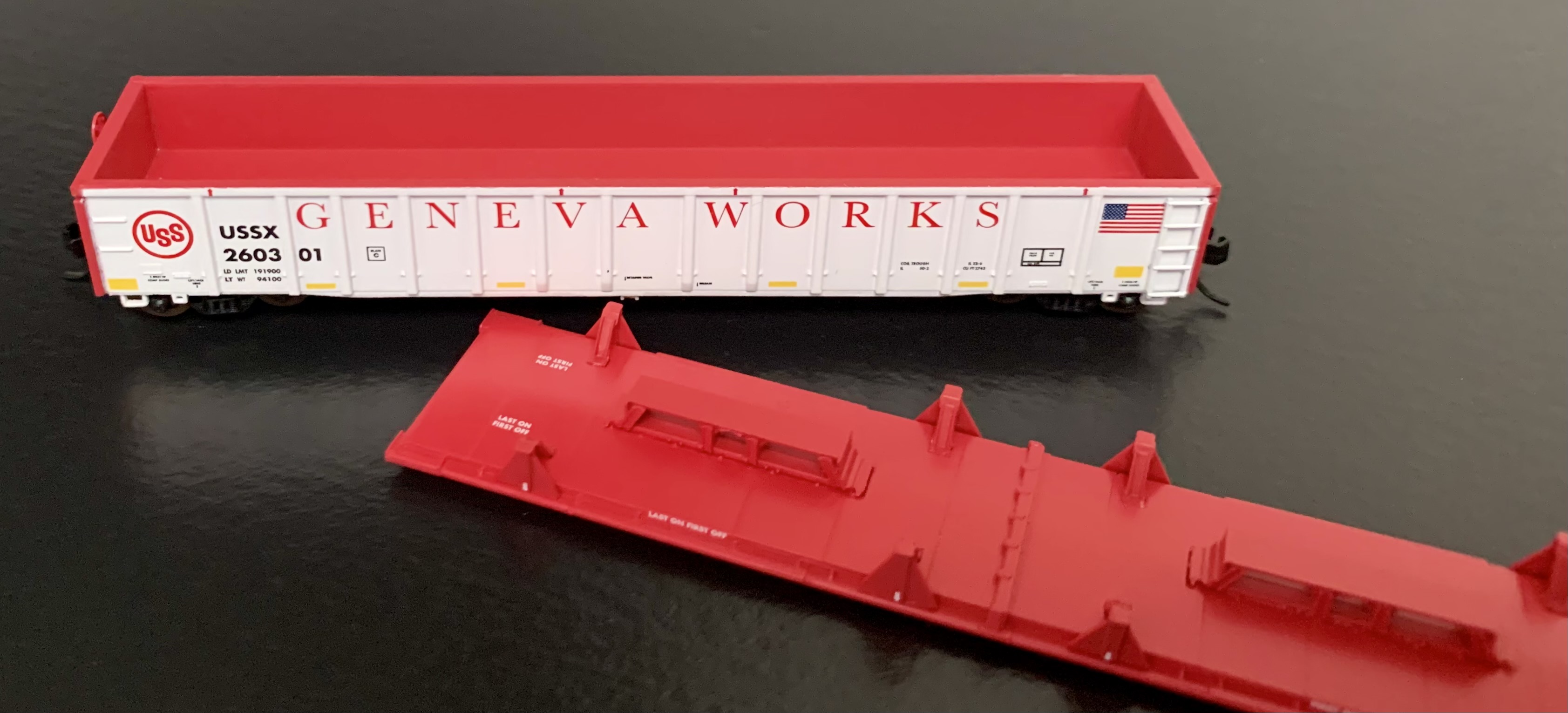 The black underframe has a molded brake arrangement with features such as the brake cylinder, AB valve and reservoir. Also molded support stringers and crossbearers are present. The car is equipped with pin mounted trucks with brown plastic wheels. These brown plastic parts do a poor job replicating rusty, road-worn axles and wheels. I will replace them with blackened metal wheels. Finally, the model is equipped with proper height Accumate magnetic knuckle couplers.

The car weighs 1.1 ounces with the cover attached and 1 ounce exactly without the cover. The gondola is 4 inches in length. The weight is perfect according to the National Model Railroad Association (which is 1.13 ounces). I found it a good running car on Kato Unitrack with no issues around curves or through turnouts at low and medium speeds – the car surprisingly did not have any wobble....it is a solid, sturdy model. A minimum 9 ¾" radius is recommended for operation.
TroveStar Database
To see a list of all cars in this series,
CLICK HERE
Photo Credits
Feininger, Andreas, photographer. Columbia Steel Company at Geneva, Utah. Partly finished open hearth furnaces and stacks for a steel mill under construction which will soon be producing vitally needed steel. Nov. 1942 Retrieved from the Library of Congress, No known restrictions.
Feininger, Andreas, photographer. Steel and concrete go into place rapidly as a new steel mill takes form, Columbia Steel Co., Geneva, Utah. The new plant will make important additions to the vast amount of steel needed for the war effort. Nov. 1942. Retrieved from the Library of Congress, No known restrictions.
Historic American Engineering Record, photographer by Mcwilliams, John. U.S. Steel Edgar Thomson Works, 44" Slab Mill, Along Monongahela River, Braddock, Allegheny County, PA. Documentation Compiled After. Photograph. Retrieved from the Library of Congress, No known restrictions on images made by the U.S. Government.