Atlas Model Railroad 1932 ARA Linde Air Products Boxcar
Published: 2023-11-01 - By: CNW400
Last updated on: 2023-11-02
visibility: Public - Headline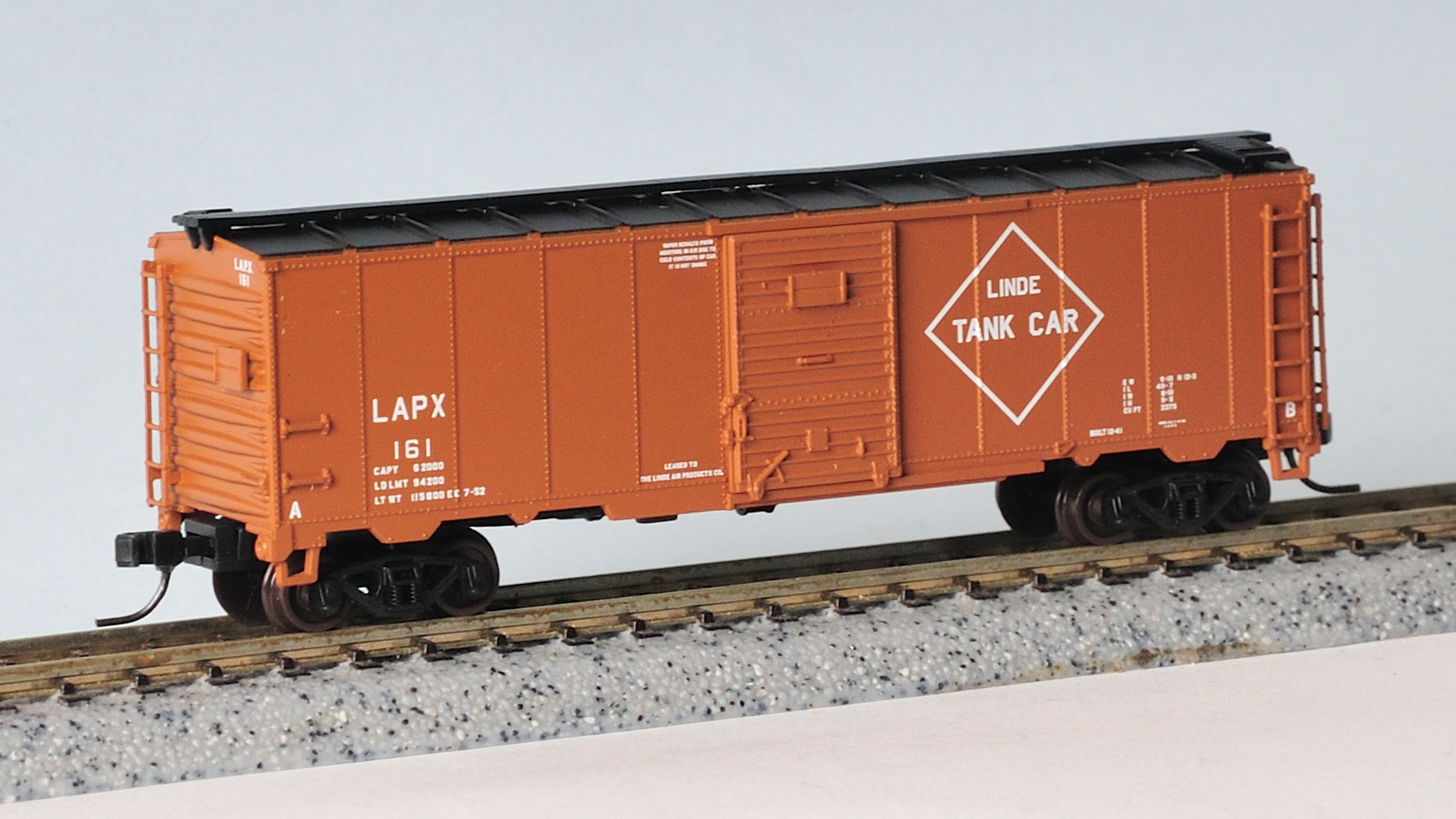 Introduction
The 1932 ARA (American Railway Association) Standard Boxcar is recognized as one of the more significant accomplishments for the North American railway system. This all-steel car design shifted an evolution towards standardization for a common basic appearance, size, and utilization for rail equipment. Nearly every Class I railroad adopted the 1932 or Modified 1937 ARA scheme as their 40-foot boxcar composition.
Prototype History
Conceived during the throes of The Great Depression (1929-1939), most rail companies were not in the financial position to invest in modernized rolling stock. Accordingly, only twenty-three railroads placed orders for the 1932 ARA Boxcar with numbers built, depending on the source, somewhere between 14,100 and 14,600. Eight car builders produced these cars from 1933 to 1945. The Missouri Pacific (3000), Seaboard (2000), and Ferrocarriles Nacionales de México (1300) were the more ample purchasers. In comparison, the 1937 Modified ARA version became one of the most widely accepted boxcars designs with over 150,000 units manufactured.
Under the direction of the Car Construction Committee, the American Railway Association was engrossed in developing a uniform boxcar that was both stronger and taller - yet lighter in weight. The initial interior height was raised on the earlier built 1932 ARA Boxcars from the old norm of 9'-0" to 9'-4" tall. The interior dimension was increased again in 1934 to ten feet and adopted as the standard height for the Modified 1937 ARA Boxcar. Over 3,000 pounds of weight was eliminated with the removal of the underframe c-channel side sills. The stability for the 3,330 cubic foot boxcar structure was assigned to a series of riveted vertical steel side panels – generally five full panels on either side of a six-foot sliding door. Tabbed sills that extend below the sides and cover the body bolsters were introduced during this time.
Although the ARA design was the primary footprint for boxcars, the railroads were granted the opportunity to customize rolling stock to meet their needs and wants. Railroads were allowed to select alternative components such as car shell ends, doors, roofs, trucks, and brake gear.
The Standard Railway Equipment Company's Dreadnaught 4/4 corrugated car ends were the most used pattern on the ARA 1932 Boxcar. The initial design was composed of an arrangement of large equal size horizontal corrugations with a small triangular shaped corrugation between each row. Additional car ends used were Dreadnaught 4/5, Buckeye, Murphy 7/8, and Flat Riveted.
The Murphy raised panel roof design was preferred by the railroads – the flat, radial, and Viking roof patterns were also adopted in much smaller numbers. The vast majority of the 1932 Boxcars had six-foot Youngstown steel doors with Ferrocarriles Nacionales de México and Chicago Great Western opting to use the Pullman-Standard three panel doors. Finally, cushioned underframes were becoming a selection with spring loaded shocks to soften the blows during transport and handling.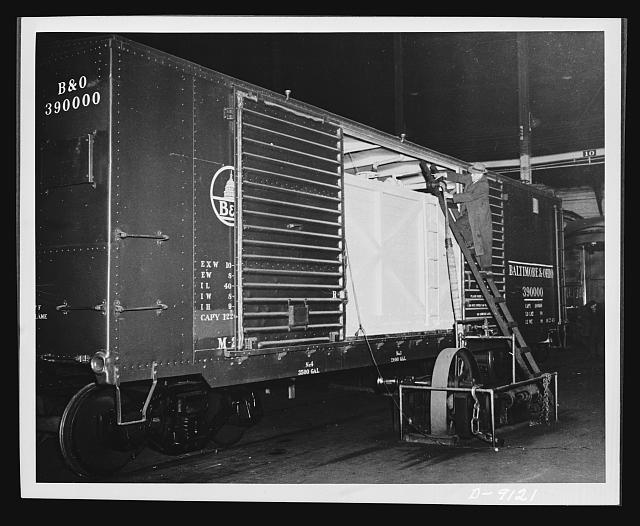 The 40-foot Linde Gas railcar had the appearance of an ordinary boxcar, but it was equipped with cryogenic tanks to haul compressed gases in a liquid form. Cryogenic liquids are liquefied gases stored at -150 °C or lower. The Association of American Railroads (AAR) had assigned these boxcars as Class XT: "A house car with or without doors, with or without insulation, either metal lined or enclosing one or more tanks." - January 1941. Three railcar manufactures built 680 Class XT boxcars between 1940 to 1968 with most leased to Linde Air Products/Union Carbide. The Air Reduction Company and National Cylinder Services also used the car in lesser quantity.
Linde Air Products Company was founded in 1907 and specialized in the manufacturing and distribution of atmospheric and processed gases. Linde, a subsidiary of Union Carbide from 1917 to 1999, serviced such industries as healthcare, petroleum, food & beverage, heavy manufacturing, and others with supplying industrial gases including: oxygen, nitrogen, hydrogen, helium, carbon dioxide, argon, and more. Gases are liquefied by a process of compressing, cooling, and expanding molecules until such a low temperature is reached that the gases change into a liquid form.
Early Class XT cars had an interior height of 9'-5" but that quickly changed around 1944 to 10'-8" to accommodate larger tanks. The cars had small end doors for safety vents and roof hatches to access the tank valves. The idea behind using a boxcar was to keep the sun from heating the tank's contents and causing the gas to expand and evaporate. The earliest version of Linde Gas boxcars was painted boxcar red with white lettering. By the 1950s the popular dark green and white color scheme was adopted. The road markers LAPX (Linde Air Products) or SERX (Service Tank Car Company) were used on the leased railcars.
Other versions of Class XT boxcars or the closely related BMT railcars hauled milk, water (Shasta Spring Water), and wine (Chateau Martin Winery). The Class BMT cars were - used for the transportation of liquids. Equipped with one or more insulated tanks and with or without pumps or compressors. Not equipped with means of refrigeration.
The Class XT boxcar fell out of favor with the complexity of loading/unloading and the small tank capacity and has been replaced with the cryogenic tank car.
Road Names and Pricing
Released in August 2021, Atlas Model Railroad expanded their 1932 American Railway Association (ARA) Boxcar collection in eight paint schemes with appropriate body style modifications.
The road names included in this Master Line Freight Car series were:
Central of Georgia
Ferrocarriles Nacionales de México
Linde Air Products
Maine Central
Missouri Pacific
Nashville, Chattanooga & St. Louis
New York Central
Nickel Plate Road
Undecorated
Individual cars were released with a suggested retail price of $29.95. Undecorated versions listed for $23.95. Three unique road numbers were made for each railroad except for the New York Central (one boxcar released). Furthermore, three different undecorated models were created to duplicate the body detail variations (ends, doors, and roofs) made available to the railroads.
My review includes observations of Atlas Model Railroad (50 006 105) - Linde Air Products #161.
The Model
The ready-to-run boxcar came packaged in a clear plastic jewel case with a slip-off cover and a one-piece plastic cradle to cushion the model. The model information is clearly labeled on the end of the case for ease to locate when in storage. A thin plastic sheet was wrapped around the car to protect the paint job from blemishes.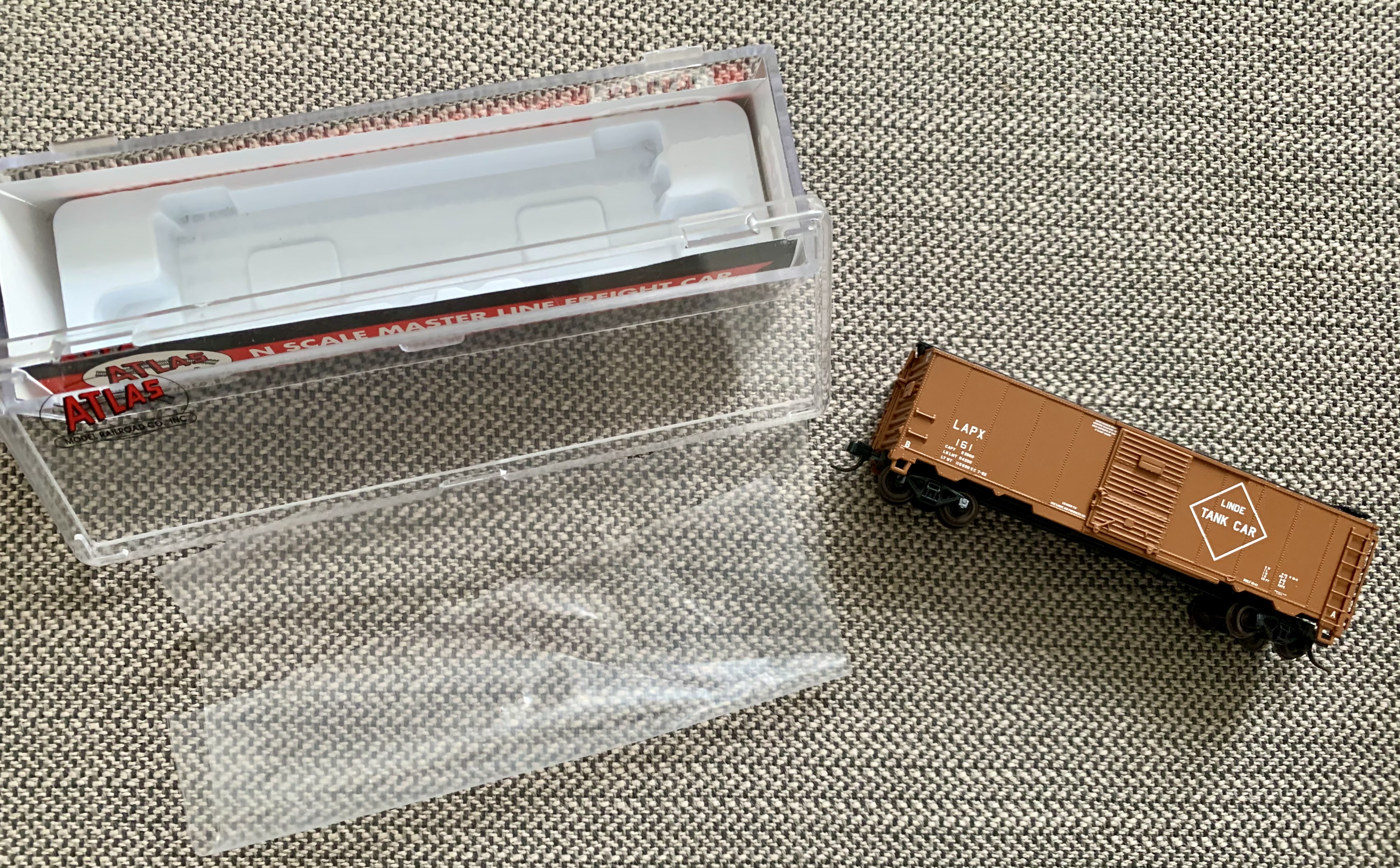 The paint job is crisp and even along the entire injection molded plastic model. The Linde Tank Boxcar is painted Freight Car Red with white lettering and black roof. The Linde name is stenciled in prototype correct large letters positioned inside a diamond-shaped logo. Letter stamping is extremely neat and clean, even when some magnification is needed for the smaller printing. Rivets and panel lines are sharp – door latches, handles, and locks are nicely displayed. The model is equipped with non-operational six-foot Youngstown sliding doors with proper placement of the placard and route boards when compared to real-life images.
All stencil work is in the correct arrangement and mostly complete when analyzed with a prototype image of Linde Tank car LAPX #177…also built in the same year as our subject Atlas model (12-1941). Some distinctive markings not found on most boxcars but on the Linde are the A & B car end notations found in the lower corners of each end panel. Secondly, the warning notice near the top of the sliding door that states – "Vapor Results from Moisture In Air Due to Cold Contents Of Car. It Is Not Smoke." Lastly, the notification that the railcar is Leased to The Linde Air Products Company. To Atlas Model Railroad credit – the tiny printing is very legible.

Next, the Atlas model has the correct 5x5 side panel side configuration (five full panels on each side of sliding door), seven rung ladder on end 'B', and two grab iron 'A' end design found on almost all 1932 ARA Boxcars.
Both ends of the model feature the prototypical correct Dreadnaught 4/4 pattern with center rivet line, a separately applied seven-rung ladder, high-mounted placard board, and road marker in the upper right corner. Each end displays molded round buffers along the bumper. The 'B' end has an Ajax model 3059 brake wheel with brake line piping & chain and brakeman platform. The only discrepancy I found is that real-life prototype photos of early Linde Tank Cars appear to be equipped with Universal model M2049 brake wheels.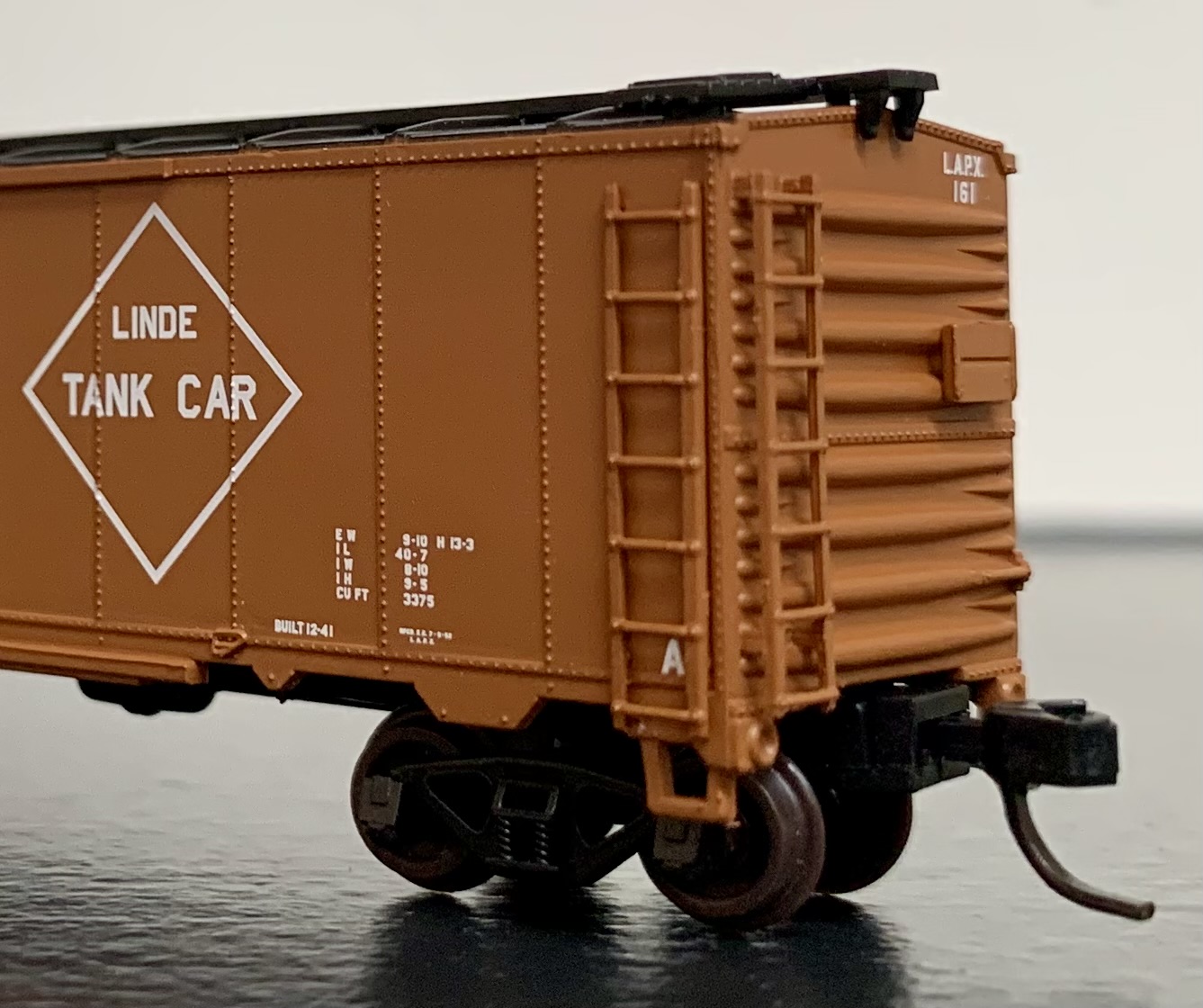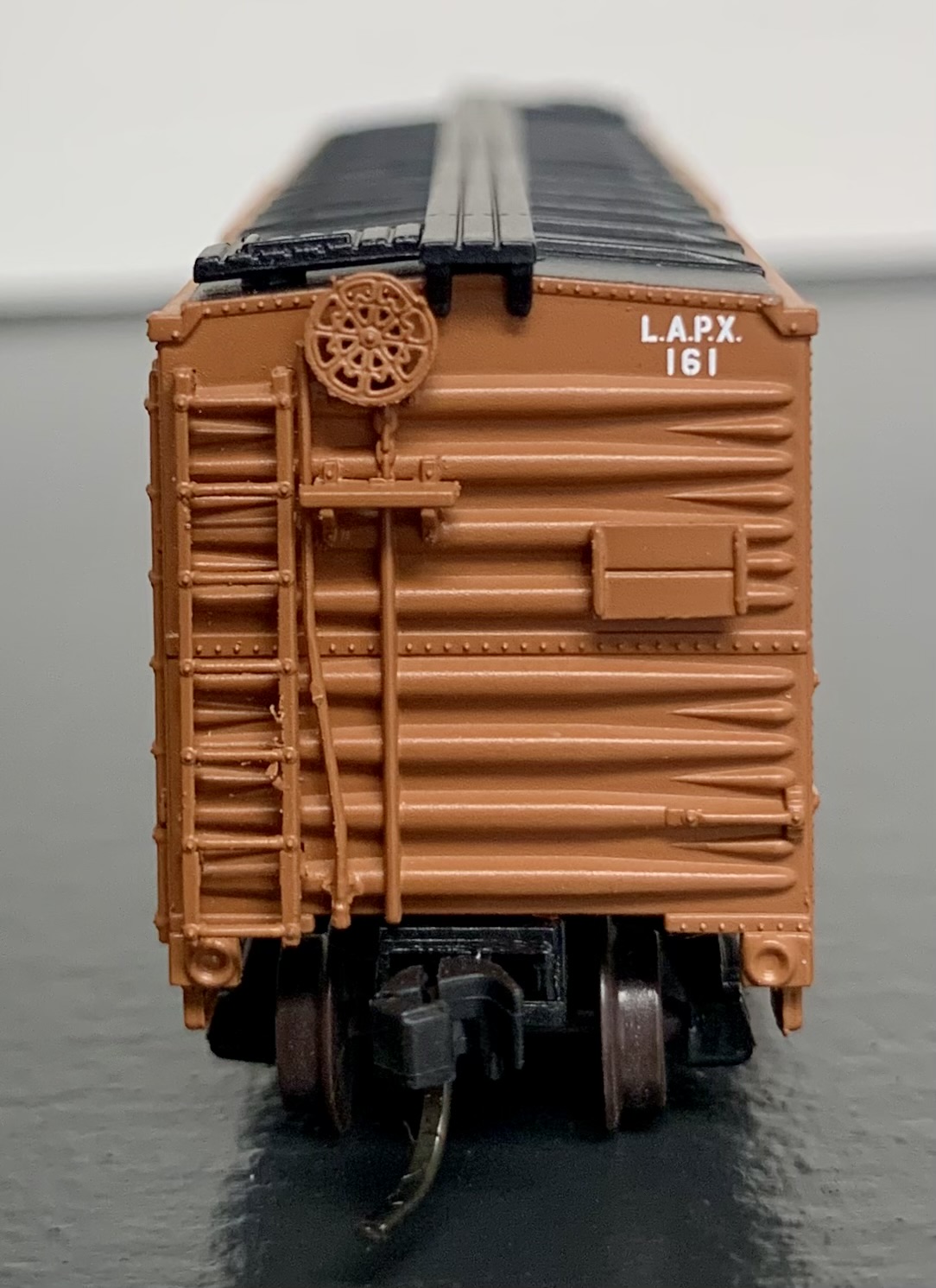 The top of the boxcar displays a Stanray Murphy 12-panel metal roof with wooden running boards – both were typical features found on 1932 ARA Boxcars. The Atlas model is missing grab irons found on the roof above each full-length ladder according to historical images.

The black underframe has an AB brake system arrangement with features such as the brake cylinder, brake reservoir, control valve and brake rod. The boxcar is furnished with friction-bearing trucks and brown plastic wheels.

The car measures 3 inches in length and weighs 0.9 ounces, which is slightly light according to the National Model Railroad Association (NMRA) recommendation of 0.97-1.00 ounces. Both truck mounted AccuMate magnetic knuckle couplers were affixed to proper height. I found it an excellent runner while testing the car on Kato Unitrack with no issues around curves or through turnouts at slow and medium speeds.
In closing, for an entry into the Master Line rolling stock series – Atlas needs to be better. Yes, they receive points for railroad-specific body details with three body shells available for this release. A well-built model with excellent paint job and stamping. But $30 for a basic boxcar design with a sparse amount of detail work that needs to be separately applied should have better packaging, metal wheels (if not body mounted also), doors that open, and all accessory pieces need to be separately applied – too many details are still molded. A solid piece of rolling stock to add to your layout that represents an important design and era for the North American rail system – but nothing too special to be labeled Master.
To see a list of all cars in this series,
CLICK HERE
Photo Credit:
United States Office of War Information. New type of boxcar petroleum carrier which the Office of Defense Transportation hopes may soon be helping to solve the oil shortage in the East. The car is a standard automobile-type steel box car fitted with four steel tanks enclosed in wooden boxes. It has a capacity of 12,200 gallons--considerably more than the average tank car serving the East. United States, None. [Between 1940 and 1946] Photograph. https://www.loc.gov/item/2017696641/. The contents of the Library of Congress Farm Security Administration/Office of War Information Black-and-White Negatives are in the public domain and are free to use and reuse.