N Scale DB Adds More European Train Makers: Mabar Tren
Published: 2017-02-14 - By: Jenna
Last updated on: 2021-01-06
visibility: Public
The
n-scale model train db
has surpassed the 35K mark! We couldn't have reached this milestone without our Contributors. Thank you. And a special shout out to Alain, our France-based Contributor (with more than 2,000 entries) who recently added Mabar Tren, another train manufacturer based in Europe, to the db.
Based in the Spanish coastal city of Barcelona, Mabar Tren creates and manufactures HO and N scale prototypes of Spanish and French engines, rolling stock as well as vehicles and accessories.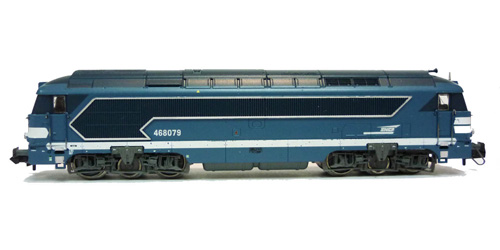 Mabar Tren Diesel Engine, SNCF A1A A1A 68000
Mabar Tren recently released new road numbers for its Diesel Engine, SNCF A1A A1A 68000, which it originally introduced in 2011. The A1A A1A 68000 is a series of 6-axle A'1A'-A'1A' diesel-electric locomotives commissioned in June 1961 by SNCF (Société Nationale des Chemins de fer Français / "French National Railway Company"), which manages the rail traffic in France and the Principality of Monaco. These multi-purpose locomotives were used for passenger as well as freight service and retired in 2014.
You can see a longer list of these Mabar Tren engines at TroveStar here:
Mabar Tren Diesel Engine, SNCF A1A A1A 68000
The n-scale db features hundreds of locomotives and rolling stock by model train makers based in Europe. These include:
Fleischmann,
Kato Lemke,
,
Minitrix
and
Piko.
These companies manufacture prototypes that run on / under a variety of road / company names, including Deutsche Bahn, Eurostar, Rhaetian Railway and Nederlandse Spoorwegen.