PODS from BLMA Evoke Fond Moving Memories
Published: 2017-03-20 - By: Jenna
Last updated on: 2021-01-06
visibility: Public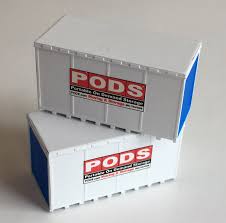 To be sure, in our household, George Michaels, TroveStar Founder, is the n-scale train collector and modeler (for both N-trak and T-trak modules). As far as I am concerned, I might write read about n-scale trains and their prototypes but that's where it begins and ends . . . until recently that is.
When I saw these PODS (portable on demand storage) available from BLMA in n-scale, I just had to have them. You see, we used no less than 4 PODS units to help us relocate from Dallas, TX back to the northeast over a decade ago.
The Prototype
Thanks to PODS, we were able to de-clutter our Dallas house and make it better for showing to prospective buyers. We also divided our belongings among different PODS and unpacked what we needed for a 6-month rental home and stored the remaining items until we finally found a home to purchase.
I most definitely do not have fond memories of the actual move (packing, labeling, lifting, hauling, unpacking, putting away) from Texas to Massachusetts. I am, however, very glad we moved to Andover to once again be near our family and friends who we had left behind to make a life in the Texas. So although I never in a million years thought that I could be fond of storage containers, it turns out I am. And I have succumbed to the n-scale collecting bug. My PODS have a nice home atop my windowsill, which overlooks a local forest and river -- parts of nature we sorely missed while in Texas.