First Milk Trains to Manhattan
Published: 2017-04-04 - By: Jenna
Last updated on: 2022-02-07
visibility: Public
Milk
Manhattan in the 1850s
Before cities sprouted up across America, people lived on or near farms and were able to get the produce they wanted rather easily. Horse drawn wagons were used to transport the eggs and dairy locally. However, when travel over long distances was called for, the delivery of unspoiled dairy products became more and more difficult. Case in point: Manhattan.
Need for Fresh Milk
In the 1840s, well before the advent of refrigerator train cars, the Erie RR started transporting milk from the dairy farms of Orange County, New York (a fertile dairy region known for its butter) to the city folks of Manhattan. Although Manhattan did have its own milk supply, it was anything but farm fresh. Stabled cows (fed refuse from breweries and distilleries) supplied the city with an impure version of milk that was poor quality compared to milk from grass-fed cows.
This milk run began in the spring of 1842 but did not include any specialized rail car. Boxcars were loaded with wooden churns filled with milk. This mode of transportation worked well during the cold winter months. However, during the warmer months, the milk would often sour by the time it reached the Manhattan market. Once pre-cooling (ice-filled tin tubes were inserted into the churns in July 1843), this problem was solved.
Other railroads in the area soon followed suit and began hauling milk to Manhattan. The New York & Harlem was one such railroad, transporting milk from over 100 miles away. In order to make this long of a trip, the Harlem pre-cooled its milk to 40 degrees (transported it to the station covered in wet rags) and ran trains during the night in order to avoid the heat from the sun during the day.
Fitted with passenger-style trucks, most milk cars were basically baggage cars that lacked any insulation or ice bunkers. Apparently the only way to tell the difference between a milk car and a baggage car was by the interior shelving used to hold the milk cans and by the lettering on the outside of the car.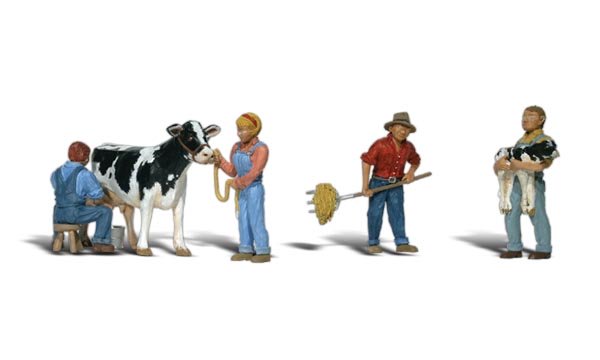 Dairy farmers from Woodland Scenics