Model Information
: Athearn introduced these models in 2008. As of 2016, there have been 6 production runs.
These models feature:
All-wheel drive and electrical pick-up
5-pole skewed armature motor
Machined brass flywheels
Available DCC-ready without sound or DCC with sound
Cab interior
Celcon handrails
With or without dynamic brakes
Photo-etched non-skid endwalks
Snowplow or streamlined pilots
Detailed multi-piece plastic fuel tanks
High or low-mounted headlights
Lost-wax brass horn
Rectangular or oval cab door windows
Flush-mounted individual window "glass
McHenry knuckle-spring couplers
Prototype History
: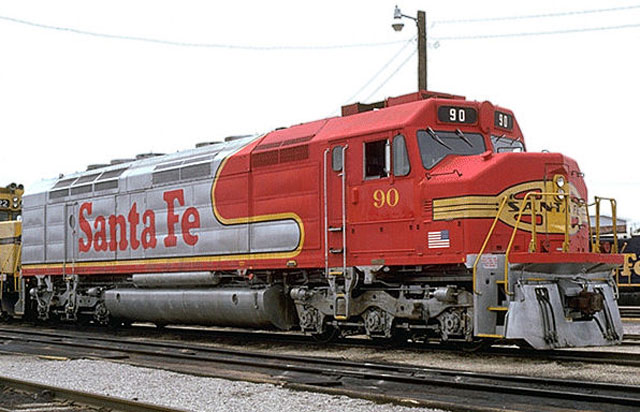 By the early 1960's the Electro-Motive Division (EMD) was at a big disadvantage. Their 567 engine, in use for over 20 years, had reached it's peak at 2.500 horsepower in a turbocharged 16-cylinder version. EMD released a new 645 engine in 1966. The most powerful locomotive using this series of engine was the SD45, powered by a 20-cylinder turbocharged 645E engine producing 3600 horsepower. Orders from railroads all over the country, especially western roads, poured in. Great Northern received the first one off the production line and Santa Fe took delivery of a 90-unit order the first year.
At the same time Santa Fe was looking to replace it's aging fleet of passenger locomotives. They wanted something more stylish than a freight hood unit with a steam generator for thier famous Super Chief train. EMD had already extended the SD45 frame and added a steam generator to the rear creating the SDP45. They responded to Santa Fe's request by adding a cowl body to the SDP45 thus creating the FP45.
Santa Fe took delivery of the first nine FP45's in December of 1967. Numbered 100-108, they were painted in the red and silver warbonnet passenger scheme with black Roman-style Santa Fe lettering on the sides. The cowl offered a cleaner engine compartment and internal walkways, both of which would lead to production of the F45, a regular SD45 with the cowl. Santa Fe acquired forty F45's in 1968, numbered 1900-1939 and delivered in the blue and yellow 'pinstripe' scheme. The second twenty were equipped with steam lines for use on passenger trains. When Amtrak took over passenger service the FP45's went into the freight pool, receiving blue and yellow paint. The pinstripe paint scheme gave way to the blue and yellow warbonnet scheme by 1980. In the early 80's all 40 FP45's and 8 F45's were rebuilt at the San Bernadino shops. During the failed merger with Southern Pacific seven FP45's and twenty F45's received red and yellow 'Kodachrome' paint. On July 4th, 1989, FP45's 5992 and 5998 were released from the San Bernadino shops as numbers 101 and 102 in the newly revived red and silver 'Super Fleet' scheme with a large Santa Fe on the sides. Two F45's were wrecked and scrapped and one was sold to Wisconsin Central while the remaining six were donated to various railroad museums. Six F45's were sold to Wisconsin Central and the remaining units went to Morrison-Knudsen as lease units with one being assigned and painted for Utah Railway.
Milwaukee Road was the other railroad that bought FP45's. Arriving in late 1968 for Hiawatha passenger service, they wore the UP yellow and gray scheme and were numbered 1-5. They differed from other F45's and FP45's as they did not have dynamic brakes installed. Even before Amtrak arrived these locomotives were re-assigned to freight service between Chicago and the Twin Cities.
Great Northern acquired fourteen F45's, numbered 427-440 and painted in the Big Sky Blue scheme, in 1969. The internal walkways were important to the GN given the winter weather on the line between the Twin Cities and Seattle. Crews no longer had to worry about ice and snow covered walkways like on their hood units. GN planned to run all of their main line freights with a F45 on the point. GN ordered an additional 12 units, which were delivered as Burlington Northern 6614-6625 in 1970. BN continued the F45 purchase in 1971 with 20 additional units numbered 6626-6645. The 46 F45's were regular power on the Chicago to West Coast trains over the former GN lines. Three of the original GN units were leased to Utah Railway for five years after being retired by BN. Two other units were sold to Susquehanna and three went first to Trancisco, then to Wisconsin and Southern, and finally to Montana Rail Link. One of the two Susquehanna units was re-sold to MRL in 1993.
EMD FP45
:
- Full data sheet on
The Diesel Workshop
.
- Read more on
Wikipedia
.
- Read more on
American-Rails.com
Road Name History
: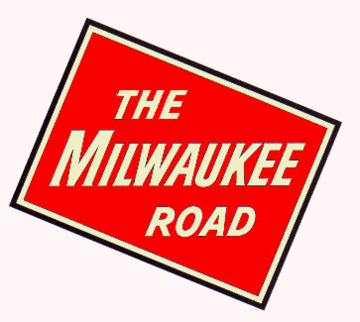 First of all, Milwaukee Road has only ever been a popular nickname. The real name from 1874 was Chicago Milwaukee & St. Paul. For the next 36 years, the CM&StP linked Chicago with Milwaukee, Green Bay, Madison, Wausau, the Twin Cities, Duluth, Kansas City and Omaha with a dense network of branches in Wisconsin, Iowa, southern Minnesota and eastern South Dakota. Essentially, the lines ended at the Missouri River.
With a dearth of friendly western connections, CM&StP decided to build their own line to the Pacific. The original target was the bustling megalopolis of Eureka, California. However, they built toward Seattle instead. In 1909 the line opened. Along the way, they served Miles City, Lewiston, Great Falls, Harlowton and Butte, Montana; Avery, Idaho; and Spokane, Seattle and Tacoma, Washington. In 1912, they began to electrify two long segments, Harlowton, Montana to Avery, Idaho and Othello, Washington to Tacoma.
In 1921, they leased the Chicago Terre Haute & Southeastern and a bit later the Chicago Milwaukee & Gary to reach the coal fields of southern Indiana. Both roads were in trouble and dragged the CM&StP into receivership. In 1928, they emerged with a small name change. It was now the Chicago Milwaukee St. Paul & Pacific. Right after that, the nickname "Milwaukee Road" began to catch on.
The three Class One's that already served the Pacific Northwest, Northern Pacific, Great Northern (along with their jointly owned minion Spokane Portland & Seattle) and Union Pacific were not pleased with their new neighbor and avoided building interchanges with them unless absolutely necessary. This left Milwaukee to haul whatever traffic they could originate or terminate on their own line or via a hand full of shortlines with which they interchanged. This is why when you see photos of Milwaukee Road trains west of the Dakotas, an exceptionally large majority of cars are lettered for Milwaukee Road.
Milwaukee's steam fleet is generally quite handsome beginning with the period after WWI. Many locomotives were built in their own shops. The steam era came to an end on the Milwaukee in 1957.
The electrified lines were ruled by boxcabs and Bi-Polars for decades. In the 1950's, Little Joe's diverted from the Soviet Union arrived on the Milwaukee (and the South Shore.) By the late 60's diesels began to regularly invade the electrified lines. Little Joes and diesels were MU'ed. The aging catenary could only handle so many electrics at a time so diesels filled the horsepower gap. By 1972, falling traffic, a declining fleet of serviceable electrics and the deteriorating catenary caused Milwaukee Road to de-energize the western lines lines with Avery to Harlowton lines following two years later.
Meanwhile on the east end, as a condition of the 1971 merger of Monon into L&N, Milwaukee Road received trackage rights from Chicago to Louisville. This gave Southern a friendly connection to Chicago it was losing with Monon.
In 1977, Milwaukee Road entered receivership again. This time, radical restructuring was needed. In 1980, everything west of Miles City, Montana was abandoned. Some lines were picked up by connections or spawned new shortlines but nearly 1,000 miles of track was pulled up. In 1982, Miles City to Ortonville, Minnesota was abandoned. Milwaukee was concentrating on their pre-1909 routes plus the new line to Louisville.
In an attempt to win back middle distance TOFC traffic, Milwaukee began running fast and short piggyback trains, usually behind a single SD40-2 and with a dozen or so 89' flats. Unit coal trains added to the bottom line. By the mid-80s, the streamlined Milwaukee Road was up for sale and Grand Trunk Western, Chicago & North Western and Soo Line got into a bidding war. GTW had diverted 40,000 cars onto Milwaukee Road between Chicago and Duluth to help them turn a profit in 1983. Ironically, the ICC (which controlled mergers at the time) pushed GTW out of the contest leaving just C&NW and Soo. Furious, GTW diverted their 40,000 carloads off the Milwaukee. C&NW outbid Soo, but the ICC chose Soo Line anyway. Milwaukee Road merged into Soo Line in 1985. Almost immediately, Soo shops began painting big black rectangles over MILWAUKEE ROAD on the diesels, giving birth to the "bandit" paint scheme.
Brand/Importer Information
: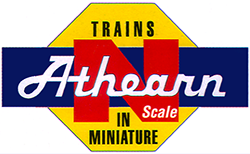 Athearn
's history began in 1938, when its founder-to-be, Irvin Athearn, started an elaborate O scale layout in his mother's house. After placing an ad selling the layout, and receiving much response to it, Irv decided that selling model railroads would be a good living. He sold train products out of his mother's house through most of the 1940s. After becoming a full-time retailer in 1946, Irv opened a separate facility in Hawthorne, California in 1948, and that same year he branched into HO scale models for the first time.
Athearn acquired the Globe Models product line and improved upon it, introducing a comprehensive array of locomotive, passenger and freight car models. Improvements included all-wheel drive and electrical contact. One innovation was the "Hi-Fi" drive mechanism, employing small rubber bands to transfer motion from the motor spindle to the axles. Another was the double-ended ring magnet motor, which permitted easy connection to all-wheel-drive assemblies. Athearn was also able to incorporate flywheels into double-ended drives.
The company produced a model of the Boston & Maine P4 class Pacific steam locomotive which incorporated a cast zinc alloy base and thermoplastic resin superstructure. It had a worm drive and all power pickup was through the bipolar trucks that carried the tender. This item was discontinued after the Wilson motor was no longer available, and was not redesigned for a more technologically advanced motor.
Athearn's car fleet included shorter-than-scale interpretations of passenger cars of Southern Pacific and Atchison, Topeka & Santa Fe Railroad prototypes. The company also offered a variety of scale-length freight cars with sprung and equalized trucks. The cars could be obtained in simple kit form, or ready-to-run in windowed display boxes. The comprehensive scope of the product line contributed to the popularity of HO as a model railroad scale, due to the ready availability of items and their low cost.
Irv Athearn died in 1991. New owners took control in 1994, but continued to follow Athearn's commitment to high-quality products at reasonable prices. Athearn was bought in 2004 by Horizon Hobby. Athearn was then moved from its facility in Compton to a new facility in Carson, California. In mid-2009, all remaining US production was moved to China and warehousing moved to parent Horizon Hobby. Sales and product development was relocated to a smaller facility in Long Beach, California.
Read more on
Wikipedia
and
Athearn website
.
Item created by:
gdm
on 2016-08-10 17:23:48. Last edited by
Alain LM
on 2018-04-15 08:05:00
If you see errors or missing data in this entry, please feel free to
log in
and edit it. Anyone with a Gmail account can log in instantly.